Wow Your Survey Respondents with Images!
They say "A picture is worth a thousand words," so why not add visuals to your surveys, polls, and questionnaires?
Science teaches us that people are 90% visual beings. So, using image-based surveys and picture polls can really grab respondents' attention! At the same time, visuals help you better communicate messages and ideas.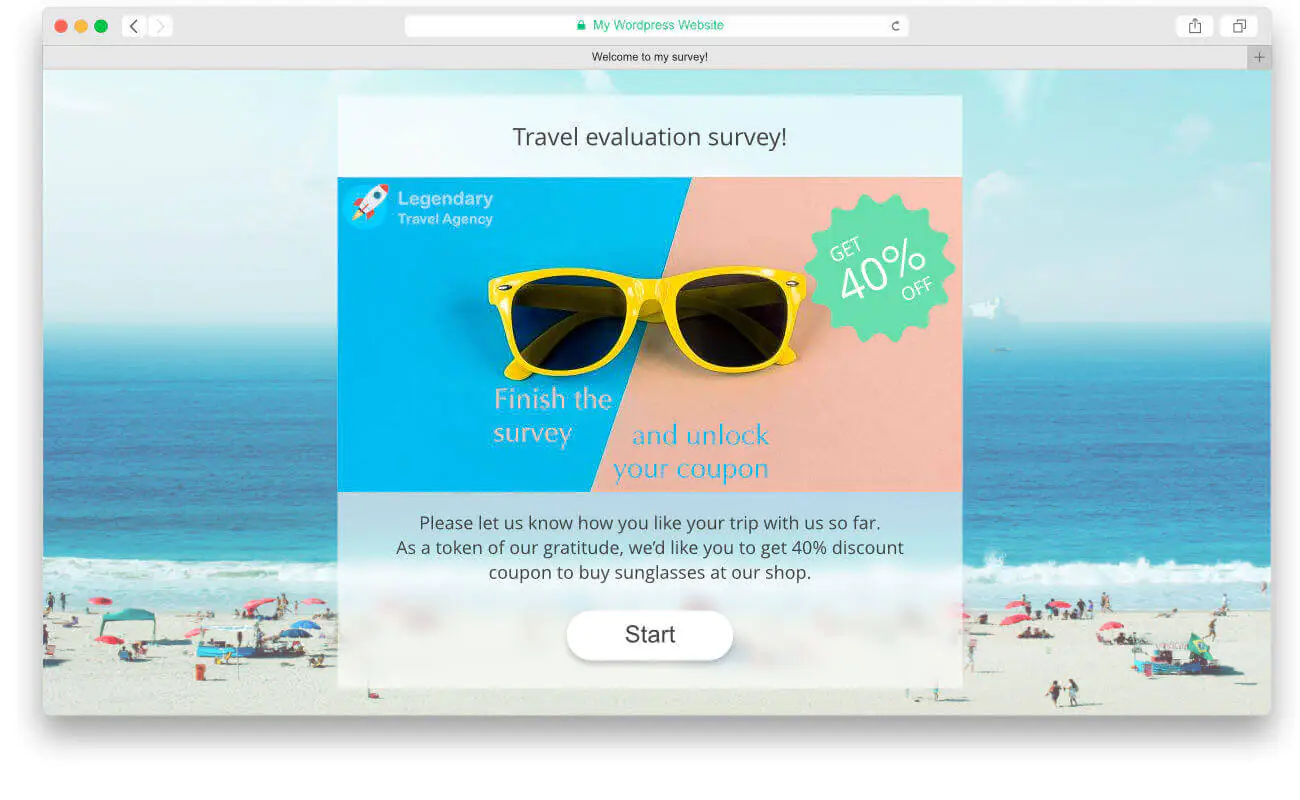 ---
Image-Based Surveys, Forms, Polls & Questionnaires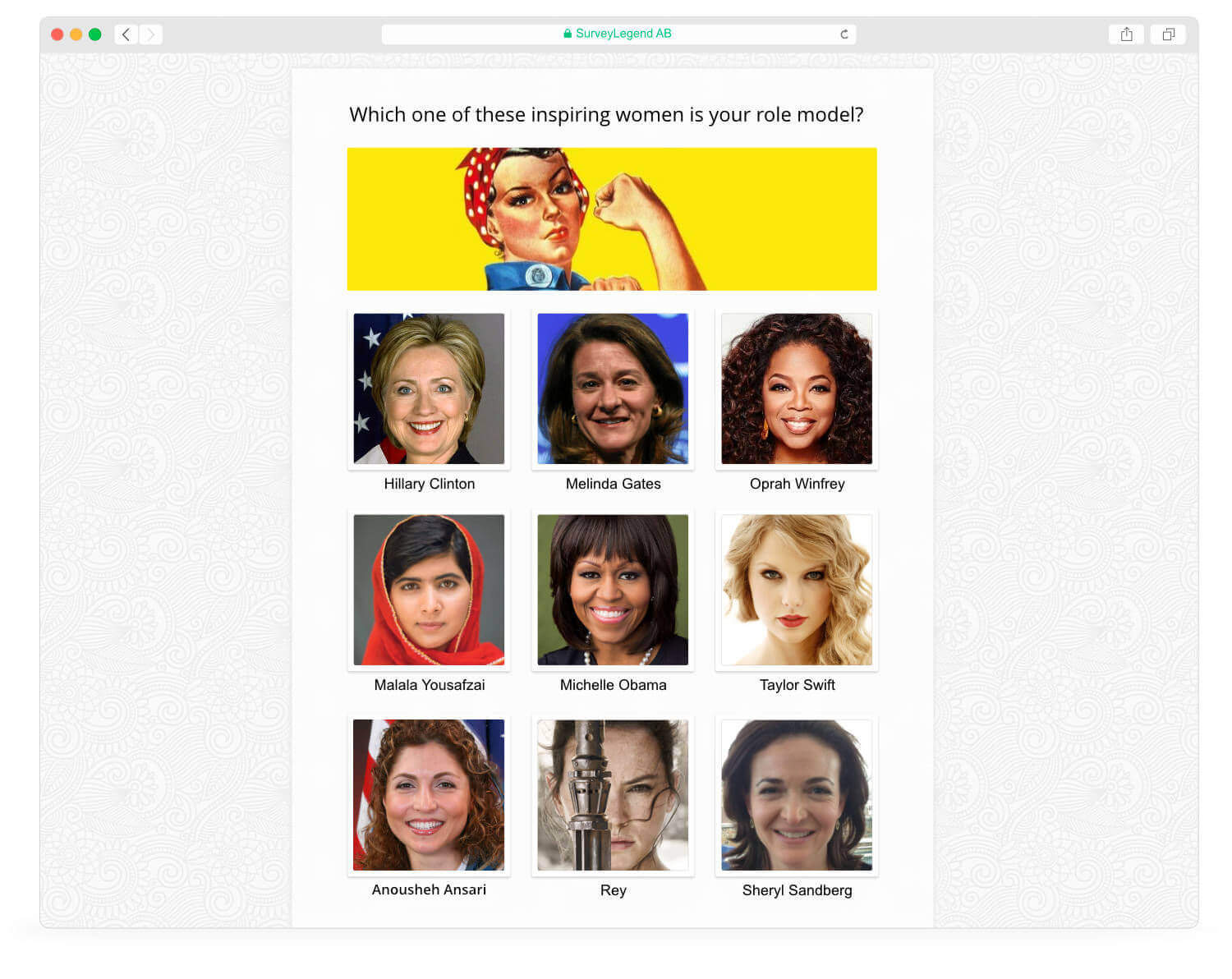 Improve Survey Results with the Power of Images
Almost all online survey making tools offer text-based questionnaires. However, text alone will generally not achieve the high response rates or accuracy that SurveyLegend's survey and poll maker with pictures is known for. Coupled with imagery, a well-designed survey can help you better engage respondents.
SurveyLegend enables anyone to create beautiful, engaging image-based questionnaires, empowering researchers and professionals in all industries! By asking questions visually, companies, organizations, brands, and others are getting actionable and insightful answers.
---
How Polls With Pictures & Picture Surveys Work
Our User Guide Makes it Easy!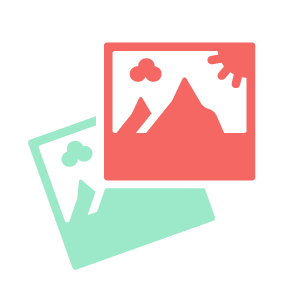 Our survey and poll maker with pictures allows you to easily add visuals of your choice to questions or answers. Furthermore, you can add branding elements, embed redirect links into images, and more.
Our clients have used picture polls to survey people on everything from politics to pumpkin carving contents. So, get started today – our user guide makes creating a visual survey easy and fun!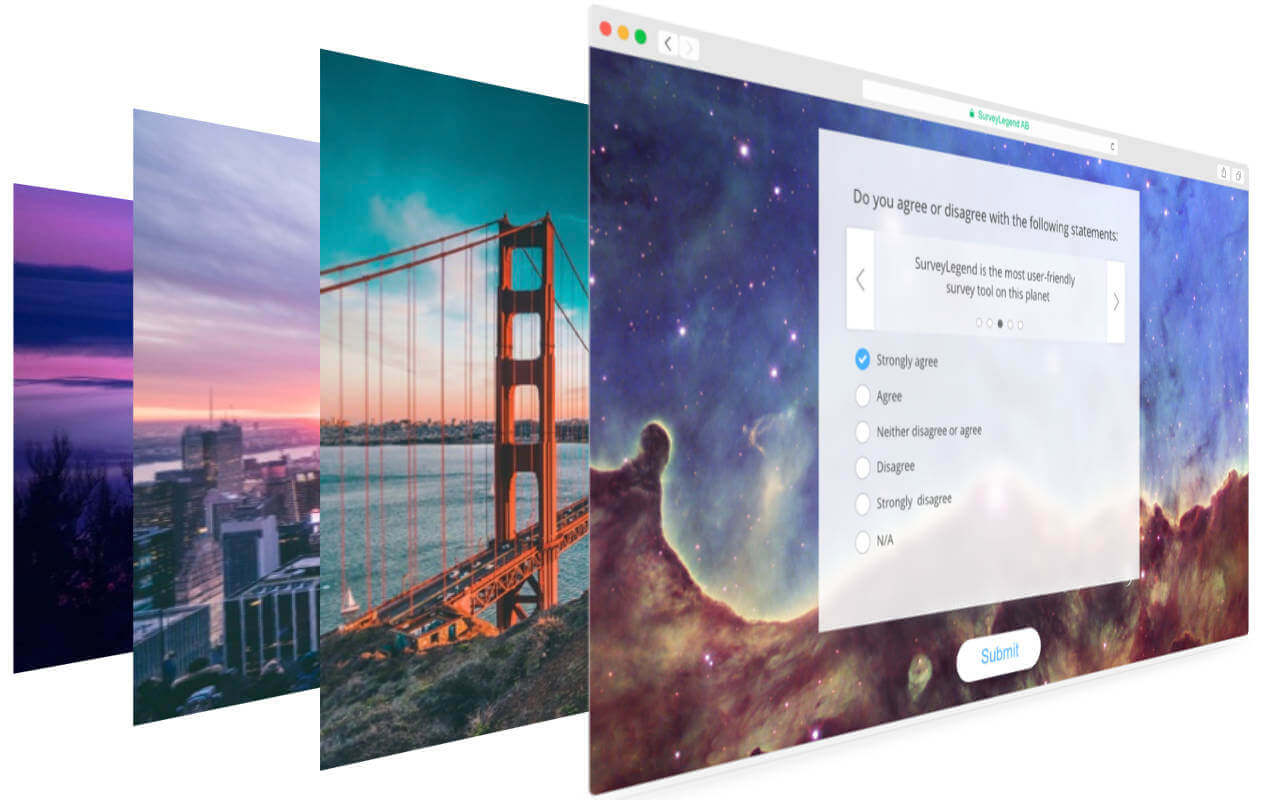 ---
Benefits of Image Polls & Surveys with Pictures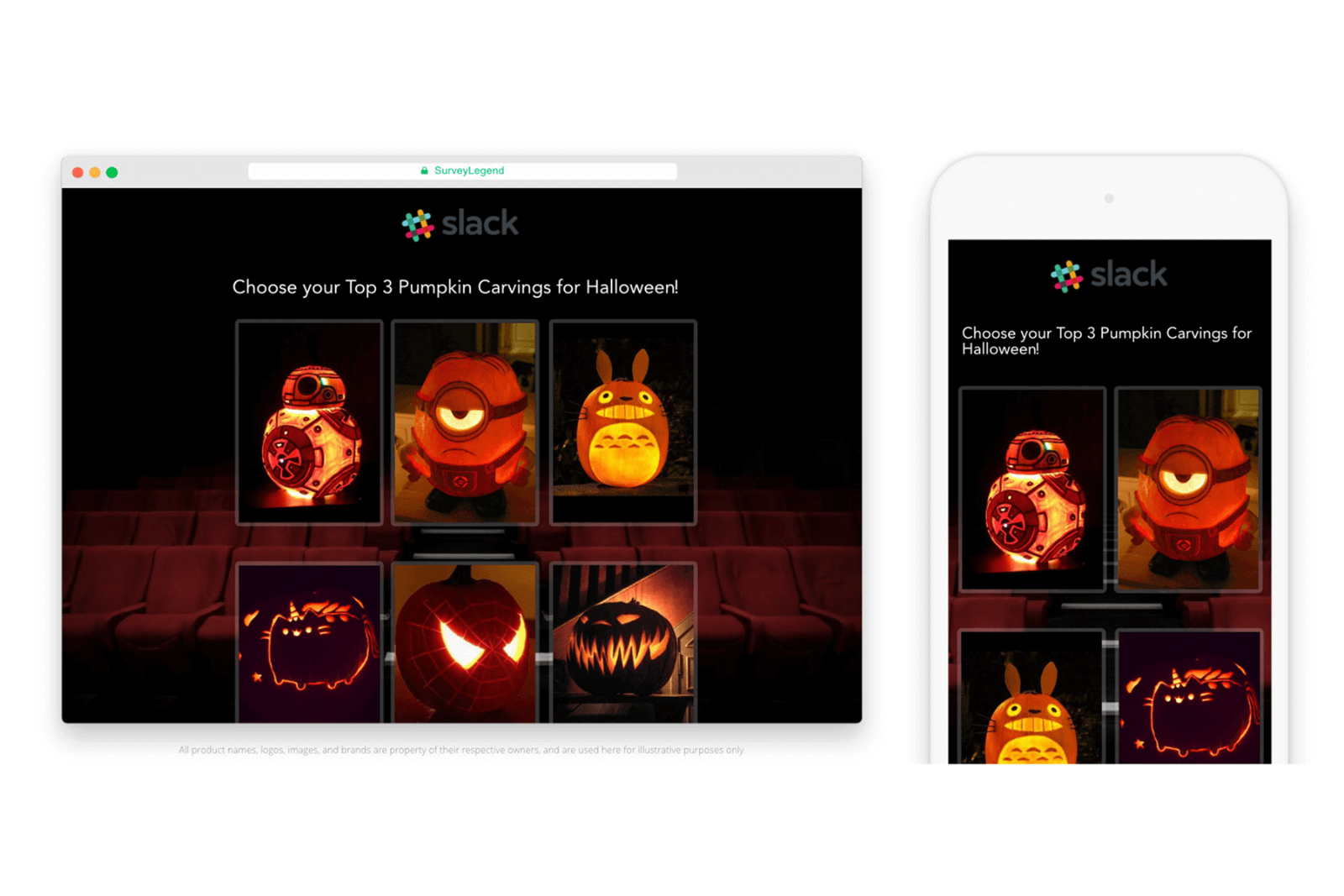 5 Reasons Visual Surveys Work Best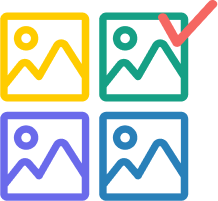 Most free online survey tools offer only text-based templates. So, SurveyLegends picture polls and picture surveys let you really stand out! Visual polls and surveys offer many benefits, including:
Increasing response rate
Triggering participant
memory
Evoking an emotional
response
Communicating ideas more
effectively
Making participating
more fun and engaging
---
Common Types of Image Polls & Image-Based Surveys
5 Ways to Use Images in Polls & Surveys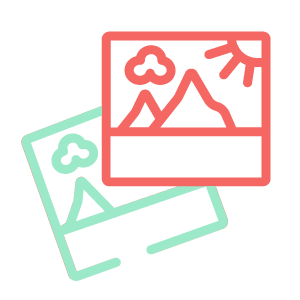 With SurveyLegend, you're not limited in the types of image polls and image-based surveys you can create. For instance, you can use imagery to create:
Clickable image polls
Visual-based multiple choice selections
Ranking surveys with
emotion-based emojis
Adding background imagery
Including branding elements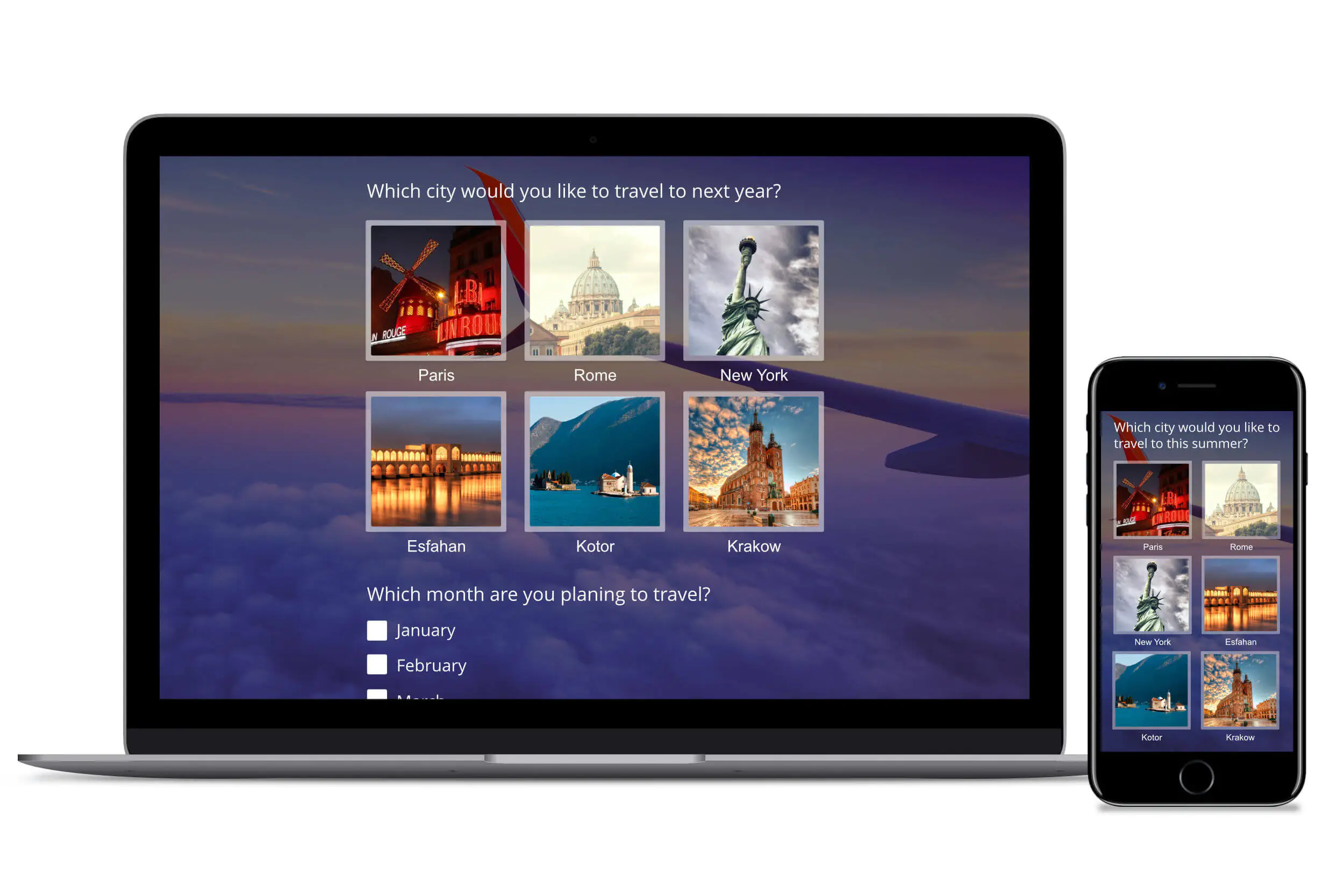 ---
Single-Choice Voting on Images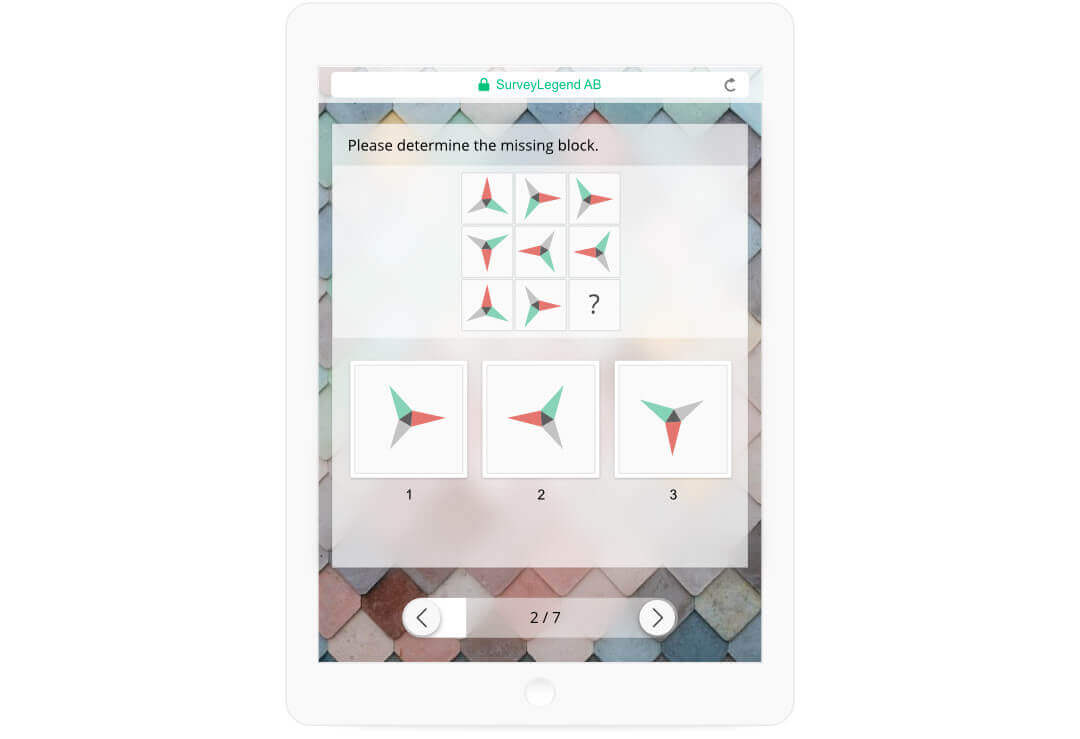 Our Free Poll Maker with Pictures Simplifies Questions
Sometimes just one answer is all you need to inform your decision-making.
The "Single" choice Media Gallery question can help. It allows respondents to only choose one picture-based answer amongst hundreds.
---
Multiple Choice Image Polling
Give the Power of Choice with a Picture Poll or Photo Survey
Giving respondents the possibility to express their broad opinions is often important.
Use our Media Gallery's "Multiple" voting type to give respondents freedom of expression! It allows them to choose an unlimited number of selections amongst many provided options.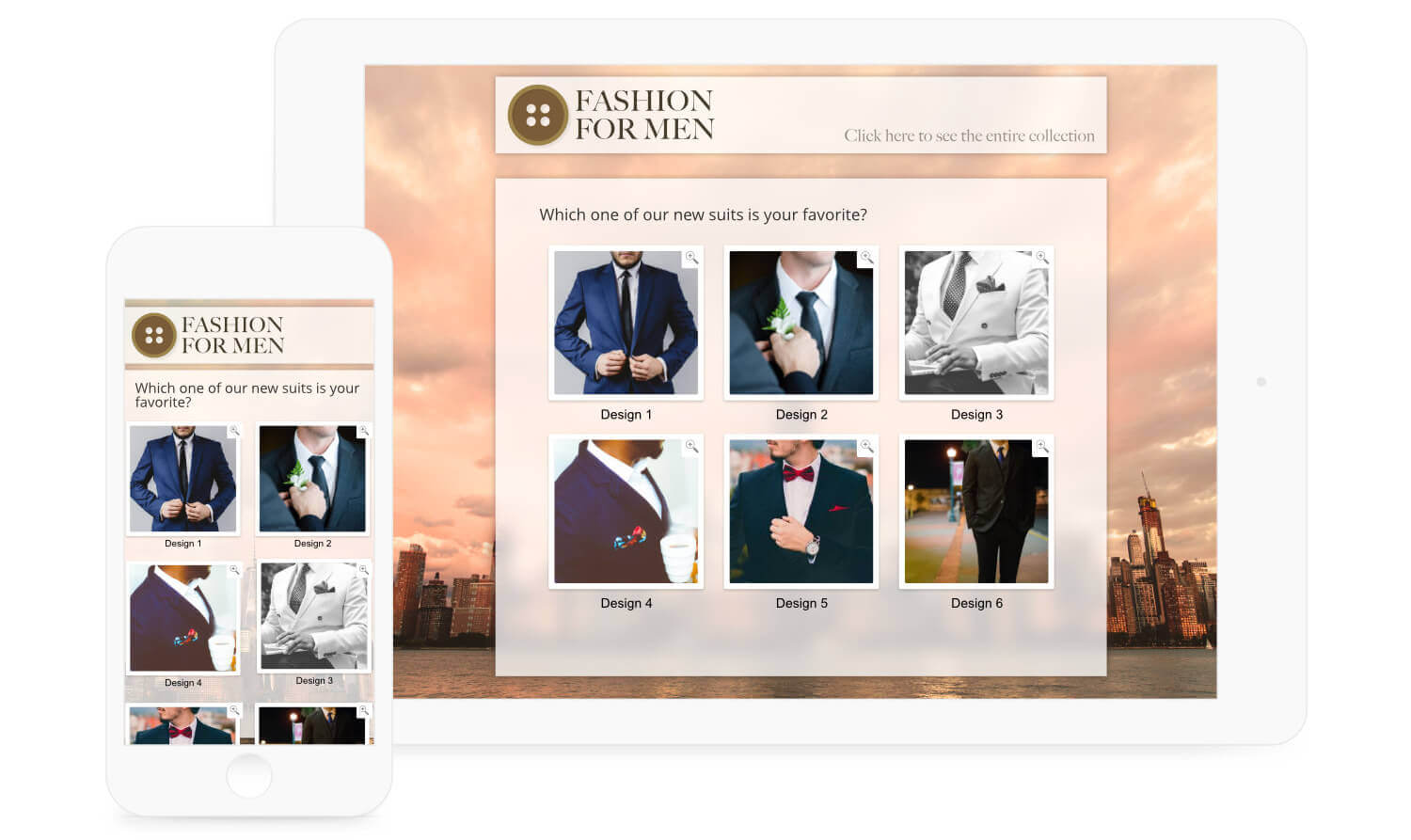 ---
Ranked Choices for Polls with Pictures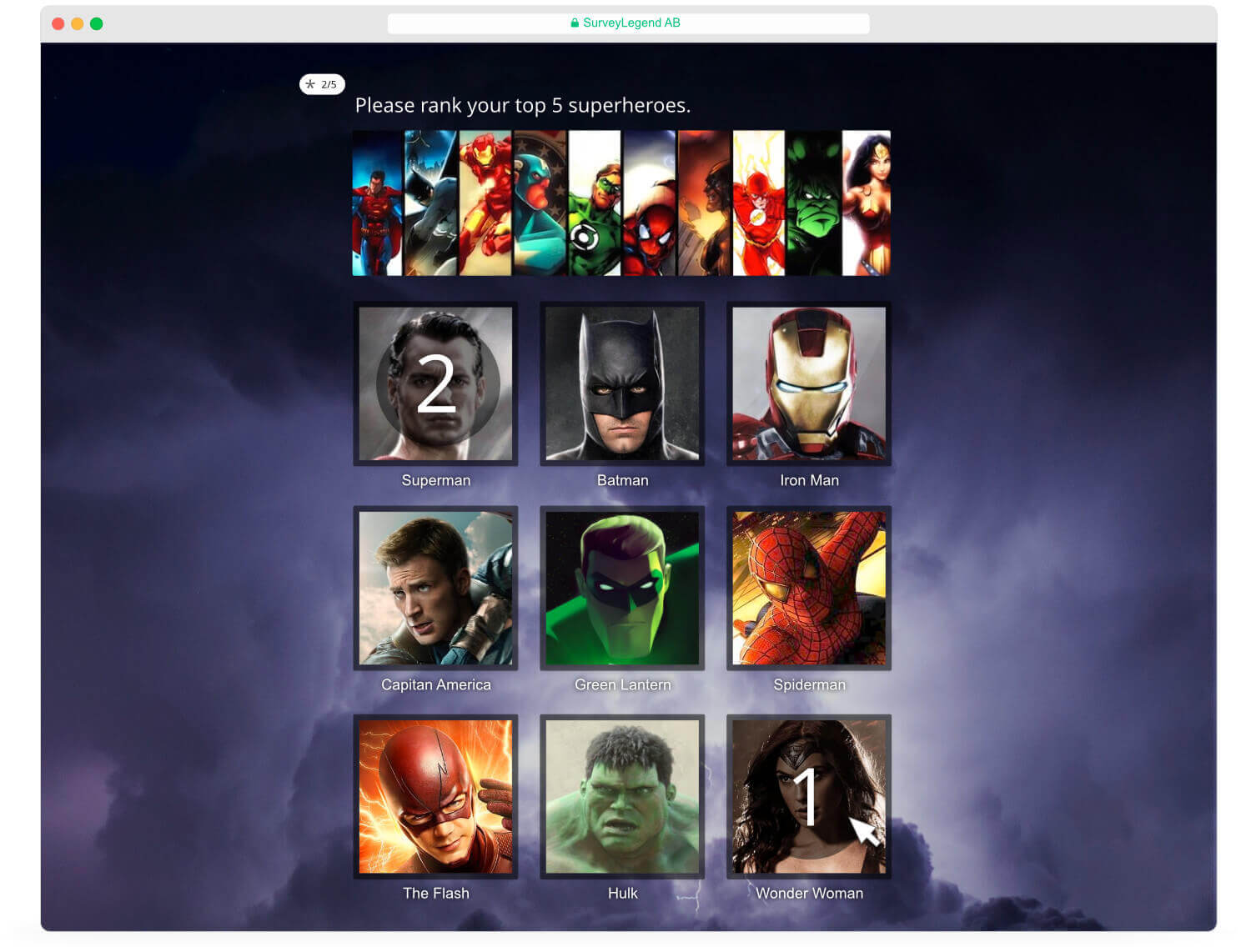 Nominating a Winner Has Never Been Simpler
It's easy to use pictures and ask people to rank their favorite items. For example, brands, candidates, actors, athletes, foods… the list goes on!
This gives you, as a researcher, rich and insightful data. In addition, it offers participants a much more engaging questionnaire. So, using our Media Gallery, set the voting type on "Ranked" to add pictures as answers, resulting in an eye-catching photo poll or photo survey.
---
Gather Purer Data with Limited Yet Focused Questions
Our Free Online Voting Tool Makes it Easy!
In some cases, being able to add limits to image-based surveys is as important as giving room for expression. Of course, this depends on the question's characteristics. Using our Media Gallery question and adding pictures as answers, simply set the voting type on "Limited." Then, you can create a poll with pictures that has more focused questions to gather purer data.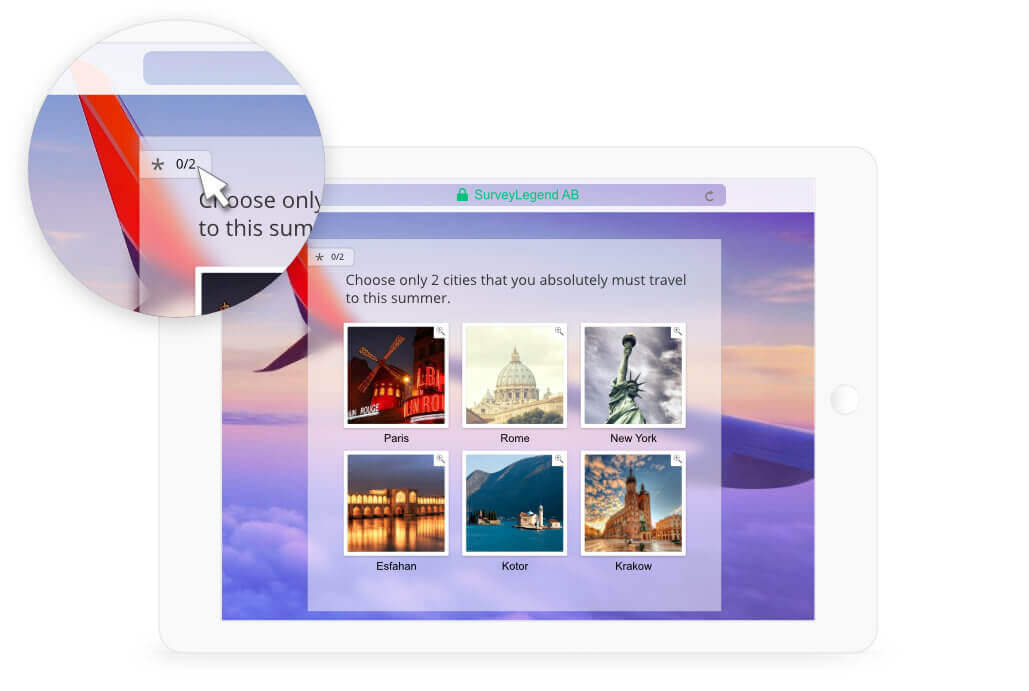 ---
Embed a Responsive Gallery Directly into any Web Page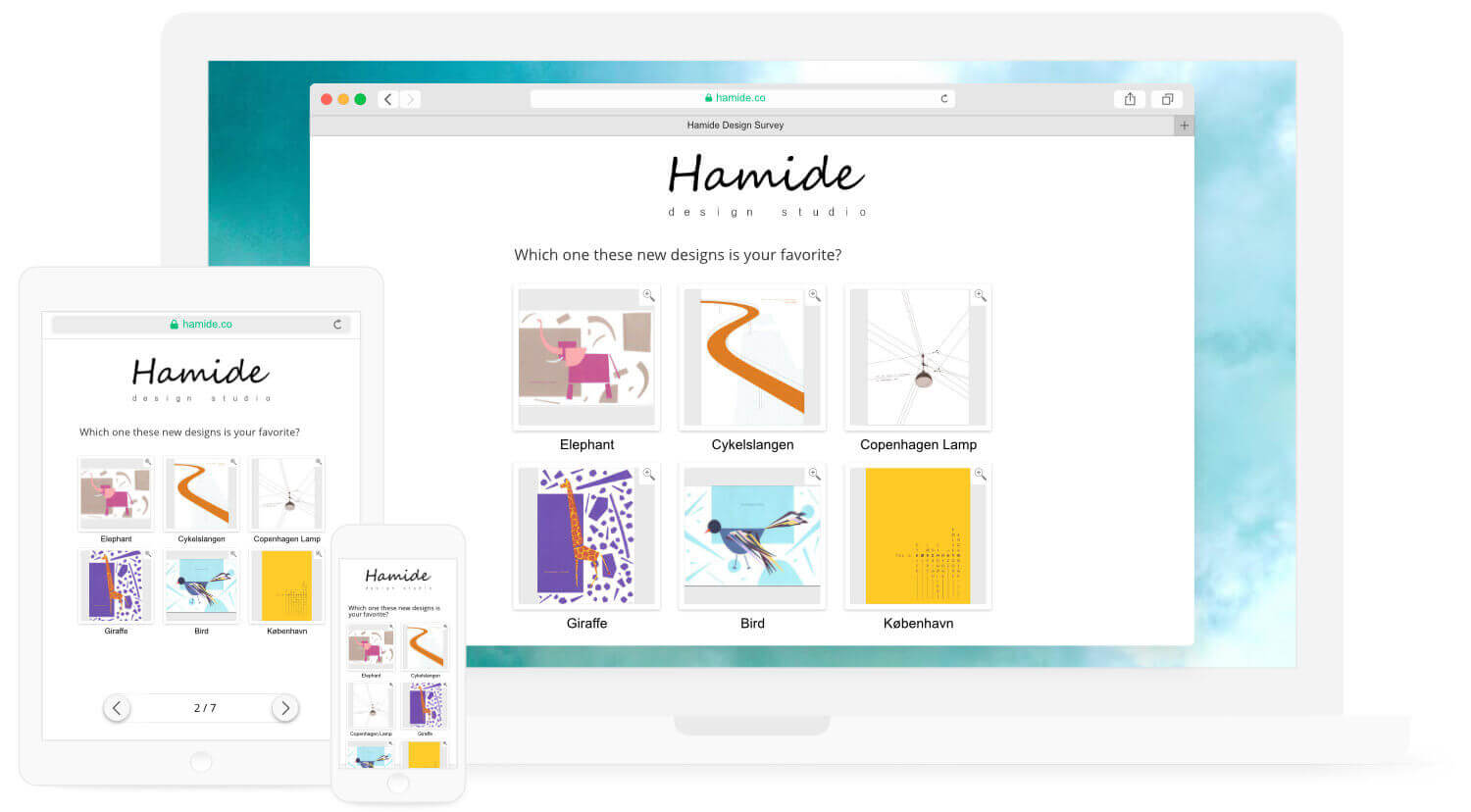 Images are from: Hamide.co
Engage Your Audience Right on the Spot
Have you ever wanted to have an integrative Image Gallery on your website or blog? If the answer is yes, then SurveyLegend is the solution for you.
With SurveyLegend's easily embeddable code and mobile-ready platform, your Image Gallery will always look great. For example, you can create an art gallery, shop, quiz, election, or any kind of visual survey or poll. Then, embed it right on your page!
---
Real-Time Analytics, Right at Your Fingertips
Make Critical, Game-Changing Decisions on the Go
It's important to stay up-to-date with the latest participant feedback. With SurveyLegend, you can reach your data anywhere, in real time, using our unique and innovative Mobile Phone Ready live analytics. You don't even need to install an app! Whenever you're on the go, simply visit our webpage. Then, login as you would using your tablet or PC and view your data on the spot.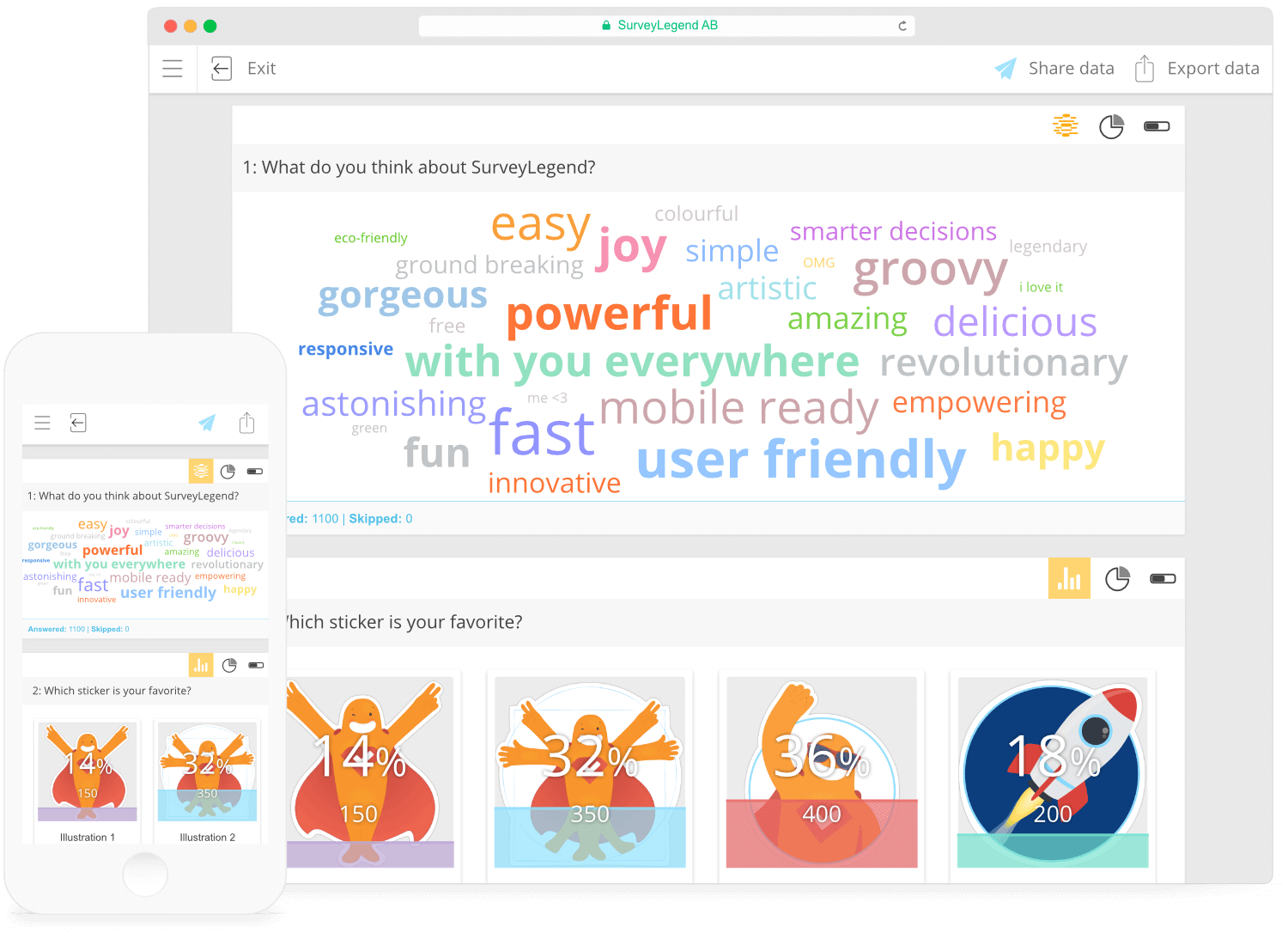 ---
An Online Questionnaire, Built For Today's World
SurveyLegend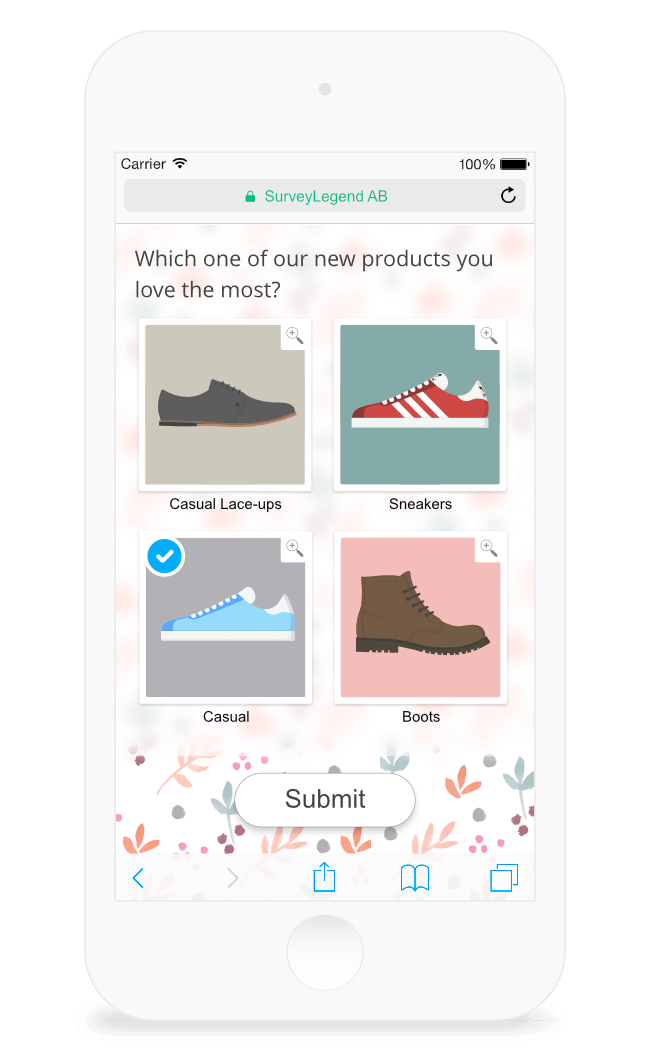 The future of online surveys is now with SurveyLegend! We make it easy to select photos from your computer or tablet and upload them all at once. So, now you don't have to be a programmer or designer to make beautiful image-based surveys, polls, and questionnaires. 🙂
Competitors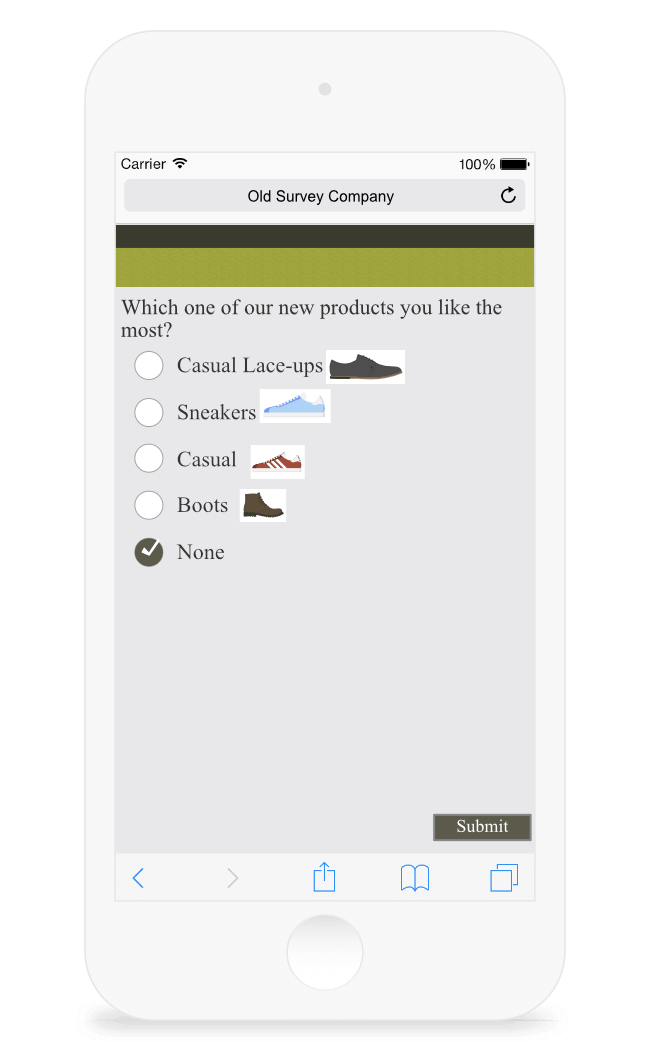 A lot of survey software is still in the dark ages. While some old tools let you upload photos, it's often difficult with unimpressive results. Moreover, giving your respondents a bad experience with a sub-par survey will result in survey dropoffs and lower your response rate. 🙁
We created SurveyLegend to look great on smartphones, tablets, and computers – every single time! So ask yourself: Which of the surveys above would you respond to? The answer, we feel, is obvious!
---
SurveyLegend is
By Thousands of companies
Become a Legend you too!
* All other trademarks are the property of their respective owners.
---
More to Discover
You've experienced just a glimpse of what SurveyLegend offers. However, there is still much more to see!