Wow Your Respondents with Images!
"A picture is worth a thousand words" they say. So why not add one to the very beginning of your surveys?
This enables you to communicate your most crucial messages right at the beginning, and grab your respondent's attention.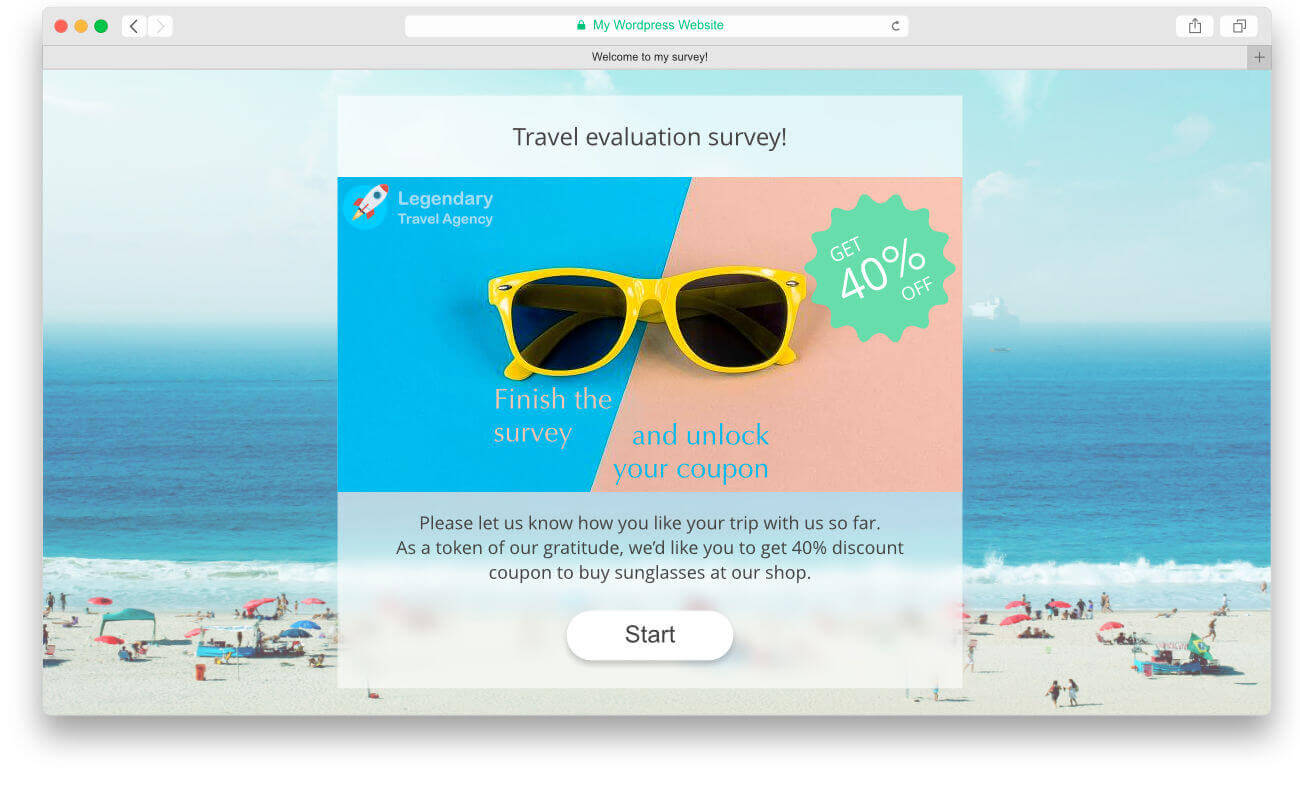 ---
Image-Based Surveys, Forms, Polls & Questionnaires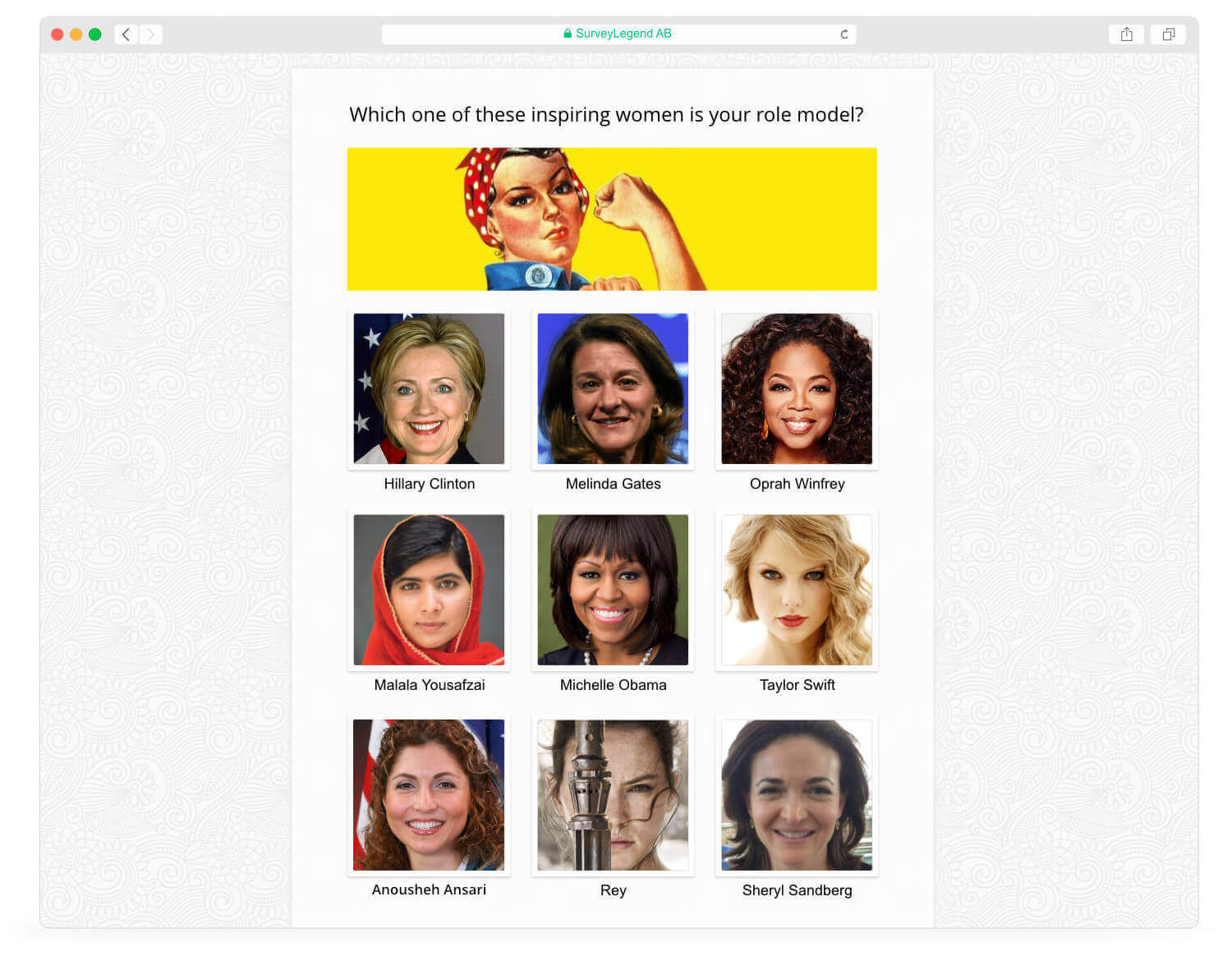 So Much Better, With The Power Of Images
Almost all online questionnaire providers offer making text-based forms, polls, and surveys; but what about pictures? We believe that receiving the right answers is possible, only if you ask the right questions – and often the right questions cannot be asked by mere text!
SurveyLegend makes it possible to create beautiful and engaging image-based questions, empowering retail companies, brands, designers, photographers, and other professionals to ask questions visually to get answers that end up being actionable and insightful.
---
The One
The Obvious Choice
Sometimes one answer means the most to your question and your consequent decision.
With the "Single" choice voting type of our Media Gallery question, you are able to ask the respondents to answer a picture-based question by only voting on one picture amongst hundreds.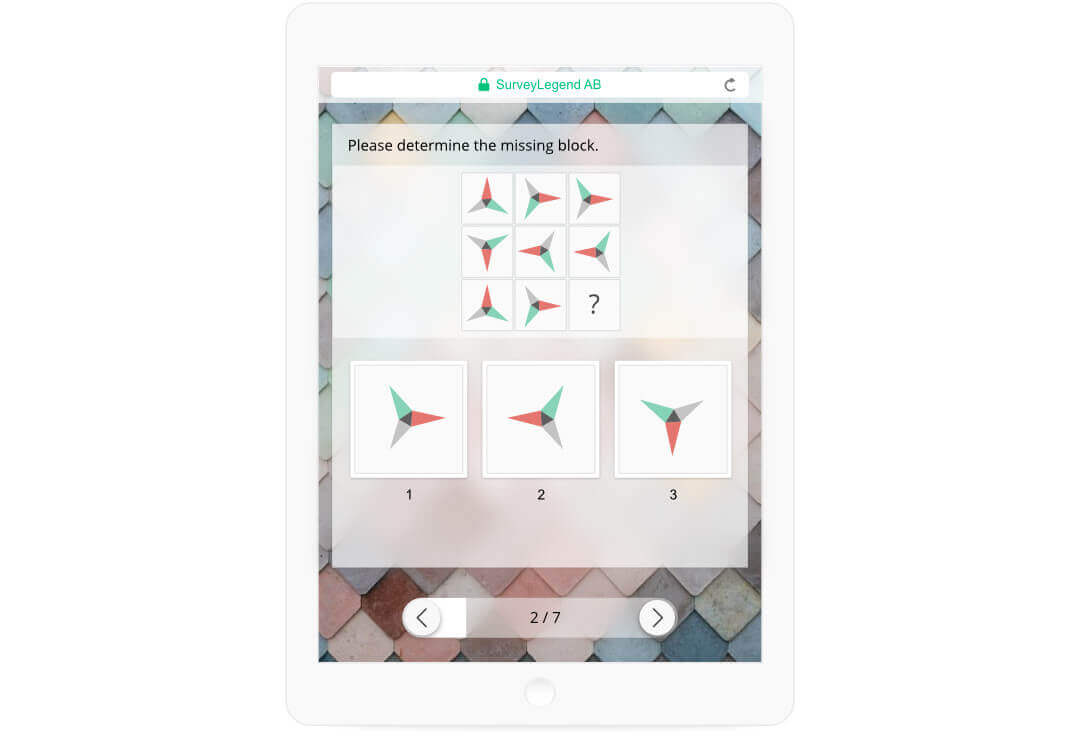 ---
Express Yourself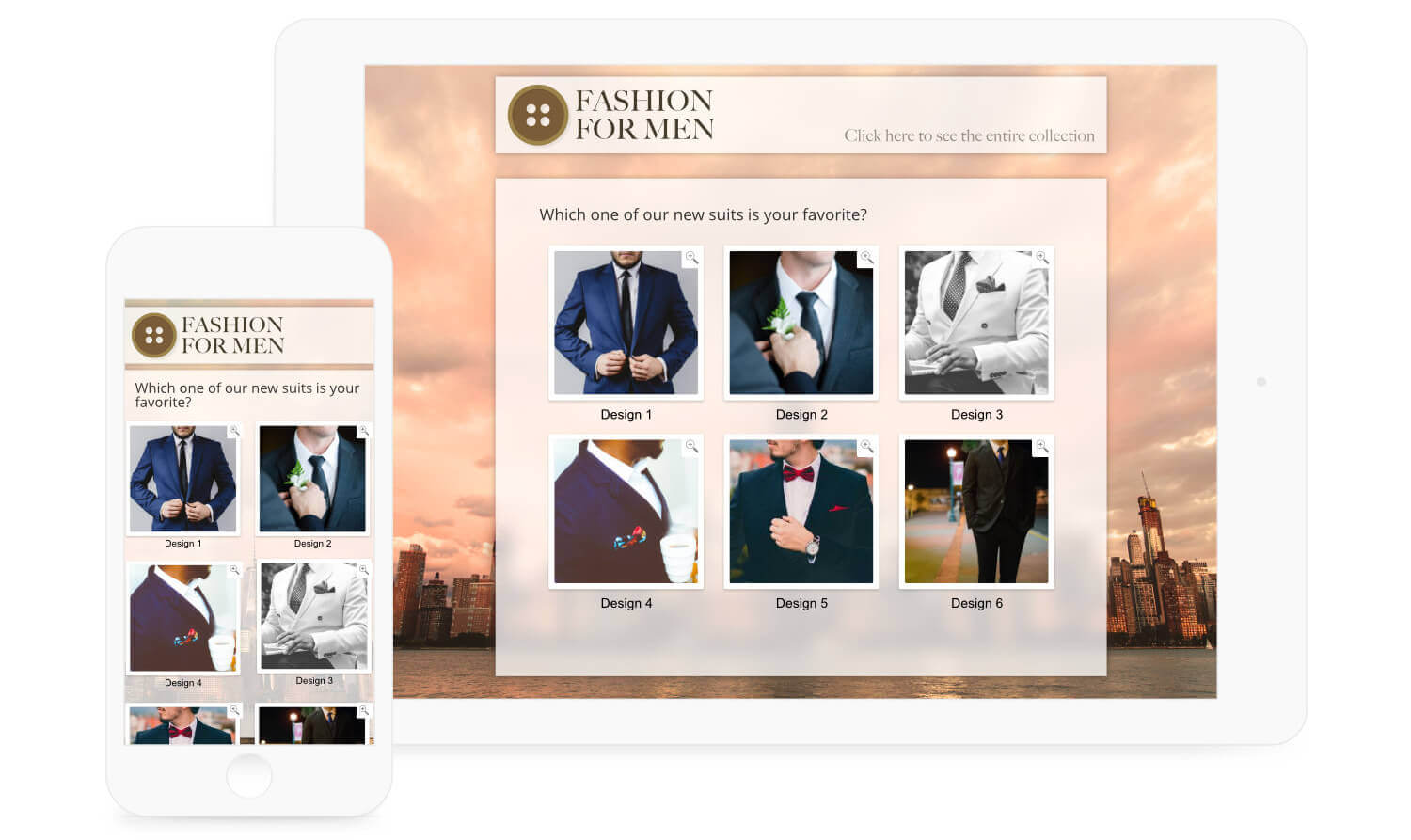 The Power Of Freedom
Giving respondents the possibility to express themselves and their broad opinions is important in several cases.
Using our Media Gallery's "Multiple" voting type, you give the respondents freedom of expression and let them choose unlimited choices, amongst several provided options.
---
Rank Your Choice
Nominating A Winner Has Never Been This Easy
It's so easy to use pictures and ask people to rank their most favorite or least favorite brands, clothes, jewelry, actors, athletes, films, cars, designs, foods, pictures, and the list goes on…
This gives you as a researcher, rich & insightful data; not to mention offering an engaging questionnaire to participate in. Using Media Gallery, adding pictures as answers, and setting the voting type on "Ranked", it becomes like a match made in heaven.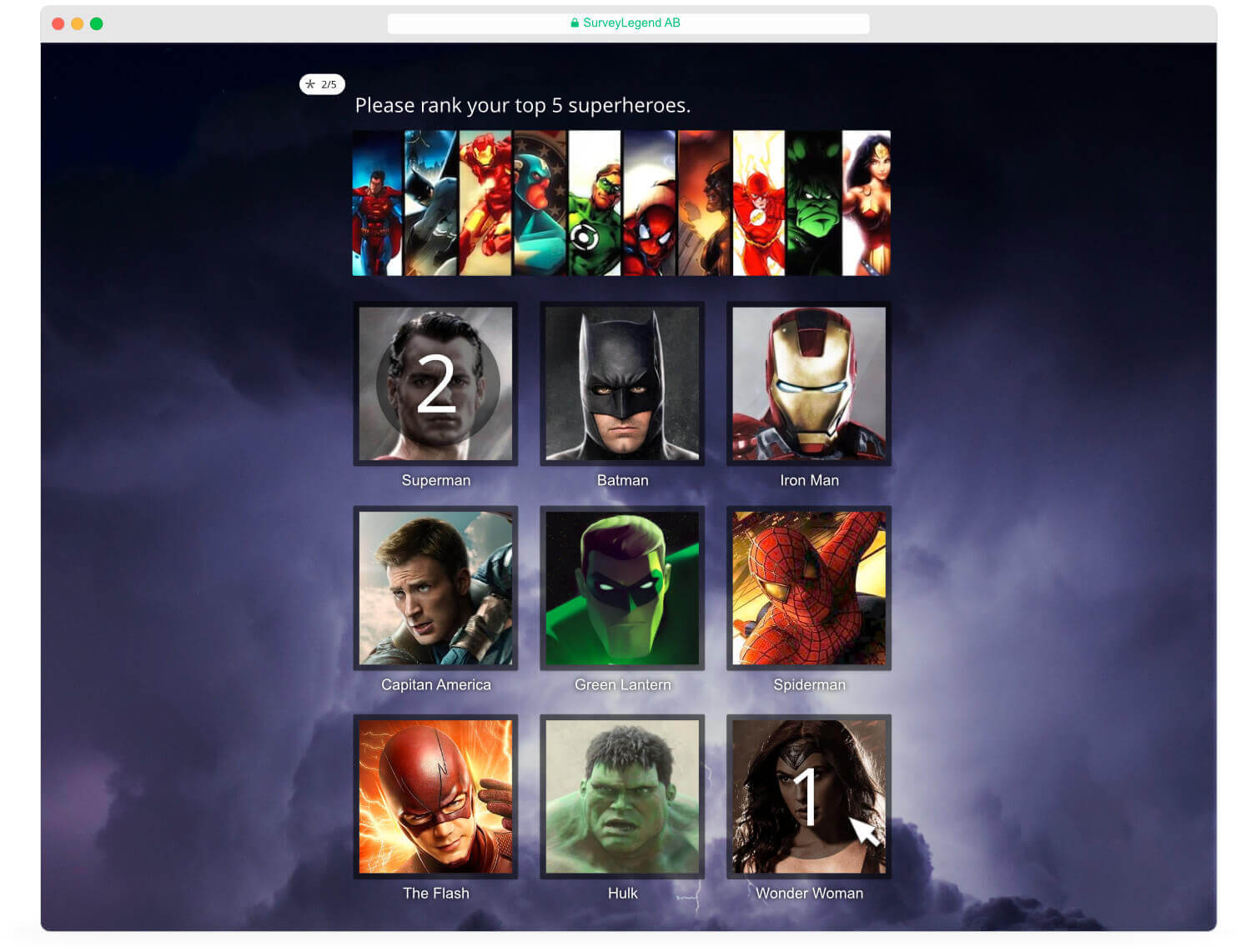 ---
Limitations That Empower Insight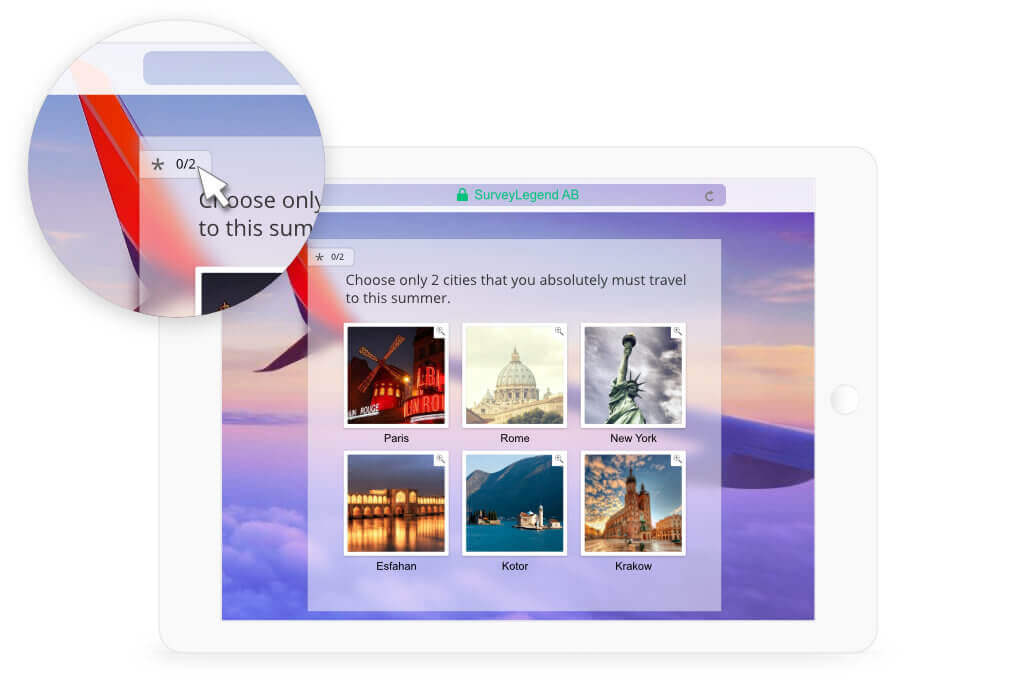 & guide your audience
In some cases, being able to add limits to an image-based question is as important as giving room for expression. This of course depends on the question's characteristics. Using our Media Gallery question, adding pictures as answers, and by setting the voting type on "Limited", you create more focused questions to gather purer data.
---
Embed A Responsive Gallery Directly In Any Web Page
Engage your audience directly on the spot
Have you ever wanted to have an integrative Image Gallery on your website or blog? If the answer is yes, then SurveyLegend is "the" solution for you.
With SurveyLegend's easy embeddable code and mobile-ready platform, your Image Gallery will always look great and fit right into its new environment. Create an art gallery, shop, quiz, election or any kind of visual survey, form or poll and embed it right into your page. It's fast and easy, yet powerful, with our amazing Media Gallery question type everything is possible.
Images are from: Hamide.co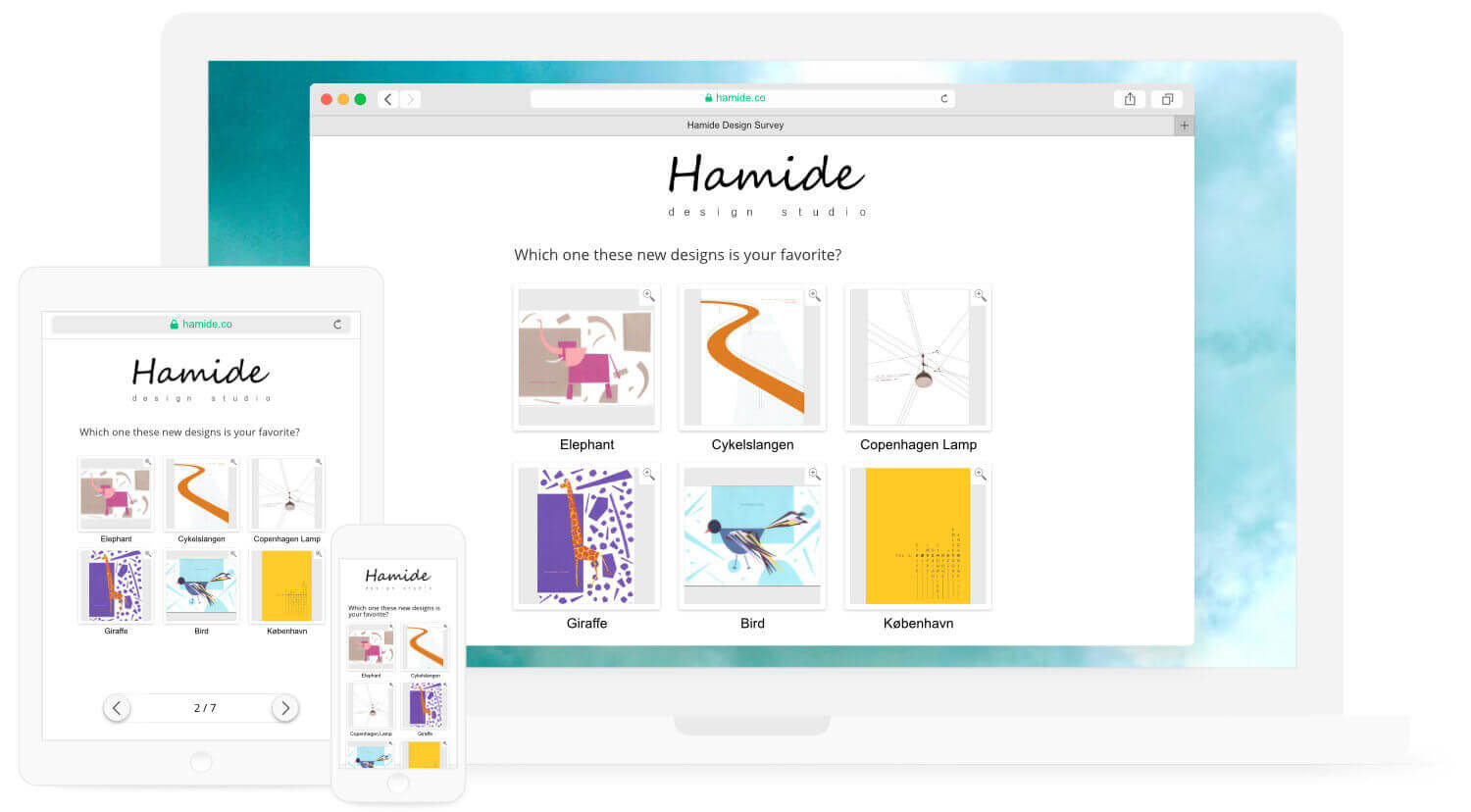 ---
Real-Time Analytics, Right There In Your Pocket
Make those critical, game changing decisions on the go
To keep you up-to-date with the latest feedback from your audience we made certain you can reach your data on the go, with our unique and inovative Mobile Phone Ready live analytics. As if that was not enough, we've made sure you don't need to instal an app. Simply go to our webpage and login as you would do using your tablet or PC; and then enjoy the data right there in the palm of your hand.
This empowers you to get a better picture of gathered responses and analyse the data faster. Every response to your survey, form, or poll is presented immediately in real-time, enabling you to follow the feedback as it comes in on your smartphone.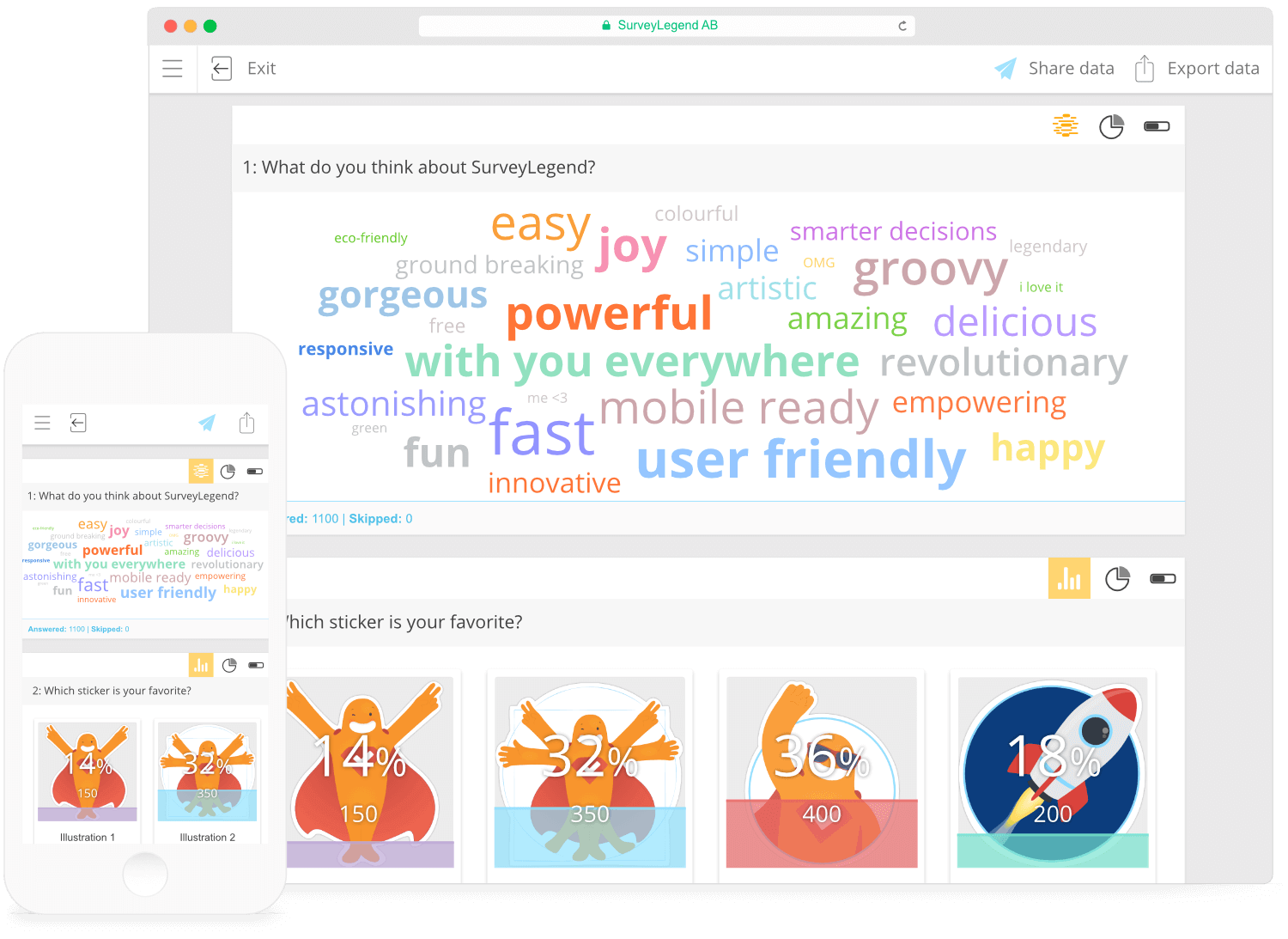 ---
An Online Questionnaire, Built For Today's World
SurveyLegend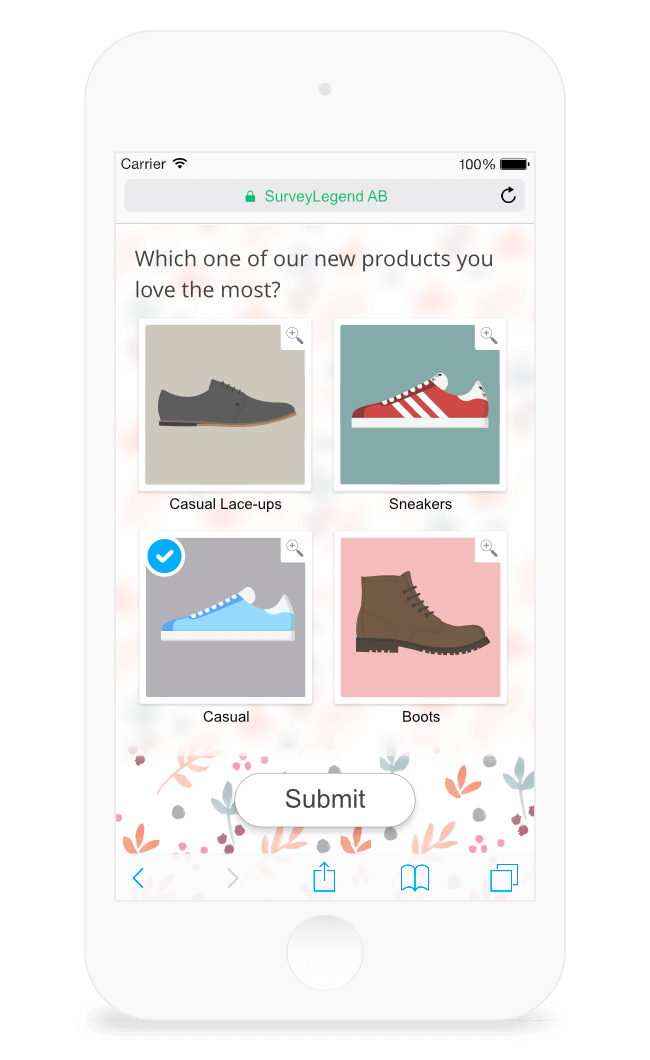 The future of online surveys and the mobile world of today. SurveyLegend makes life easier for you and your respondents. Easily select several photos from your computer or tablet, and upload them all at once. With us, you don't need to be a "programmer" to be able to make a beautiful image-based questionnaire ; )
Competitors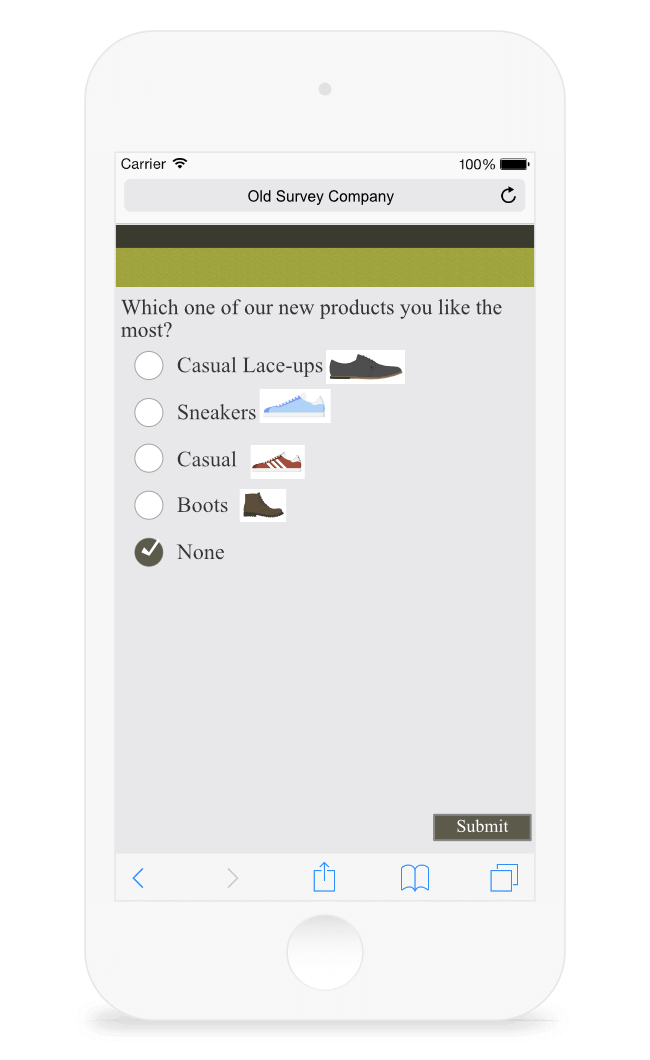 The dark ages for surveys can still be found and they aren't a pretty sight to behold. Giving your respondents a bad experience will lower your response rate. If you have tried other online survey solutions, you know for sure that even if the old tools allow you to upload photos into your questionnaires, how hard and complicated they have done for you.
The past is not always better than the present, we developed SurveyLegend to look great on todays mobile phones, tablets and computers. Every single time! Ask yourself now, which one of these survey would I respond to?
---
SurveyLegend is
By Thousands of companies
Become a Legend you too!
* All other trademarks are the property of their respective owners.
---
There is much more to it
You've experiences just a glimpse of what SurveyLegend offers. But there is still much more to discover.