Net Promoter® Score (NPS) in Surveys, Forms, Polls and Questionnaires, That Much Smarter!
Understand your customers like never before by asking "The Ultimate Question"
Want to make sure your clients are happy? Want to know how loyal your customers are? Interested to learn if your patients recommend you to others? All these questions and a whole lot more are answered using the Net Promoter Score (NPS).
With the Net Promoter Score you ask the so called Ultimate Question: "How likely is it that you would recommend this company to a friend or colleague? This enables you to quickly and easily measure customer loyalty of your company, product, service, or brand.
With the Net Promoter Score you put your customers into three groups known as "Promoters", "Passives", and "Detractors", and challenge your business to improve the number of promoters while decreasing the number of detractors. Start challenging your company today, with SurveyLegend you're a drag and drop away from creating your first ever NPS survey, form, poll or questionnaire.
---
The History of the Net Promoter Score (NPS®)

It all started with a man by the name Fred Reichheld
The year is 2003 when the NPS® is Pioneered by Fred Reichheld, author of The Ultimate Question. The NPS is a customer loyalty metric that predicts the likelihood of a customer repurchasing from you or referring your company to a friend or colleague.
The Net Promoter Scores can range from as low as –100 to as high as 100, having an internal company goal to have a NPS score of 100 should be every company's goal that wants to be the leader in its line of business. The question is, what is your NPS score? And how far or close are you to a NPS score of the magic 100.
---
Calculating the NPS Score is as Easy as 1, 2, 3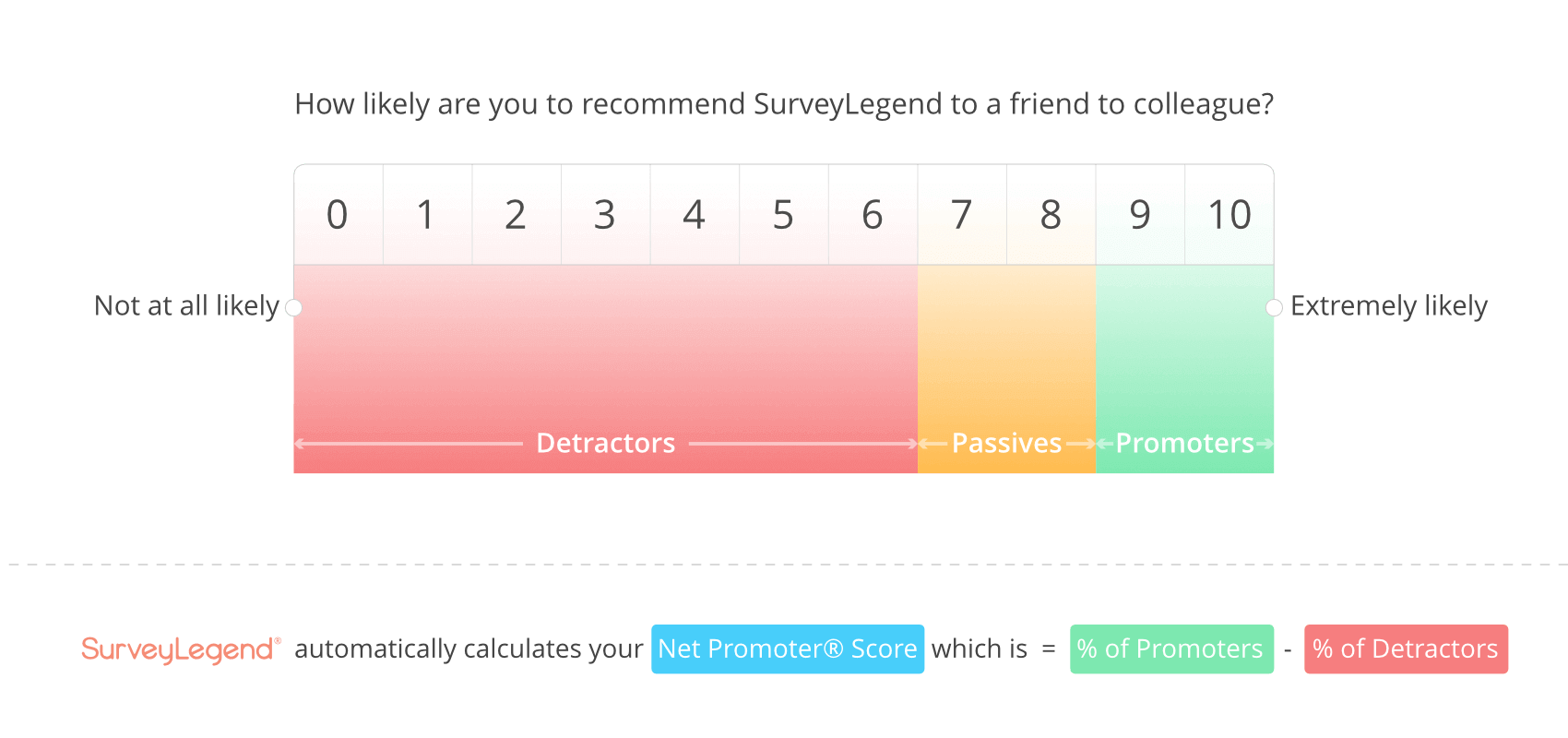 But just relax, because we even do that for you!
The Net Promoter Score divides respondents into three categories, "Detractors", "Passives" and "Promoters". The people who rate you 0 through 6 are known as "Detractors", those who rate you 7 or 8 are known as "Passives", and those respondents who give you a 9 or 10 are known as "Promoters".
The Net Promoter Score is calculated by taking the percentage of promoters minus the percentage of detractors. For example subtract 10% (Detractors) from 75% (Promoters) which equals 65%. Since a Net Promoter Score is always shown as just a number, and not a percentage, your NPS is 65.
---
How NPS data is visualized in our Live Analytics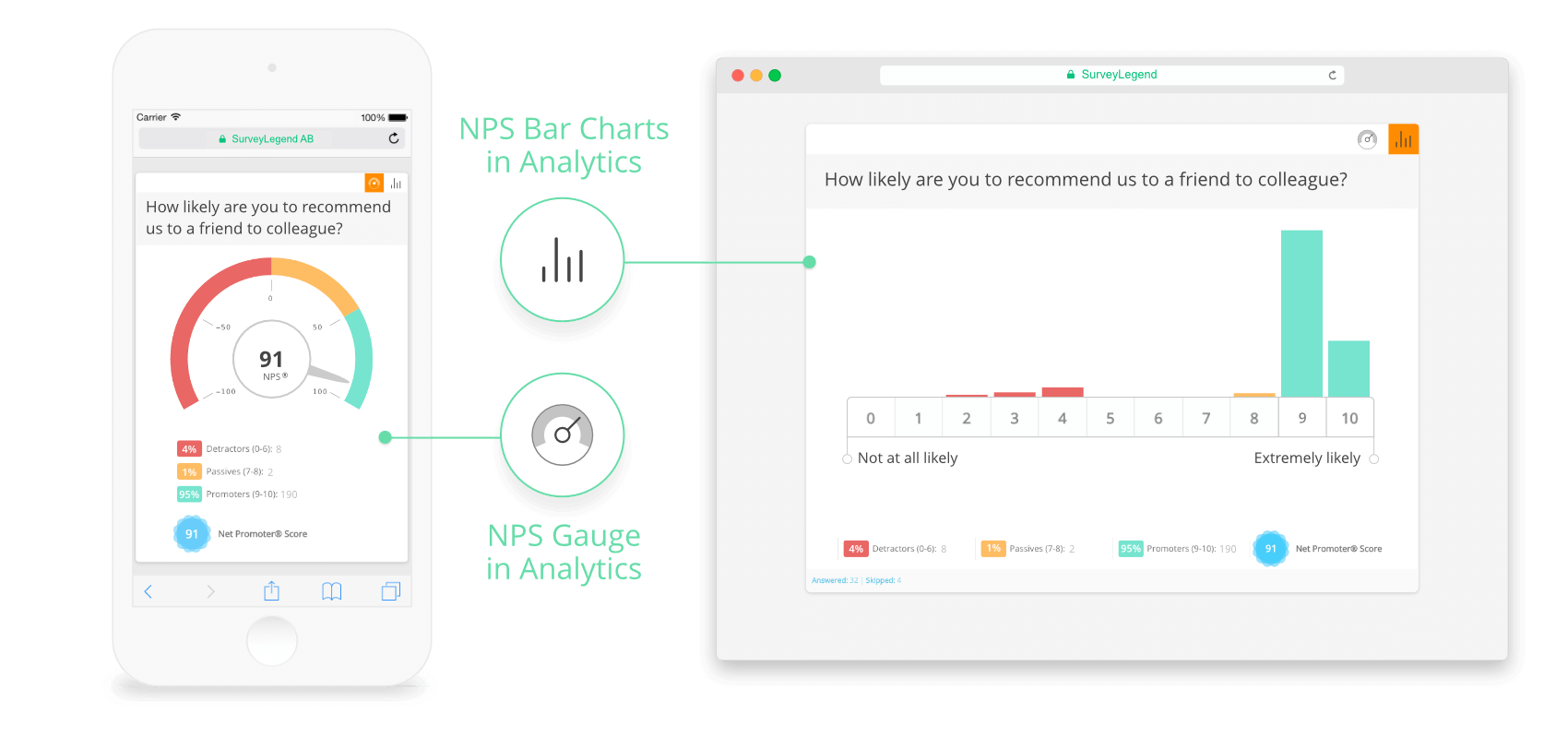 Use our online survey tool to conduct an NPS survey and get your Net Promoter Score. You will not even have to lift a finger, we do the calculations for you and present it in the "Live Analytics" in real-time as the data is coming in. Just login to your account on a desktop computer or smartphone, and enjoy getting real-time insight about your company.
We offer two types of diagrams to visualize your NP Score; NPS Bar Charts, and NPS Gauge. This visually presented data empowers you to focus on the important tasks in your company, for example improving your product, service or brand leading to a higher and better Net Promoter Score than the day you started tracking your NPS.
---
Net Promoter Score Survey Example
This is a live survey with NPS question, made with SurveyLegend
Our mobile-ready surveys look gorgeous on any device! Scan the QRC to preview this example of Net Promoter Score survey on your smartphone or tablet.
"Word of Mouth" is the best marketing any company can get, and with SurveyLegend's Net Promoter Score survey question, you easily get to know how likely your customers are to recommend you to their friends or colleagues.
Tracking the NPS over time also allows you to benchmark your progress. The Net Promoter Score methodology is based on asking the participant one single question that is anticipating of both repurchase and word of mouth (referral). However, NPS can easily can be combined with other question types that we offer, to create an even more insightful knowledge about your enterprise.
Register now for free and start creating your first amazing and insightful Net Promoter Score survey ; )
---
Businesses Already Taking Advantage of The
Net Promoter ® Score
* All other trademarks are the property of their respective owners.
NPS ® is tracked by some of the best companies in the world
Want to be the best in your industry? Then do as some of the best companies in the world already do, track your Net Promoter ® Score. Apple, AT&T, BBC and Salesforce are just some of the companies tracking and learning from their Net Promoter ® Score. The NPS ® is easy to adapt yet super powerful and can be one of the missing components that will transcend your company to the next level.
Understand your customers like never before and evolve with them, one happy customer at the time.
---
NPS ® One Amongst 20+ Various Question Types
A question type for every and any occasion
The Net Promoter ® Score question type is one amongst more than 20 different question types, ready to be utilized to your and/or your organization's advantage. Conduct market research on a global level or do a quick local poll. Whatever you decide SurveyLegend has your back with its modern mobile-ready online survey service and a first class support, you are never alone.
* NPS®, Net Promoter® & Net Promoter® Score are registered trademarks of Satmetrix Systems, Inc., Bain & Company and Fred Reichheld.
---
There is much more to it
You've experiences just a glimpse of what SurveyLegend offers. But there is still much more to discover.