The Free Survey Maker That Brings Out The Best In You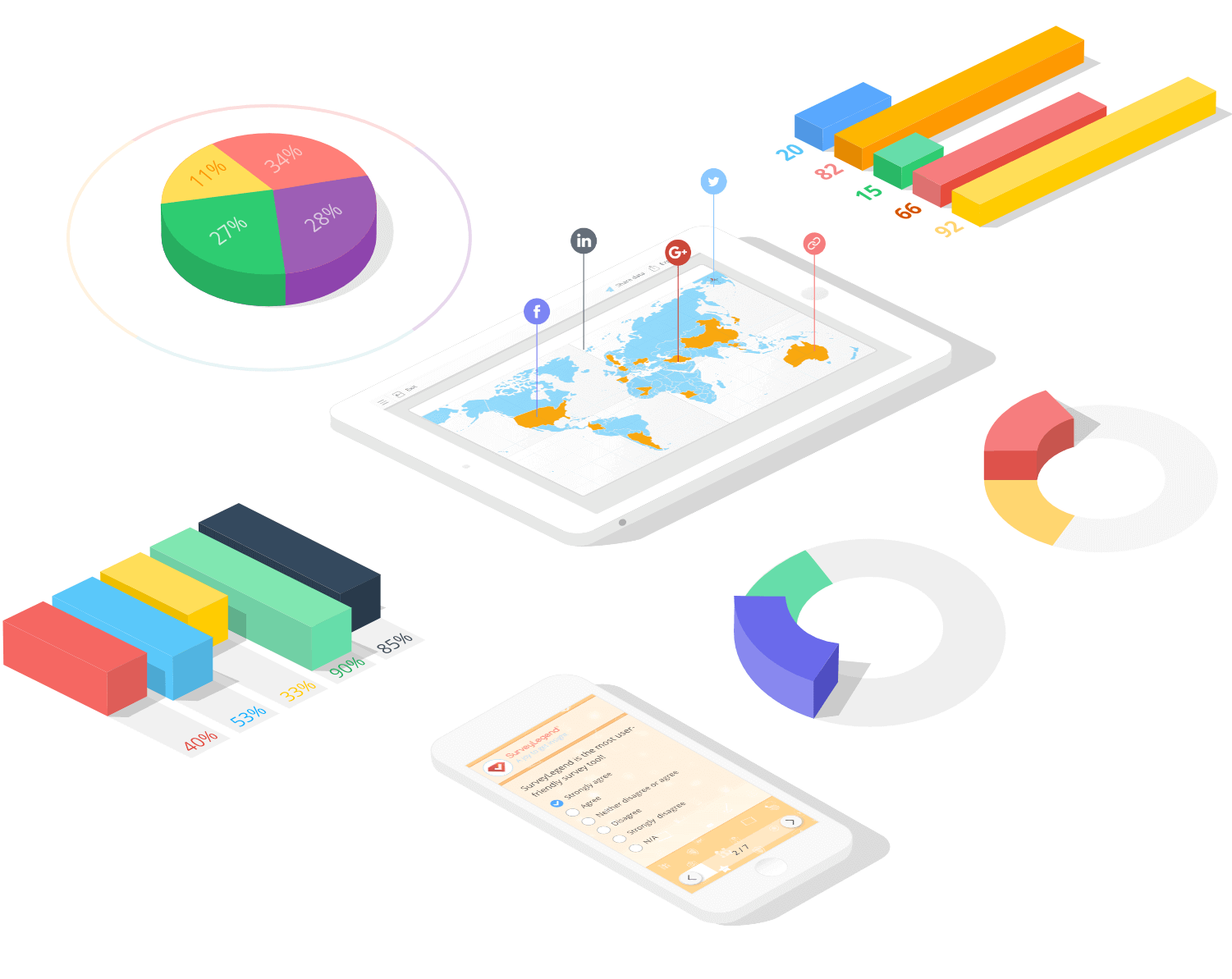 ---
Create Beautiful & Unforgettable Surveys In A Flash
Create surveys however & wherever you want
It's easy to add and edit content. All is done with a simple drag & drop.
No matter if you chose to create your survey, form or poll on a tablet or a computer, SurveyLegend just works awesomely every single time!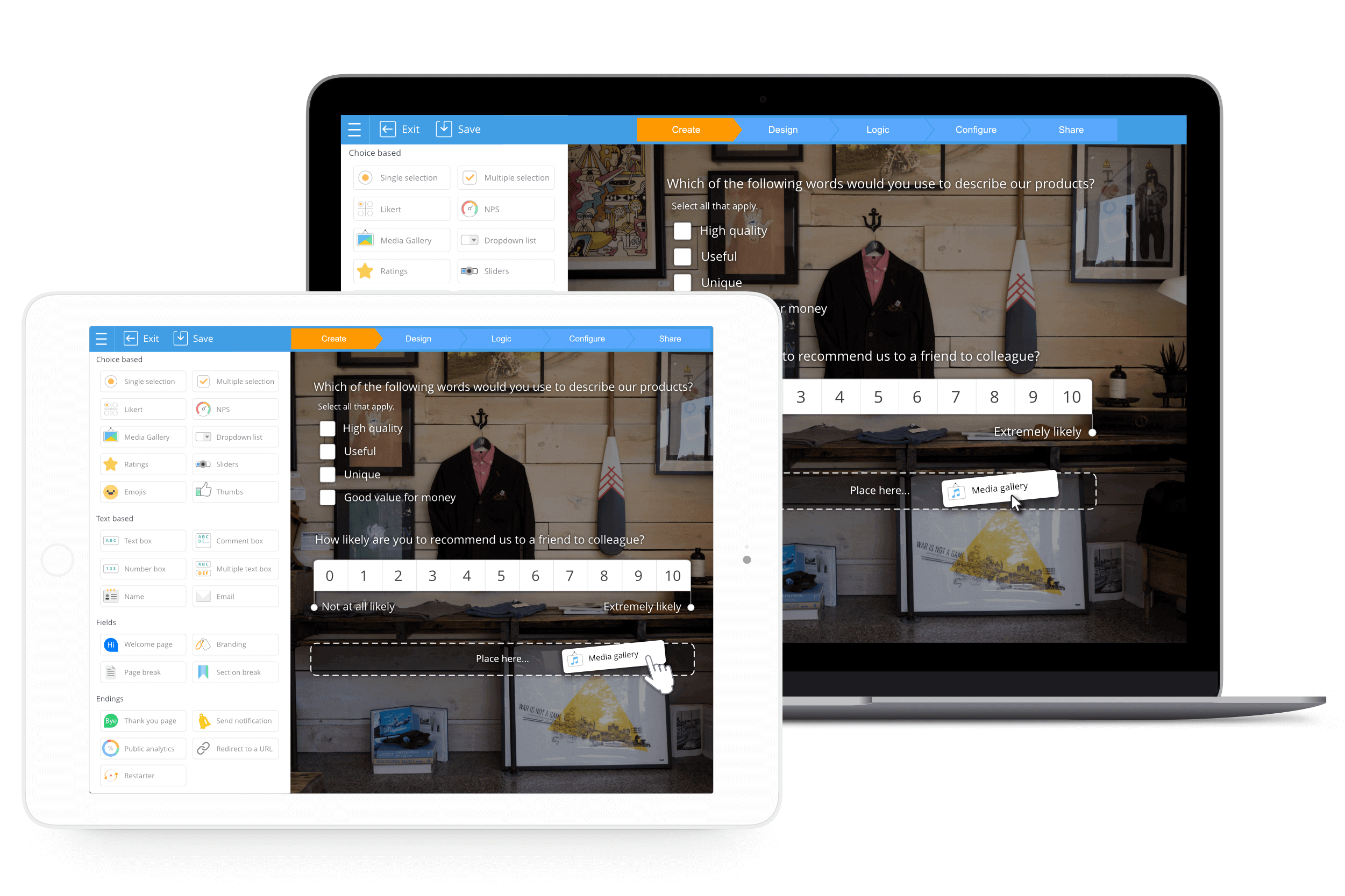 ---
Engage Your Respondents By Using Visual Surveys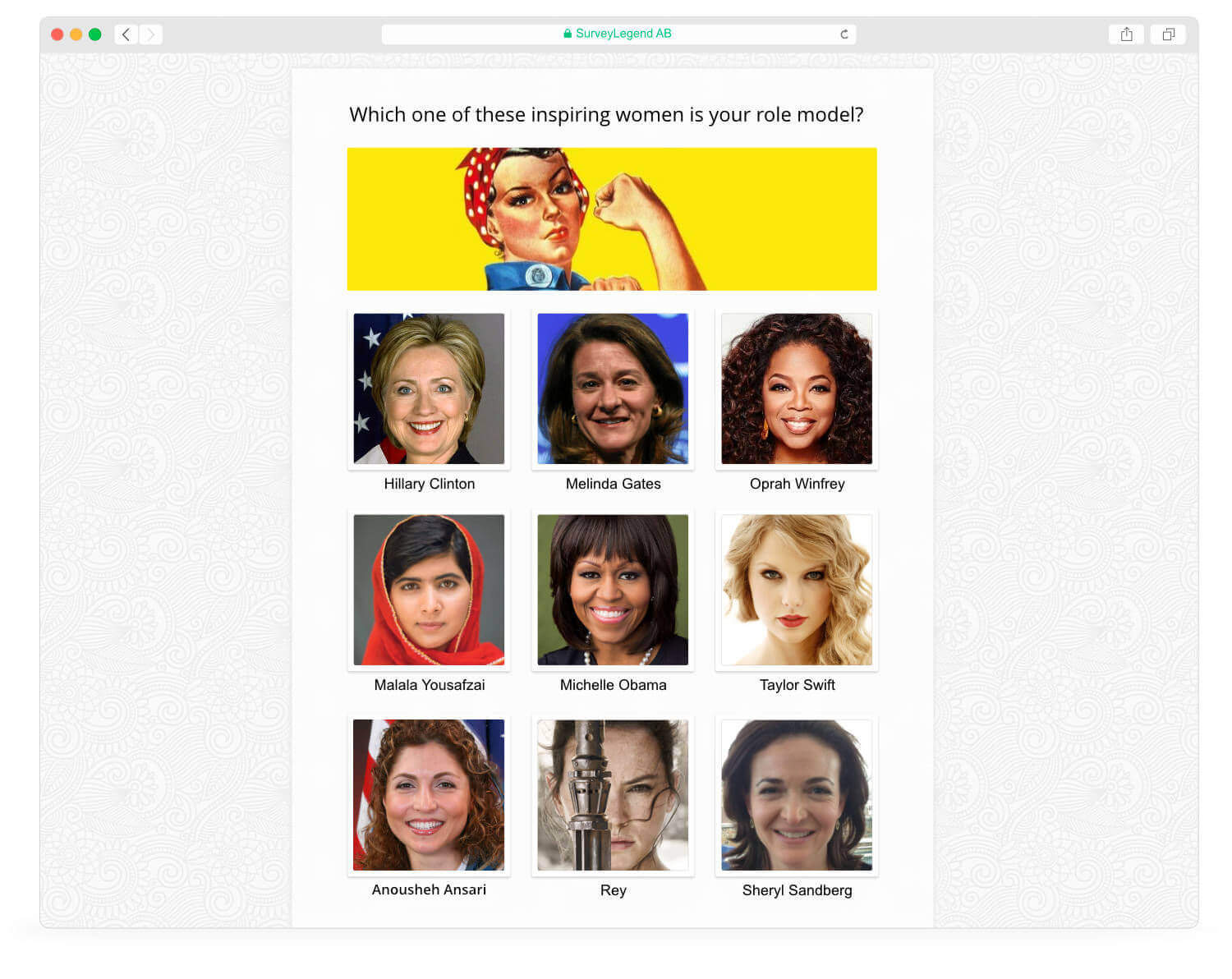 A picture says more than a million words
Our goal from day one has been to offer a great experience to you as the creator of the survey, form or poll and to allow you to create beautiful unforgettable surveys that the respondents will enjoy interacting with.
Having a beautiful survey is as important as asking the right questions. A visually appealing and engaging survey increases your survey's response- and submission rate.
---
Design Smarter Surveys, Forms or Polls, Using Logic & Branching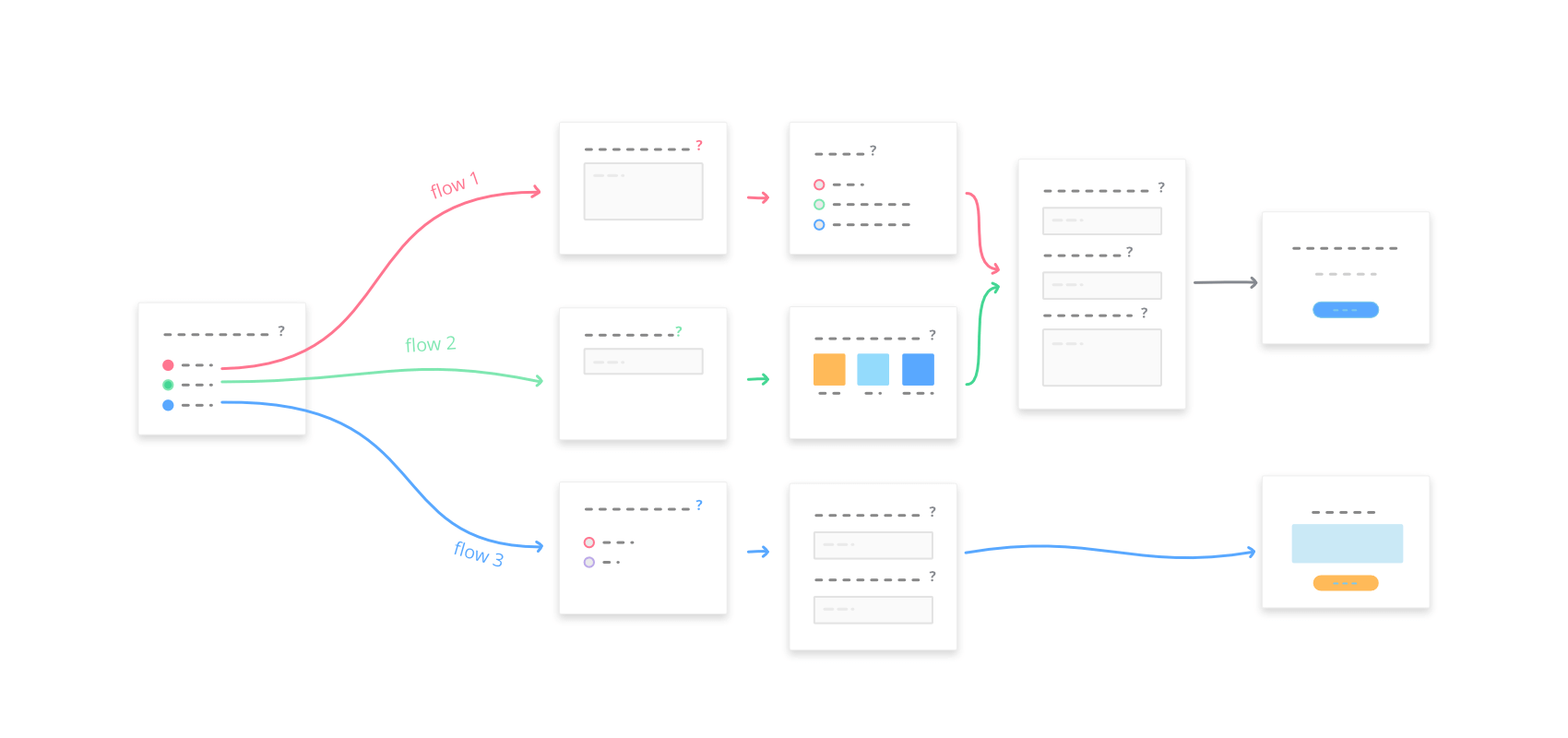 Feel the power of 'the' easiest to use logic and branching creator you will ever encounter
Utilise our powerful logic flows, add them to your survey, and make them smart and reactive to the respondents. With only a few clicks, you can divide the questionnaire into different branches, and skip to them based on how they answer your questions. Even choose what to show or hide for different people who are taking your survey. It feels like you are there with every respondent, interviewing them live.
By the way, it's not as complicated as it sounds. The logic creator, we designed it to be easy, we engineered it to be amazing! Give it a try.
---
Design That Mesmerises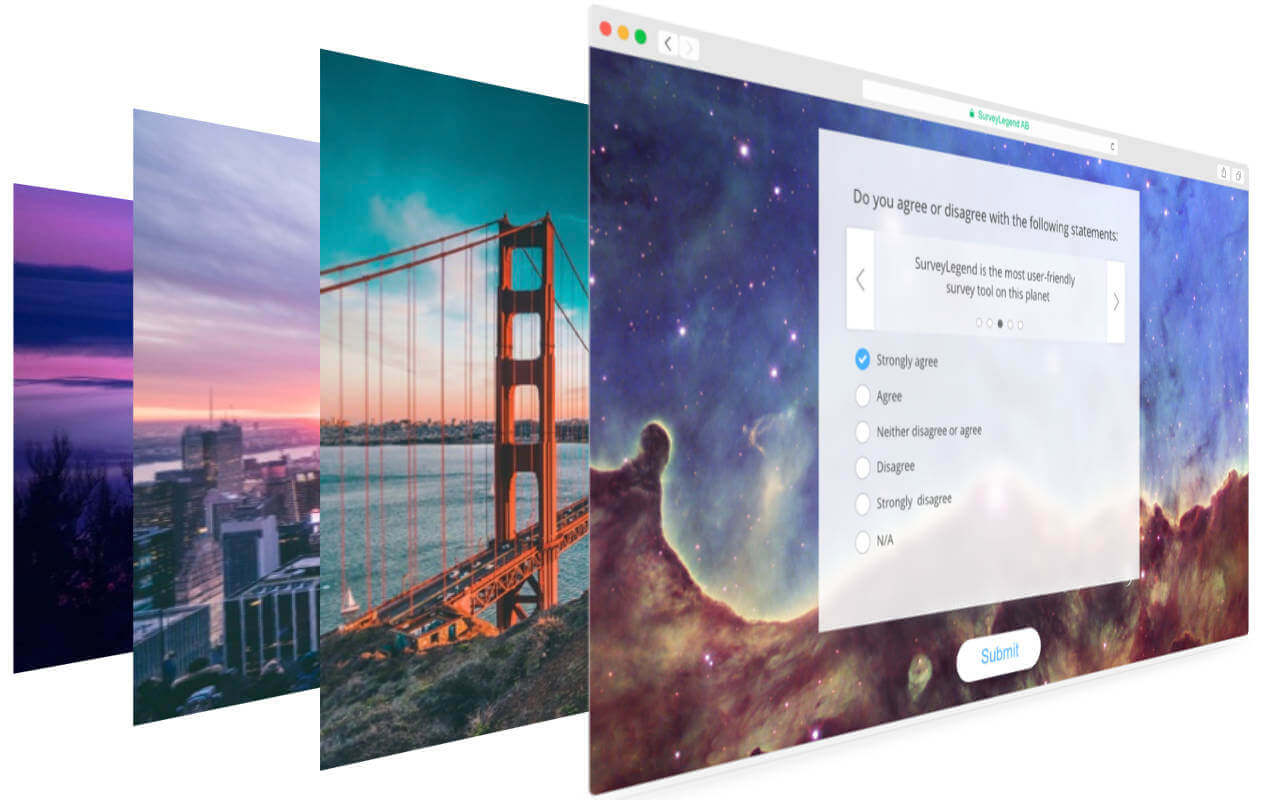 With SurveyLegend everyone is a designer
We believe it should be easy to design beautiful surveys, therefore we offer more than 70 predesigned themes for you to choose from.
But if you can't find the right theme or colors that suits your needs and brand, you can effortlessly upload custom backgrounds, logos, and images to totally customize the way everything looks. Enabling you to add the cherry on the top, with your personalized design!
---
Beautiful And Branded
Let your brand shine
Represent your brand and company in a way your customers will recognize and love. Use custom background images, logos to make your surveys stand out.
With SurveyLegend it's super easy to make a survey your own.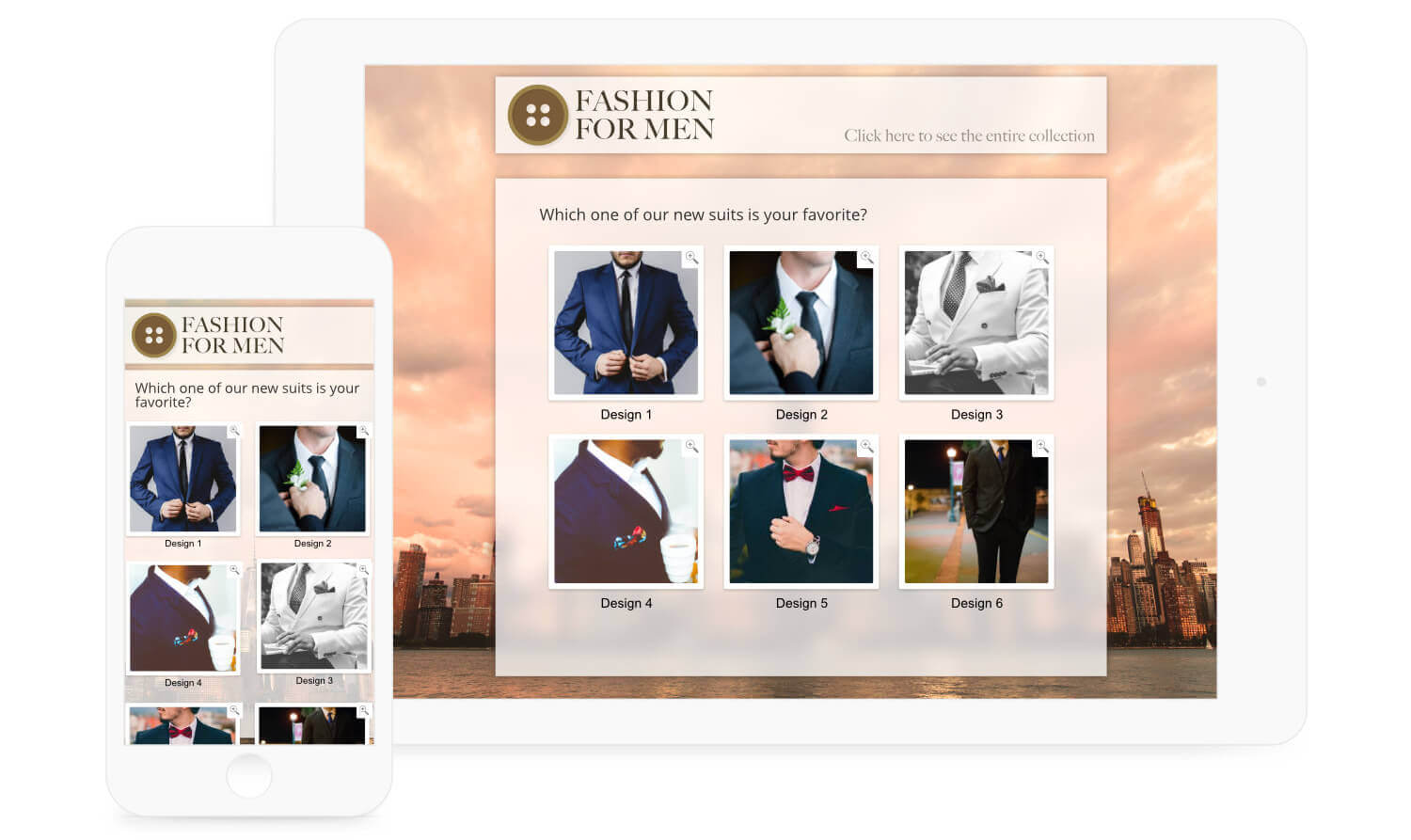 ---
Effortless Sharing, Is Caring!
Sharing your surveys is just a click away
Email out your survey link, share it on Facebook, Twitter, LinkedIn, Google+, Pinterest or any other social media. You can even embed your survey on your website or blog. SurveyLegend makes it legendary easy.
You decide how you want to reach your audience, no matter what your decision will be, we got your back.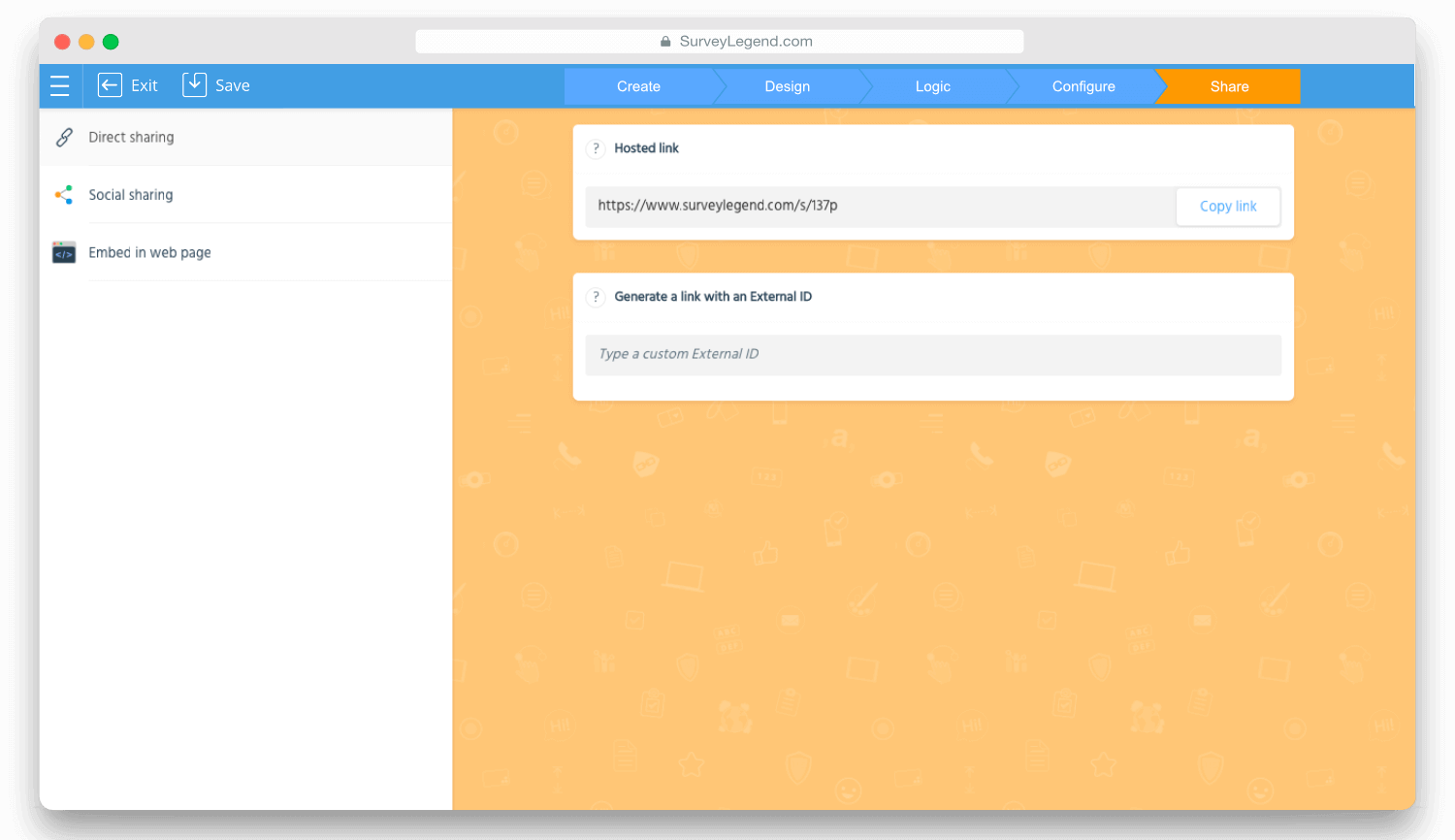 ---
Mobile Phone Ready, Beautiful Surveys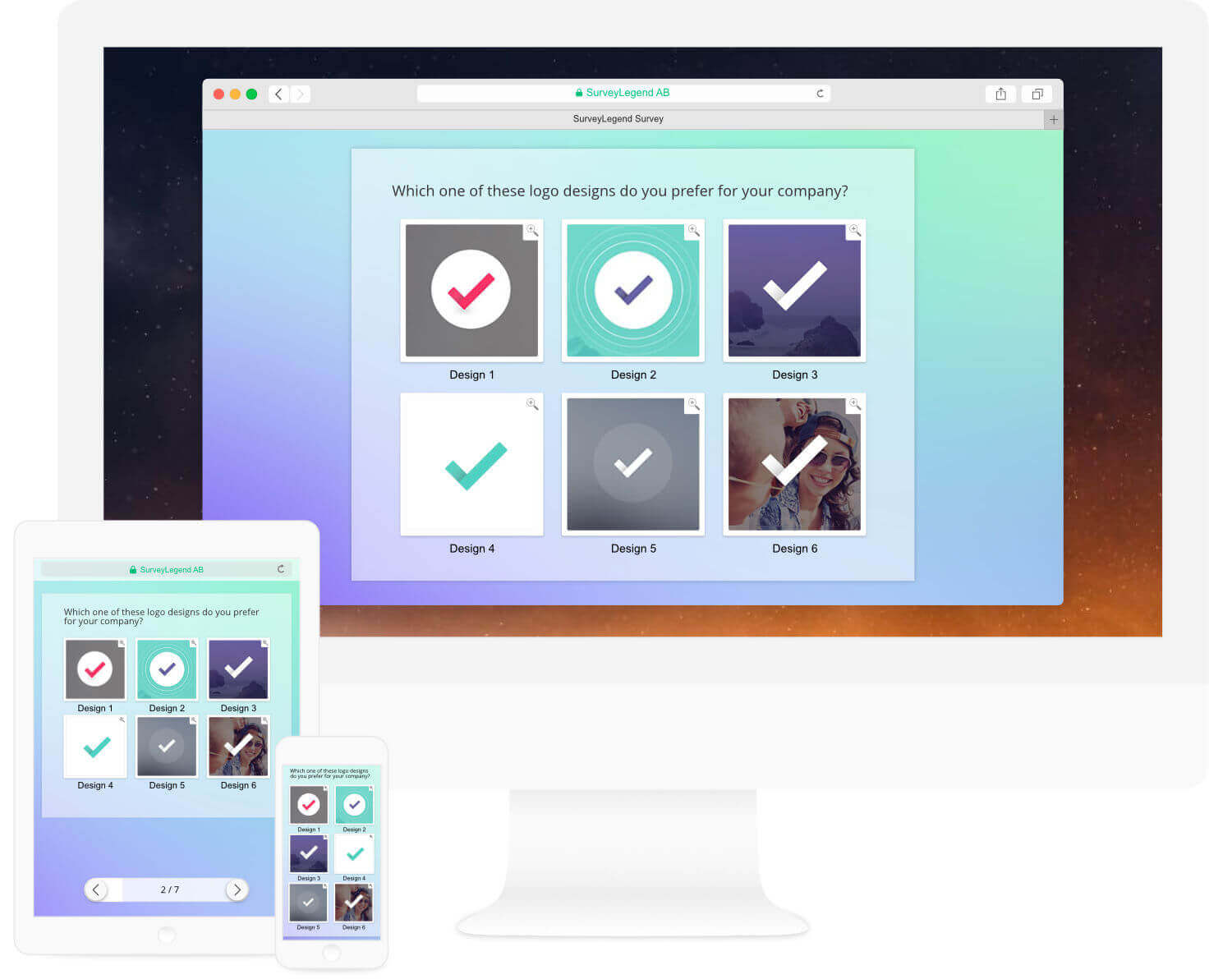 Looks great on every device, every time
Contemporary surveys need to be optimized for mobile phones, tablets and all kinds of web browsers.
We make sure your surveys always look amazing on every device, making it a joy to give feedback. Your audience chooses how they want to give feedback. No matter if they participate by using their mobile phone, tablet or computer, you can get their feedback on the go.
As we say, "One solution to rule them all; one solution to reach them all"
---
Real-Time Analytics, Insanely Insightful
Make those game-changing decisions faster on the go
Having feedback collected, without a good data analytics tool, is data with no use. With SurveyLegends artistically presented data you're enabled to make those critical and game-changing decisions faster.
This empowers you to get a better picture of gathered responses and analyze the data faster. Every response to your survey, form or poll is presented in real-time, enabling you to follow the feedback live.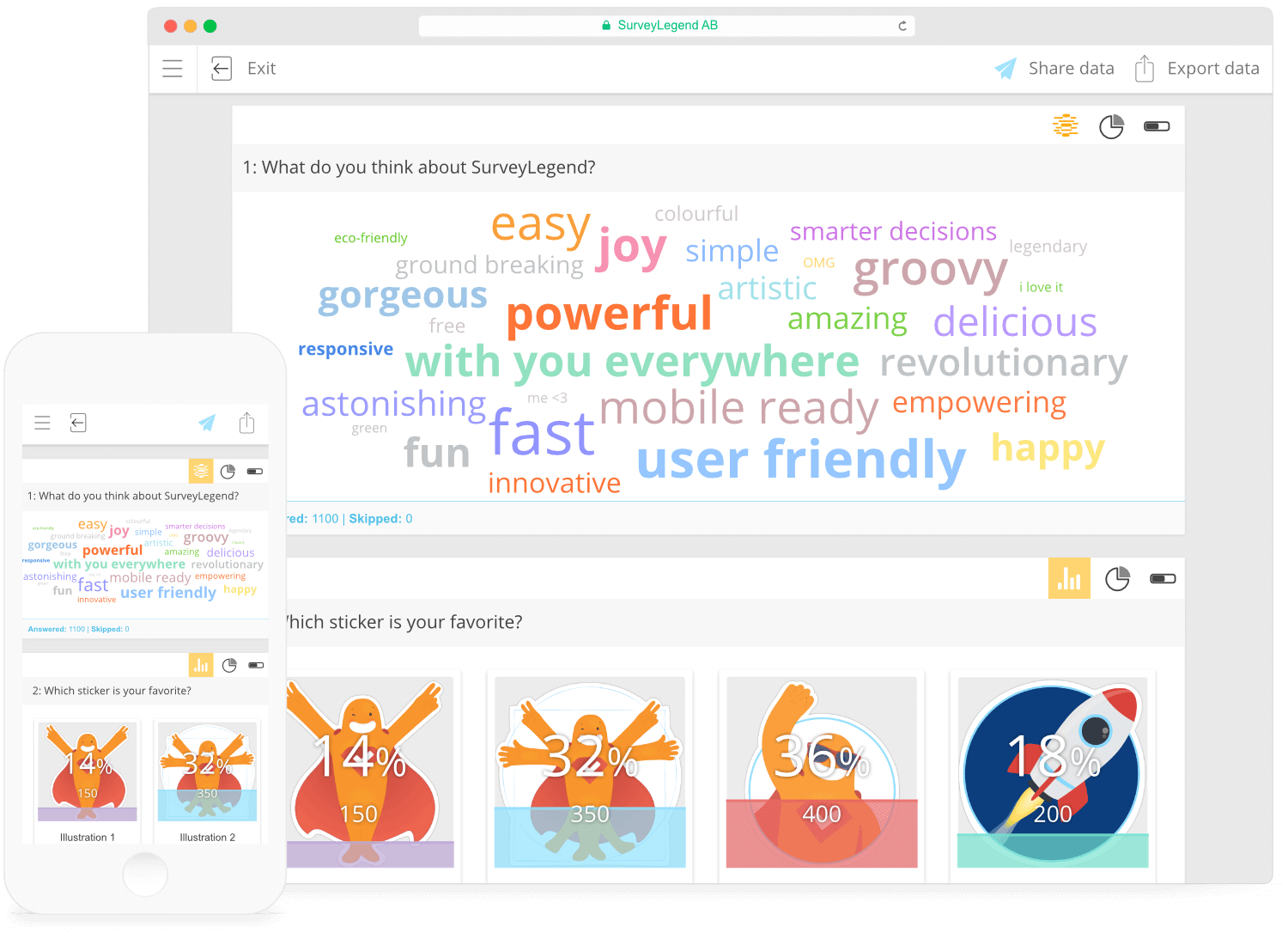 ---
Download, Export or Share Survey Data With Ease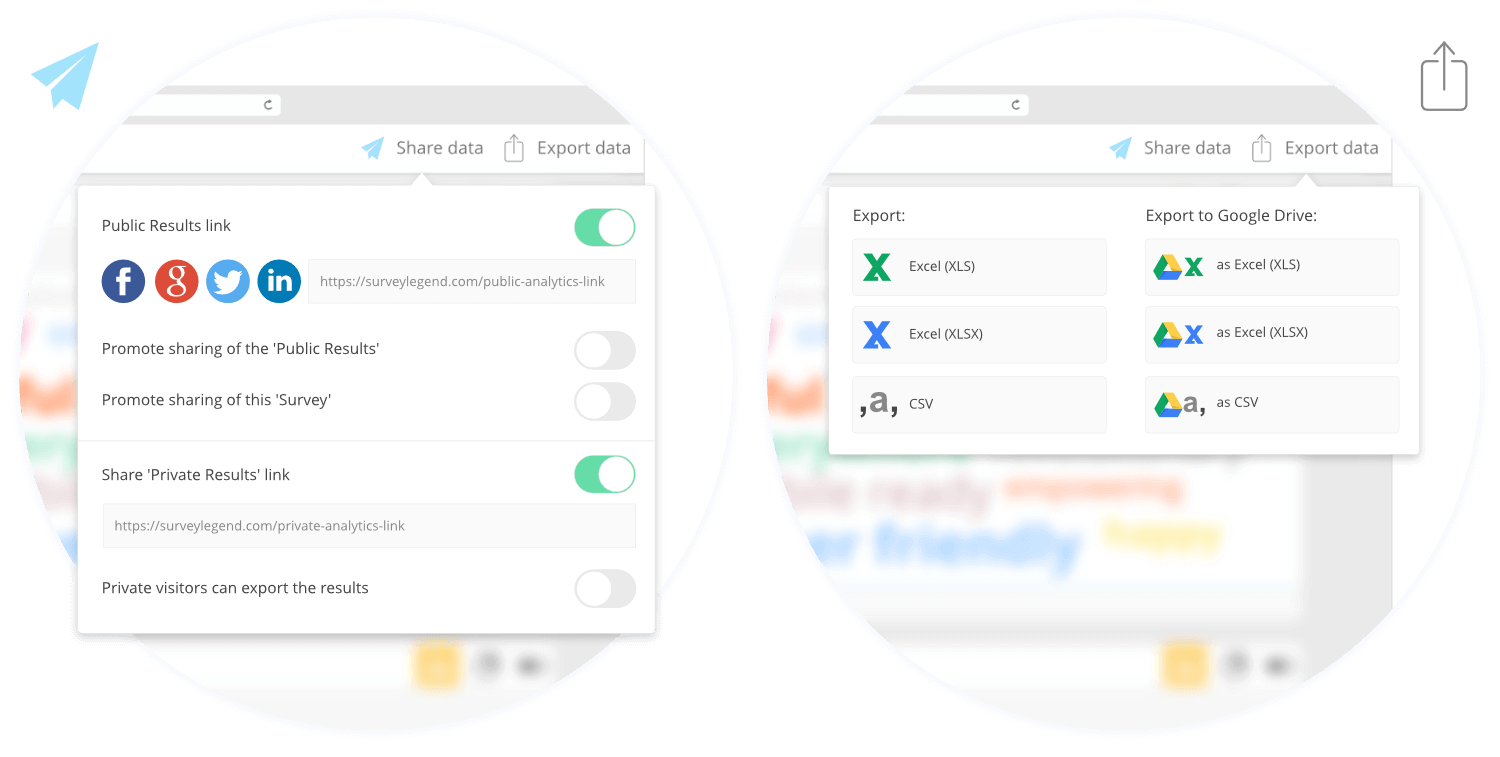 ---
Share Your Real-time Analytics, Publicly Or Privately
Engage your respondents, and let your questionnaires go viral
Every survey, form or poll can tell its own story. We enable you to share that story with whomever you want, be it your own respondents, friends, colleagues or the whole world.
This is a truly innovative feature enabling your surveys, forms or polls to go viral. The Public Results page has the power to encourage sharing and participation. It's super easy and very effective!
Keep everyone enlightened with the most recent insights
As soon as feedback starts being collected, all stakeholders who are involved wants to access to the latest data. Surveyors need to constantly keep all the parties informed, and send copies to clients, coworkers, supervisors, managers, CEOs; and the list goes on.
Unlike other survey tools, our innovative solution empowers you to share a private, secure link to your live analytics page. You even have the power to let the recipient download the data to their computers, or directly export it to their own Google Drive.
No more emailing back and forth with excel sheets, PDFs or CSV files. People you work with can enjoy the beautiful data presentations and export the latest when they need.
---
As Secure As Your Bank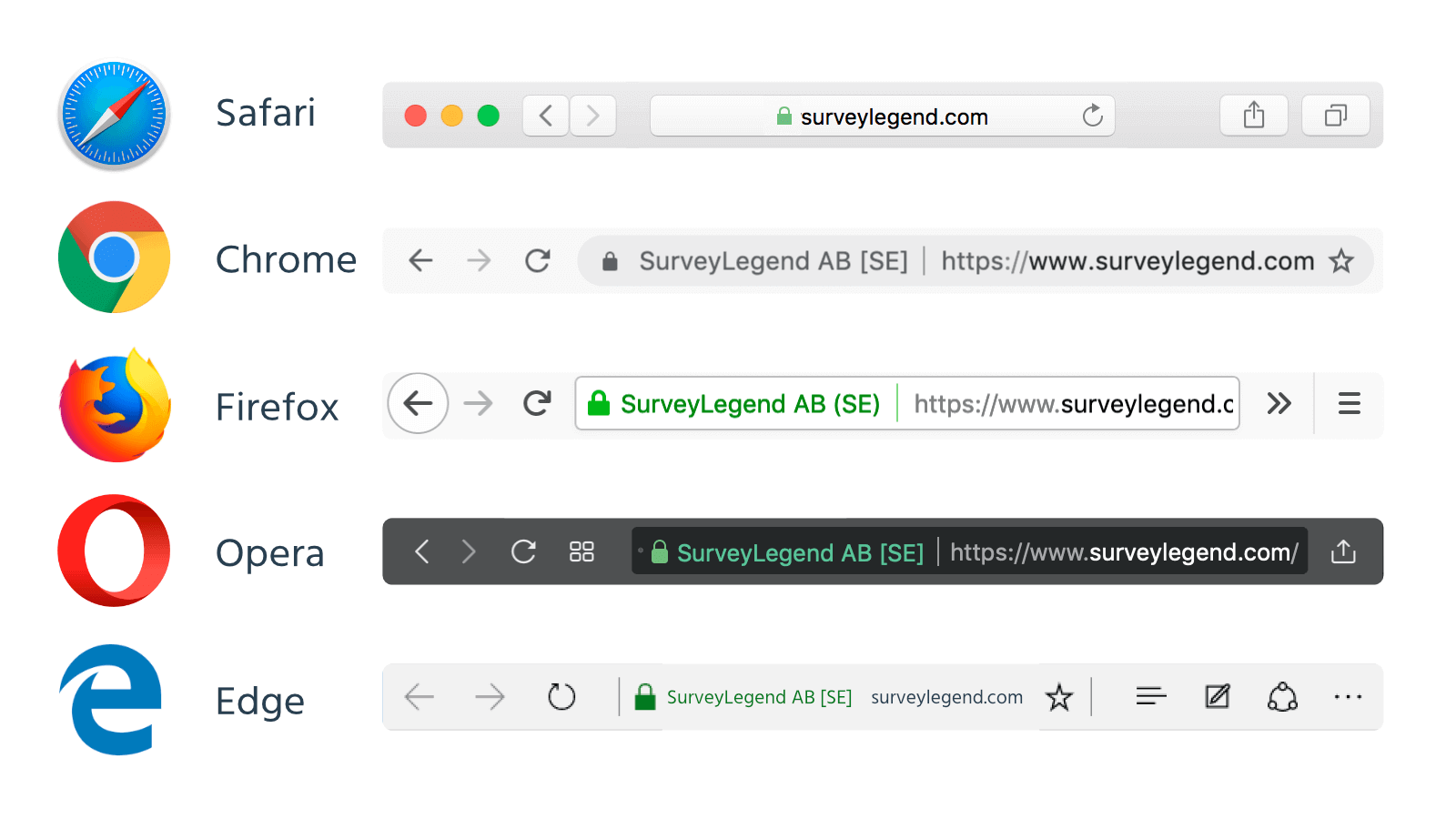 Every step of the way
To be super secure, we achieved an Extended Validation Certificate. Only a legally recognised company can achieve an EV Certificate, after being entirely investigated and certified by a valid EV Certificate issuer company. We take security serious, feel safe using SurveyLegend.
Encrypted with TLS v1.2
All data transfers both in our site, app, and surveys go over highly encrypted connections. Our Transport Layer Security (TLS) protocol protects communications using Server Authentication + Data Encryption technology, and ensures that your survey data, personal- and billing-information are secure and available only to the intended receiver.
Compliant with the GDPR
Here, trust is our number 1 value and protection of our customers' and respondents' data is paramount. We've built an online survey solution with respect to your and your respondent's privacy and security, and compliant with the GDPR.
---
Integrated With The apps You Love
It just works
Working seamlessly with other apps is in our company's DNA, so it's not a coincidence that we have integrations with other great apps like Google Drive, Facebook, Twitter, LinkedIn and Edmodo. Easily sync your collected data, login with a click of a button and more…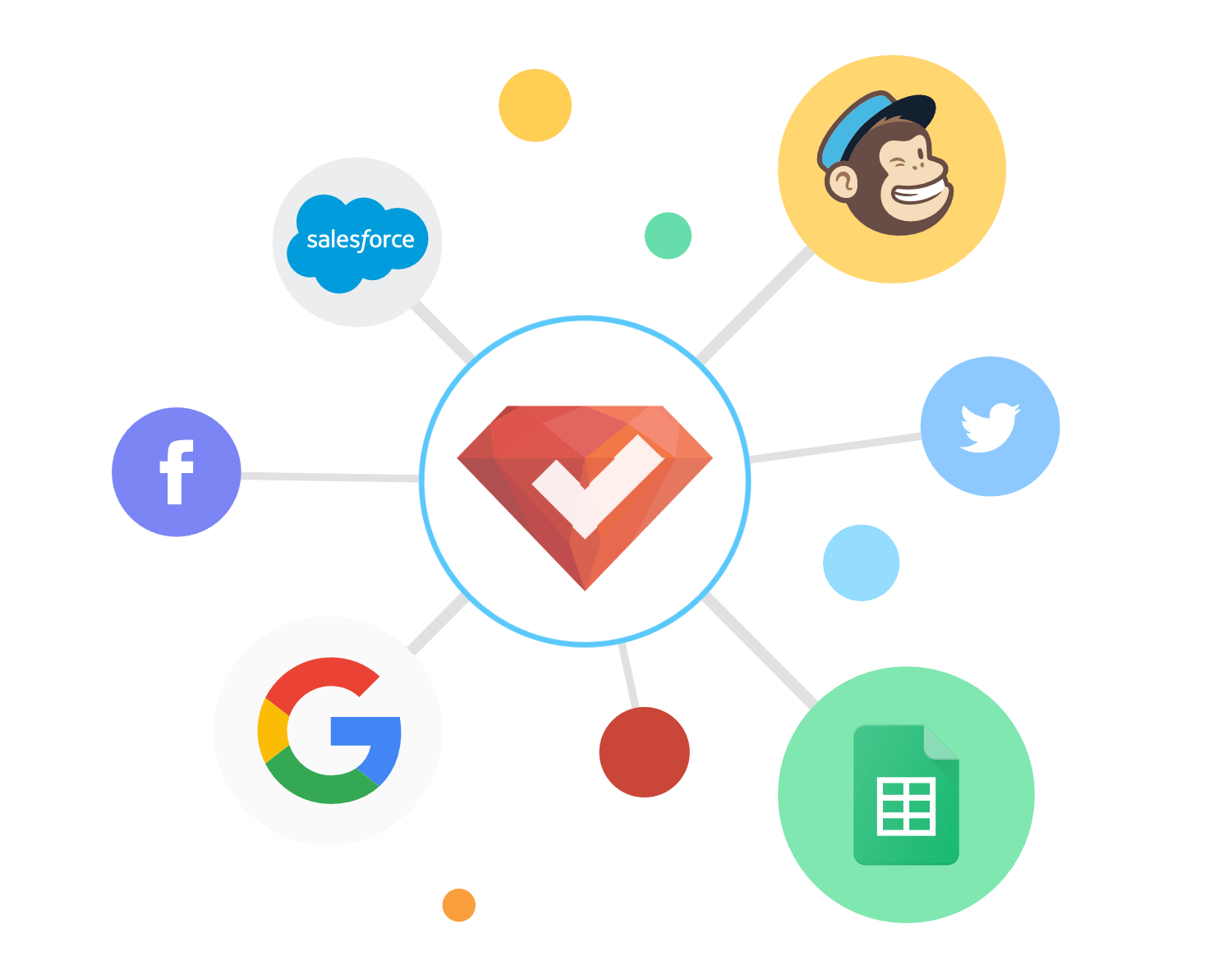 ---
SurveyLegend is  
By Thousands of companies
Become a Legend you too!
* All other trademarks are the property of their respective owners.
---
There is much more to it
You've experiences just a glimpse of what SurveyLegend offers. But there is still much more to discover.