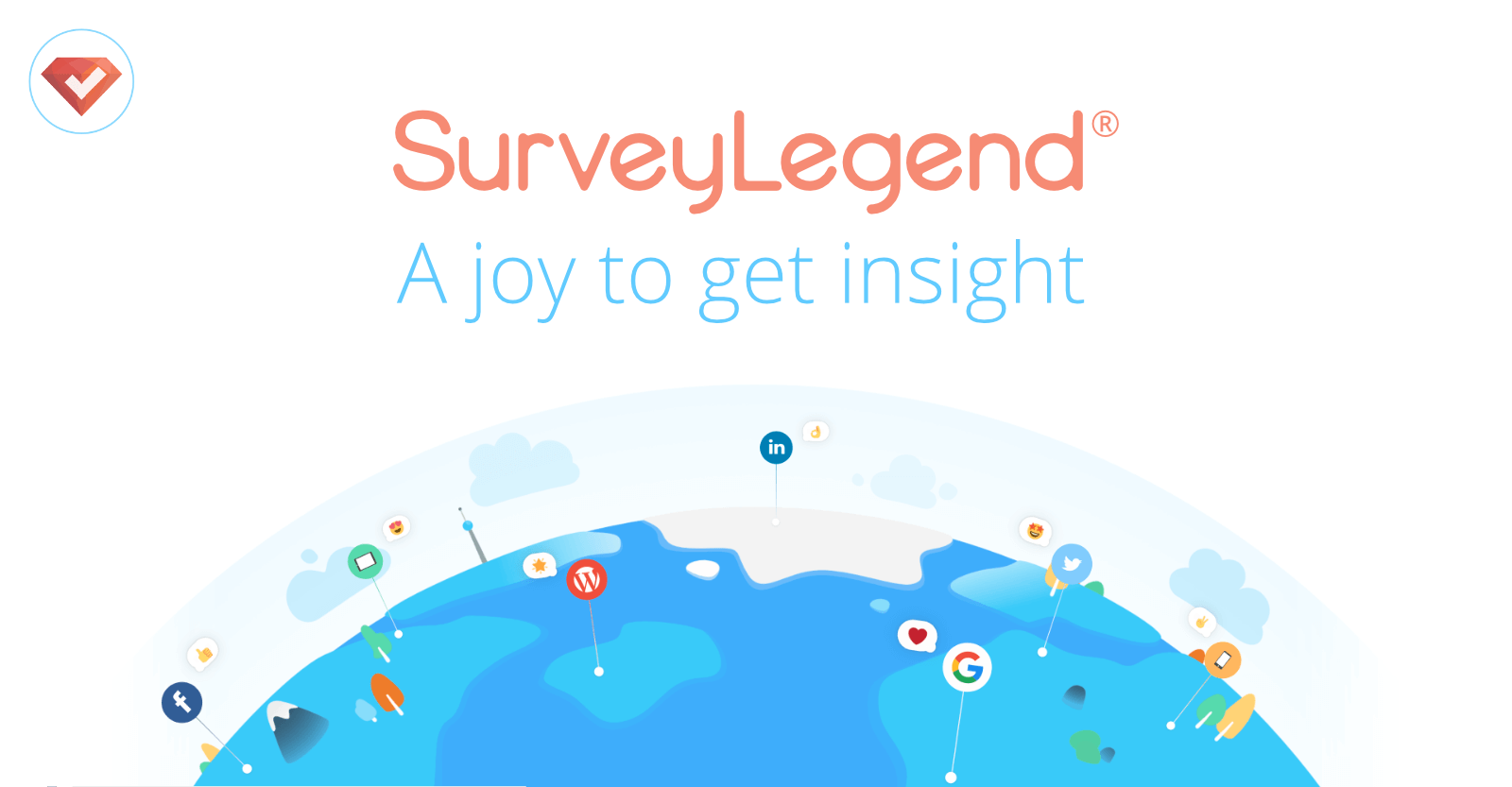 ​
Sign up, it's free!
Create Great Surveys. Gather Amazing Insight. Become a Legend.
The world's best FREE survey maker
When you choose SurveyLegend, there's no need to look anywhere else when it comes to making or taking online surveys, questionnaires, polls, and form. Our surveys are easy to create – and easy on the eyes! To use SurveyLegend, all you need is the internet and a passion for quality. From the first click or swipe of your fingertip, SurveyLegend is carefully designed and engineered to be the most user-friendly and free survey maker on the web. With SurveyLegend, you can create surveys and collect data in a totally secure and encrypted digital environment from anywhere, at any time. And, you'll see survey results in real-time; simply download them locally to your computer or export them directly to your Google Drive – all for absolutely no cost. Plus, you can analyze, filter, and share your survey data with your colleagues, clients, business partners – even your survey participants.
Sign-up
takes less than 10 seconds. If you want to register with your Google or Facebook account, it takes even less time, and you'll be on your way to making your first and finest
free online survey
.
See what SurveyLegend is all about in 1.5 minutes!
Why is SurveyLegend free?
It's simple. We're a team of innovative entrepreneurs and friends who LOVE quality, LOVE what we do, and LOVE sharing our amazing creations with others. We believe that everyone deserves to experience the joy of using a high-quality, hassle-free, and professional product, even if it's just for fun. Our team stands by our survey solutions and will put them up against any other online survey maker on the web. Perhaps most importantly, we want to make the world a better place – to be just like real legends. We understand that you want to make a difference too, and that's why you ask questions. So, why not do it in a legendary way? When you use SurveyLegend, you're helping spread the word about us. That, in a nutshell, is why SurveyLegend is free.
Free sounds fishy… are you using my data or something?
Honestly, knowing how some survey companies operate, we're not surprised to be getting this question. And to be even more honest, we're actually really happy to hear this question! That's because it shows you care about your own data and your participants' data – and so do we. Well, the answer is simple: No! We absolutely respect everyone's privacy, and that's why we have created an SSL-encrypted secure environment both for survey creators and survey participants. We would never even think about abusing anyone's trust and that's what makes us legendary. You can read more about this in our
privacy policy
.
I like you guys, so how can I support you?
Thanks, the feeling is mutual! By simply choosing to create a free account, and share your free online surveys with others, you're doing a lot to support us. After all, we're are nothing without our amazing users. But, if you want to take it a step further, you can like us on
Facebook
, follow us on
Twitter
 and
Google+
, or join our
LinkedIn group
. You can also give us your feedback here and let us know how we can become better and more legendary. By doing this, you're giving us food for thought, and we really appreciate it!
Does SurveyLegend offer paid plans?
Yes, we do. There's even monthly and yearly paid subscriptions if you're working professionally with surveys and questionnaires, or need more cloud storage, advanced features, and continuous professional customer support. Nevertheless, all our paid subscriptions come with a 100% money back guarantee. Anyone, at any time, can change their subscription from paid to FREE, while still keeping all their online surveys and collected data. They can even continue making free online surveys, forever. Read more about all of this in our
Terms and Conditions
, or on our
Features page
.
Are your apps also free?
Yes, of course! As free as air 😉 You can use SurveyLegend as an app on your tablet or in your web browser. SurveyLegend is a free online survey maker but you could actually call it a free online survey app as well. We have made it work as a native web app, installable in Google Chrome and as Android powered tablets or iPads.
Read more about SurveyLegend's free apps here
.
So what do I get with my free account?
With a free SurveyLegend account, you will basically get all you need to conduct successful online surveys. However, if you want to find out more, here are the details. Also, you'll find a full list of our survey features for both free and paid accounts. We're constantly updating our survey solutions and adding new professional features for both free and paid accounts. So please, have a look, and if you don't find the survey feature that you are looking for, let us know. Maybe we are already working on it, otherwise, user feedback helps us prioritize needed survey features in our development plans.
Let's keep in touch, and let us know what you like or dislike about your free survey account, or your paid one. Looking forward to seeing you amongst the other legends 🙂
See SurveyLegend In Action!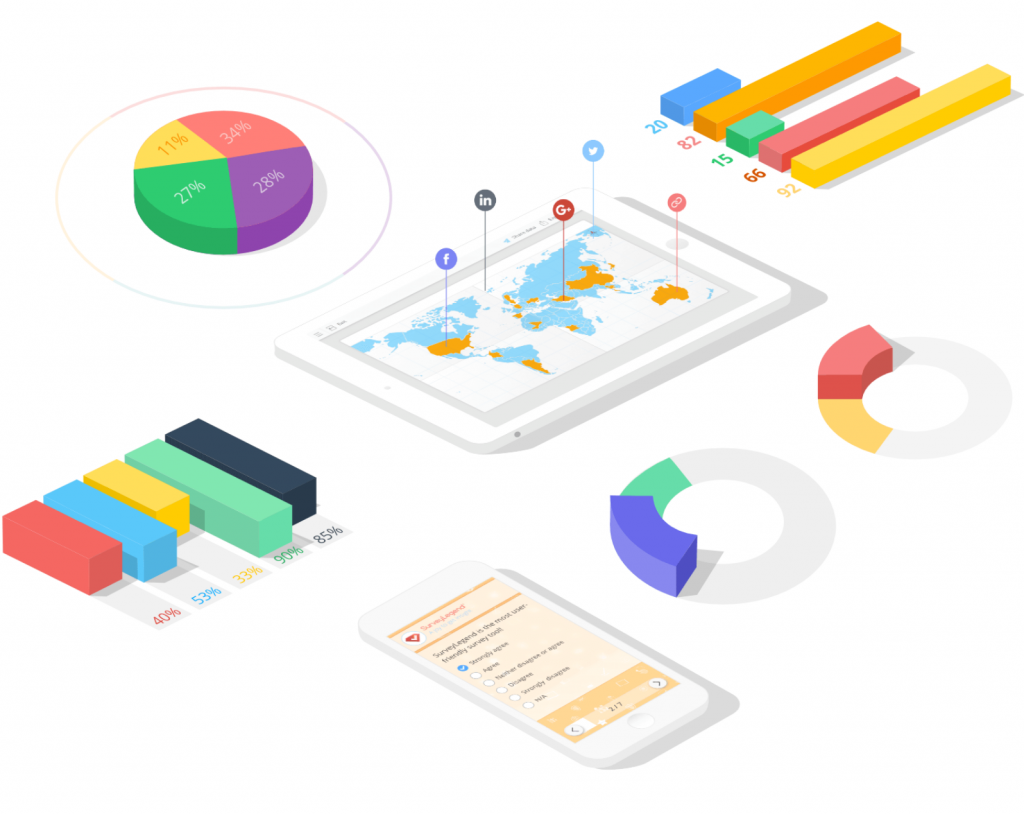 Conduct Surveys, Forms & Polls All In One Place
No matter your industry or location, who your customers are or what language they speak, SurveyLegend's free online survey tools make it simple to ask the questions that matter and get the results you need.
Book Your Free SurveyLegend Demo
Fill out the form so we can show you what we're all about.
We're Your One-Stop Shop for All Your Free Online Survey Needs!
When you choose SurveyLegend, there's no need to look anywhere else when it comes to online surveys, questionnaires, polls, and forms. Of course, there's a lot more here than just surveys! You'll find surveying tips and tricks, a helpful user guide, chat support, and dozens of blogs on just about any topic you're interested in. So, check out some of our most popular blogs!

12 Advantages of Online Surveys (and 4 Disadvantages)
7 Ways to Get the Truth on Surveys (+ Reasons People Lie on Surveys)
15 Demographic Survey Questions with Examples–Plus How to Ask Them
You'll also find in-depth stories to help you in your research, such as our recent blog on How Generational Differences Impact Survey Participation. So, what are you waiting for? Get started with your free online survey from SurveyLegend today!