Create your own Q&A event survey, form, or poll now!
Looking for the best live survey solution offered online today? I've got the answers! I'm the founder of SurveyLegend and yes, it's true: I'm going to tell you about the 10 best Q&A event-polling tools—even though that list includes our competitors. 
Why would I do that? Because at SurveyLegend, we believe in fair market competition, and in the end, the decision is always up to you! So while we hope you'll choose SurveyLegend for your live polling at events, we want you to know your options. Before we get to the list, let's review some live survey tool basics.
What Are Live Survey Tools?
Live survey tools make presentations at events an interactive experience! Let's face it, listening to a speaker drone on for sometimes hours can test anyone's patience, resulting in them tuning out. With live survey tools, the monotony is broken up by allowing audience members to engage with the speaker. Not only does this benefit the audience, but it also gives the speaker a brief respite from their monologue.
Throughout the presentation, the speaker can invite audience members to answer questions (generally with predefined answers to gather fast responses). Audience members select their answers, usually right from their own smartphone, and the results are tallied up for the speaker to see and address on the spot.
5 Ways to Use Live Polling Tools to Improve Event Engagement
Nearly 50% of marketers say that audience engagement is the biggest contributing factor to having a successful event. Live polling at events can greatly improve engagement, but there are a few things to keep in mind.
1. Choose the Right Type of Poll
Depending on the event or presentation, you can opt for one type of polling or mix things up. Some of the most popular options include:
Multiple choice questions

Rating polls

Trivia/quizzes

Word cloud
While the first three are self explanatory, you may be unfamiliar with word clouds. This option asks audience members a question, and they submit one word responses on their phone. Their words come together as artwork, moving and growing with each response. It's a great way to discover shared (or opposing) feelings within a crowd!
2. Measure Audience Engagement 
Live polling allows event managers to track impressions, i.e., the number of people interacting with the live polling tool. From this, you can see which questions and sessions interested participants the most, customizing future events accordingly for further success and engagement.  
3. Collect Votes For Competitive Activities 
Many events include some form of competition between groups within the audience. This helps break that awkward wall of silence that exists between people who may never have met before. With live polling, presenters can ask attendees to select the activity they would like to do this most (choosing the most popular option guarantees the most participation in the activity). You can also use the polling tool to determine the winner, asking the entire audience which group performed the activity the best. 
4. Brainstorm New Ideas 
It's not unusual for event planners and company leaders to have ideas that will impact future events and/or their company. With live polling, you can quickly and easily collect the audience's opinion, describing your idea  and asking attendees whether they like it or not. At an event level, you may have them select who they would like to hear from next time from a list of potential guests; on a company level, you could ask what they think about an optional work from home policy, and so on.
5. Collect Real-Time Feedback
Most events have a feedback form or email to fill out at the end of sessions; however, many attendees don't bother with them, instead moving on to the next or simply out the door if the event has concluded. Instead, collect real-time feedback during the presentation, asking attendees how they're liking the event as a whole, an individual session, etc. Attendees can rate all of this on-the-spot with just a couple taps on their phone.
6 Essentials to Look for in Live Online Survey Tools
1. User Experience
Is the live polling tool user friendly? If event attendees find it too hard to pair their smartphones, or if interacting with the app is too complicated, most will simply give up (or you'll waste valuable time explaining how to use it). 
2. Device Capabilities
What types of polling does the live Q&A tool provide? Are you okay with simply asking multiple choice questions, or do you want to be able to ask a wider variety of types of questions?
3. Number of Live Participants
How many participants can connect at once? Some live polling apps limit the number of people that can use it at one time (or charge more as the audience size increases).
4. Real-Time Data
Are responses immediately collected and tallied up, so that the speaker can address the results on the spot? Are they presented in a nice chart, that the speaker can easily display and interpret?
5. App Aesthetics
Is the polling design nice to look at? It may seem inconsequential, but audience members are much more likely to participate when the interface is visually appealing.
6. Price
Often, it all comes down to price, and generally, the more features a live polling tool has, the more it'll cost you. It's up to you to determine where you will compromise to get the right price.
The 10 Best Live Q&A Event Polling Tools
Here's the list you've been waiting for! Please note that these online live survey tools are listed in no particular order.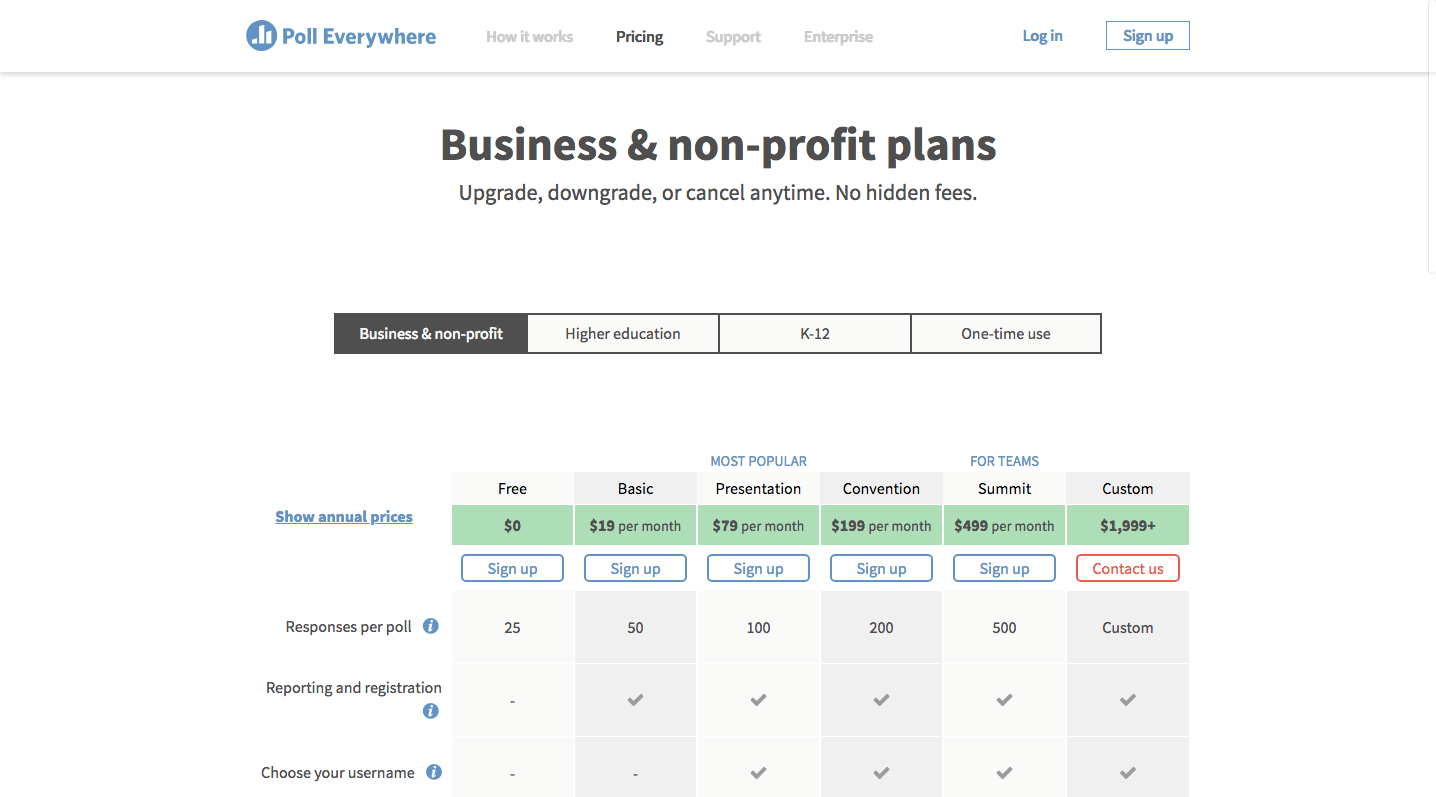 Offering all the features you may need to conduct a Q&A poll at your upcoming event, Poll Everywhere also includes live trivia content. It works on all devices and is fairly easy to use. It allows presenters to ask a question, and a chart will automatically update with responses. SMS text messaging is an option if the wifi signal is poor, and questions can be written in almost any language (or you can simply choose to use emojis).
---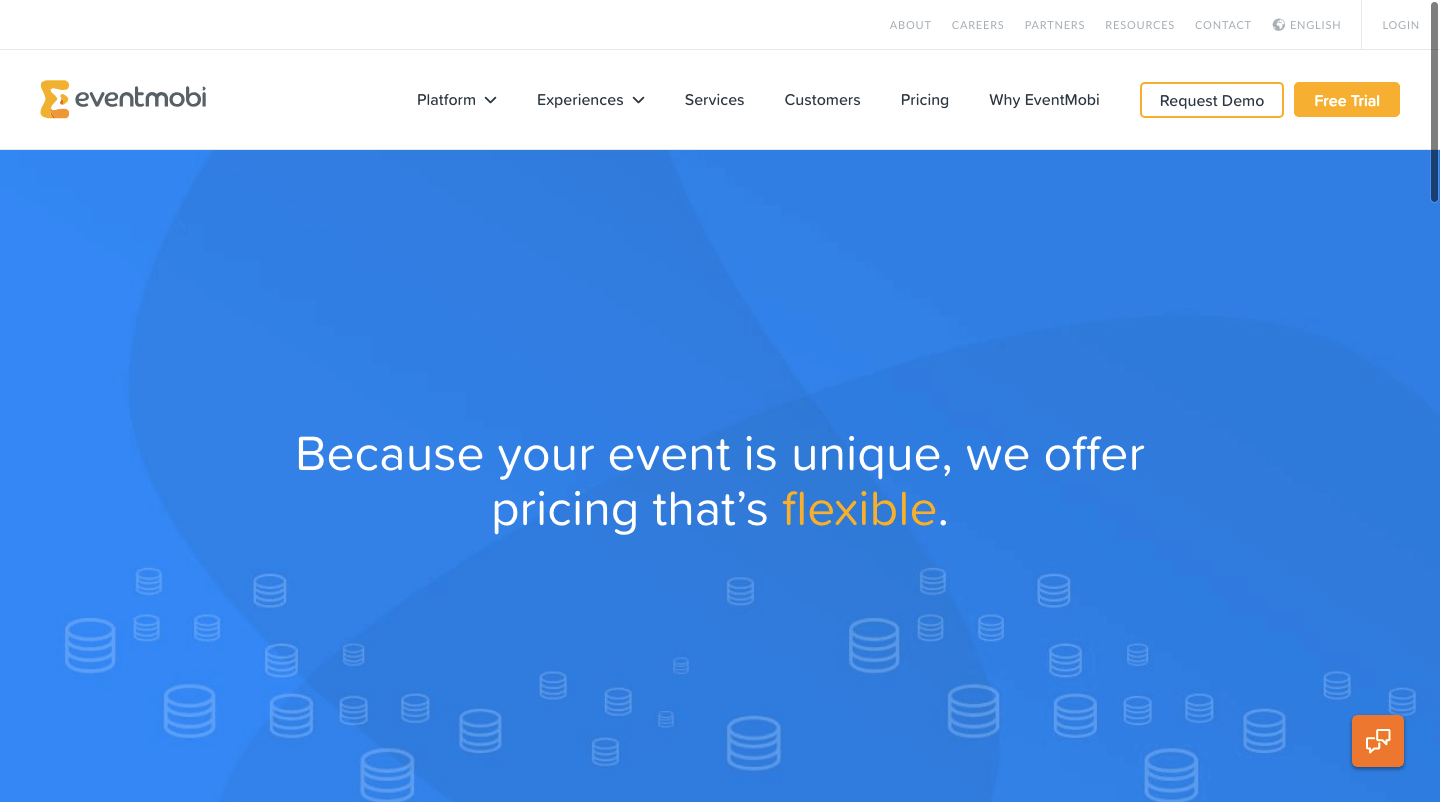 EventMobi is one of the bigger players in the event market offering all the features you need to host an engaging event. The solution is device-friendly and there have many integrations with some of the biggest platforms. Ease of use does tend to suffer due to the number of features, and you may need to study up a bit to get the most out of it.
---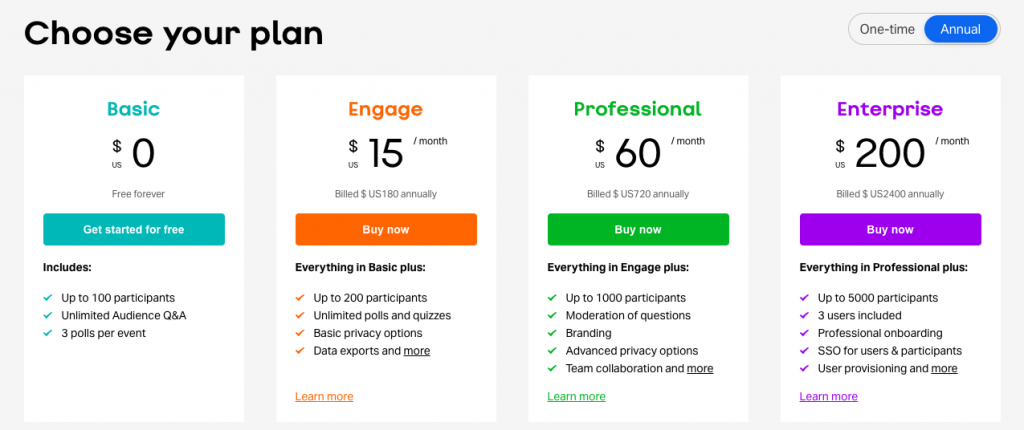 Slido is a good platform for hosting dynamic Q&A sessions, allowing you to include everybody in the room in the conversation. Results are backed up by actionable analytics which allow you to see which topics resonate with your attendees. Slido is compatible with most video conference and live streaming tools, but works best when integrated with software such as Slack or Vimeo.
---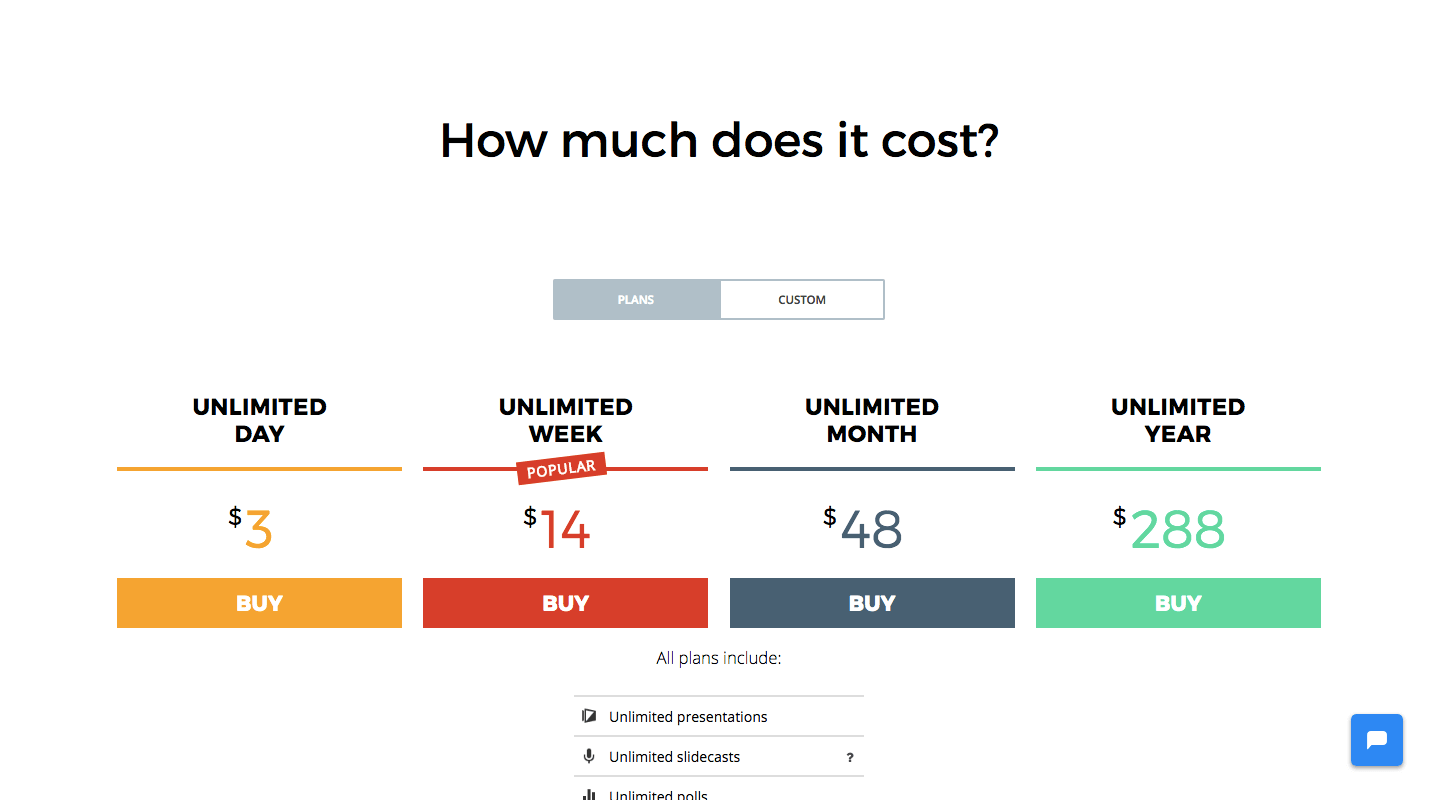 Presentain offers an interactive presentation and event platform with many features including event polls. Ease of use is good and they offer email and live chat support. The responses coming in during the event are updated in real time and the charts are well-designed. Presentain is a good tool if you want to combine your presentation and poll into one.
---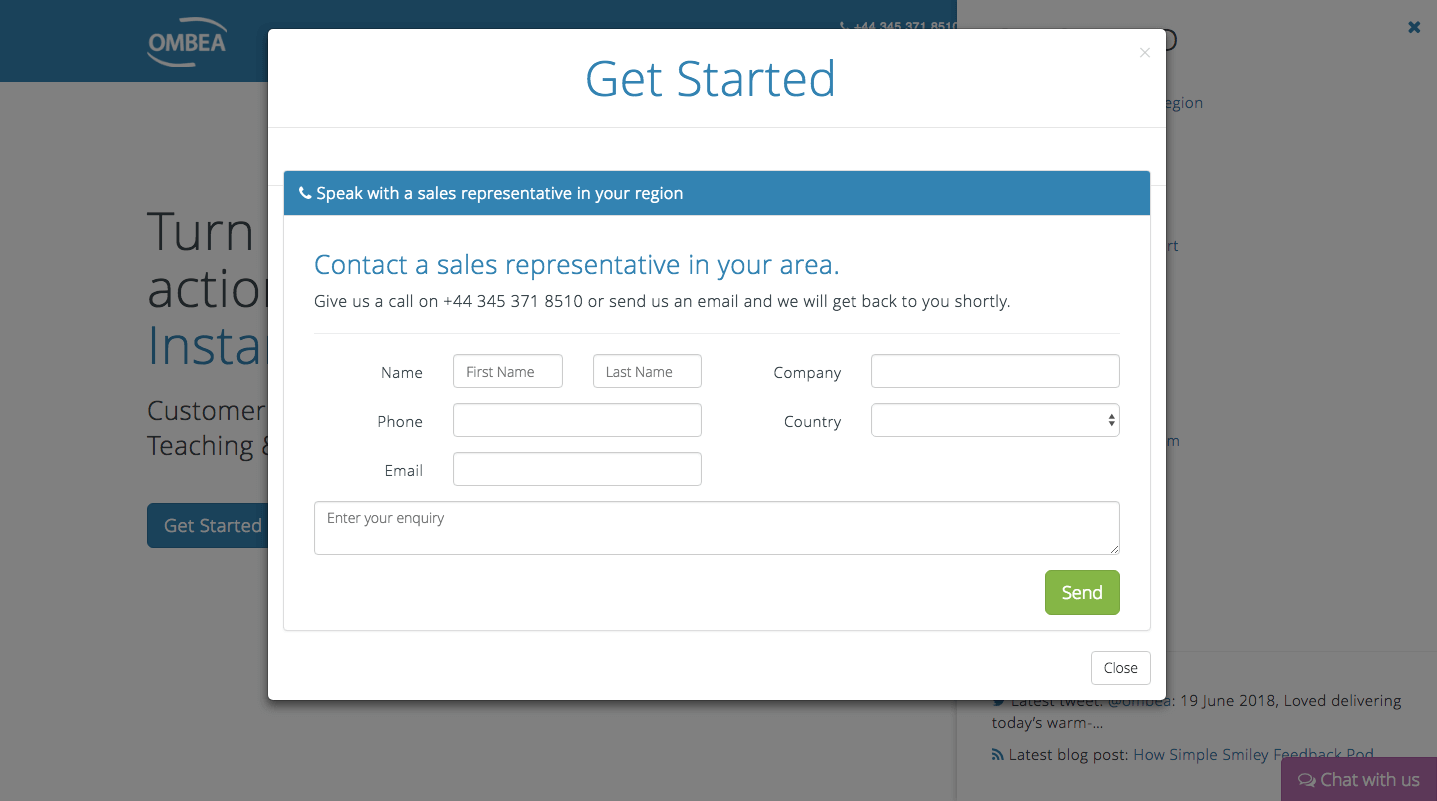 OMBEA offers several options for voting during the event, and works with laptops, smartphones, and tablets; it's also compatible with remote clickers. While the designs leave a little to be desired, taking away from my enjoyment, the charts are updated in real-time which is important.
---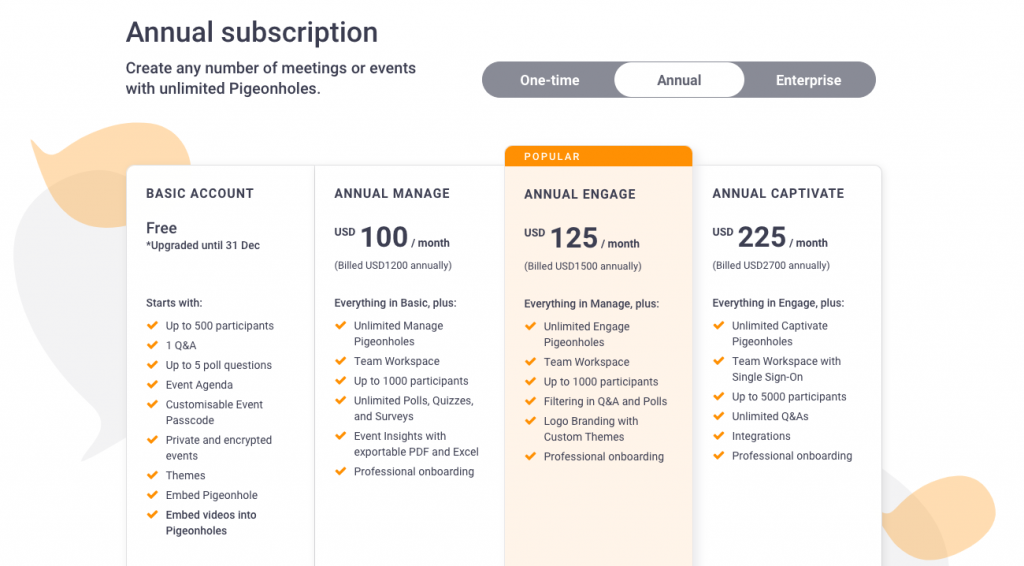 One of the older Q&A polling tools, Pigeonhole Live has been around since 2010. What's nice about Pigeonhole Live is how easily it can be set up; most people will have it up and running at a live meeting within 10 minutes! The platform includes live Q&A, multiple-choice and open-ended polls, quizzes with leaderboards, and word clouds.
---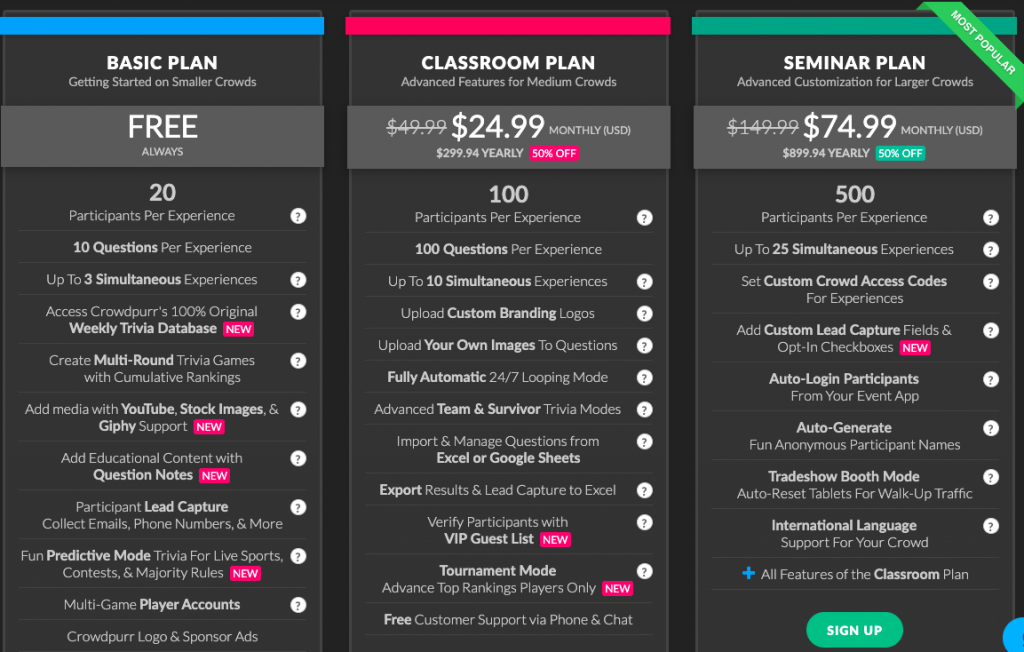 This audience engagement platform allows you to create a live trivia game for free. Through its customizable online dashboard, you can interactively add questions, answers, images, custom branding, logos and more. Worried about inappropriate responses being submitted? You can require audiences to use their personal information so they'll behave (although, in doing so, participation may suffer).
---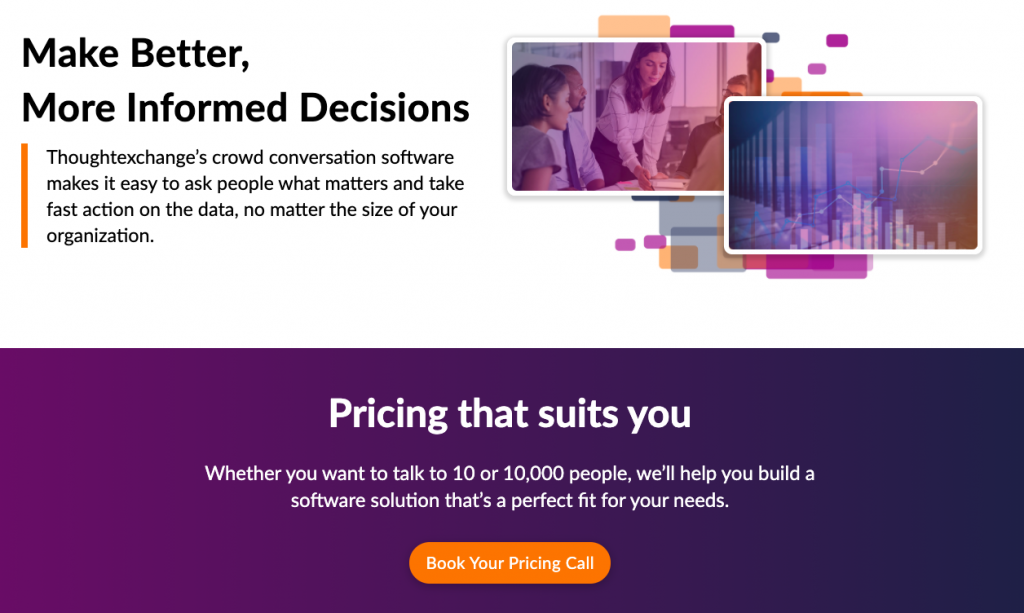 Thoughtexchange is designed to bring employees together and allow business leaders to crowdsource answers to questions in real-time. The company boasts that its platform has helped shape internal culture and policy at numerous companies. In addition to hosting live events, users can run virtual events that invite members of the public to participate.
---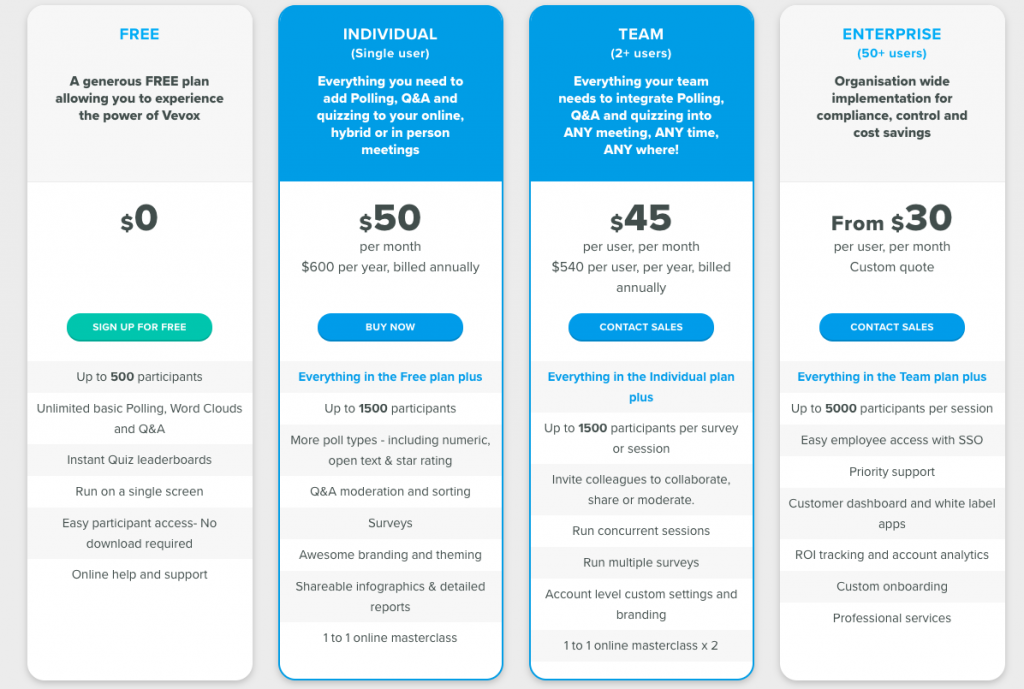 Vevox has been used by many organizations, but it's also popular with universities for student engagement. The platform's intuitive live polling allows audiences to submit feedback and text their thoughts and opinions from any mobile device while a conference or event is in session.
---
.
SurveyLegend is device-friendly and user-friendly (ease of use is one of our main focuses). Our platform offers unlimited responses, even on the free plan. Data collected is updated in real time and shown in colorful and easily interpreted charts. Support is offered through live chat, live web meetings, email, or FAQs.
---
Conclusion
Live Q&A event polling platforms are a great way to engage your audience, be it employees, students, or the general public. It can take events, presentations, and classroom learning to the next level!
Every platform has different nuances, features, and price, so it's up to you to determine which is right for your next event. One of the best ways to decide if to take advantage of the free trails most platforms offer, giving them a test run to make your final decision.
Are you using live Q&A tools at your events or meetings? How about in the classroom? Did we miss a great platform on our Top 10 list? Let us know in the comments.
Create your own Q&A event survey, form, or poll now!
Frequently Asked Questions (FAQs)
What is Audience Engagement?
Audience engagement is a strategy in which attendees become active participants in an event or presentation.
What Are Live Survey Tools?
Live survey tools allow audience members to engage with an event speaker or during a presentation through polls and questions, generally from their smartphone.
What types of questions can you ask with a live Q&A tool?
The most popular forms of audience engagement using a live Q&A tool are multiple choice questions, rating polls, trivia/quizzes, and word clouds.
What is a word cloud?
A word cloud is a visual representation of words related to one topic. Often, many people contribute words so that the cloud is a representation of many people's ideas.