Is it time to get that monkey off your back? When creating an online survey, many turn to SurveyMonkey due to name recognition. It's arguably one of the most popular survey tools online. But, popularity isn't always a signifier of quality (how else to explain those Transformers films). So, here is a list of alternatives to SurveyMonkey you might consider when creating your next online survey.
Create your free online survey, poll, or questionnaire with SurveyLegend now!
10 Best SurveyMonkey
Alternatives 
1. SurveyLegend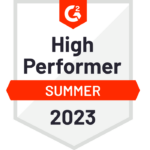 SurveyLegend, which currently boasts a "Higher Performer Summer 2023" badge on G2, is the best SurveyMonkey alternative (not to toot our own horn). Featuring mobile-friendly surveys, interactive and customizable designs, advanced question types, real-time reporting and analytics, collaboration options, and high levels of security, SurveyLegend stands alone. It offers a user-friendly interface and allows you to create surveys that are visually appealing and engaging, resulting in higher response rates. Additionally, SurveyLegend's real-time analytics provide actionable insights, empowering you to make informed decisions based on survey responses.
Biko B, a Senior Network Administrator for a mid-size company, awarded SurveyLegend a 5-star review and wrote, "SurveyLegend is quite the alternative to other tools out there. It was user-friendly, cost-effective, and I had my survey set up in a very short time. The support was available at all times… I had a very pleasant experience." You can also check out the glowing review from Bryan M., a hospital worker, who says "SurveyLegend does a good job at offering unlimited features." See his video here on G2. 
In another video below, Abhishek G. gives us a 4-star review and explains how and why he chooses SurveyLegend ("it's incredibly user-friendly"). He says he'd like more descriptions about how some of our features work, however, and we're open to that. 
Thanks for the kind words, Abhishek, and your thoughts about how we can improve. Now, how would you like to see SurveyLegend in action? In the quick clip below, watch as a user takes a simple money management survey. You'll notice the variety of types of questions, the ease of use, and the image-based questions that users love.
Okay, you've seen the best – now on to the rest!
2. Google Surveys
Google Surveys received high marks for its simple and intuitive interface and data exporting capabilities. Being a Google product, users also liked the seamless integration with other Google products. However, price was a sticking point for several reviewers. "You have to pay for each question and its response," wrote one verified user, adding that while Google Forms is free, it has limited capabilities. "You can add some graphics but not much. There isn't much else it does."
3. Typeform
Typeform users praised the design and interactivity of Typeform, and noted that response rates tended to be high. Reviews weren't all positive however. "It has some good qualities, but it all becomes a nightmare the moment you need tech support," writes Felipe U. Kailee S. liked the aforementioned design, calling it "modern and creative," but added that the survey-maker was "tedious to set up and way too time-consuming."
4. Qualtrics
Qualtrics is more of a research tool (its Research Core is very unique) however users do like it for analyzing customer experiences, with one commenting that "It is a much more robust program than what SurveyMonkey appears to be." This "robustness," however, can prove to be too much for some survey creators who need something easy to use. "Some functionality is not intuitive and it takes a lot of experience to master," said an employee in higher education.
5. Alchemer
Formerly SurveyGizmo, the company rebranded in 2020 as Alchemer, adopting the moniker "Be Curious" (sound familiar? SurveyLegend has been using "Stay Curious" for more than 10 years). We take it in stride however, and can say that Alchemer has achieved high marks for fast implementation and user adoption in 2023 among enterprise level companies. Where some users stumbled was on user-friendliness. "…the learning curve was rather steep," said Jenna K., adding, "I was patient and determined, but others with less programming experience may not be." Another user echoed her sentiments. "Not user friendly. Not an intuitive tool."
6. JotForm
Jotform is an easy-to-use form builder which many users compliment it on, calling it "clean," "intuitive," and great for beginners. The platform provides a wide variety of form templates and affordable pricing plans. Unfortunately, there seems to be a larger than normal volume of technical problems. "I will have issues with their system not working," laments Joseph D. "There are some technical glitches internally," adds another user.
7. QuestionPro
QuestionPro is considered a sophisticated product for serious researchers, and because of complexity, tech assistance is available by chat 24/7 – although one user writes that "the sales team is more concerned about upselling versus basic functionality about the tool." In addition, because it is a "serious" tool, the interface is also described as rather dull and very outdated when stacked up against the survey competition. 
8. SurveySparrow
SurveySparrow is a good alternative to SurveyMonkey, and has been rated the fastest-growing product by G2. Users like it for helping them achieve high survey completion rates and it also receives high marks for providing a variety of question types. Most of the negative reviews seem to stem from a lack of support when a problem is encountered. "I kept receiving emails offering help and introducing "Tanya" as my personal point of contact for troubleshooting, but no one actually responded for weeks when I emailed back with questions about essential functionality," reports one user. Randall T. writes, "I gave them a chance, reaching out multiple times to customer service, who ignored me."
9. SurveyPlanet
Boasting zero 1-star reviews is SurveyPlanet. It is the only product on this list that can make that claim, however it also has the fewest number of reviews of any platform, showing that it's not very popular. As we stated in the introduction, however, popularity isn't always reflective of quality, so give it a try if you're looking for a SurveyMonkey alternative. Reviews say that it is easy to set up and use, and that customer support is responsive. A negative pointed out by one user that you should be aware of however is lack of customization. "There is not a huge level of customization available; it's more of an introductory survey builder that you can email out to participants," writes Katye M.
10. ZoHo Survey
One G2 user writes that "[Zoho Survey] didn't have a lot of the features that SurveyMonkey does." However, it scored above average with users in regards to survey building, question types, and data exportation. So, is ZoHo Survey a good alternative to SurveyMonkey? We'll let you be the judge!
Conclusion
There are many survey SurveyMonkey alternatives out there. That's the beauty of healthy competition! While all survey alternatives excel in some areas and lack in others, it's up to survey creators to decide what is most important to them. We hope that you'll give SurveyLegend a try and promise an amazing surveying experience – but, we also recommend you look at the alternatives to find your best fit. Good luck and as always, stay curious!
Which survey tools have you tried? What have your experiences been? We'd love to hear from you in the comments!
Create your free online survey, poll, or questionnaire with SurveyLegend now!
Frequently Asked Questions (FAQs)
What is the most popular online survey platform?
There is no definitive answer to this question, though SurveyMonkey is often considered a leader as it was the first online survey company, launching in 1999. Today, there are many SurveyMonkey alternatives that may be better suited to different types of surveys.
What are the alternatives to SurveyMonkey?
Top SurveyMonkey alternatives include SurveyLegend, Qualtrics, QuestionPro, SurveyPlanet, SurveyLegend, SurveySparrow, Zoho Survey, Jotform, Typeform, and Google Surveys.
Why is SurveyLegend the best SurveyMonkey alternative?
SurveyLegend was recently rewarded the G2 "High Performer" Award and has a 4.4 rating out of 5, making it a leader in the survey platform space. Users love SurveyLegend for it's user-friendliness, affordability, wide variety of. question types and templates, beautiful visuals, quality analytics, and top-notch security.ay not be as old as SurveyMonkey, but