People have been wearing costumes since the Greeks first donned them in village festivals. However, today there is no better time of year to don a costume than Halloween! And, with the spooky holiday just weeks away, you may be considering holding a Halloween costume contest. Whether it's a contest at school, the office, a party, or a community event, there's no better way to determine a costume contest winner than with SurveyLegend. With our free online survey tool, you can images to surveys and allow people to vote on their favorite costume!
Create your FREE
Halloween Costume Contests
History of the Halloween Costume
Historians believe the donning of Halloween costumes dates back more than 2,000 years. It is believed to have started with the Celtic pagan festival of Samhain, which marked summer's end and the beginning of the year's "darker" half of the year when supernatural shenanigans might occur. To protect themselves, people began offering food, or "treats," to the gods, and many wore disguises so that wandering spirits might mistake them for one of their own and leave them alone. However, because people were costumed, some would use the opportunity to play pranks on one another while blaming the spirits.
It's easy to see how Halloween has evolved into the costumed and candy-filled event it is today… trick or treat!
Halloween Costume Contests
Many Halloween costume contests are just for fun, while others offer cash prizes or other incentives. Either way, just Google "Halloween costume contests near me" and you're sure to find one. Of course, these contests aren't just limited to adults and children – many people are not entering their furry friends into Halloween pet costume contests! You're bound to see cats and dogs dressed up as Baby Yoda, hot dogs, and anything else you can imagine.
Popular Halloween Costumes for 2022
While there will still be a fair share of costume staples this year – ghosts, witches, and the like never go out of style – according to CBS News, based on internet searches related to these terms accompanied by "costumes," here are the top Halloween costumes of 2022 and why they're so popular.
Stranger Things.

Expect plenty of outfits modeled after breakout character Eddie Munson, although just about everyone in the cast has become a popular go-to costume.

Elvis & Priscilla Presley.

Always popular, but bigger than ever due to Baz Luhrmann's hit movie

Elvis

.

Patrick Bateman from American Psycho.

He consistently makes the list because he's easy for chisel-jawed guys to mimic – just put on a bloody suit and hand out business cards.

Top Gun: Maverick.

It was the biggest movie of the year, after all.

Anna Delvey.

The jet-setting con artist was made popular by the Netflix series

Inventing Anna

.

Harley Quinn.

She's been popular since the movie

Suicide Squad

came out more than 5 years ago.

Avril Lavigne.

Her much-hyped comeback album has made her popular again with the kids.

Dani from Hocus Pocus.

Even though the character doesn't show up in the recently released sequel, she's no doubt on people's minds due to the sequel.

Maddie & Cassie from Euphoria.

It's one of HBOs biggest shows, so it was inevitable!

Lord of the Rings.

The new series on Prime Video has re-inspired lovers of Tolkien.
Ideas for Halloween Costume Contests
So what does it take to put on a halloween costume contest? First, be sure the judging criteria is clear to contestants. For example, you may want uniqueness to be a special consideration (meaning the aforementioned ghost or witch isn't going to cut it, unless it's done in a highly creative manner). Or, there may be a specific theme, such as "movies," "superheroes," or "animals." Need some inspiration? Check out "Creative Costume Ideas" on Pinterest.
You might also come up with different categories for your costumed contestants. Ideas include:
Scariest

Cutest

Funniest

Most Creative

Most Realistic

Coolest Handmade Costume
Other categories, depending on the event, may include:
Groups

Adult Couples/Singles

Babies/Toddlers

Children/Teens
Designing Your Halloween Costume Contest Survey
If you're taking your Halloween costume contest voting online, there's no better tool than SurveyLegend. All you need to do is to ask contestants to take pictures of themselves (or their pets) in costume and send them to you. Then, upload all of the Halloween costume images into your survey and share your survey link with others to collect votes. 
SurveyLegend will automatically tally up the votes in real time, which you can display live on your event page if you like to make the contest more fun and engaging. Ultimately, our free online survey tool will help you determine the costume contest winner!
To make your Halloween costume contests for Halloween, follow this step-by-step guide.
Steps to Creating Your Halloween Costume Contest in 10 Easy Steps
Login to your account

Add a new survey, and navigate to the CREATE step.

Use our picture-based question type ("Picture Selection") by clicking on it.

Click on the picture selection question that was just added, and then click on the "upload" button.

Select all of your pictures at once from your computer, and then hit upload. Wait until the upload process is complete for all images.

If you like, change the layout and size of costume pictures using the settings on the left-hand side. You can also choose whichever voting type you prefer. People usually use the "Ranking" voting type and let people vote for their top 3 favorites. 

Go to the DESIGN step to change the look and feel of your survey (for example, you can choose a dark theme or upload your own background).

Go to the CONFIGURE step and give your Halloween contest a good name so that you remember it. Also make sure you have this setting ON: "Limit number of participations" which will make sure people cannot vote multiple times to influence results.

Finally, continue to the SHARE step, copy your competition link, and send it to your audience using SMS, Email, Facebook, Slack or whatever platform you like.

When the distribution of your best pumpkin for Halloween is done, go to Live Analytics and watch as the results come in.
If you're holding a live event, you can use video projection to broadcast the live analytics page to all attendees. They can watch, in real-time, as the votes roll in. This makes your Halloween competition super fun!
Considering a pumpkin carving contest to go along with the costumes? Check out our blog on Hosting a Pumpkin Carving Contest.
Halloween Costume Contests with Images
Here's a look at a variety of costume contest surveys created using SurveyLegend. Photos for each contestant were uploaded and an appropriate Halloween background was added in the DESIGN stage.
Adult Halloween Costumes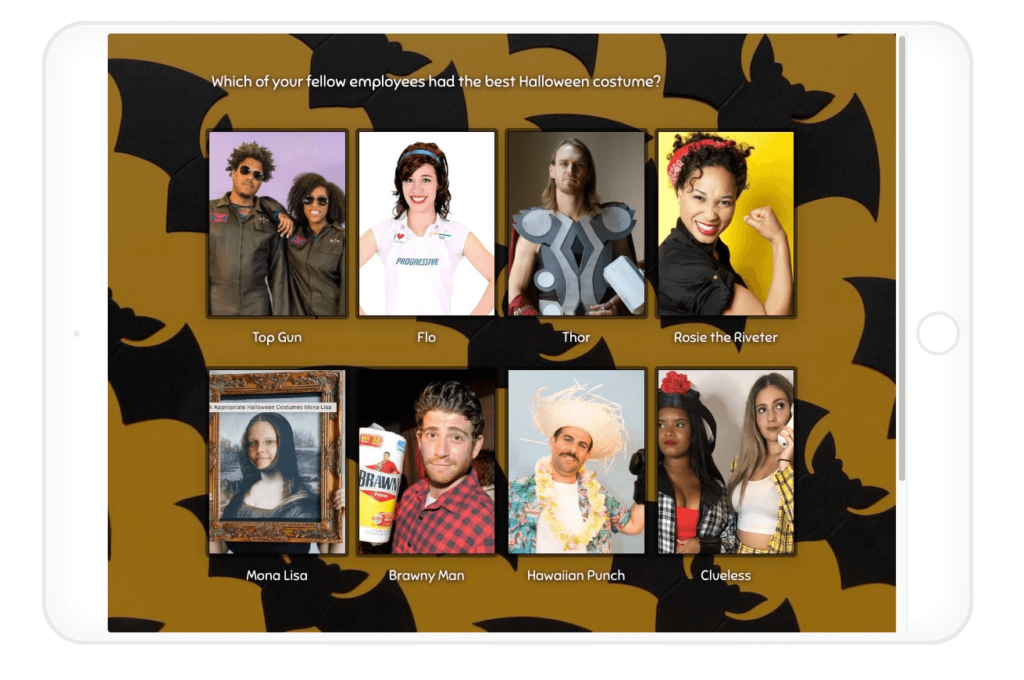 Children's Halloween Costumes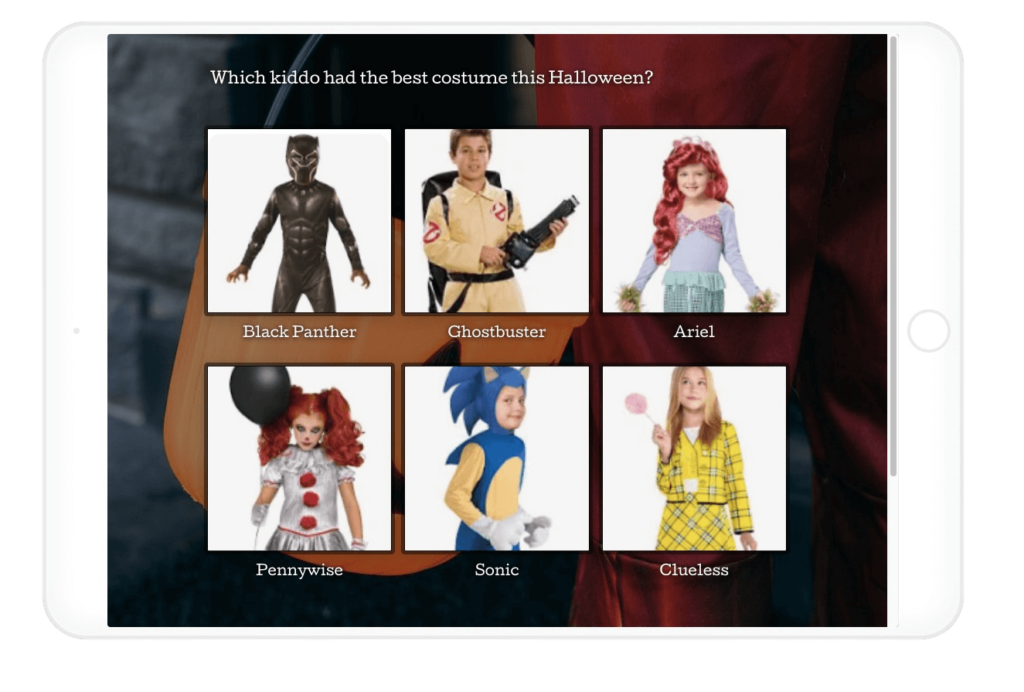 Pet Halloween Costumes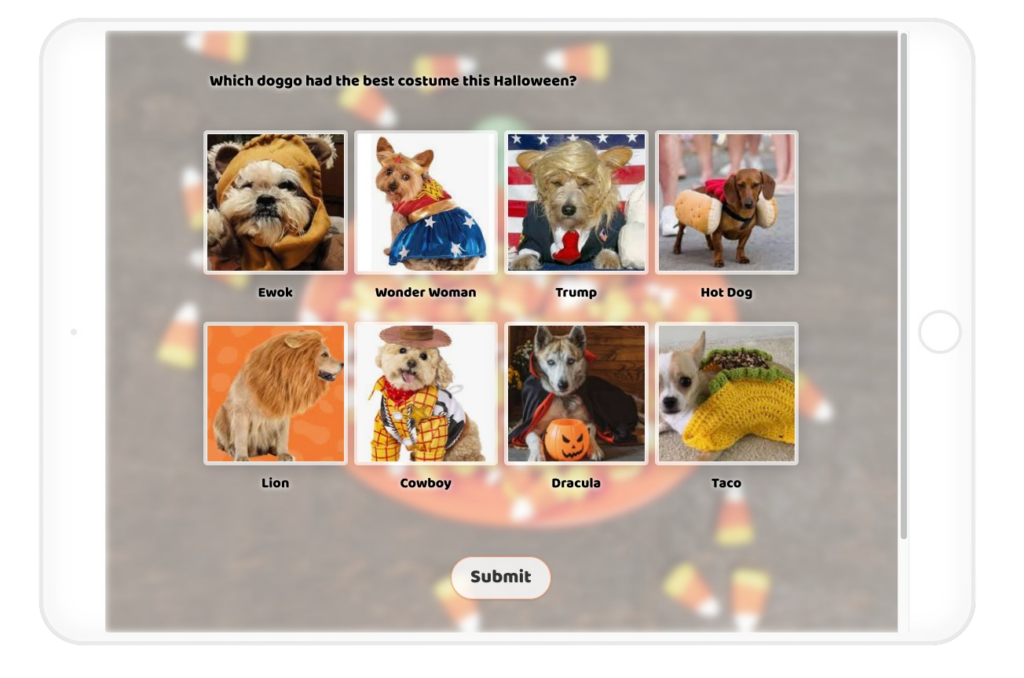 Ready to create your Halloween costume contest voting form? Start now with SurveyLegend – and have a happy Halloween!
Do you hold costume contests? How do you normally select a winner? Will you be using SurveyLegend this Halloween? Let us know in the comments!
Create your FREE
Halloween Costume Contests
Frequently Asked Questions (FAQs)
What are today's most popular Halloween costumes?
According to Pinterest, the most popular costumes for 2022 are anything related to Stranger Things. Other popular costumes include Elvis, Top Gun, Hocus Pocus, and of course, superheroes.
What are common Halloween costume contest categories?
Popular categories include best group, best couple, and best single. Categories for kids and pets are also common. Some contests dive deeper, looking for scariest, cutest, funniest, most creative, and so on.
How do you determine a Halloween costume contest winner?
Using an online survey tool as a means of voting has become one of the easiest ways to determine winners (it's also the most fair way, especially if there are cash prizes involved.