Create your free survey, form or poll now
Luckily for us here at SurveyLegend we focused on mobile-ready surveys from day one. Oh happy day, oh happy day! Let me explain why you should use an online survey provider that supports and offers a mobile-ready survey solution, and no it doesn't have to be SurveyLegend. But we would be extremely happy if you chose us. To help you decide here is a tour of our Mobile Phone Ready survey solution.
Mobile-ready online surveys are more important now than ever!
Not using an online survey solution that offers a mobile-ready survey design is like driving a car with no fuel, it's impossible.
Ok maybe i'm too dramatic here, but the truth is that in the USA alone more than 50 percent of the survey participants today respond to some kind of survey or form using their smartphone. The mobile consumers are growing fast and your surveys have to keep up with the trend. Research conducted by Experian even shows that 53 percent of emails opened where read on devices other than computers, yes it's a lot!
The smartphone and tablet has made us all more reachable and by being in a constantly moving world with time being of essence responding to a survey on the go is a must these days.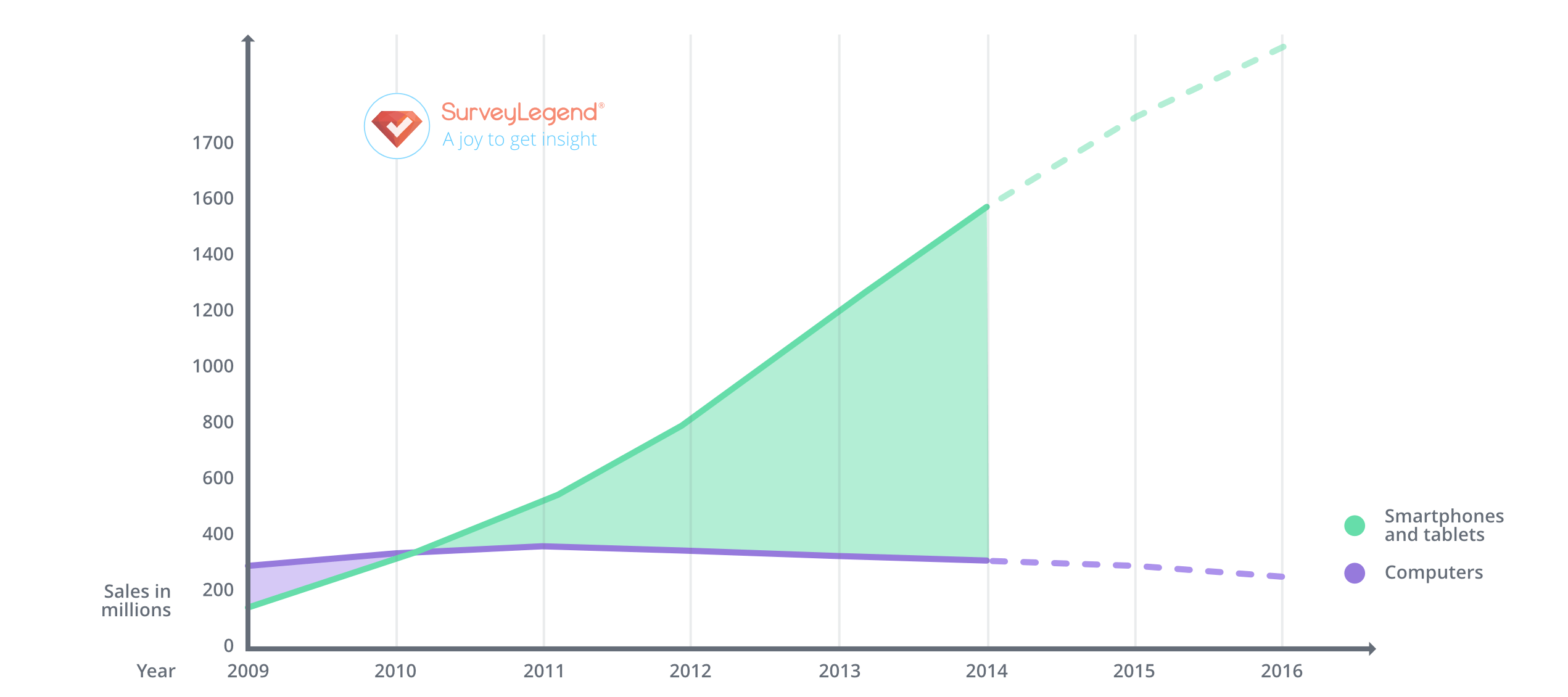 Even the desktop PCs industry has tasted defeat since the smartphone emerged, the diagram shows clearly how fast the new technology has been adapted and how it's growing and growing…
The survey respondents of today express a desire to be able to answer surveys on whichever device they are using, meaning that surveys that can be taken on any device will provide higher finish rate. As mentioned 50 percent or more of the survey responses happen via mobile, and it's rising according to our latest figures.
These mobile respondents often express disappointment when they find that a surveys doesn't work on their smartphone, often ignoring to finish the survey. This is avoided by using an online survey provider that offers mobile-ready surveys.
New amazing possibilities with mobile friendly surveys
You as a company, school, government… have now a better chance than ever to get the purest feedback and insight possible by sending out surveys after a certain experience. This enables me as the participant to give you my most honest feedback of the experience I just had with you.
Why honest, because by the time i'm stationed by a computer the thought and feeling I had after being in contact with your company, school, government… is not pure any more. I have done other things during the hour, day or even week, getting the feedback as soon as possible is super important, this helps with the quality of the feedback collected.
Mobile-ready surveys revolutionising the feedback collecting in stores
Imagine being able to collect feedback in a store, providing scannable QR code that the shopper can scan and respond to on their smartphone or tablet as they are shopping. To show your gratitude you can give them a discount code they can use at the cash-register, offering a gift at the end increases the finish rate of a survey even more.
Feedback is obtained in the store, this helps state location of the participant and as a franchise, this enables better understanding and tracking of areas needing improvement but also what stores are doing good.
So what are you waiting for, create your first mobile-ready survey today! And we hope you decide doing it with us. If you don't know how to start, take a look at our survey examples templates, chose the one that fits your needs and get started in minuites.
Stay Legendary,
Jasko