Create your free survey, form or poll now!
Click on the image to enlarge
Call it luck, destiny or whatever you want 🙂 One thing is for sure, Jasko and Kiarokh did not plan this, and by this we mean Jasko and SurveyLegend both being bald.
Where to start? Hmmmm…
Jasko had for a while the idea of shaving his head, why? Well we live only once, it's good for your hair, so I've heard, and it's something you should do at least once in your lifetime, according to Jasko 😛
I was hesitant when standing there about to become bald as I walked back and forth. Finally my little sister (Emma), the one holding the trimmer, just did it!!! And it was to late to go back…
The next day (May 4, 2014) we where barbecuing with friends and family, my new haircut was turning heads, shocking family and friends, because they knew how much I loved my hair.
Kim one of Jaskos closest friends got intrigued with the idea of going totally bald, Jasko had gone so far as having only 3 mm of his hair left so 0 mm was the next obvious step. Later that day Kim shaved Jaskos head and it was official, our CEO was now bald, not being aware that he was as bald as SurveyLegend 🙂
Kiarokh had been looking forward to redesign the SurveyLegend's mascot A.K.A The Legend, our superhero 😉
He was visiting his family in Stockholm for his niece's birthday and had gotten the much-awaited task of designing the legendary mascot. What Jasko was unaware of was that Kiarokh had chosen him as the inspiration for the mascot. Kiarokh had sketched and re-sketched till SurveyLegend was perfect (well almost as perfect as Jasko hehe).
Next Monday it was office time again, for us also known as the "happy time". Yes! we really love what we do.
When the designer and the CEO met, Kiarokh was shocked. He first sounded something like "åh!" because he couldn't believe his eyes. And then he started to laugh while mumbling something like: "Now you really look like a legend…".
Jasko did not understand what Kiarokh was talking about, but he still smiled. Then Kiarokh took out his sketchbook, showed the sketch of the Legend and explained whom he used as an inspiration.
I was really happy and honored that Kiarokh used me as an inspiration for the mascot, I became even happier that I had chosen to shave my hair and go bald. But I did miss my hair 🙂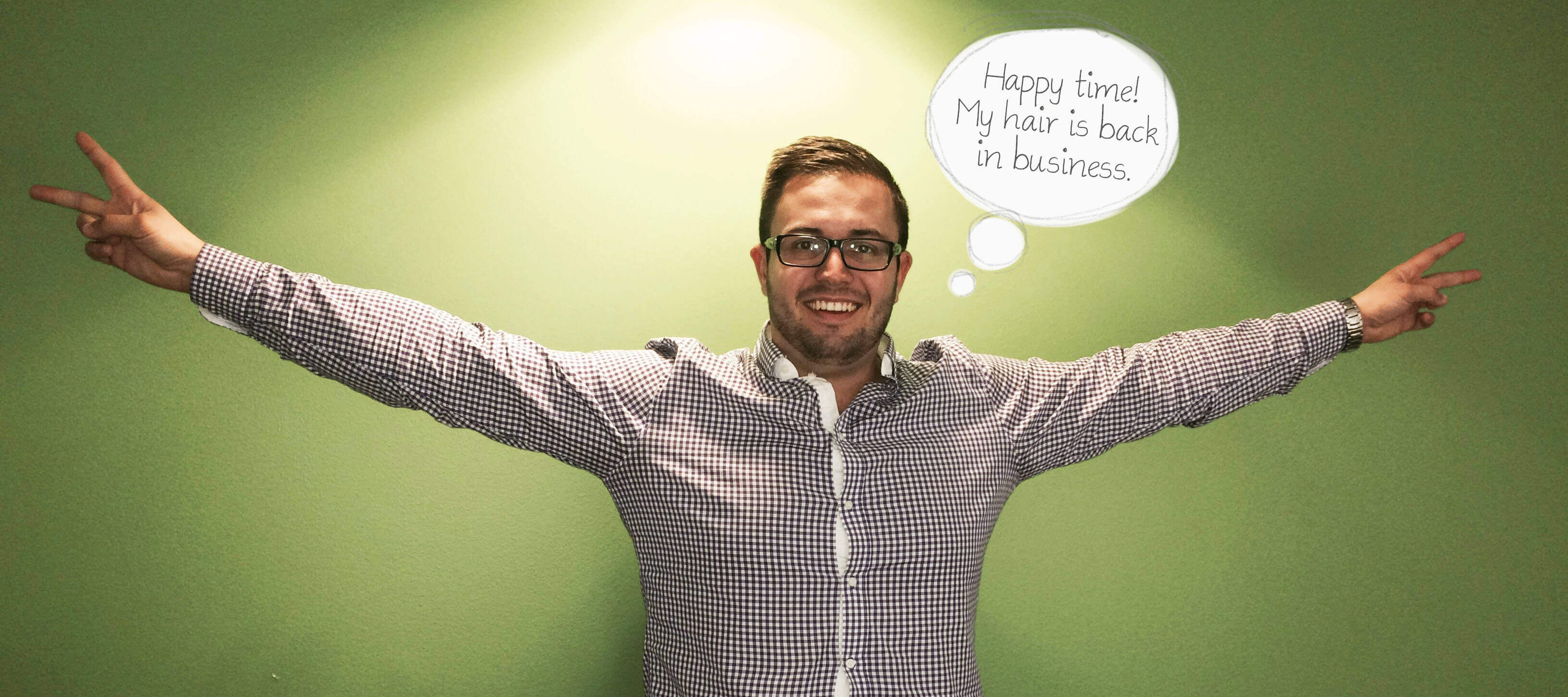 To sum it all up, as we mentioned in the beginning of the story. Call it luck, destiny or whatever you want, we call it SurveyLegend A.K.A The Legend 😉