When it comes to survey questions, you have a whole host of options available to you. Today, types of survey questions go far beyond the traditional yes/no and multiple-choice variety (although they're still great options). So, let's look at some sample survey questions that you may want to consider – and why – for your next online survey, poll, or questionnaire.
Create your award survey, form, or poll now!
12 Different Types of Survey Questions and When to Use Them
Survey methodology – the study of survey methods and the sources of error in surveys – reveals that respondents crave variety in the types of questions they answer. Including a variety of types of questions on your surveys can make them more engaging to participants, increasing response rates. Variety also reduces "survey burnout," in which participants drop out at some point during the survey because they grow bored with it. Here are twelve types of survey questions and when to use them, along with survey question examples using SurveyLegend.
1. Multiple Choice Questions
We don't need to explain what these are; they're just like those quizzes you took in school and have been taking ever since!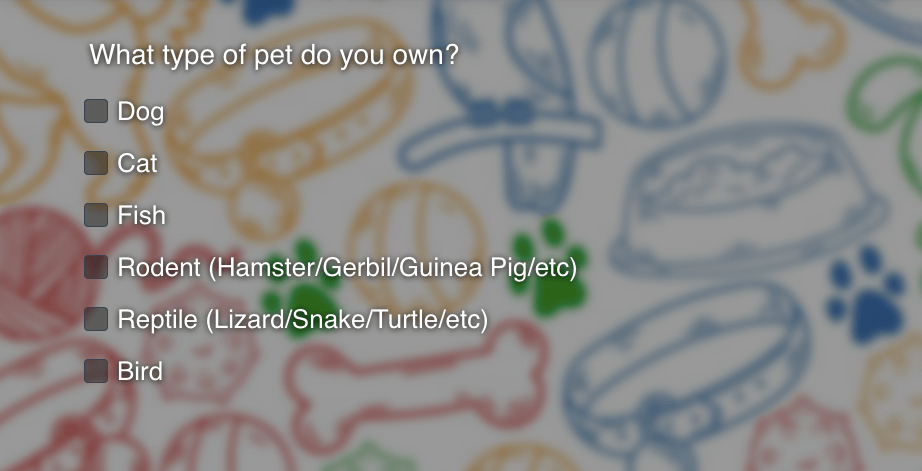 2. Multiple Choice Questions with Images
Depending on the online survey platform you're using, you can use text-only questions, or use picture questions to further engage respondents. Platforms like SurveyLegend allow you to do both, and you can set your image questions so that respondents can select more than one answer or limit them to one answer.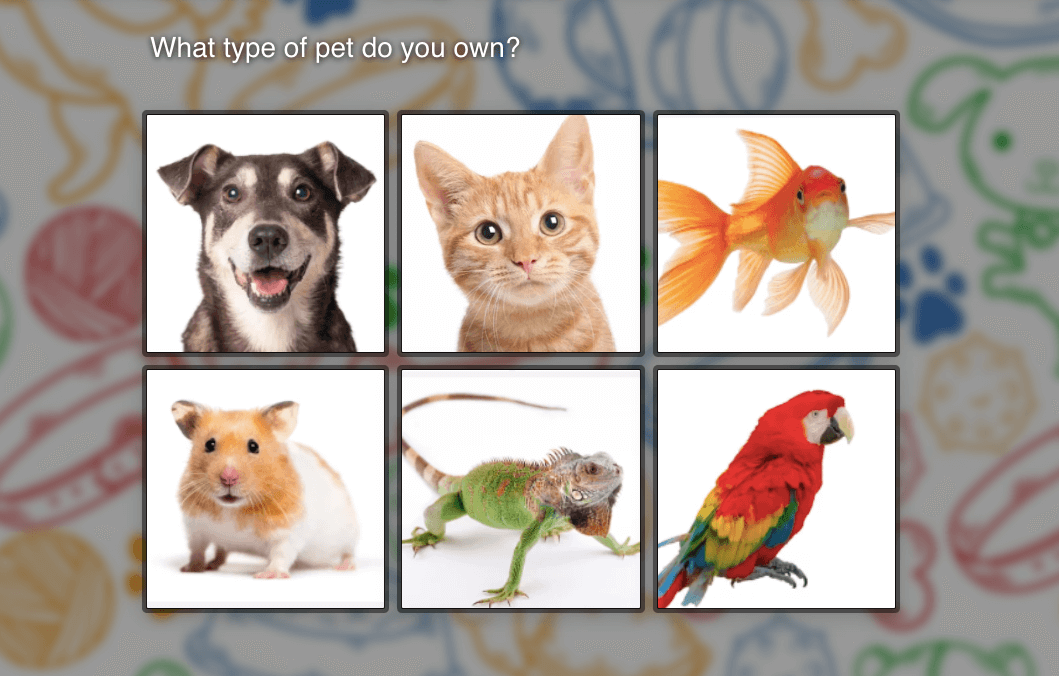 3. Thumb Ratings
Popularized by movie critics Siskel & Ebert, thumbs up is simply a more engaging way to get answers to a like/dislike question. Plus, in this day of social media, most people are very used to voting up or down with thumbs.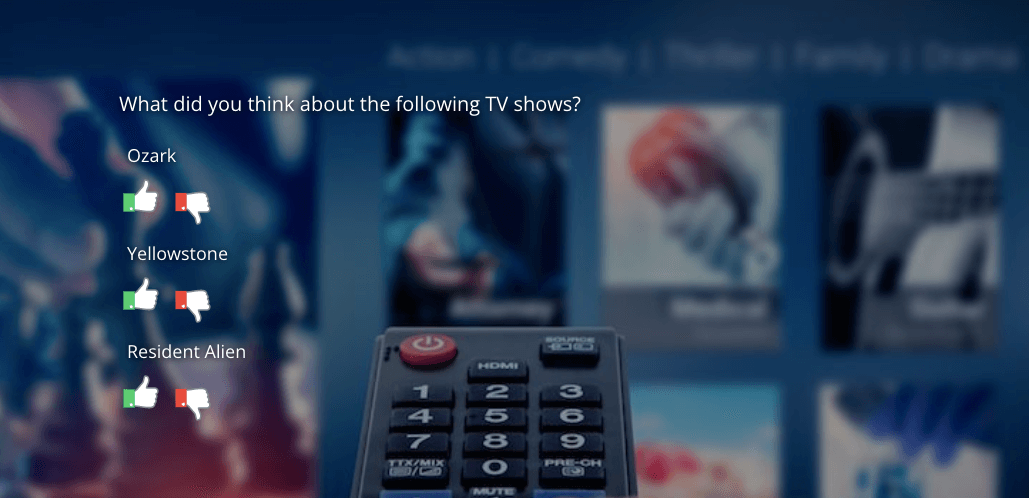 4. Star Ratings
The Zagat Survey, commonly referred to as Zagat, really popularized the 5-star rating system in 1979 by collecting and correlating the ratings of restaurants by diners. Today, of course, 5-star ratings are very common, especially with Google Reviews and G2 (where, coincidentally, SurveyLegend scores a 4.5!)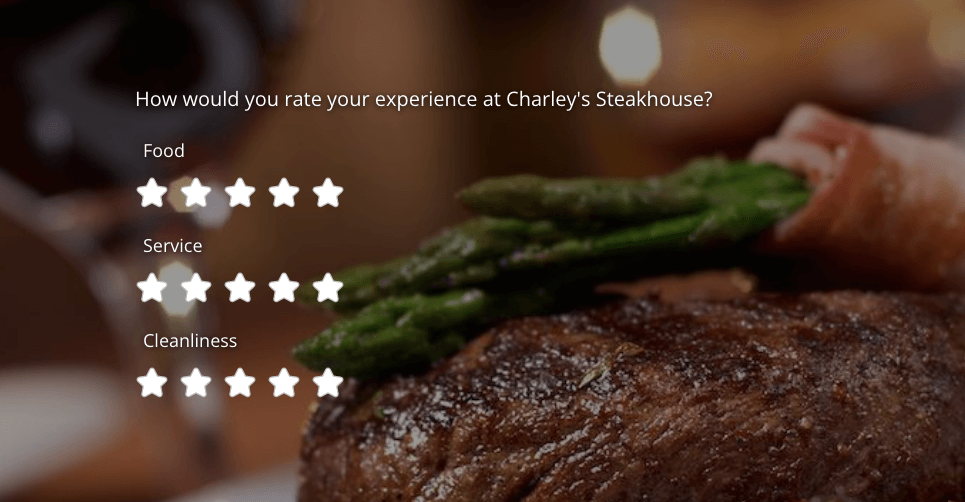 5. Emoji Rankings
Just about everyone uses emojis these days thanks to social media (in fact, using an emoji in a Tweet can increase engagement by 25% compared to messages without emoji). So why not use them in surveys? Here, emojis are used in a healthcare survey, which is great for current patients who are too ill to express how they feel with words.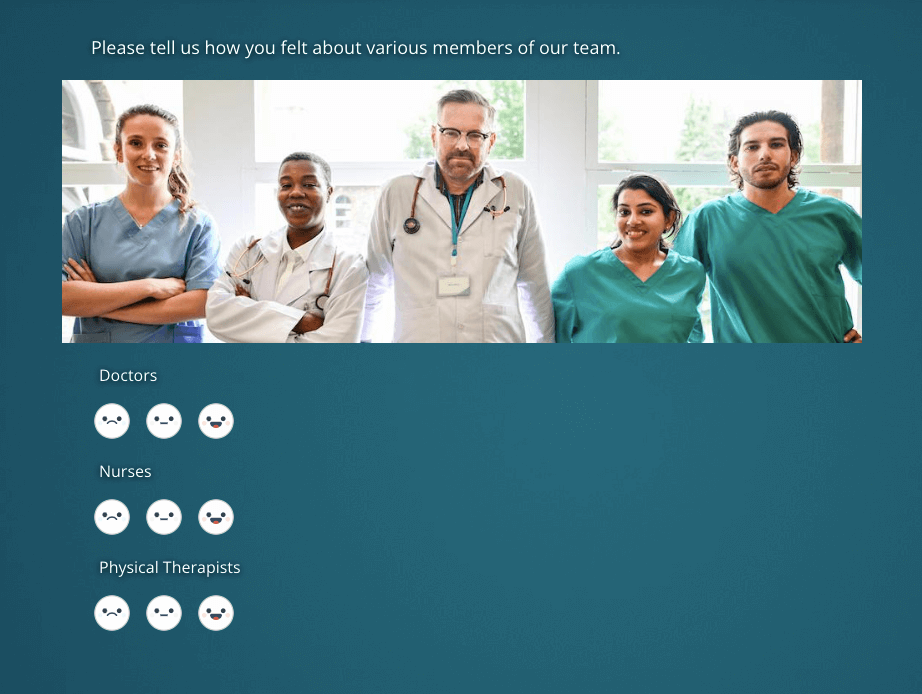 6. Slider Ratings
Sliders are unique to online surveys (after all, you can't interact with a piece of paper!). So, use online platforms to their full ability and add sliders, which allow participants to slide their approval (or disapproval) across a scale. The interactivity makes it highly engaging, as you can see on this fashion survey. It's live, so go ahead and try it out using the sliders!
7. Drop Down Menu
Dropdowns are often used when there are a lot of potential answers in order to keep the survey looking clean and manageable. Shown here is a screen capture of a drop-down survey after a participant has clicked to show options.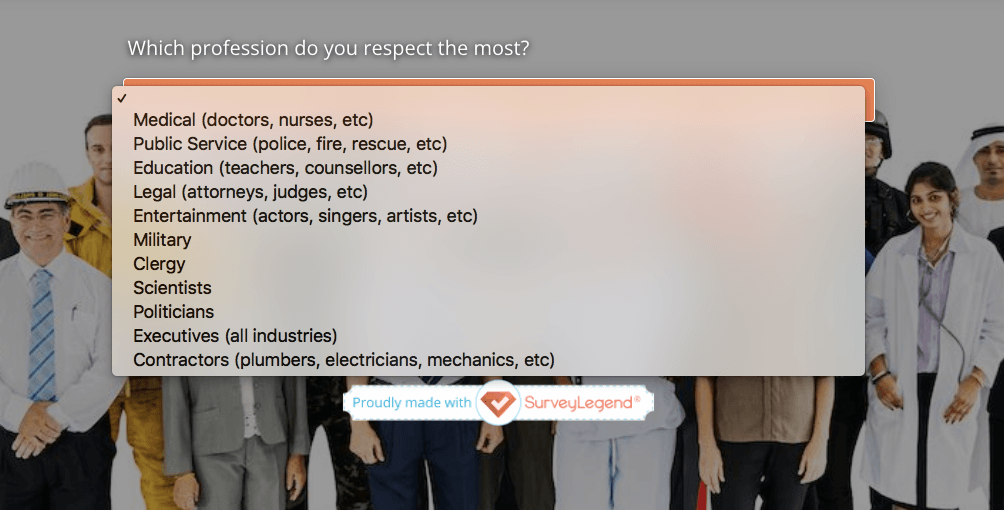 8. Opinion Scale
Also known as the Likert scale (named after American social scientist Rensis Likert), this is one of the best survey tools for researching popular opinions. They're often used for customer satisfaction surveys or marketing research surveys. On a Likert scale, a person selects one option among several that reflects how much they agree with a statement. The scale generally consists of five or seven balanced responses that people can choose from, with a neutral midpoint.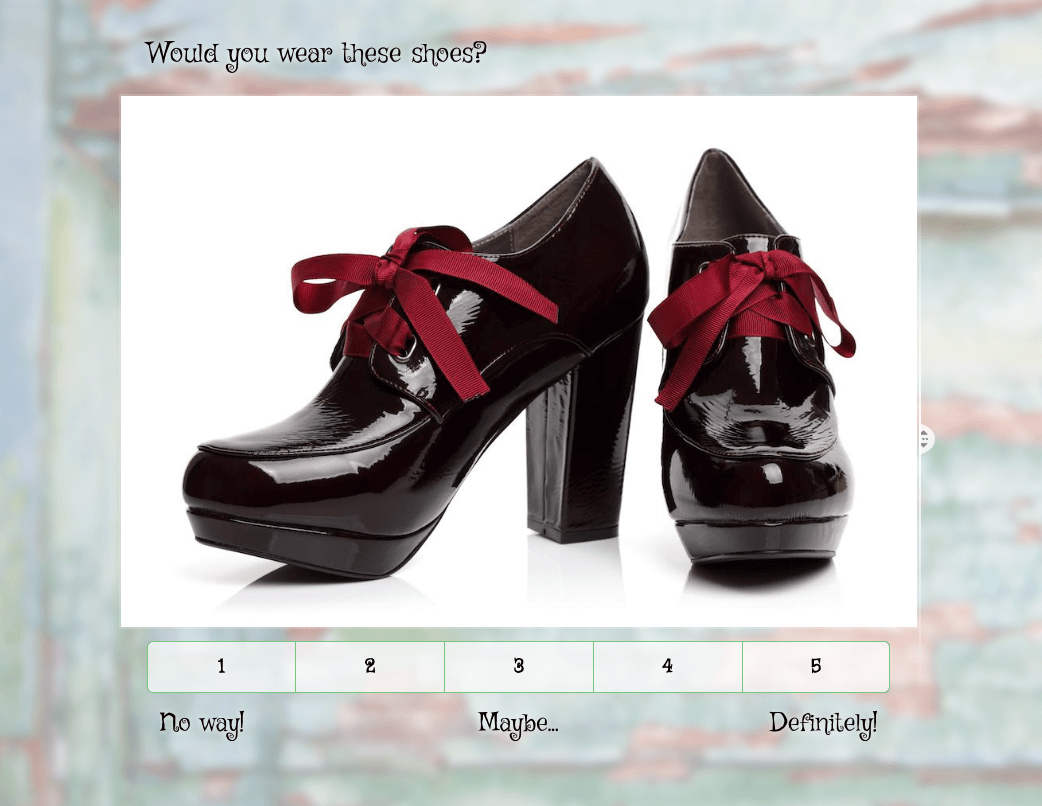 9. Matrix Questions
With SurveyLegend matrix questions, there is one main question with multiple options listed in a scrolling horizontal bar; the answers for each option remain the same. Of course, it's easier to experience this for yourself: try it on the live survey below.
10. NPS Questions
A Net Promoter Score (NPS) is a customer loyalty score. It ranges from -100 to 100, and is calculated by asking customers how likely they would be to recommend your product or service to a friend or colleague, on a scale of one to ten. The resulting data helps companies improve their products or services to increase their score, thus building customer loyalty and creating enthusiastic brand advocates.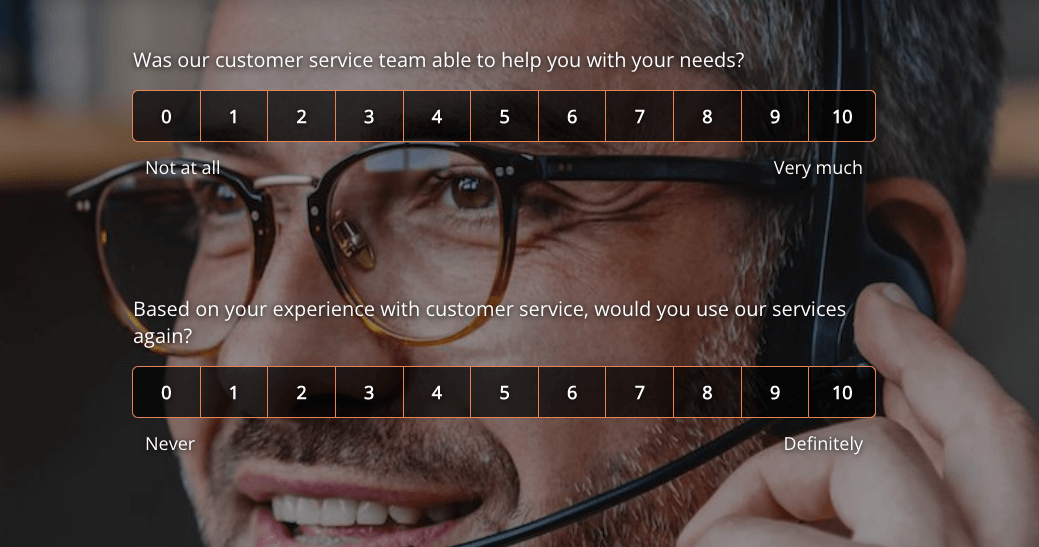 11. Open-Ended Questions
While entire surveys composed of open-ended questions are sure to frustrate participants and become an analysis nightmare, when used sparingly they can offer deeper insight into questions you've already asked in another format. They're also a good way to conclude a survey, giving participants space to type any additional information, thoughts, or concerns they may have.

12. Picture Ranking
Last but not least, picture ranking asks respondents to rank items. With this type of survey question, respondents vote on pictures, highlighting their most preferred and least preferred options. Give it a try on the live survey below!
Conclusion
Online surveys have come a long way, and SurveyLegend is leading the way in innovation! Today, with researchers, marketers, and others using online surveys to understand and engage with people, it's important to keep things fresh. By using a variety of types of questions for your surveys, you can capture people's attention – and better results! To make any of these surveys – or all of them! – count on SurveyLegend for beautiful picture polls and surveys with images. Start today for free!
What types of questions do you use for surveys? Do you incorporate picture questions into your surveys? Let us know which survey methodology works best for you!
Create your award survey, form, or poll now!
Frequently Asked Questions (FAQs)
What types of survey questions are there?
For online surveys, researchers and marketers have their choice of questions, including multiple-choice, multiple-choice surveys with images, ranking surveys (thumbs, stars, emojis, sliders), Likert-scale questions, open-ended questions, NPS questions, picture rankers, and more.
Why should you use a variety of types of survey questions?
Good survey questions mix things up in order to keep things interesting for the respondent (but don't use too many in each survey, or it can become confusing). By using a variety of types of questions, you can engage respondents and keep them on their toes (so that they don't fall into a pattern of always selecting C on a multiple-choice survey, for example).
What are the benefits of surveys that use picture questions?
Picture questions help trigger participants' memory and emotional response, leading to higher levels of engagement and more accurate results.