Many companies think corporate culture means offering "fun" things in the office. So, they may bring in a foosball table, bean bags chairs, free sodas, and so on. And while these things are great and bring positivity to employees, corporate culture runs deeper than that. So, let's take a look at organizational culture in the workplace, culture statement examples, and more.
Create your corporate culture survey, form, or poll now!
What is Organizational Culture?
According to the job site Indeed, corporate culture is: 
"The set of behavioral and procedural norms observed within a company. This includes policies, procedures, ethics, values, employee behaviors and attitudes, goals, and code of conduct. It also makes up the 'personality' of a company, defining the work environment (professional, casual, fast-paced, etc)."
So, is company culture important? Absolutely! Firstly, a study by Forbes reveals that 92% of executives believe improving their firm's corporate culture will improve the value of the company. Secondly, more than 50% say corporate culture influences productivity, creativity, profitability, firm value, and growth rates. Despite this,  just 15% believe their firm's corporate culture is where it needs to be. 
Of course, culture is important to employees as well. For example, Indeed also reports that 46% of job seekers don't apply to certain jobs because they didn't feel they would be a good "culture fit."
Four Types of Organizational Culture
There are four types of organizational culture that business leaders should familiarize themselves with which we'll dive into now.
Clan Culture
Clan culture primarily exists in more traditional organizations versus digital ones. Because these companies are often family-owned, there is often a focus on nurturing employees through interpersonal connections or mentoring programs. Of course, this is all done to create the feeling of a true extended family.
Hierarchical Culture
Hierarchical cultures also exist in traditional organizations. The businesses have a lot of structure with power and decision-making at the top. As a result, only the C-suite is in charge of making decisions. Consequently, other employees can feel undervalued and powerless. So, while this type of organizational culture is often very efficient, it's not ideal for fostering creativity or innovation.
Market Culture
Market culture is designed for digitally-savvy businesses that want to scale. So, this culture is very results-oriented, valuing internal competition and rewarding winners. Therefore, this is a culture where all employees are expected to be on their "A-game." Those that consistently succeed experience significant financial rewards or promotion opportunities.
Adhocracy Culture
Associated with digital companies and encouraging risk-taking, an adhocracy focused on innovation. In this less structured culture, all employees are encouraged to participate regardless of their position because you never know where the next big idea will come from!
7 Characteristics of Organizational Culture
The Barrett Model of culture consists of seven characteristics. Created by Richard Barrett, who drew inspiration from Abraham Maslow's Hierarchy of Needs, the model looks at the seven areas that make up human motivations. 
1. Viability 
Viability is all about financial stability, meaning that companies need to be financially stable in order to:
Survive

Compete

Grow their client base

Pay their bills and employees
2. Relationships
Most companies want their employees to get along. As a result, they support open communication, employee and customer satisfaction, and friendship among team members. Of course, some companies get it wrong, which we'll cover later.
3. Performance
This level focuses on achievement. For example, pride in performance and quality of products or services. At this level, companies want to make their mark and employees want to be a part of it.
4. Evolution
Today, technology is constantly evolving. As a result, the way people do things now could change by tomorrow. At this level, companies are continuously adapting, learning, and training employees.
5. Alignment
This characteristic takes building harmonious relationships to the next level. Above all, this characteristic focuses on building an internal community that's passionate about what they do and open with one another.
6. Collaboration
Once a company discovers its true sense of purpose, it can strike up strategic alliances. To form these partnerships, most organizations need to have "skin in the game." For example, when Starbucks opened up kiosks inside Barnes & Noble, both chains benefited. On the other hand, they may work together for a larger cause, such as Subaru and the ASPCA, which have raised millions to help animals.
7. Contribution
At this level, companies take steps to ensure a better planet for future generations. For example, reducing their company's carbon footprint, recycling, or finding a cause. In short, contribution is about corporate social responsibility. 
5 Companies with the Best Corporate Cultures
A Glassdoor study found that great cultures are formed when there are company values, caring and competent senior leaders, and a clearly-defined path to advancement opportunities.
So, what five companies are killing it when it comes to culture? Forbes recently put out this list based on employees' anonymous favorability ratings and high levels of employee engagement.
ADP: "There is great work-life balance and recognition that life happens both inside and outside of work. Diversity is definitely embraced and appreciated and there is a spirit of charity and acceptance."
Google: "Intangibles are great. People are cool; opportunities are around, quality of life, in general, is high."
Hubspot: "We believe in the company, in the team and you can see that reflected in everyone's day-to-day activities."
Microsoft: "There is a consistent effort to be transparent and have a diverse work culture. People are encouraged to speak up and solve problems."
Zoom: "Literally, every single person you come in contact with on a daily basis LOVES working at Zoom. It's a culture that you can not only see but one you can feel."
These are just a handful of great organizational culture examples you can find online!
Bad Corporate Culture Can Create Bad Press
Many companies get culture right, while others can stumble. Of the many poor organizational culture examples we looked at, Amazon stuck out due to allegations in 2015. The allegations stated that employees were expected to attend long meetings and tear apart one other's ideas. Additionally, they were also forced to work late and respond to emails up until midnight. 
More recently, a New York Post story reported on undercover investigator and author James Bloodworth's infiltration of an Amazon warehouse. He likened the warehouse to prison. Bloodworth said that "People just peed in bottles because they lived in fear of being disciplined over 'idle time' and ­losing their jobs just because they needed the loo." 
This type of culture will lead to extremely high turnover. Of course, companies should do their best to avoid turnover due to financial implications and bad word of mouth. Some studies predict that every time a business replaces a salaried employee, it costs 6 to 9 months' salary on average. So for a manager making $60,000 a year, that's $30,000 to $45,000 in recruiting and training expenses. 
5 Culture Statement Examples
Now that we've looked at organizational culture examples, you might want to create a culture statement of your own. So, here are a few to provide some inspiration!
Beeswax 
Our culture and values reflect our bee namesake, albee-it in a slightly different fashion. 
✓Open ✓Effective ✓Customer-Driven ✓Curious.
Carbon Black
We're incredibly proud that as we've grown, our culture remains steadfast. At its core? Collaboration, camaraderie, and collective hard work without egos or pretense. Nearly every company says they work and play hard—and we do. But it's much more than that. There's a dedication to one another that's palpable. What's more, we have respect for the commitments we all have outside of work–and the trust and flexibility to attend to them.
Etsy
As an Etsy employee, you can do the work you love, be yourself, and make an impact in the lives of millions. Our commitments to diversity, team culture, and the spaces where we work reflect our mission to keep commerce human.
Sprout Social 
Grow your expertise: We're a curious and dedicated bunch who come to work every day ready to tackle tough, meaningful problems. Alongside our diverse team, you'll learn to think quickly on your feet and expand your own personal and professional skill set.
Grow your creativity: Our team is made up of talented, thoughtful, and eclectic individuals who will inspire you to consider new perspectives and challenge you to become a better creator and innovator.
Grow your passions: Working at Sprout is an opportunity to explore the intersection of personal interest and professional experience. Everyone on our team is encouraged to pursue their passions both inside and beyond our walls.
Ticketmaster
All work and no play? No way! We come together at more than just meetings. In fact, there's a fun get-together on the calendar every month… Sometimes you can even catch a live band on the roof at our Hollywood headquarters.
Remember, your culture statement should reflect your unique company. Therefore, it can be short and sweet or long and detailed. It's all up to you! See more great culture statements from other companies on Builtin.
Company Culture Survey with Pictures
A great way to determine what employees think about company culture is through surveys. Not only can a company survey help you gauge your current culture levels, but it can also increase employee engagement levels (which in turn boosts retention). Studies show that organizations that don't take surveys or act on feedback score only 27% on the employee engagement index. So, it's important to not just collect feedback, but act on feedback.
While company surveys tend to have relatively high response rates (~85% for companies with less than 50 employees, ~75% for companies with 500+ employees, and ~70% for companies with 1000+ employees), adding survey pictures is a surefire way to improve them. When you use a poll with pictures, there is a higher level of engagement and a better level of understanding. Here's an example of a culture survey that asks some questions with pictures, and be sure to read more about the benefits of survey pictures.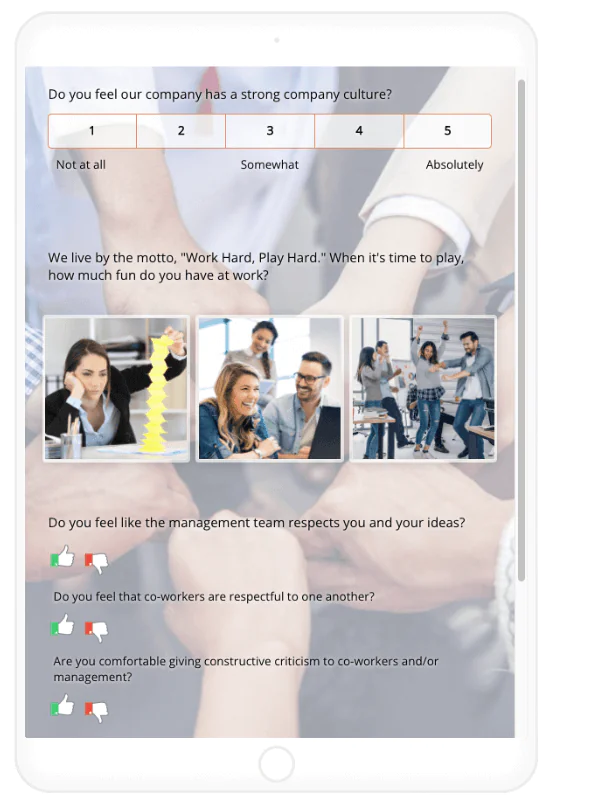 Survey with pictures created by SurveyLegend.         
Conclusion
Company culture is no longer defined by superficial items. Above all, many people are now more concerned with a company's values, caring and competent leaders, and a clear path to advancement – which many of our organizational culture examples do very well! So, want to get a gauge on your company culture, or considering surveying your company on a new culture statement? Well, you've come to the right place!
SurveyLegend offers dozens of beautifully designed survey templates that you can use to survey or poll your employees. They're secure, responsive, and always make an impact! Wondering how to get employees to respond? Check out our blog on 6 Great Survey Incentives!
Have some great organizational culture examples you'd like to share? How about your own culture statement? Share them with us in the comments!
Create your corporate culture survey, form, or poll now!
Frequently Asked Questions (FAQs)
What is organizational or company culture?
Corporate culture is the set of behavioral and procedural norms easily observed within a company. In short, they are the policies, procedures, ethics, values, goals, and employee code of conduct. 
What types of corporate culture exist?
There are four types of corporate culture, consisting of clan culture, hierarchical culture, market culture, and adhocracy culture.
What are the 7 Characteristics of Organizational Culture?
Based on the Barrett Model, there are seven characteristics of culture: Viability, Relationships, Performance, Evolution, Alignment, Collaboration, and Contribution.