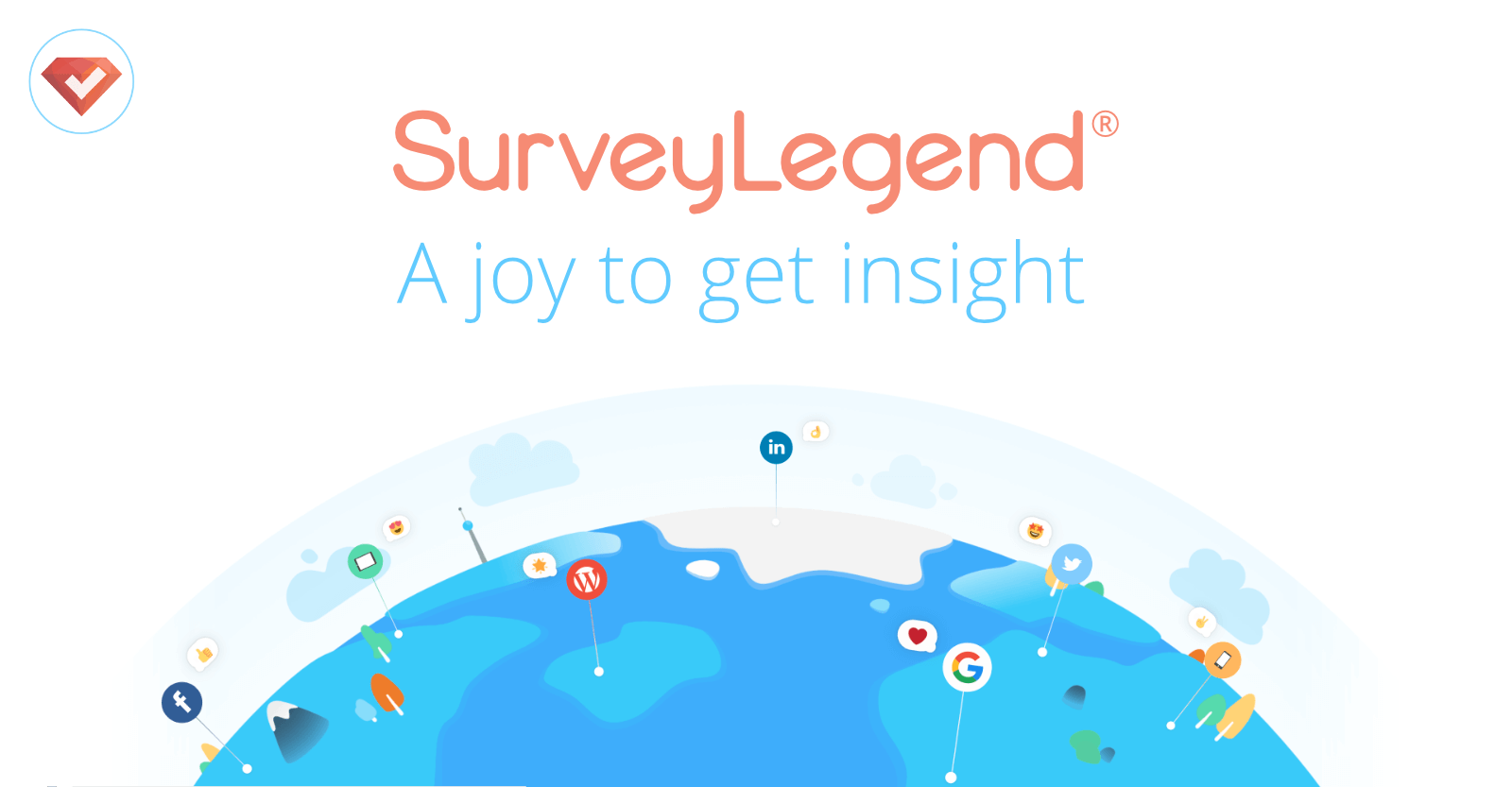 ​

Sign up, it's free!
World's best FREE online survey tool
SurveyLegend is the world's smartest and easiest free online survey tool. Create, send and analyze free online surveys, polls, questionnaires, quizzes and forms with a few swipes of your fingertips.
SurveyLegend is a survey creating web application, originally designed for touchscreen devices, for making and taking online surveys. To use it, all you need is a web-browser, and a strong desire for "quality". From the very first step, SurveyLegend is carefully designed and engineered to be the most user-friendly survey tool on the web.
You can create surveys and collect data in a totally secure and encrypted digital environment, from anywhere. You can also see survey results in real-time, simply download them locally to your computer or even export them directly to your Google Drive; and all this for absolutely no cost. You can analyze, filter, and share your survey data, with your colleagues, clients, and business partners, or even with your own survey participants.
Sign-up takes less than 10 seconds. If you want to register with your Google or Facebook account, it takes even less time, and you'll be on your way to making your first and most beautiful free online survey.
Watch what SurveyLegend is all about in 1.5 minute
Why is SurveyLegend free?
We are a group of friends, who have formed together into a team of young and creative entrepreneurs. We LOVE quality, we LOVE what we do, and we especially LOVE to share our amazing creations with everyone. We believe that everyone deserves to experience the joy of using a high quality and professional product, even non-professional users. We want everyone to compare our survey app with other free online survey tools without any cost. This is to help them choose the best survey solution without stress and hassle.
And more important than anything else: we share a common classic dream. We truly want to make the world a better place – just like real legends; and we know that you who are looking for a free online survey tool, have exactly the same intention. There is certainly a part of our world that you want to make better, and that's why you intend to ask questions. So, we'd be very happy if you do it in a legendary way, and spread the word about us. Simply put, that's why SurveyLegend is free.
"Free" is sometimes fishy… Do you use my data or something?
To be honest, knowing what today's web enterprises are willing to do, we're not surprised in getting this question. And to be even more honest, we're actually really happy to hear questions like that! Because it shows you CARE, both for your own data and for your participants' data – and so do we.
But the answer is: Never Ever! We absolutely respect everyone's privacy, and that's why we have created an SSL-encrypted secure environment both for survey creators and survey participants. We are the Legends and never even think about abusing anyone's trust. You can read more about this in our privacy policy.
I like you guys. How can I support SurveyLegend?
Thanks buddy 😉 we love you too! By merely choosing to create a free account, and share your free online surveys with others you are actually "supporting us". We are nothing without our amazing users. But if you want to support us even more than this, you can like us on
Facebook
, follow us on
Twitter
 and
Google+
, or join our
Linked in group
.
You can also give us your feedback here and let us know how to become better and more legendary. By doing this, you give us a lot more than you imagine; and we do appreciate it!
Doesn't SurveyLegend offer any paid plans?
Yes, we do. We even have "monthly" and "yearly" paid subscriptions for those users who work professionally with surveys and questionnaires, or need more cloud storage, advanced features and continuous professional customer support. Nevertheless, all our paid subscriptions come with a "100% money back guarantee".
Anyone, at any time, can change their subscription from paid to FREE, while still keeping all their online surveys and collected data. They can even continue making free online surveys, forever.Read more about all of this in our Terms and Conditions, or on our Features page.
Are the SurveyLegend apps also free?
Yes, of course! As free as air 😉 You can use SurveyLegend as an app on your tablet or in your web browser. SurveyLegend is a free online survey tool, but you could actually call it a free online survey app as well. We have made it work as a native web app, installable in Google Chrome, as well as Android powered tablets or iPads.
Read more about SurveyLegend's free apps here
.
What do I get with my free account?
We think with a free SurveyLegend account, you will basically get all you need to conduct successful online surveys. However, if you want to find out more, here are the details. You'll find a full list of our survey features for both free and paid accounts.We constantly update our survey solution and add new professional features for both free and paid accounts. Please, have a look, and if you don't find the survey feature that you are looking for, let us know. Maybe we are already working on it. And user feedback helps us prioritize needed survey features in our development plans.
So, keep in touch, and let us know what you like or dislike about your free survey account, or your paid one.
Looking forward to seeing you amongst other legends 🙂