The holiday commercials have begun, Mariah Carey is belting out her famous Christmas tune on radio stations, and stores are stocking up on gifts. This time of year, holding a Christmas light contest is also very popular. These friendly competitions are held between neighbors, entire neighborhoods, business, and more. If you're holding a Christmas light contest, there's no better way to determine a winner than with SurveyLegend. With our free online survey tool, you can add images to surveys and allow people to vote on their favorite holiday display!
Create your FREE
Christmas Light Contest Survey Now
Christmas Light History
In the not-so-distant past, people would express their Christmas spirit by lighting candles on trees. "Generally, the tree was set up in the parlor and when all the family would come down to see the tree, dad or grandpa would light up all the candles," says John Hanssen, a member of the Golden Glow of Christmas Past, an international organization for Christmas history. "You'd look at it for a few seconds and blow them out."
Of course, not all of them would be properly extinguished, resulting in numerous fires. This led to the introduction of Christmas lights. The first set of Christmas lights were displayed in 1882 by Edward Johnson, a friend and partner of light-bulb inventor Thomas Edison.
Creating Your Christmas Light Contest (Rules, Categories, etc.)
Many Christmas light contests are just for fun or bragging rights, while others can have significant prizes. To truly understand how competitive people can become over their holiday displays, one need not look any further than the television reality series The Great Christmas Light Fight. It's been on the air since 2013!
Voting on holiday decorating can get heated! To make sure the Christmas light competition is fair, you'll want to be sure the judging criteria is clear to participants. For example, the contest is large, you might want to consider different categories, such as:
Most creative and imaginative 

Most traditional

Best use of lights

Best use of music and technology

Best use of toys and/or inflatables
You might also create categories for each type of dwelling, such as home, apartment, duplex, and so on. Choose a date by which houses must be decorated, and specify the day and time for judging and the announcement of the winners. 
Finally, identify how judging will be done. Sometimes, it's elected officials or local celebrities serving as judges; other times, it's everyone in the neighborhood. Remember to specify if there will be prizes. If prizes are substantial, you're likely to get a lot more entrants. So, you might want to consider an entry fee for participating.
Are you a Christmas light contest participant looking for a little bit of inspiration so you can win your next holiday decorating contest? Check out the 23 Best Christmas Light Displays in the United States.
Designing Your Christmas Light Contest Survey with Images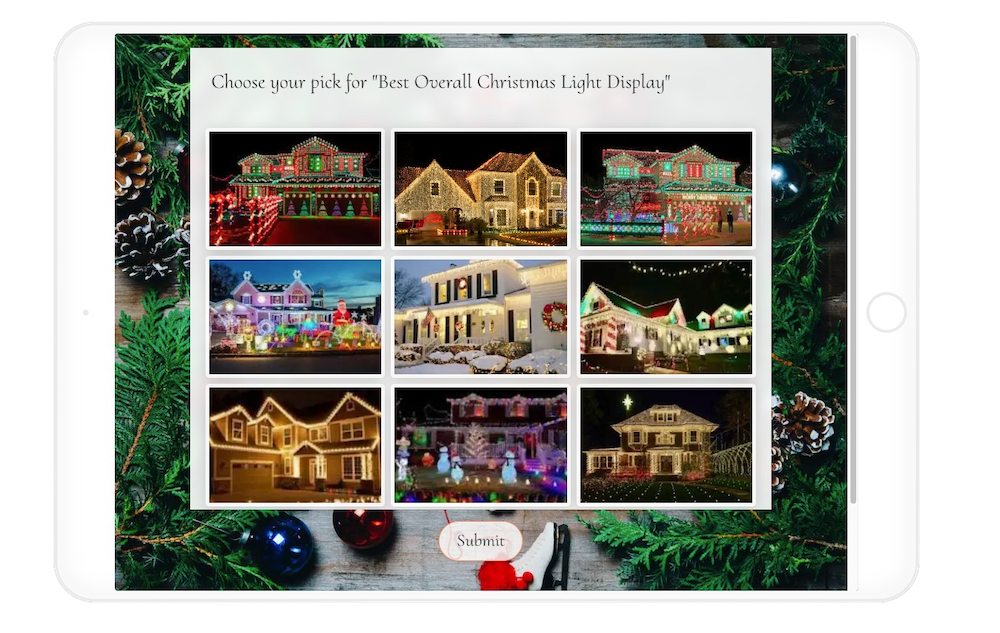 Like the look of the holiday decorating survey above? It was created with SurveyLegend's online survey tool. Images of lit-up houses were uploaded and a festive background and holiday font were added in the DESIGN stage. In this example, the "classic" mood was chosen, creating a box around the images so homes could clearly be seen despite the festive background.
To create your own survey with photos, simply ask participants to take pictures of their holiday light display and email them to you. Then, upload all of the participants' images into your survey and share your survey link with others to collect votes. SurveyLegend will automatically tally up the votes in real time, which you can display live on your event page if you like to make the contest more fun and engaging. It won't be long before you'll have a holiday light winner to announce!
To make your holiday light display survey in order to determine the best Christmas display, follow this step-by-step guide.
How to Create Your Holiday Decorating Contest Survey with SurveyLegend
Login to your account

Add a new survey, and navigate to the CREATE step.

Use our picture-based question type ("Picture Selection") by clicking on it.

Click on the picture selection question that was just added, and then click on the "upload" button.

Select all of your pictures at once from your computer, and then hit upload. Wait until the upload process is complete for all images.

If you like, change the layout and size of holiday display photos using the settings on the left-hand side. You can also choose whichever voting type you prefer. People usually use the "Ranking" voting type and let people vote for their top 3 favorites. 

Go to the DESIGN step to change the look and feel of your survey (for example, you can choose a dark theme or upload your own background).

Go to the CONFIGURE step and give your holiday light contest a good name so that you remember it. Also make sure you have this setting ON: "Limit number of participations" which will make sure people cannot vote multiple times to influence results.

Finally, continue to the SHARE step, copy your competition link, and send it to your audience using SMS, Email, Facebook, Slack or whatever platform you like.

When the distribution of your best holiday light display is done, go to Live Analytics and watch as the results come in.
If you're holding a holiday party, you can also use video projection to broadcast the live analytics page to all attendees. They can watch, in real-time, as the votes roll in. This makes your holiday light competition a lot more fun!
Start Creating Your Christmas Light Contest Survey Now
Ready to create your holiday light contest voting form? Our surveys render beautifully on any screen, are customizable to your design preferences, and can limit voters to one answer so overly competitive decorators don't continue to vote for themselves. They can also be made anonymous so there won't be any feuding between neighbors! Start now with SurveyLegend and hold the best holiday decorating contest in town!
Does your neighborhood have a Christmas lighting contest? How are winners selected? Will you be using SurveyLegend this year? Let us know in the comments!
Create your FREE
Christmas Light Contest Survey Now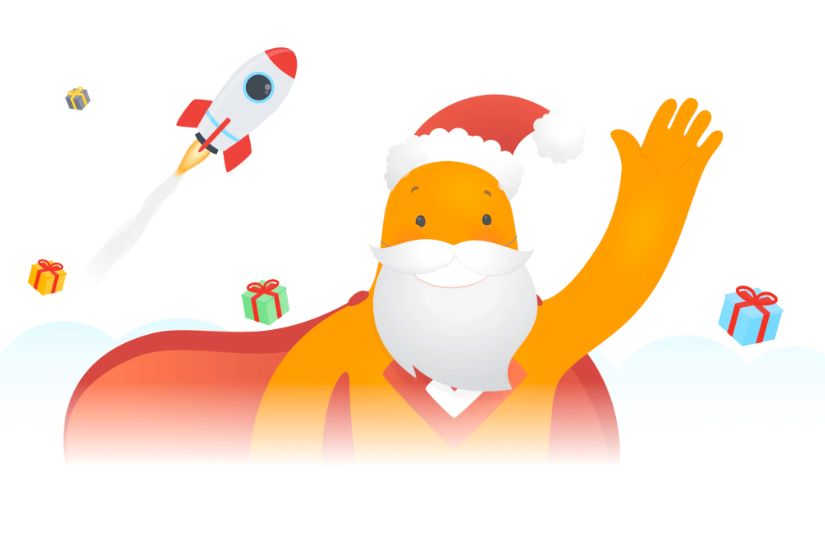 Frequently Asked Questions (FAQs)
When were Christmas lights invented?
The first set of Christmas lights were introduced to the world in 1882 by Edward Johnson. Johnson was a friend of light-bulb inventor Thomas Edison!
Should a Christmas light contest have prizes?
Sometimes, it's just a friendly competition between neighbors or businesses. However, large contests are held all over the world, some offering significant cash prizes.
How should I host a Christmas light contest?
Organize the contest within the community toward the end of November, when Christmas light displays often first go up. Set rules, categories, judging criteria, and prizes (if there will be prizes). Then, use SurveyLegend's online survey tool to highlight all the participants' displays and allow people to vote for their favorite(s).