The holidays – love 'em or hate 'em, what's not to love about an ugly holiday sweater contest? These gaudy garments can make you laugh and cringe, all in the spirit of fun. From Christmas to Kwanzaa to Hanukkah, ugly holiday sweater competitions have become a tradition. And like all traditions, contests are often built around them. Ugly Christmas sweater contests are held between friends, family, co-workers, and communities. If you're holding an ugly holiday sweater contest, you'll need an ugly holiday sweater contest survey to determine a winner. Here's how to get started!
Create Your FREE Ugly Christmas Sweater Contest Survey Now!
History of Ugly Christmas Sweaters
While the tradition of ugly Christmas sweaters seems to be a relatively new one, the trend is recognized as having begun in the 1980s. Some say it was an ironic form of rebellion against the fashionable – but large and gaudy – sweaters of that era. But the seasonal wearing of ugly Christmas sweaters – which often feature kitschy motifs of reindeer, snowmen, and other holiday staples, or cheesy or overly sentimental phrases – really got underway in the 2000s.
According to The Ugly Christmas Sweater Party Book: The Definitive Guide to Getting Your Ugly On, a couple of Canadian guys threw the first ugly Christmas sweater party in Vancouver back in 2001. Since then, hosting "Ugly Christmas Sweater" parties has become a holiday tradition. At these events, guests are encouraged to wear the most outlandishly ugly sweaters they can find, all in festive fun.
In 2013, after startup company Tipsy Elves appeared on television show Shark Tank and got a $100K investment from Robert Herjavec and went on to become a multimillion dollar business, the popularity of ugly holiday sweaters increased and expanded, with ugly Hanukkah sweaters, ugly Kwanzaa sweaters, and more. Today, even major retailers and fashion brands have even gotten in on the act, producing intentionally ugly holiday sweaters. 
Ugly holiday sweater contests have appeared on daytime talk shows like Good Morning America, and the ugly attire commonly appears on holiday episodes of popular television shows, like Modern Family.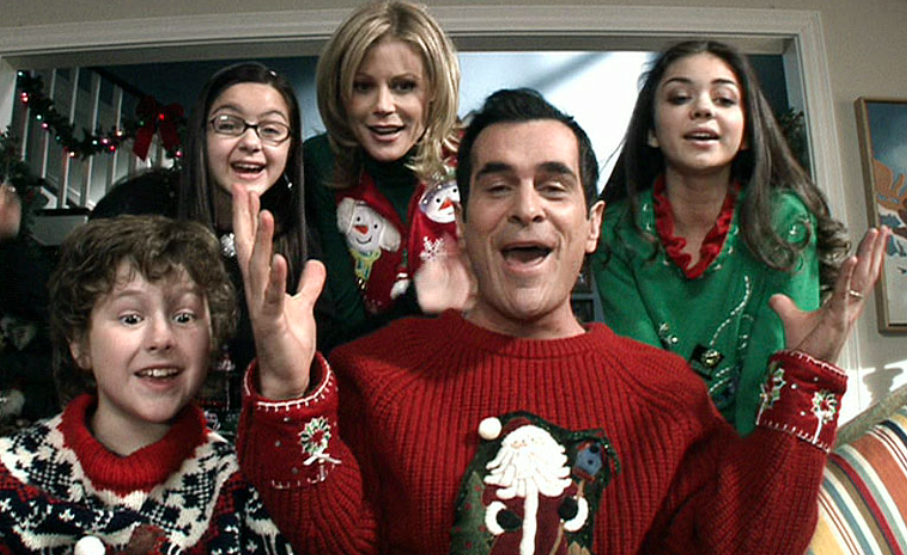 Creating Your Ugly Christmas Sweater Contest
Ugly holiday sweater contests are hosted at households, company parties, community events, and more. Many ugly holiday sweater contests are just for fun or bragging rights, while others can have significant prizes, meaning voting on the ugliest sweater can get heated! To make sure the competition is fair, you'll want to be sure the judging criteria is clear to participants. 
For example, if the contest is large, you might want to consider different categories, such as:
Best Store-bought sweater

Best DIY sweater (some people will opt to make their own)

Best use of lights (many sweaters light up)

Best use of music and technology (many sweaters play music and some connect to Bluetooth devices)

Best outfit overall (some people go above and beyond, wearing more than just an ugly sweater – but that may not be fair for those only wearing ugly sweaters).
You'll also want to identify how judging will be done. Sometimes, specific people are chosen to judge the contest; other times, everyone at the event has a vote. Remember to specify if there will be prizes. If prizes are substantial, like at a large community event, you're likely to get a lot more participants. So, you might want to consider an entry fee for participating.
LOVE HOLIDAY CONTESTS? SurveyLegend specializes in them. Be sure to check out our Christmas Light Contest Survey, Thanksgiving Contest Survey, and our Halloween Costume and Pumpkin Contest Surveys!
Create Your FREE Ugly Christmas Sweater Contest Survey Now!
Designing Your Ugly Christmas Sweater Contest Survey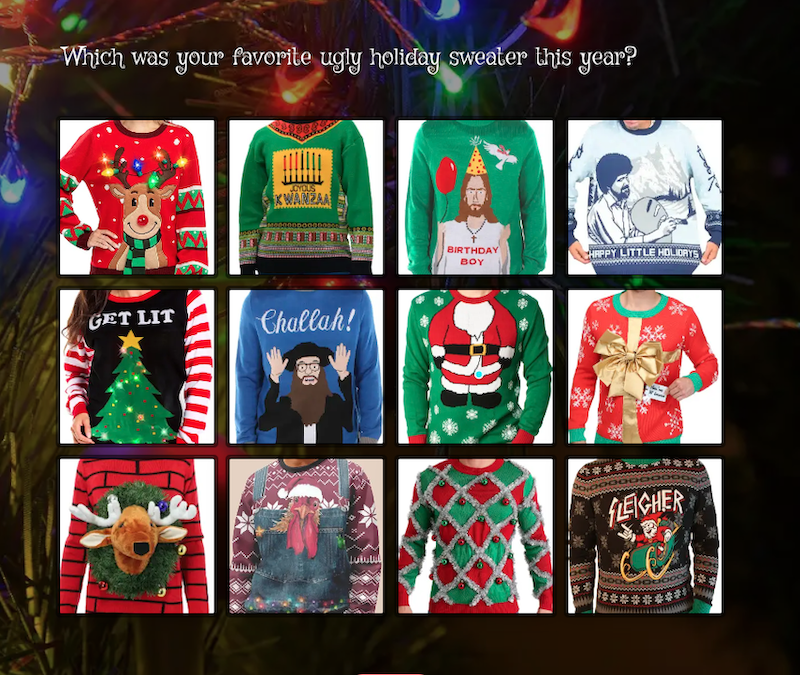 Like the look of the ugly holiday sweater contest survey with images above? It was created with SurveyLegend's online survey tool. Images of various sweaters were uploaded and a holiday background and font were added in the DESIGN stage. In this example, we chose a relatively plain image, with a hint of Christmas lights, to ensure that the sweaters "popped" off the page; you can also use plain colors or change the background to your liking. In the example below, for example, a Christmas sweater pattern was selected. We did select the BLUR option so it wouldn't compete so much with the sweaters themselves.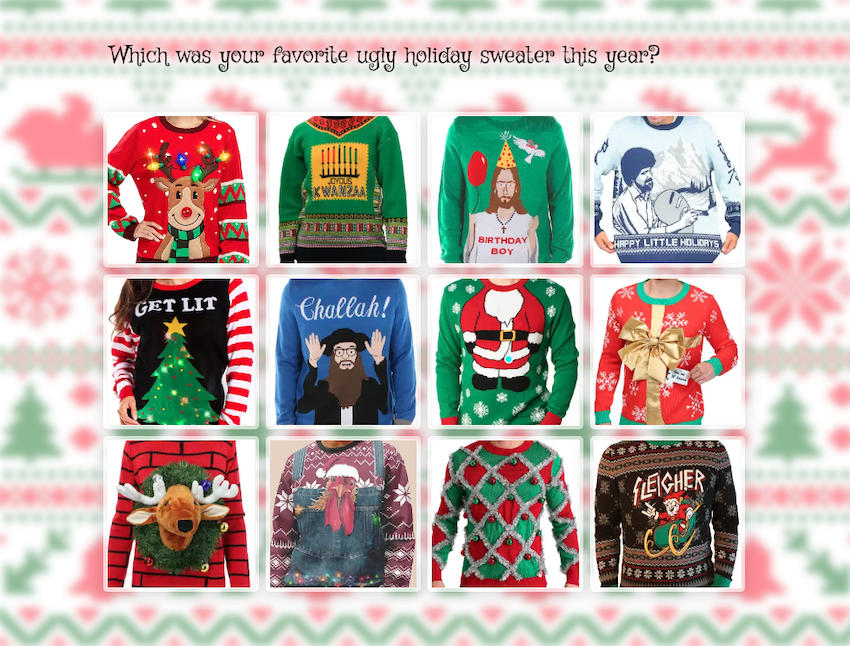 To create your own ugly holiday sweater survey with photos, simply ask participants to take pictures of themselves (or take them as they enter the event). You might consider cropping off heads as we did so that voters aren't unfairly influenced by the person wearing the sweater.
Next, upload all of the participants' images into your survey and share your survey link with others to collect votes. SurveyLegend will automatically tally up the votes in real time, which you can display live on your event page if you like to make the contest more fun and engaging. It won't be long before you'll have crowned a winner in your ugly holiday sweater contest!
Here's a step-by-step guide to make the best survey possible.
How to Create Your Ugly Christmas Sweater Contest Survey with SurveyLegend
Login to your account

Add a new survey, and navigate to the CREATE step.

Use our picture-based question type ("Picture Selection") by clicking on it.

Click on the picture selection question that was just added, and then click on the "upload" button.

Select all of your pictures at once from your computer, and then hit upload. Wait until the upload process is complete for all images.

If you like, change the layout and size of holiday sweater photos using the settings on the left-hand side. You can also choose whichever voting type you prefer. People usually use the "Ranking" voting type and let people vote for their top 3 favorites. 

Go to the DESIGN step to change the look and feel of your survey (for example, you can choose a dark theme or upload your own background).

Go to the CONFIGURE step and give your ugly sweater contest a good name so that you remember it. Also make sure you have this setting ON: "Limit number of participations" which will make sure people cannot vote multiple times to influence results.

Finally, continue to the SHARE step, copy your competition link, and send it to your audience using SMS, Email, Facebook, Slack or whatever platform you like.

When the distribution of your ugly holiday sweater survey is done, go to Live Analytics and watch as the results come in.
If you're holding a holiday party, you can also use video projection to broadcast the live analytics page to all attendees. They can watch, in real-time, as the votes roll in. This makes your ugly Christmas sweater competition a lot more fun!
Start Creating Your Ugly Christmas Sweater Contest Survey Now
Ready to create your ugly sweater contest voting form? Our surveys render beautifully on any screen, are customizable to your design preferences, and can limit voters to one answer so overly competitive dressers don't continue to vote for themselves. They can also be made anonymous so there won't be any feuding between friends! Start now with SurveyLegend and hold the best ugly Christmas sweater contest in town!
Do you participate in ugly holiday sweater contests? Have you ever won one? We'd love to hear about your winning wardrobe in the comments!
Create Your FREE Ugly Christmas Sweater Contest Survey Now!

Frequently Asked Questions (FAQs)
Where is the best place to buy an ugly Christmas or holiday sweater?
Many retailers carry ugly Christmas sweaters, and make versions for other celebrations such as Hanukkah and Kwanzaa. Some online retailers to check out include Tipsy Elves, Ragstock, Etsy, Ugly Christmas Sweater, along with large outlets like Target, Walmart, Amazon, and Kohl's.
Can you make a DIY ugly sweater for a contest?
Creating your own ugly sweater shows great creativity, but if it's a contest with prizes, you'll want to check the rules to be sure that DIY creations are eligible to win.
How should I host an ugly holiday sweater contest?
Organize the contest within the community or amongst friends, family, and coworkers toward the end of November to give them plenty of time to find the ugliest sweater. Set rules, categories, judging criteria, and prizes (if there will be prizes). Then, use SurveyLegend's online survey tool to highlight all the participants' sweaters and allow people to vote for their favorite(s).