How do you celebrate Thanksgiving? How was your turkey dinner? And do you know how the holiday got started? Whether it's a fun poll, a restaurant survey, or a church or school history quiz, all of these questions and more may be weighing on the mind. Of course, there's no better way to distribute Thanksgiving questionnaires than with SurveyLegend. With our free online survey tool, you can get answers to all your burning turkey day questions.
Create your FREE Thanksgiving survey, poll, or questionnaire now!
History of Thanksgiving
Thanksgiving has a long history in the United States where today it is celebrated on the fourth Thursday of each November (some other countries also celebrate Thanksgiving or a similar version of it; see our FAQs for more). Here's a timeline of significant events surrounding this mostly American holiday.
1621.

The Plymouth colonists from England and the Native American Wampanoag people share an autumn harvest feast, marking the first Thanksgiving celebration.  

1789.

President George Washington issues the first Thanksgiving proclamation, calling upon Americans to express their gratitude for the happy conclusion to the country's war of independence and ratification of the U.S. Constitution. 

1817.

New York becomes the first of several states to officially adopt an annual Thanksgiving holiday.

1863.

President Abraham Lincoln, in the midst of the Civil War, makes Thanksgiving a national holiday to be held each November, as an expression

of gratitude for a pivotal Union Army victory at Gettysburg. 

1924.

New York City's Macy's Thanksgiving Day parade begins, becoming the largest and most famous American parade and attracting around three million spectators along its 2.5-mile route.

1947.

President Harry Truman officially pardons the first National Thanksgiving Turkey, though the event began during the Civil War when Tad Lincoln asked his father to spare a turkey from a holiday meal. 

2007.

Friendsgiving is recognized by Merriam-Webster as a Thanksgiving alternative, "a holiday with friends." Many credit the hit show

Friends

for inspiring the concept.
Today, nearly 90% of Americans celebrate Thanksgiving, feasting upon turkey, stuffing, mashed potatoes, green bean casserole, cranberry sauce, and pumpkin pie. For some, controversy still surrounds the holiday; you can read more on History.com or see our FAQs at the bottom.
Create your FREE Thanksgiving survey, poll, or questionnaire now!
Types of Thanksgiving Surveys
Thanksgiving surveys can serve a wide variety of purposes:
Activity Polls

Restaurant Surveys

Church or School Quizzes

Pilgrim/Turkey Costume Contests

Best Thanksgiving Chef Contests

Festival/Parade Satisfaction Surveys
If you love surveying about the holidays, be sure to check out our blogs on Christmas contests, Easter surveys, Halloween Pumpkin carving contests and costume contests. In the meantime, here's a look with survey examples of the three most popular types of Thanksgiving questionnaires.
Create your FREE Thanksgiving survey, poll, or questionnaire now!
1. Thanksgiving Activity Surveys
Many outlets and websites like to survey people about how they will be celebrating Thanksgiving (many people have Thanksgiving and the Friday after the holiday off of work, making it a four-day "weekend"). In the SurveyLegend survey below, we use images to get respondents thinking about what they'll be doing over the holiday. This type of survey is also a great way to highlight Thanksgiving dishes if holding a chef contest.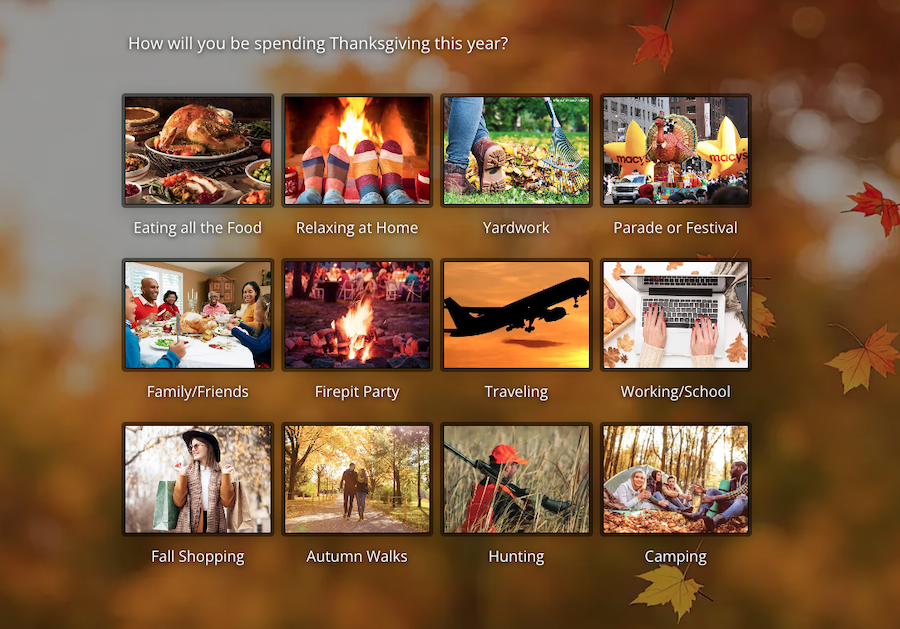 2. Thanksgiving Dinner – Restaurant Survey
If a restaurant is open on Thanksgiving, they typically take great care to give their guests a true Thanksgiving experience, with all the traditional food. Often, it's buffet style and may cost a bit more than the usual fare. So, they want to be sure they're doing a good job to ensure guests return the following year. A Thanksgiving restaurant survey will help managers gauge their performance and learn how they can improve next year. Here's an example of a SurveyLegend Thanksgiving survey asking a variety of types of questions. This could be emailed to guests, or better yet, presented on a tablet or kiosk display so they can rate their experience while at the restaurant.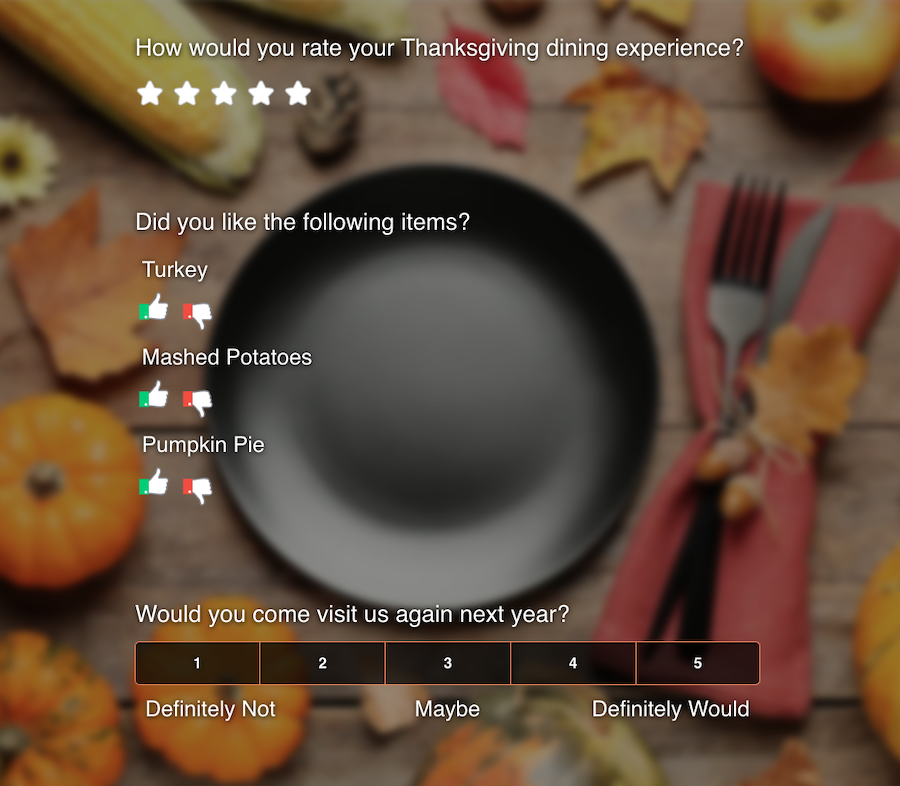 3. Church or School Thanksgiving Quiz
While Thanksgiving is considered a secular holiday, both churches and schools may wish to quiz children on the history of the holiday. In the SurveyLegend example below, we've created a Thanksgiving quiz for students about the holiday based off of the timeline we provided at the start of this blog. Of course, you can also use this format for some good old fashioned Thanksgiving trivia.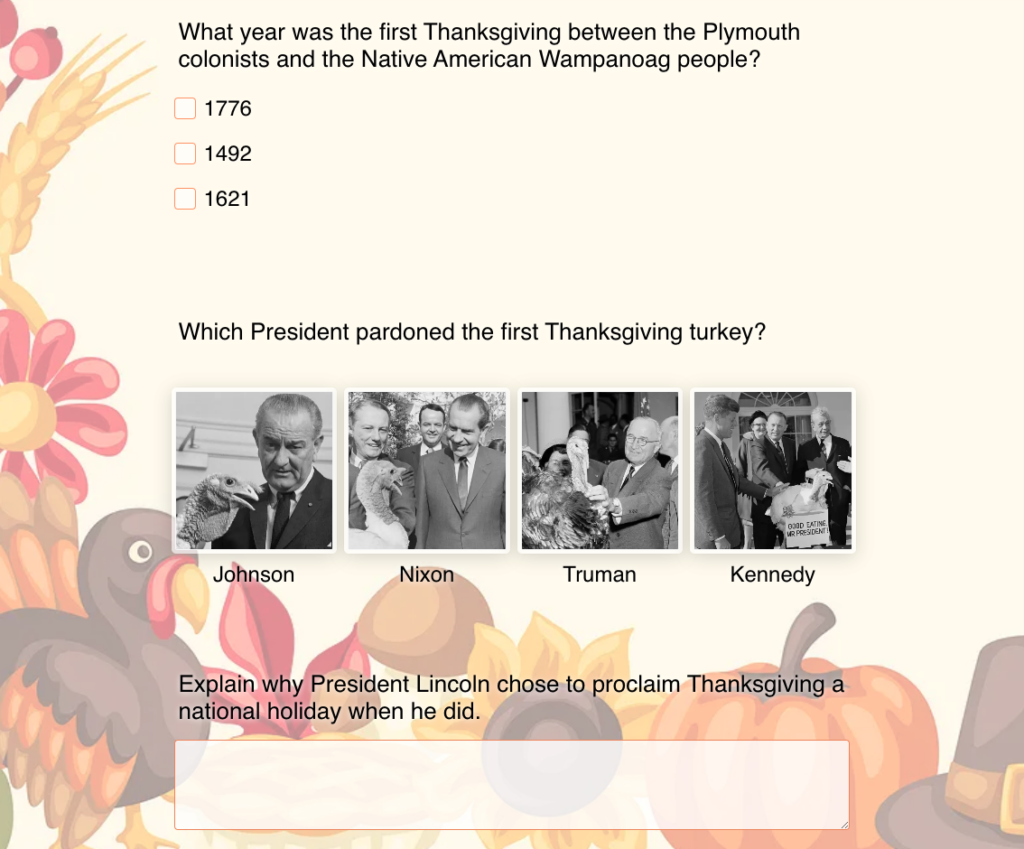 Conclusion
If you're taking your Thanksgiving survey, poll, or quiz online, there's no better tool than SurveyLegend, which boasts a 4.7 rating out of 5 on TrustPilot! As demonstrated above, you can ask many different types of questions, from multiple choice to opinion scales, open answer to image selection. This variety keeps participants engaged and response quantity high! Start today for free! Need help? Check out our guide to creating free online surveys. Have fun and happy Thanksgiving!
How will you be celebrating Thanksgiving? Have you ever participated in a holiday survey? Will you be sending a Thanksgiving survey this year? Let us know in the comments!
Create your FREE Thanksgiving survey, poll, or questionnaire now!
Frequently Asked Questions (FAQs)
Why do some people find Thanksgiving celebrations controversial?
For many Native Americans, Thanksgiving can serve as a reminder of colonization, displacement, and the subsequent mistreatment and oppression they faced at the hands of European settlers. Critics of the holiday also argue that Thanksgiving perpetuates a romanticized and sanitized version of history, often ignoring the darker aspects of colonialism and the exploitation of indigenous peoples.
Is Thanksgiving celebrated anywhere besides the United States?
Thanksgiving is arguably an American holiday although other countries celebrate it:

Canada – The Great White North adopted the American holiday as one of its own in 1957.
Grenada – The island nation celebrates Thanksgiving to commemorate when the United States helped the country restore order following the death of their communist leader in 1983.
Liberia – The tradition of Thanksgiving was brought to Liberia by freed slaves from the United States who returned to their homeland in the 1820s.
The Netherlands – Thanksgiving in this nation celebrates the Dutch who helped settle the American colonies (around 40% of adults on the Mayflower actually came from the Netherlands).

Other countries with similar celebrations include:
Brazil – "Dia de Acao de Gracas," a Carnival-like celebration that a Brazilian ambassador introduced to the country after witnessing the American holiday during a trip to the states in the 1940s.
China – "Chung Chiu" celebrating family during a three-day Harvest Moon feast.
Germany – "Erntedankfest" or "Harvest Thank Festival" which actually predates the American Thanksgiving and Christianity itself. 
Ghana – "Homowo,"celebrating the autumn crops – especially yams.
Japan – "Kinro Kansha no Hi" celebrating hard work and thanking others in the community for their service.
Malaysia – "Kaamatan" which gives thanks to God for rice and marks the end of the rice harvest.
South India – "Pongal" which celebrates the autumn harvest.