Easter consistently ranks among the top five most popular holidays in the United States and it is also celebrated across the world. For those of the Christian faith, it's a holiday that acknowledges the resurrection of Jesus Christ. For others – and especially kids – it's also all about the candy, with the Easter Bunny bringing colorful baskets of goodies and hiding painted eggs. And let's not forget those into fashion: the holiday is synonymous with spring, meaning it's the time of year to break out the floral and pastels! 
For the Easter holiday, many contests are also held: there are Easter egg decorating contents, Easter basket and bonnet contests, and Easter treat competitions.. Many church surveys also quiz congregants about the meaning of Easter; these religious quizzes are often given to students studying the Christain faith. If you're holding an Easter contest or creating a religious quiz, there's no better place to start than SurveyLegend.
Create your FREE Easter Survey or Religious Quiz now!
A Brief History of Easter, the Easter Bunny, and Easter Eggs
Those of faith celebrate Easter as the day Jesus arose from the dead, three days after the Crucifixion. For Christians, the holiday "represents the fulfillment of the prophecies of the Old Testament and the revelation of God's salvific plan for all of humankind" (read more at Britannica.com). But that doesn't explain how rabbits, eggs, baskets, or bonnets entered the picture! So, how did these items become symbolic of Easter?
The word Easter comes from the pagan goddess of spring and fertility, Eostre. Her symbol is the rabbit, known for its ability to quickly procreate. Legend has it that Eostre rescued a bird dying from the cold, transforming it into a rabbit so its fur would keep it warm until spring. However, the new rabbit continued to lay eggs like the bird it once was. The rabbit would then color the eggs throughout the season and give them to Eostre to show appreciation and love. It's easy to see how the Easter Bunny (and "chicks" representing the bird as Peeps marshmallow candies have popularized) came about from this story.
It makes sense to take these "fun" aspects of Easter in order to engage children. "For Christians, this is a serious holy day, dealing with issues of life and death," says Robin Knowles Wallace, the author of The Christian Year: A Guide for Worship and Preaching. "Because of the difficulty of sharing these big issues in age-appropriate ways, sometimes we divert to the more lighthearted symbols of eggs and rabbits, hence the proliferation of Easter egg hunts at churches."
Developing Easter Contest Rules and Prizes
Many Easter egg decorating contests (or Easter egg basket, bonnet, or dessert contests) are just for fun or bragging rights, while others can have significant prizes. For example, the Food Network has an Easter basket challenge and shows all about creating "over-the-top holiday masterpieces inspired by colorful candy and whimsical Easter themes," with the grand prize being a Golden Easter Egg filled with $25,000 of "bunny money"! Life & Style, The Cowboy Channel, and HGTV are just a few of many others getting into the act. 
Of course, voting on Easter contests can get heated when prizes are involved! To make sure the Easter contest is fair, you'll want to be sure the judging criteria is clear to participants (it's also a good idea to have separate categories for children and adults, and novices and pros). Choose a date by which eggs, baskets, bonnets, or desserts, houses must be completed, and specify the day and time for judging and the announcement of the winners. 
Finally, identify how judging will be done. Sometimes, it's elected officials or local celebrities serving as judges; other times, it's everyone in the neighborhood. Remember to specify if there will be prizes. If prizes are substantial, you're likely to get a lot more entrants. So, you might want to consider an entry fee for participating.
Designing Your Easter Contest Survey with Images
With SurveyLegend, creating an Easter contest survey that allows people to vote on their favorites is easy. That's because we allow you to add images to questions, so respondents can easily vote for their favorite Easter eggs, baskets, bonnets, or treats.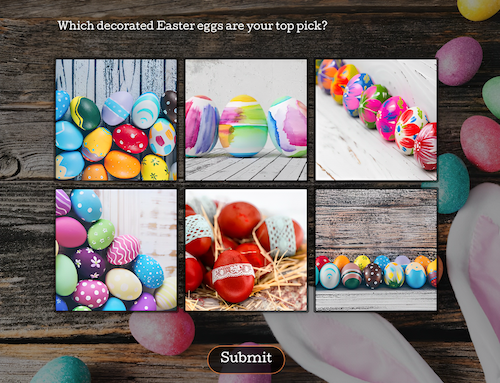 To create your own Easter survey with photos, simply ask participants to take pictures of their Easter items and email them to you. Then, upload all of the participants' images into your survey and share your survey link with others to collect votes. SurveyLegend will automatically tally up the votes in real time, which you can display live on your event page if you like to make the contest more fun and engaging. It won't be long before you'll have an Easter contest winner to announce!
How to Create Your Holiday Decorating Contest Survey with SurveyLegend
Login to your account

Add a new survey, and navigate to the CREATE step.

Use our picture-based question type ("Picture Selection") by clicking on it.

Click on the picture selection question that was just added, and then click on the "upload" button.

Select all of your pictures at once from your computer, and then hit upload. Wait until the upload process is complete for all images.

If you like, change the layout and size of Easter photos using the settings on the left-hand side. You can also choose whichever voting type you prefer. People usually use the "Ranking" voting type and let people vote for their top 3 favorites. 

Go to the DESIGN step to change the look and feel of your survey (for example, you can choose a dark theme or upload your own background).

Go to the CONFIGURE step and give your Easter contest a good name so that you remember it. Also make sure you have this setting ON: "Limit number of participations" which will make sure people cannot vote multiple times to influence results.

Finally, continue to the SHARE step, copy your competition link, and send it to your audience using SMS, Email, Facebook, Slack or whatever platform you like.

When the distribution of your Easter survey is done, go to Live Analytics and watch as the results come in.
If you're holding an Easter gathering, you can also use video projection to broadcast the live analytics page to all attendees. They can watch, in real-time, as the votes roll in. This makes your Easter competition a lot more fun!
Designing Your Church Survey or Religious Quizzes with SurveyLegend
SurveyLegend also makes it easy to create text-based surveys and quizzes. Our free survey maker also allows you to create a wide variety of types of survey questions. This helps to engage respondents and improve response rates. Below you'll see a church survey using multiple choice, sliding scale, thumb and emoji ratings, and an open-ended question.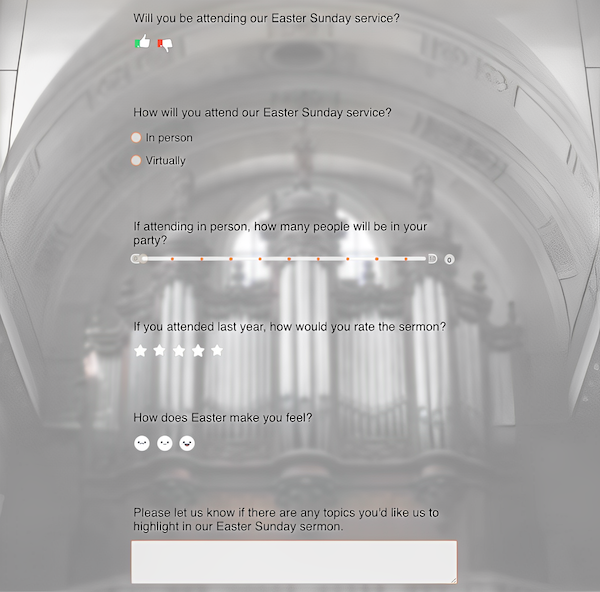 Start Creating Your Easter Contest Survey Now
Ready to create your Easter contest, church survey, or religious quiz? Our surveys render beautifully on any screen, are customizable to your design preferences, and can limit voters to one answer so overly competitive egg decorators don't continue to vote for themselves. For religious quizzes, it's also easy to add instructions to each question to ensure congregants and/or students understand everything. Start now with SurveyLegend and hold the best Easter egg decorating contest in town!
P.S. Our survey platform is also great for Christmas surveys!
Have you participated in any kind of Easter contest in the past? Does your church regularly survey congregants or quiz students? Will you be giving SurveyLegend a try this year? Let us know in the comments!
Create your FREE Easter Survey or Religious Quiz now!
Frequently Asked Questions (FAQs)
When did Easter start?
The earliest observance of Easter on record is from the 2nd century, however it has likely been celebrated by Christians for much longer due to its role in their faith.
What types of Easter contests are there?
Today, the most popular type of Easter contest is an Easter egg decorating contest. Other types of Easter contests include Easter bonnet contents, Easter basket contests, and Easter dessert competitions.
How do churches plan for Easter Sunday services?
To prepare for Easter Sunday and to anticipate the size of the crowd, many churches send out Easter surveys asking whether people will be attending and if so whether they will be there in person or virtually. Easter survey questions also may ask attendees what they hope to learn or get out of the upcoming service.
Survey images courtesy of freepik, jcomp, 8photo, and pvproductions.