In today's digital world, it's more important than ever for brands to interact online with customers (or potential customers). That's why most are now very active on social media, creating engaging content that keeps people invested in the company. Another way companies can further engagement is by creating survey quizzes, an immersive form of marketing that gets people interacting. Not only are survey quizzes engaging, they can also reveal important information about your target audience. Talk about a win-win!
Create your free survey, form or poll quiz now!
What is a Survey Quiz?
A survey quiz is a form of polling. While it can be used to test the knowledge of a quiz taker in teaching and training exercises, many survey quizzes are used to gather opinions, information, and feedback. With these types of survey quizzes, there is no correct answer – it is simply a means of collecting information and engaging with people. 
Today, online survey quizzes are used by everyone from entertainment website Buzzfeed to more serious types, like those found on Psychology Today.
Why Use Survey Quizzes?
It's human nature to want to talk about and learn about ourselves. A Harvard University study reveals that people spend about 40% of any conversation talking about themselves. "…Individuals find opportunities to disclose their own thoughts to others to be especially rewarding," says the study. 
Researchers also noted that when people were given a choice to share their responses with others or to keep them private, they would choose to share. This makes sense, of course, and certainly explains the use of inherently self-promoting social-media platforms.
So, using survey quizzes as a form of interactive content helps brands, marketers, and researchers connect with their audience in a more personalized way. A popular type of survey quiz is a personality quiz. These are designed to reveal certain things about a quiz-taker to the quiz-taker (who then can choose whether to share the results or not), while also providing the quizzer with information that can be used for marketing purposes.
Personality Survey Quiz Types
In the example below, these survey quiz questions are designed to better understand survey takers through personality questions. The survey quiz example asks a series of questions to help determine whether the respondent is adventurous/outgoing (zip lining, big city living, socializing at parties) or more perhaps laid back (e.g., beach reading, small town living, reserved at parties).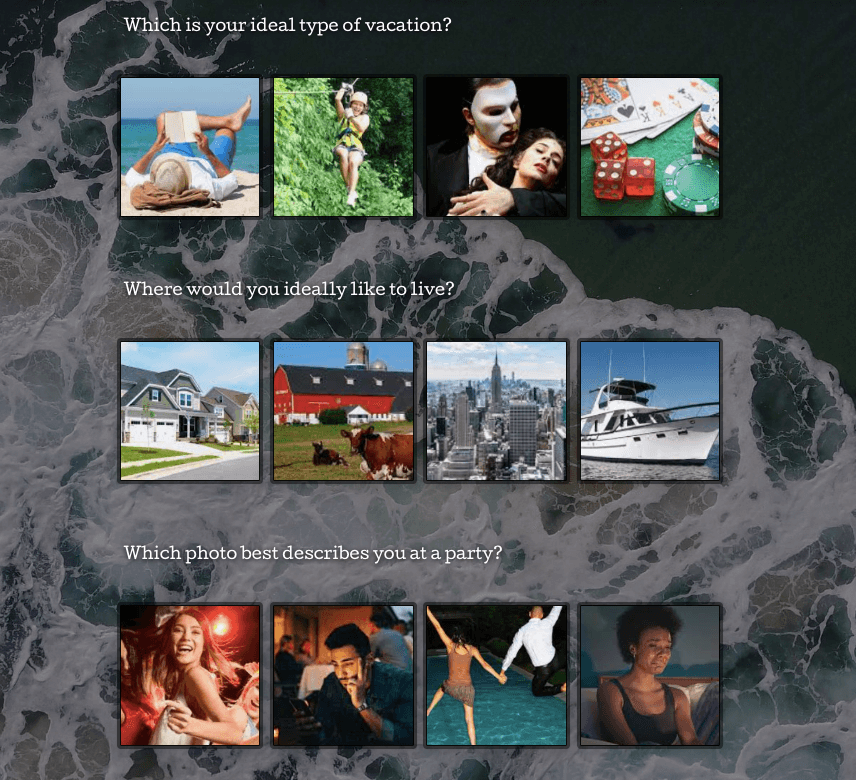 Other popular survey quiz questions ultimately pertain to the brand doing the quizzing. For example, the survey quiz may ask, "which style of clothing do you prefer," and then based upon the response, direct the user to a page of similar clothing available for purchase. These types of quizzes are a great way to bring product recommendations to people, without being too pushy. Plus, since answers direct users to particular pages that pertain to them, the user experience is unique and generally appreciated by people. 
Shopping Survey Quiz Types 
In the example below, created using our free survey quiz maker, respondents are asked to rate how much they like particular fashions. Based on their response, the site could then direct them to a page with items that would appeal to them. It's an ideal user experience that boosts customer interaction – and potentially sales!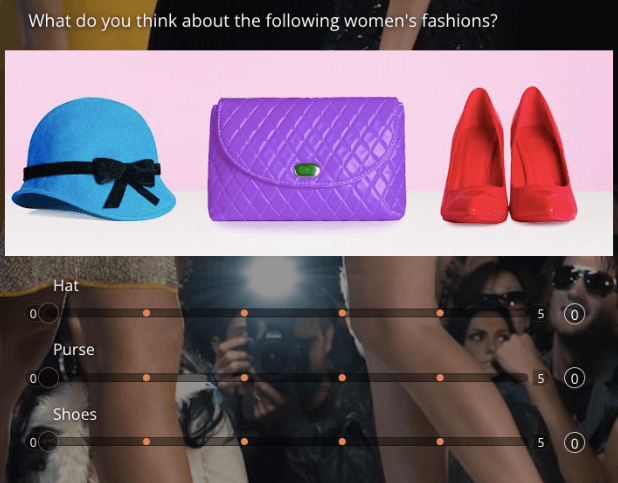 Want more? Check out our blog 3 Types of Data Collection: Survey vs Questionnaire vs Poll. 
7 Benefits of Using Survey Quizzes
We've covered some of the reasons why companies, brands, and others use survey quizzes. But, it always helps to have a handy list! Here are our top seven reasons to use survey quizzes.
1. Discover Consumer Insights
When people visit your website and don't interact with it, it can be hard to learn anything about them. However, quizzes boost user engagement. People spend more time on the site and tell you a bit about themselves. This can help you target them more effectively in the future, providing more value.
2. Improve Sales
If you're in the business of sales, using quizzes to direct visitors toward pages related to their interests can also increase purchase rates. It also inspires return visits, which can lead to even more sales.
3. Get Email Sign-ups
Email marketing is an effective way to reach customers – but first you must get their email address, and some people may hesitate to provide theirs without an incentive. You can use the quiz to collect email addresses but stating that quiz results will be sent to an email address. 
4. Increase Engagement
The Content Marketing Institute conducted surveys and learned that more than 80% of respondents agree that interactive content, such as a survey quiz, grabs attention more effectively than static content. No matter how engaging copy can be, they are still passive ways of consuming content. Survey quizzes provide that all important interactivity factor.
5. Increase Social Media Interaction
The Harvard study we mentioned earlier revealed that when people were given a choice to share their survey responses with others or to keep them private, they would choose to share. When a quiz is fun and informative, people will share it, which can spark a lot of conversation on social media and lead others to your survey quiz page. This can ultimately lead to more followers of your company or brand. 
6. Improve Customer Segmentation
When you gather information about your audience, you can begin to put them into buckets. Quizzes help you learn what kind of a customer they are, what their needs are, and how you can better resolve them. Based on the audience segment you put them in, they can receive different marketing messages and invitations in their email.
7. Boost SEO
Because survey quizzes typically involve multiple page interactions (users clicking through and answering each question) and have a low bounce rate – two things Google loves – they are great for SEO. 
Conclusion
Survey quizzes are a great way to improve interactivity and engagement with consumers. And, people love them, with over 80% saying they are more effective at grabbing attention than text-only webpages. Another thing that grabs attention? Imagery! Image-based surveys can stimulate memory and emotion, and have been shown to improve brand awareness by 20% and purchase consideration by 40%. 
When creating survey quizzes, get the best of both worlds with SurveyLegend. SurveyLegend's survey quiz maker allows you to easily create polls like the ones in this blog, adding survey images to them to further engagement. You can create many different types of image-based questions and answers to help you learn about consumers and turn them into customers.
Have survey quizzes helped you better understand your customers? Or are you looking to start using them with SurveyLegends free survey quiz maker? Perhaps you just want to create a survey for your friends. Either way, let us know in the comments!
Create your free survey, form or poll quiz now!
Frequently Asked Questions (FAQs)
What is an online survey quiz?
A survey quiz is a form of polling that is primarily used to gather opinions, information, and feedback. They are designed to engage and interact with users, and to generate social media buzz.
How are online survey quizzes delivered?
These typically exist on a company's website, however they are also frequently used on social media or delivered through email or a pop-up survey.
Why use a survey quiz?
The Content Marketing Institute reveals that 81% of people find interactive content like this more engaging than static content.
Survey vs quiz: What's the difference?
A survey generally is not "scored," although results are tallied. A quiz is often "scored," just like those you took in school. A survey quiz combines the two. It collects feedback and provides some sort of score (though usually not a score of right or wrong).