Working from home used to be a luxury only executives and freelancers could enjoy. Now, many corporate employees are logging on remotely without ever stepping foot in the office. Of course, the coronavirus gave remote work a big push. However, this trend had already been in the works for years.
Create your first survey, form, or poll now!
That doesn't mean remote work is without its challenges. Today, many companies are wondering how to collaborate effectively when their teams aren't attached to the office. The solution? Using integration-ready tools for team collaboration. For example, companies are using collaboration tools to do the following:
Keeping

team communication

open

Making sure employees remain productive

Holding people accountable for their work

Allowing employees to share jokes, memes, pet photos, and more to keep company culture alive
Here's a look at eight of the most popular team collaboration tools being used today.
Salesforce is a customer relationship management (CRM) solution that's great for remote collaboration. The software offers one integrated platform for all departments. That means everyone within the company has a single, shared view of every customer. In addition, Salesforce allows for sharing knowledge and document sharing. 
This online team collaboration software tool is available for users across all industries. For example, startups, small businesses, and non-profits are using it. There's even a recently developed COVID-19 solution on Salesforce!
This virtual team collaboration tool describes itself as "a single place for messaging, tools, and files." Of course, its bread and butter is all about chatting. Users can chat in channels (group chat) or direct message (person-to-person chat). In addition, channels can be public or private (i.e. by invitation only). 
Slack online collaboration tools also allow users to contact one another through audio or video. Slack is free for small businesses only needing access to their 10,000 most recent messages. From there, pricing goes up with additional services and features.
Office 365 knows that collaboration in the workplace is key. This makes it one of today's most-used productivity software platforms. Microsoft Teams online is included as part of the subscription. So, this team communication platform is a hit with businesses big and small. 
Teams lets remote employees and virtual teams work together. They can share information in a common space using a variety of features. For example, document collaboration, one-on-one chat, team chat, and more. It's also fully integrated with other Office 365 services, such as Skype chat and SharePoint document management.
Google collaboration tools are very popular. Docs looks and feels like Word, and Sheets looks and feels like Excel. This familiarity lets people pick it up easily. Even better, the platform is free.
In Google Docs and Google Sheets, users in remote locations can work together within a single document. Feedback and changes save instantly, with revision history available. Those working on the project also receive notification of any changes via email.
Working with remote teams is a lot easier with Zoom. This video platform is great for small businesses. It's also ideal for large organizations and virtual events. Users can host events with up to 100 interactive video participants and up to 10,000 view-only attendees! That's why, during coronavirus, many schools and colleges hold classes and webinars via Zoom.
A basic Zoom meeting (up to 100 participants with a 40-minute limit) is free. Plans increase in price from there. 
Jira boasts that it is the "Number one software development tool used by agile teams." It allows team members to plan, track, and prioritize their workloads with complete visibility for everyone. Projects are detailed within "cards." Cards are moved to different team members as needed until a project or task is finished.
The Jira software also provides real-time reporting. This allows team members to visualize their progress to improve performance. 
This remote team collaboration and project management tool is on fire. It went from 45 accounts in 2004 to 3.3 million accounts in 2020. With Basecamp, an administrator breaks up all work into separate projects. Each project houses everything related to it. This includes the people involved and their discussions, all documents and files, and all dates and deadlines. 
Basecamp is a lot like email—without the chaos! The software organizes everything and also allows group chats and more.
If you're wondering how to choose collaboration software, this popular team collaboration tool might be for you! GoToMeeting's online software tools work for any type of company or organization. Features include:
Quick one-click meetings, in which users can instantly join, host, or manage a video, audio or web meeting from anywhere; 

Webinars for business, allowing users to transform online events into engaging experiences for attendees; and 

GoToRoom, which transforms online conference rooms into collaboration centers.
Conclusion
Collaboration in the workplace is essential. This is especially true when many teams, or team members, work remotely. Luckily, there are dozens of team collaboration tools available. Of course, finding one that suits your business' needs best can be a challenge. One way to find out which platform your employees prefer is by conducting an online team survey through SurveyLegend. 
When working with remote teams, it's important to get employee feedback on a variety of topics. For example, you may want to find out if they're satisfied working from home. You might want to know if they have the resources and support they need. Finally, you'll want to know if they're finding their collaboration tools sufficient. Asking these types of team collaboration survey questions can help you gain valuable insight. Of course then you need to act upon it.
You can do all of this by conducting a work-from-home team survey with SurveyLegend. SurveyLegend integrates seamlessly with other apps like Google Drive, Salesforce, Facebook, Twitter, LinkedIn, and Edmodo. This allows you to easily sync collected data. Check out this image poll that could be used to find out which platform your remote team likes the best. Studies show that visuals increase engagement, and by using a picture poll you're sure to get more responses. This is especially important when you're surveying a large team. Learn more about creating a image survey or picture poll.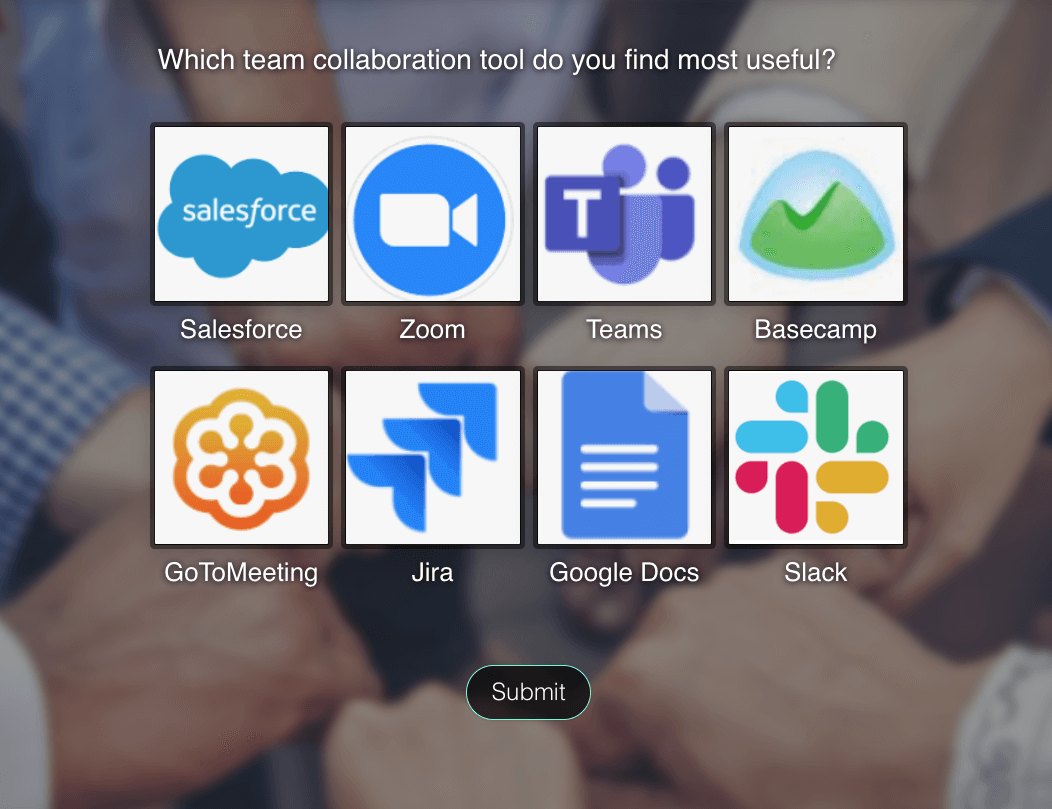 Learn how a work-from-home survey for virtual teams can benefit your business! Read more in our blog and then start your own survey for free.
Do we miss a team collaboration tool that your company uses? We'd love to check it out for ourselves. Let us know below!
Create your first survey, form or poll now!
Frequently Asked Questions (FAQs)
What are team collaboration tools?
Team collaboration tools are a form of software that allows two or more people, generally in different locations, to collaborate together online.
Why do companies use team collaboration tools?
Team collaboration tools give teams a way to communicate, work together, stay productive, and hold people accountable for their work.
What are some examples of team collaboration tools?
Popular team collaboration tools include Salesforce, Slack, Microsoft Teams, Google Docs/Sheets, Zoom, Jira, Basecamp, and GoToMeeting.
How should my company decide which team collaboration tool is right?
Companies should research the various tools available to them, read reviews about the products and services they offer, and consider conducting an employee survey to gain their input, as many employees may be familiar with a particular tool already.