The power of branding cannot be denied. The most popular brands can be immediately recognized just by a logo: The golden arches, the swoosh, the apple, the list goes on. So, when you're creating a survey, it's important to use your own branding to reduce confusion among participants and build brand consistency. In this blog, we'll look at the importance of branded, or "white label" surveys, and how to create one.
Create your free white label survey or questionnaire now!
What is White Labeling?
In a nutshell, white label products are created by one party, then branded and sold by another party. Common white label products include water bottles and mugs, cosmetics and medications, and phone and pet accessories. These products are created by a manufacturer, and left unbranded or with a "white label". Then, a retailer or brand purchases them and puts their branding on them for re-sale.
What Is a White Label Survey?
White label services work in very much the same way. When you use a SurveyLegend online survey at the "Business" level, you can add your own logo to the top and upload a custom background. You can also create custom welcome and thank you pages, further emphasizing your brand messaging.
What to take it further? Upgrade to our "Legendary" subscription level and you can also remove the SurveyLegend watermark from the bottom of the survey ("Powered by SurveyLegend"). This makes the survey completely your own, so participants will never know a third-party was involved.
7 Benefits of White Label Surveys
There are many advantages to using white label surveys, some of which we touched upon already. So why white label you survey? Here's the rundown of 7 white label survey benefits.
1. Maintaining Brand Consistency
Keeping your brand consistent across all mediums and online platforms is important to make an impression on customers. After all, the more people see your brand, the more you'll be top of mind when they're considering making a purchase. Studies show it takes an average of 5 to 7 impressions for people to remember your brand. 
2. Reducing Audience Confusion
When a survey comes from a third-party, but talks about your brand, respondents can become confused. They may believe it's an online survey scam, thinking that it's simply trying to collect and use their information. Read more in our blog How Online Survey Scams Work and 7 Ways to Spot Them.
3. Minimizing Time Waste
If you send out surveys frequently, this can become very time-consuming, especially for small businesses with few resources. By using a third-party that specializes in surveys, you can send out white label surveys with ease and frequency. This allows your team to focus on other more pressing tasks. 
4. Saving Money
While free white label surveys are uncommon, the cost is still minimal when compared to the costs incurred by having an internal team create branded surveys from scratch, and give them all the bells and whistles an online survey company can provide.
5. Gaining Extra Features
If you're not an expert on creating surveys, there's a lot to learn and questions to ask. How do you ensure confidentiality or anonymity? Can you make it responsive? What are the most useful analytics? With a professional survey company like SurveyLegend, all this and more is easily accomplished. Additionally, if you have a question, a survey expert will be on hand to help (just be sure the online survey company offers good customer support).
6. Collecting More Responses
When a survey respondent is unsure of who is sending a survey, they can become confused and may even think the survey is an online scam. With a branded survey, understanding and trust are gained, which increases response rate.
7. Building Brand Loyalty
An effective brand identity gains the trust of consumers over time. By using white label surveys, you put your brand in front of people and become top of mind. When this happens, they're more likely to make return visits and purchases, and possibly recommend your brand to others, becoming "brand advocates." Because SurveyLegend allows you to add images to your surveys, be sure to read our blog How a Picture Survey Helps with Branding (with Examples), which will show you how picture surveys or picture polls can be used to help you:
Develop a brand

Building brand identity

Determine brand awareness

Develop new products

Begin rebranding efforts
Adding Your Brand to a SurveyLegend Survey
Interested in creating a branded survey using SurveyLegend? It's easy to do! The Branding Field makes it possible for you to add your company logo or an image of your choice to your survey. This feature helps participants immediately understand where the survey is coming from, making it easier to collect responses. The branding field appears at the top of every page in your survey!
In addition, SurveyLegend allows you to link this image to an external web page such as your own website. This makes it double as a "banner" as well, and if people are unsure about responding, they can quickly see that the survey is connected to your company which provides legitimacy.
To learn more about SurveyLegend's white label survey tool, check out our user guide.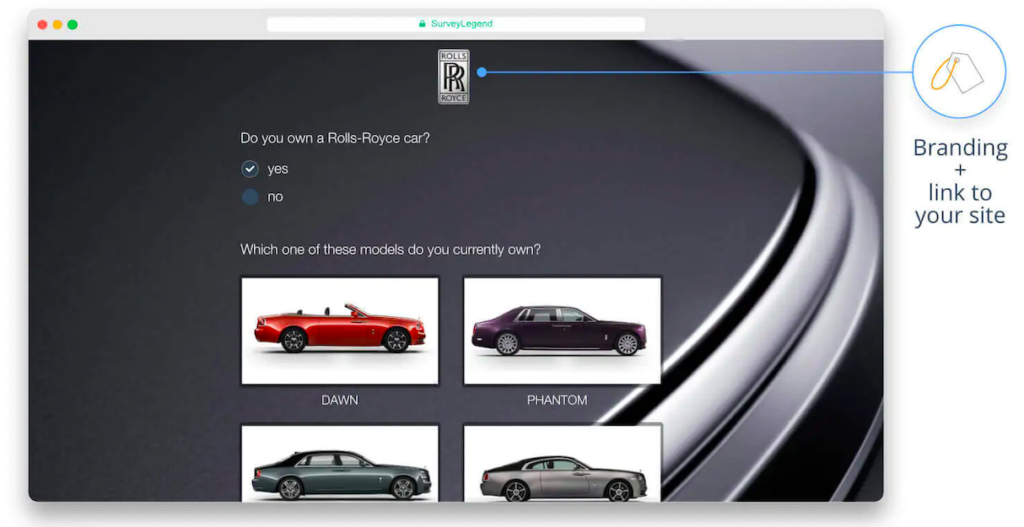 Creating Welcome and Thank You Pages with SurveyLegend
As previously mentioned, you can also create branded welcome and thank you pages. Here, we've created a logo for "Doggo.com" and introduced it at the top of the survey, followed by an eye-catching image, a description, and a button to start. The same can be done for a thank you page.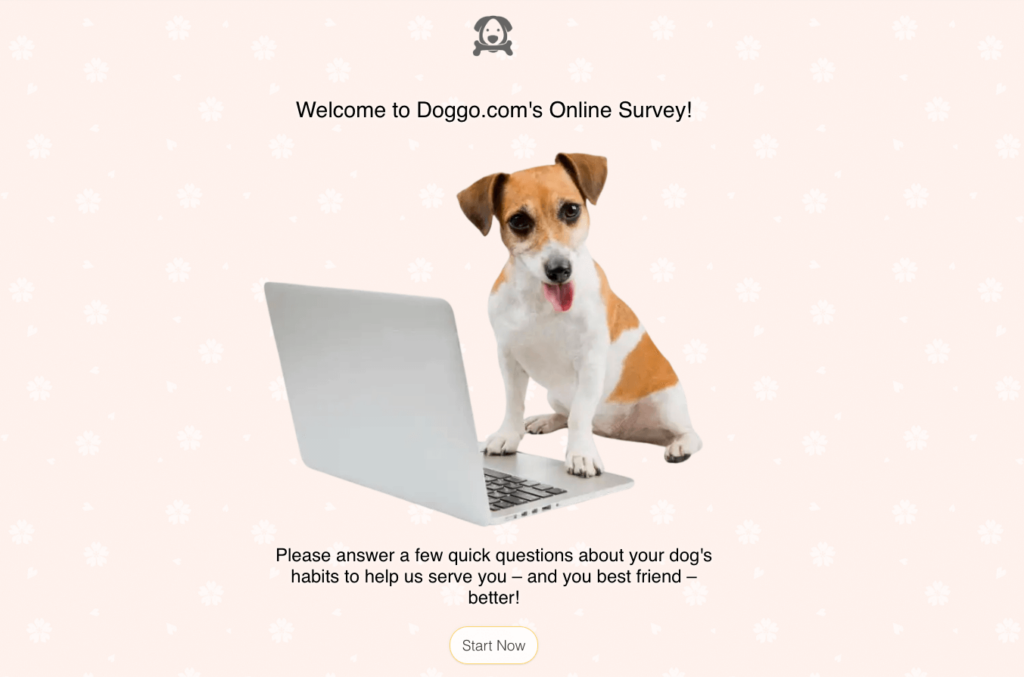 Create Your White Label Survey with SurveyLegend
As you can see, adding branding to your surveys has a number of benefits, and it's easy to do with SurveyLegend. You can count on our white label survey to make it easy to add your logo to your survey, link to your web page, add custom images and backgrounds, and more. 
Have you tried a white label survey before? Or a first-timer looking to reap the rewards of a branded survey? Let us know in the comments!
Create your free white label survey or questionnaire now!
Frequently Asked Questions (FAQs)
What is white labeling?
White labeling is when a manufacturer or service provider allows a third party to use their product or tool and brand it with their own logo and messaging.
Why is it important to use a white label survey?
White labeling helps you to improve brand consistency, which increases trust and ultimately response rates. Using an online survey company versus creating surveys internally also saves you time, money, and the hassle of creating important features.
What can be branded on a white label survey?
SurveyLegend's white label survey tool allows users to add their logo or image to the top of each page, linking to an external web page. Custom imagery or brand colors can also be included. Additionally, users can create their own welcome and thank you pages, enhancing goodwill and brand image.