Get this: 94% of the world population recognizes the Coca-Cola logo. That's some powerful branding, and it all comes down to one image, a logo. While Coca-Cola can get by on the power of its logo, other companies must work harder to build brands. In doing so, they can begin to build relationships with their audience and, in time, turn them into loyal customers and eventually brand advocates. In this blog, we'll look at the ways a photo survey or photo poll can help with your branding initiatives.
Create your photo survey, picture poll, or image-based questionnaire now!
What is a Picture Survey or Picture Poll?
Imagery is powerful. It has the ability to inspire, motivate, and change perceptions. A picture survey or picture poll takes advantage of this. These types of surveys use photos or illustrations to make a good first impression at the start of the survey, to complement survey questions with visuals, or as answers to questions that respondents can vote on or rank. The use of images in surveys helps to increase engagement, communicate messages more clearly, trigger memory and emotion, and cross language barriers. Ultimately, this leads to higher response rates and better data accuracy. 
6 Ways to Use a Poll or Survey with Pictures When Branding
Studies show that people process visuals 60,000 times faster than text, so it makes sense to use visuals when conducting brand research. There are numerous occasions when you'll want to use a visual survey or poll with pictures as it relates to your branding.
1. Using Picture Surveys or Polls When Developing a Brand
Are you still in the development stages of creating your brand? Then you may want to present your survey respondents with multiple logos, fonts, and messages to see which is their most and least favorite. In this case, picture-based surveys are the only way to go, because let's face it, describing a logo with text just won't have the same impact. You can also use this type of survey to pit it against your competition to see how it appears to stack up. Following is an example of a steakhouse testing logo options with survey participants: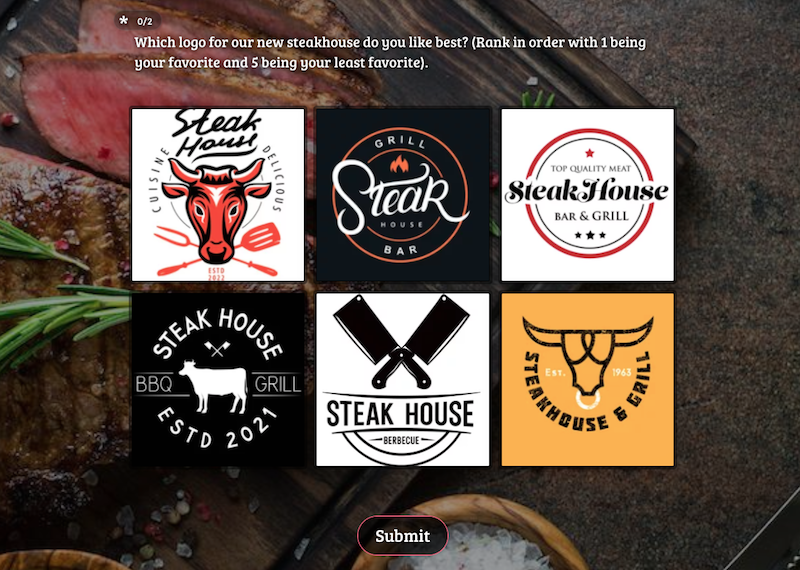 2. Using Picture Surveys or Polls When Building Brand Identity
After you've developed your brand, it's important to check in with consumers to see if you're properly conveying brand identity through your brand name, logo, messaging, colors, fonts, and other marketing efforts. This can be difficult to accomplish with words alone. Thankfully, pictures are worth 1,000 words, so using a picture survey helps to simplify the task. While you still may want to ask open-ended questions and use Likert-scale questions, incorporating images into the survey allows participants to really paint a picture of their perception of your brand identity. A great way to get feedback is to ask abstract questions, such as: What type of car would you see our brand driving?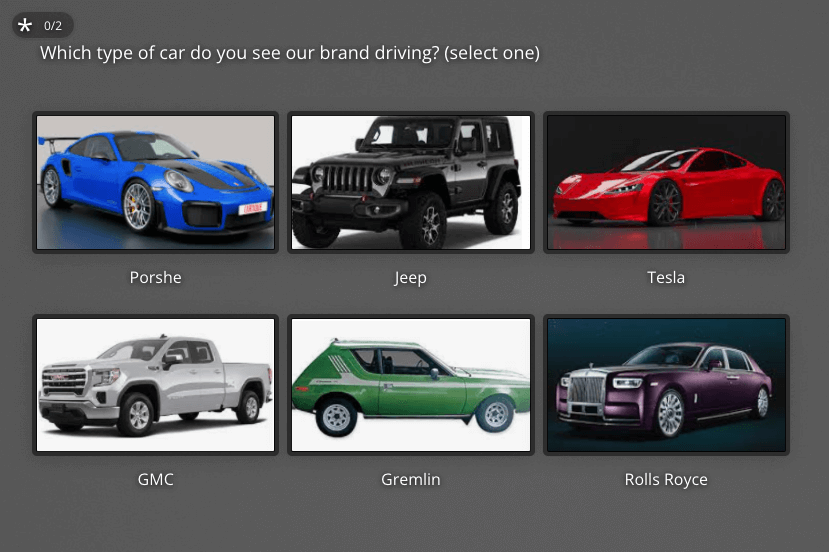 As you can see in the above picture survey, rather than leave things open-ended, you can present photos as answers. In this case, you may show photos of a Porshe, Jeep, Tesla, GMC Truck, AMC Gremlin, and Rolls Royce. Now, if you see your brand driving a Porsche and your customers see it behind the wheel of a Gremlin, there's a disconnect that needs to be repaired. Some of these questions may also be suitable when determining branding questions for clients as well. Read More about Creating a Brand Identity with Surveys.
3. Using Polls with Pictures to Determine Brand Awareness
Brand awareness is the number of people who are aware of a particular brand, company, or product. Understanding your brand's position in the market helps when trying to build a presence, develop marketing initiatives, and increase sales. Brand awareness studies conducted by Cahners Research reveal that brand awareness is the first step toward increasing brand preference, which leads to an increase in market share and sales. 
Of course, some brands have such high brand awareness that research is often unaided, meaning visuals are not used. For lesser-known brands, however, picture surveys are invaluable. Imagery triggers memory, so adding imagery can give you a better understanding of brand awareness. "This is perhaps not surprising if you think about how we process shopping brands almost entirely visually," says Jon Puleston, VP of Innovation for Lightspeed Research. "We rarely hear the brand name [unless they advertise on TV or we talk about it]… You could argue that without imagery, measuring brand awareness of supermarket brands like this is almost meaningless." An example of an aided vs unaided research questions can be seen below.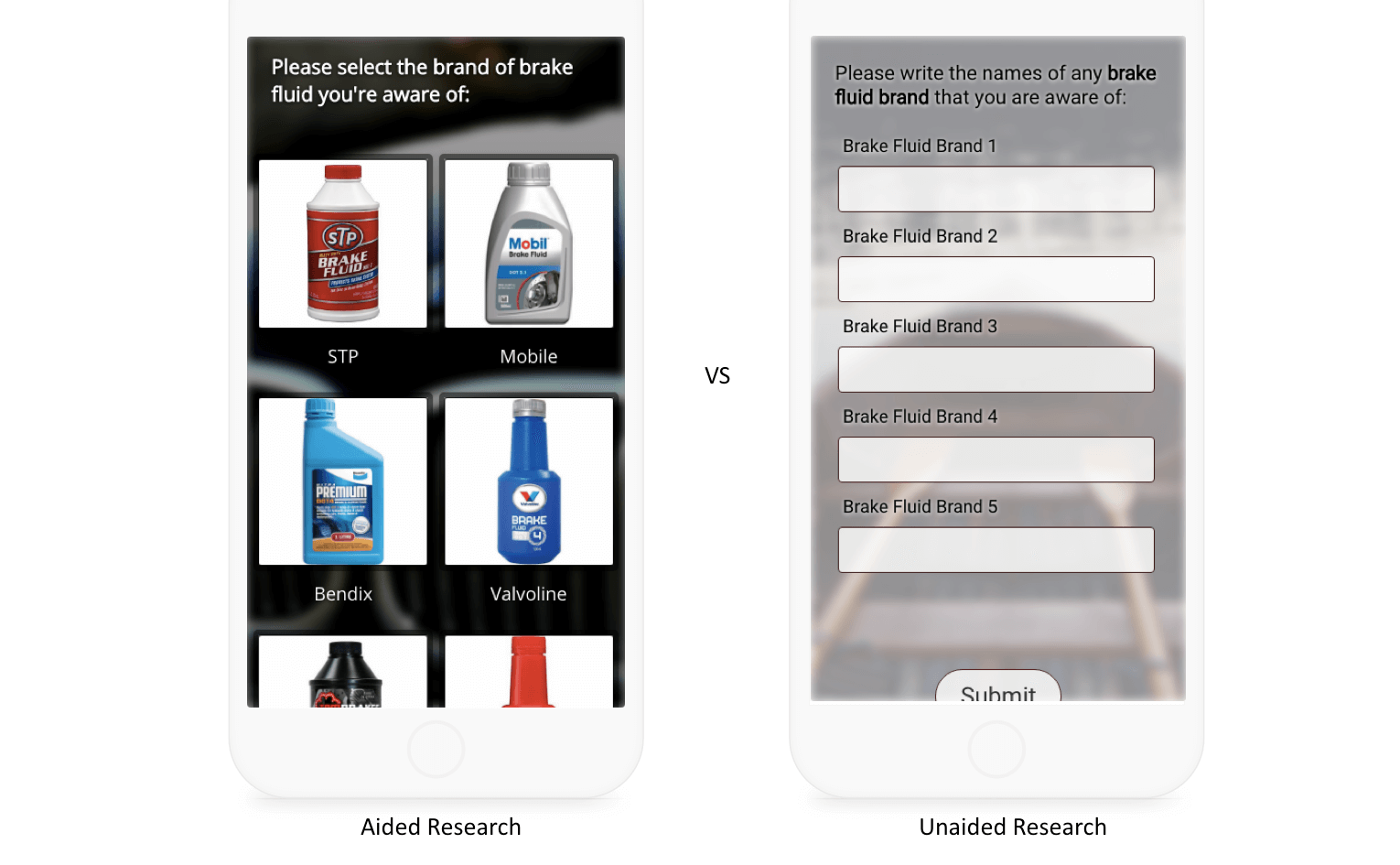 4. Using Picture Surveys & Polls When Developing New Products
Here's a scary thought that keeps many brand developers and marketers up at night: According to Harvard Business School, there are over 30,000 new products introduced every year and 95% of them fail. 😳  Of course, we know that launching a new product line or a product line extension has inherent risk. Is the product commercially viable? Will consumers accept it? Will consumers understand it? Thankfully, many of these questions can be answered with a free online photo voting tool. A survey or poll with pictures allows you to put your idea out there visually to gauge consumer interest before you physically put it out there in stores. 
Depending on the responses, you may go back into development, rejiggering the product to make improvements (survey participants may have even provided some great suggestions). Or, you may have such an overwhelmingly positive response that you launch the product immediately. On the other hand, the response could be so negative that you scrap it altogether and go back to the drawing board.
The photo survey images below show an example of a new product line launch survey, on desktop and mobile, and includes a logo and background image to further convey brand identity.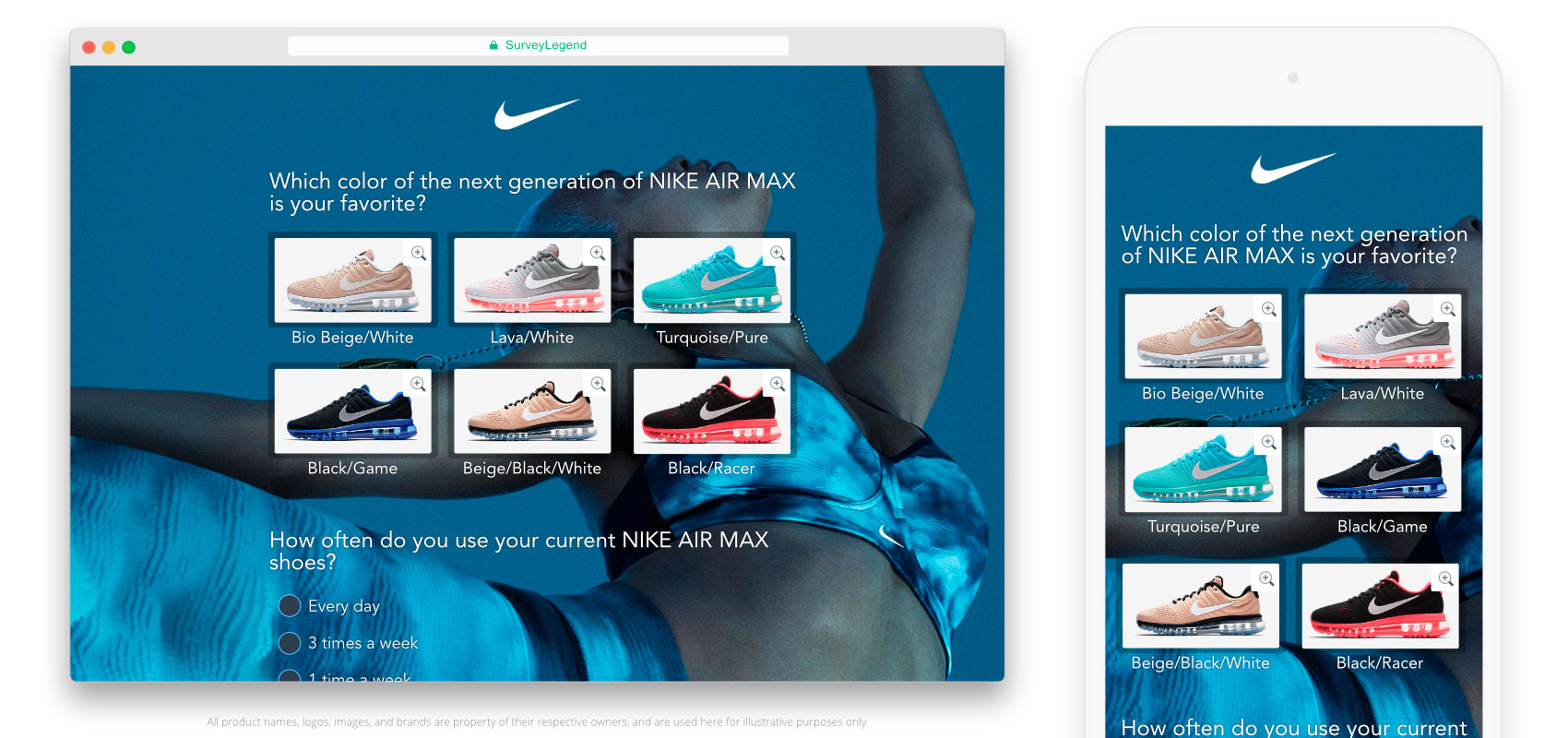 5. Using Picture Polls or Surveys When Considering a Rebranding Effort
Over the years, there have been plenty of rebrandings gone wrong (in fact, we wrote a whole blog on top rebranding failures and how to avoid them). Of course, that doesn't mean a company shouldn't rebrand now and then, if there's a good reason behind it. Generally, companies engage in proactive rebranding, which is done when they see an opportunity to grow, innovate, reconnect with purchasers, create a new niche, or tap into new businesses or customers. On the flip side, they may engage in reactive rebranding, which is done when the existing brand has been discontinued or changed, possibly due to mergers and acquisitions, legal issues (financial or fraudulent), or negative publicity. 
No matter the reason for the rebrand, however, it's always a best practice to conduct survey research. This is especially true if the rebrand involves changing logos, images, font, colors, etc. With online photo surveys, test new branding with your audience or consumers to gauge their reaction. Depending on consumer reaction to your marketing research survey, you could move forward with confidence, go back to the drawing board and then re-survey consumers, or simply scrap the rebranding altogether. In the example below, the picture poll asks consumers to choose their favorite Pepsi can designs.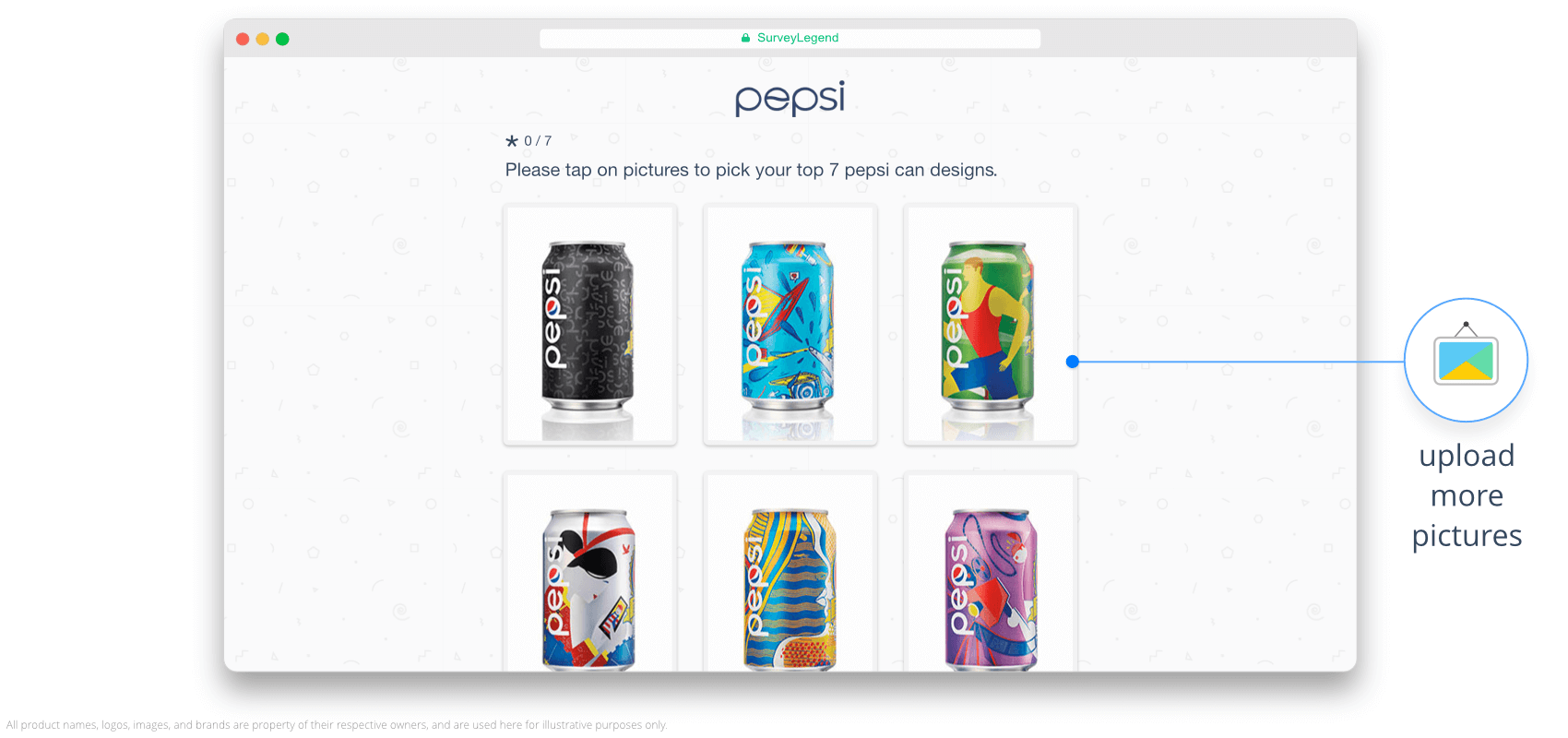 6. Adding Branding Elements to Your Survey
Last but not least, a quality poll maker with pictures will allow you to add branding elements to your survey. You can put your logo at the top of each page, include background imagery evocative of your brand, etc. Let's face it, there are a lot of untrustworthy emails out there trying to lure people into phishing scams. By including your logo that links back to your company homepage, you help foster trust; respondents understand that this is a legitimate survey that will make them feel comfortable giving feedback; this is especially true when the survey deals with a sensitive topic. The picture survey image below shows an example of adding a logo to the page (in this example, IMDB), complete with a redirect link. The survey also includes a background image of theater seats, which is appropriate to the brand.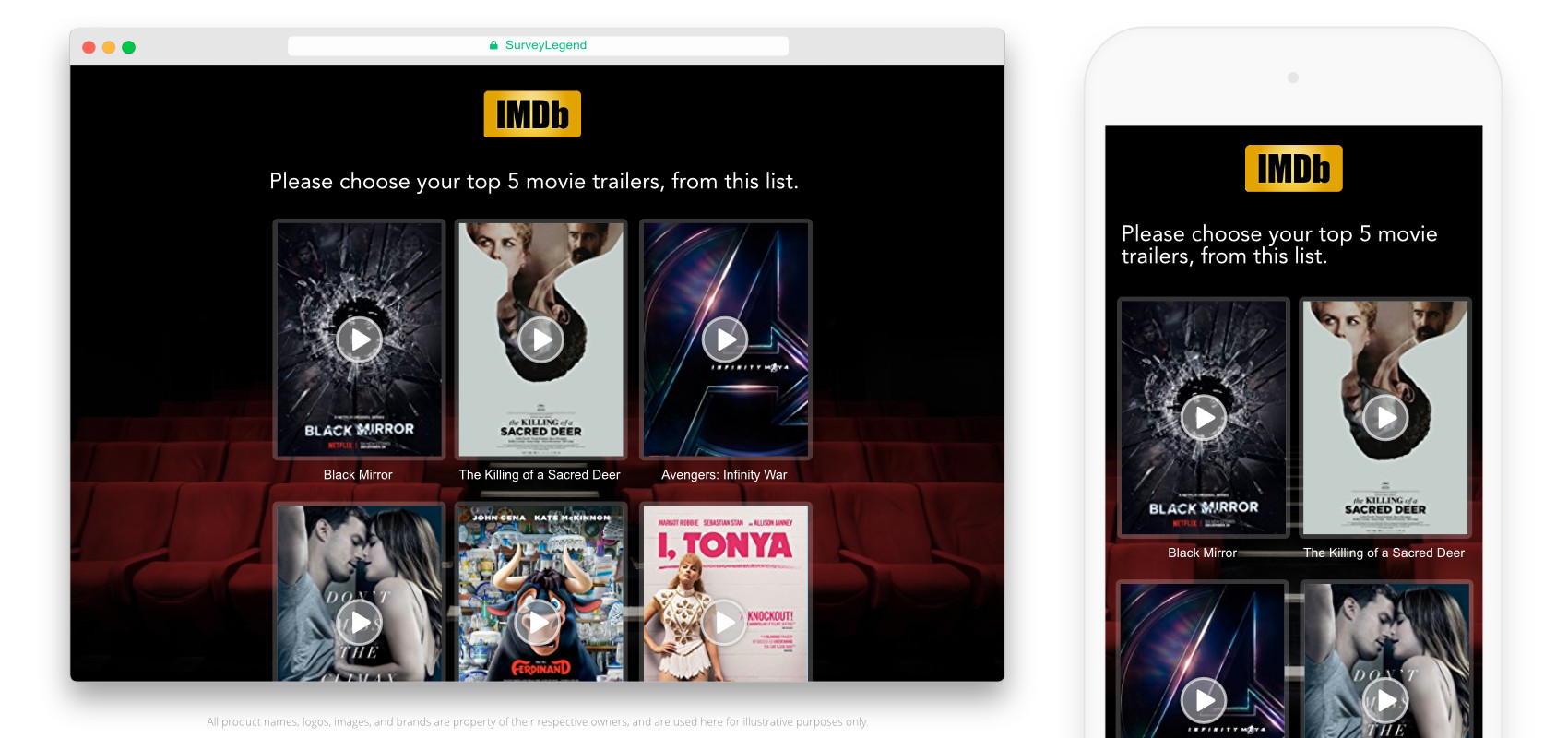 Conclusion
Branding is one of the most important aspects of any business. Therefore, when you're making decisions that impact your brand, you want to get the most feedback possible. In doing so, you'll also be able to obtain the most accurate results. To do this, text-based surveys just won't cut it; you'll want to use photo surveys and picture polls. And, SurveyLegend just so happens to be one of the best image-based survey tools on the planet!
SurveyLegend's survey and poll maker with pictures allows you to resize images at your discretion, complementing questions or answers, or creating beautiful backgrounds. Plus, there are no limits to the types of image polls and image-based surveys available to you! For instance, you can use imagery to create clickable image polls, visual-based multiple-choice selections, ranking surveys with emojis, and more.  Use our free online photo voting tool to begin reeling in respondents and collecting more accurate survey data. You can start now or read more about wowing your respondents with SurveyLegend's image-based surveys and polls.
Do you think a picture is worth a thousand words? Tell us why in the comments!
Create your photo survey, picture poll, or image-based questionnaire now!
Frequently Asked Questions (FAQs)
Who said "a picture is worth a thousand words"?
Playwright Henrik Ibsen is attributed to the easiest iteration, writing "A thousand words leave not the same deep impression as does a single deed." Following his death in 1906, his quote was paraphrased by many authors and advertisers into the more common phrase we know now.
What are the benefits of using images in surveys and polls?
The use of images in surveys helps to increase engagement. In addition, they can communicate messages more clearly, trigger memory and emotion, and cross language barriers. Ultimately, this leads to higher response rates and better data accuracy.
How can imagery help with branding?
Visual surveys help marketers gauge consumer reaction to logos, fonts and colors, and more when developing their brand. In addition, visuals are great for brands considering a rebranding effort. Picture polls are also useful when asking people to describe a brand based on an abstract question which only photos can properly convey.