Because of the ease of which online surveys can be created and sent, some people may be feeling burnt out by them. According to research company Forrester, more organizations are witnessing declining response rates as customers become alienated by the constant requests for feedback. To make surveys more engaging and stop this from happening, many researchers are asking participants to vote on pictures. So what's the best way to vote on pictures, and what poll maker should you use? Let's dive in.
Create your "vote on pictures" survey, form, or poll now!
The Popularity of Voting on Pictures
Survey overload or fatigue occurs because clients find surveys tedious which is why picture polls are increasing in popularity. There are three reasons survey fatigue may occur:
Too many surveys: Participants may feel overwhelmed by too many requests for feedback. They may have previously been happy to provide feedback on one or two surveys, but now the sheer volume has led to survey burnout.

Poorly designed surveys: The online poll itself may pose a problem. The questions and answers may be confusing, there may be too many options, questions may be repetitive, and so on. 

They don't feel they matter: Participants may feel that despite taking a survey, very little is done to address any concerns or problems that they have. So, they're less likely to take them in the future.
By asking people to vote on pictures, researchers can reduce the challenges posed by #1 and #2 because picture surveys are more engaging and fun, and pictures reduce confusion. Of course, #3 will need to be addressed by the organization, not the researcher; is the company willing to really listen to survey respondents and make changes/improvements as needed? 
How Voting on Pictures Increases Participant Response Rate
Science shows that we are 90% visual beings. In fact, visuals have been found to increase engagement by as much as 94%. So, by using picture surveys researchers achieve the following:
1. Trigger Participant Memory 
Imagery can stimulate memory and help people recall a precise moment in time much more rapidly than words. 
2. Trigger Emotional Response
In studies, candid moments, human faces, creative compositions, babies/children, and baby animals were most likely to evoke emotions from your respondents. 
3. Communicate Ideas More Effectively 
Images are able to convey more than words. Research from MIT finds that our brains can process images seen for as little as 13 milliseconds! 
4. More Engaging and Fun
Heavy amounts of text can be a turn-off. However, presenting respondents with fun or engaging images will be more well-received. Read more: Creating a fun photo survey.
5. More Accurate Responses 
With text-based questions and answers, respondents may not fully read the question or understand it. Asking people to vote on pictures eliminates this survey hurdle.
6. Cross Language Barriers
Words can also be interpreted differently in different languages and may have different meanings altogether. On the other hand, Images are universal! Read more: Multilingual surveys and their benefits. 
7. Reduce Security Concerns
There are a lot of scammers out there trying to steal people's information. Adding visual branding elements makes a survey look legitimate, and puts respondents at ease.
8. Improve Response Rates
Ultimately, when you add up all these benefits, you're going to improve response rates. For a more in-depth look at these benefits, with the science to back them up, check out our blog 7 Benefits of Using a Picture Survey or a Poll with Pictures.
Creating a Voting Poll with SurveyLegend
Free survey maker SurveyLegend is the best way to vote on pictures! Our dynamic tool is easy to use, and there are multiple ways to ask respondents to vote on pictures (you can also add a picture to the question to make things even more clear). 
Here's an example of asking people to vote on pictures using Oscar nominees, complete with Oscar branding at the top for legitimacy.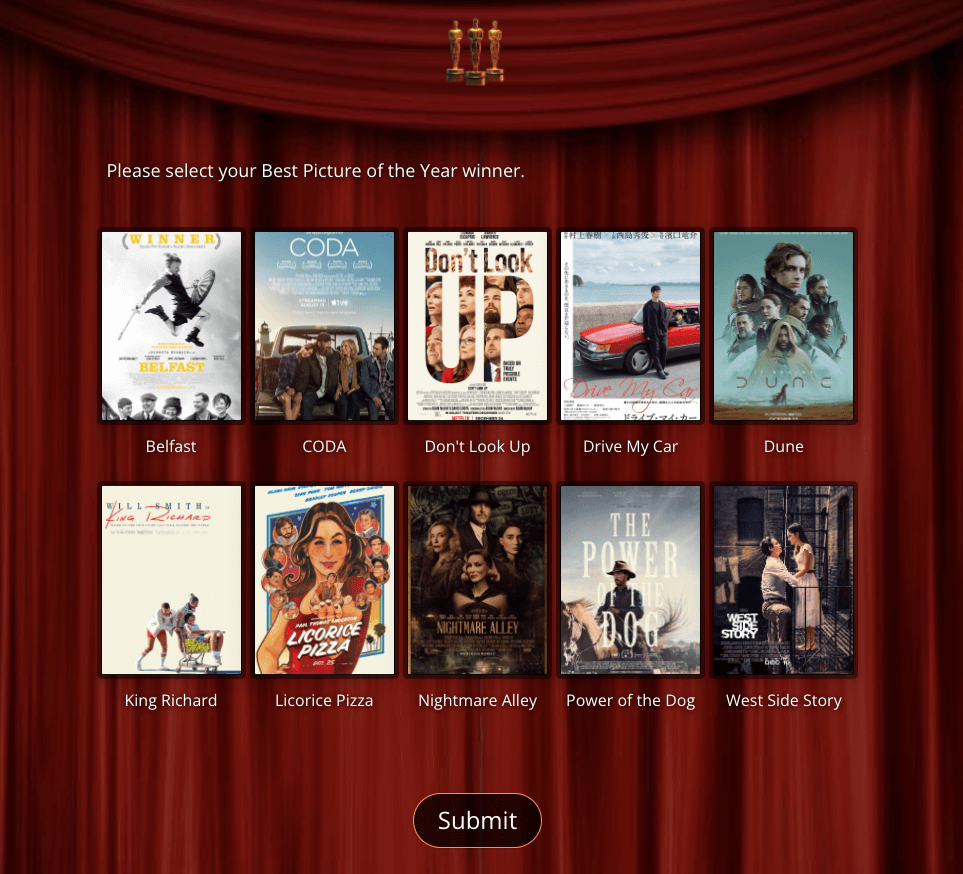 Survey with Picture Questions Created with SurveyLegend
Creating a Photo Contest with SurveyLegend
Wondering how to vote on pictures for a contest? Our poll maker makes it simple. Here's an example of a photo contest for Halloween.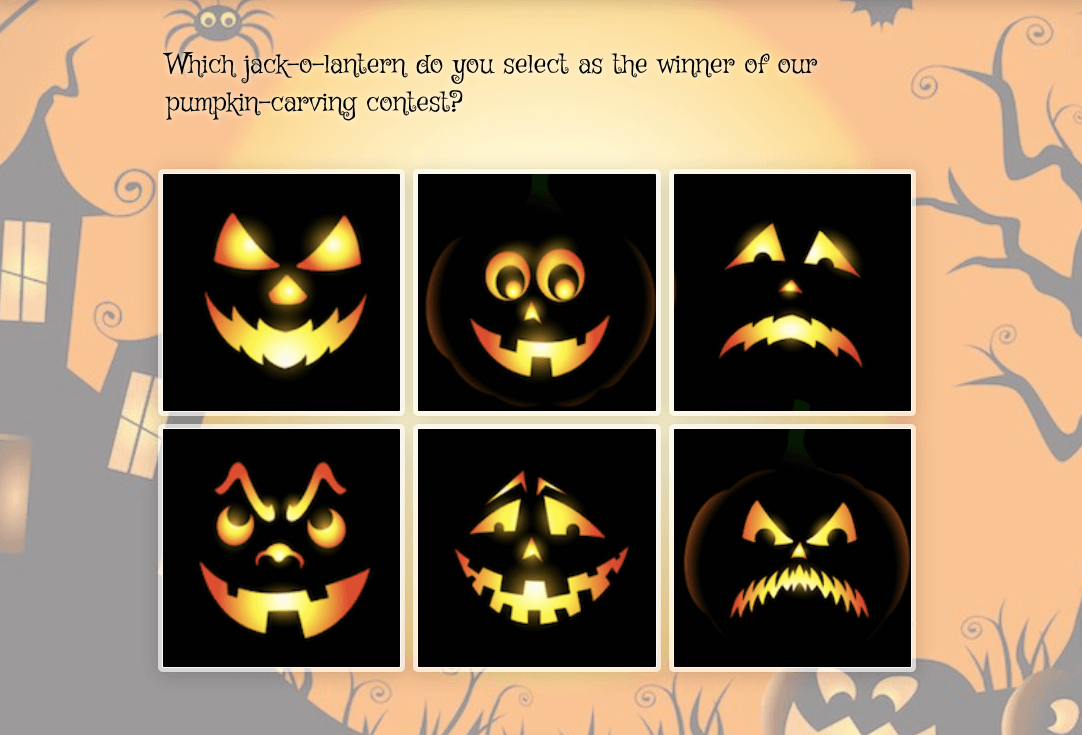 Survey with Picture Questions Created with SurveyLegend
Creating an Election Poll with SurveyLegend
Who will be your next president, governor, mayor, or senator? Allowing participants to vote on pictures. This can be especially important in early stages of elections when there are many candidates and some people may remember names, but not faces.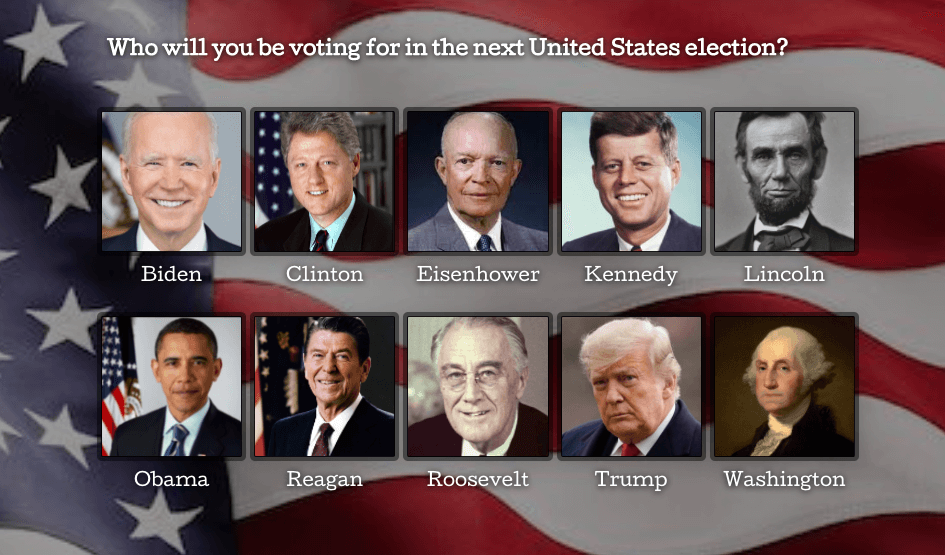 Survey with Picture Questions Created with SurveyLegend
Add Pictures to Questions with SurveyLegend
SurveyLegend also allows you to add pictures to questions. This can improve understanding of the question, as well as the answers.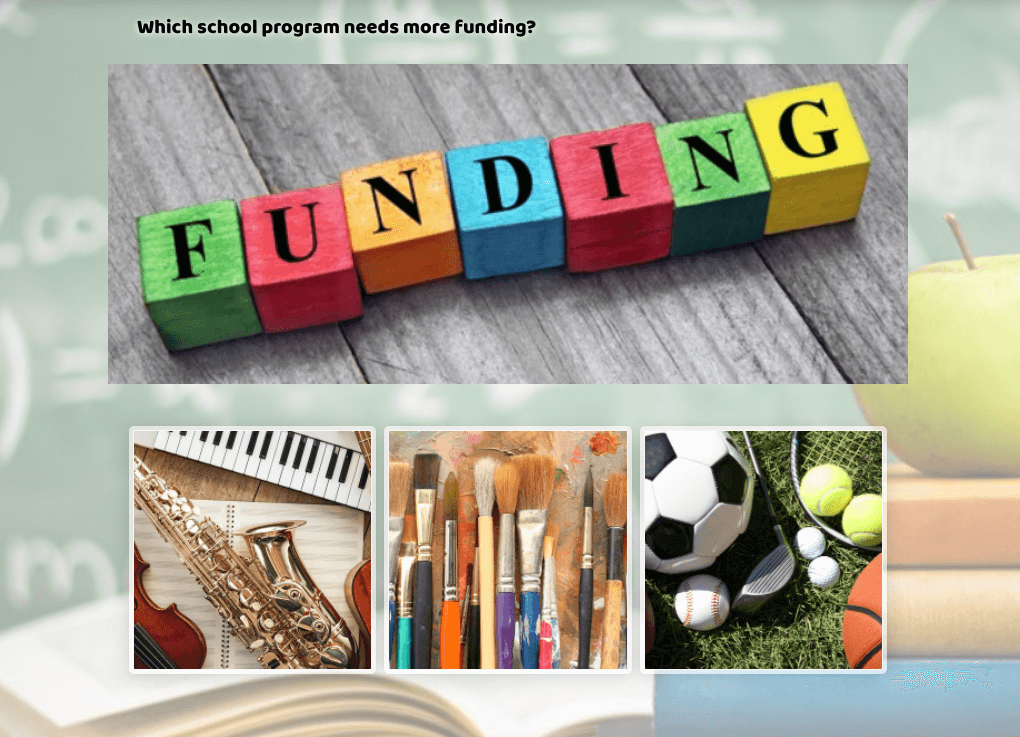 Survey with Picture Questions Created with SurveyLegend
Picture Ranking with SurveyLegend
Lastly, a picture ranking option is also available. This allows participants to vote on pictures by ranking them. The survey is live below, so give it a try for yourself! It's interactive and engaging – a win-win!
Ready to Create a Poll?
Creating a picture poll or visual survey is easy with SurveyLegend.
Create an account or log in to your existing account

Add a new survey, and navigate to the CREATE step.

Select "Picture Selection" by clicking/tapping on it.

Click on the newly added question and then click the "upload" button.

Select all of your pictures at once from your computer, and then hit upload. Wait until the upload process is completed for all images

Change the layout and size of the pictures as you wish, using the settings for the question on the left-hand side

You can also choose whichever voting type you prefer (the "Ranking" voting type is popular)

Go to the DESIGN step and choose themes, and fonts, or upload your own background.

Go to the CONFIGURE step and give your survey a good name so that you remember it. Also make sure you have this setting ON: "Limit number of participations" which will make sure nobody can cheat and vote several times.

Continue to the SHARE step, copy your competition link, and send it to your audience using SMS, Email, Facebook, Slack, or another platform of your choice.
When the survey has been sent, go to Live Analytics and watch as the results roll in!
Conclusion
You don't want to cause survey fatigue by always sending out text-based surveys that can leave people bored and unengaged. By asking survey respondents to vote on pictures, you can increase engagement and improve response rates, which allows you to collect better and more accurate data! Start today with SurveyLegend!
Have you used surveys with images before? Do you find that response rates improve when you ask people to vote on pictures? Sound off in the comments!
Create your "vote on pictures" survey, form, or poll now!
Frequently Asked Questions (FAQs)
What is survey fatigue?
Survey fatigue occurs because people receive too many surveys, find survey questions and answers confusing, lengthy, or repetitive, or simply don't think their opinion matters.
How can you reduce survey fatigue?
Using a picture poll or visual survey is more effective than text-based surveys. Today, asking participants to vote on pictures is a popular method of reducing or eliminating survey fatigue.
How do surveys with images improve survey results?
Surveys with images trigger memory and emotional response, communicate ideas more effectively, cross language barriers, and more. This leads to better response rates and more accurate responses and data.