Humans are fickle creatures, which means consumer trends are always evolving. What people want and what they expect, their attitudes, and their acceptance of technology can vary from year to year – sometimes month to month! In this blog, we'll look at the consumer trends that are shaping 2023 and how brands can conduct additional surveys for more insight with survey examples.
Create your FREE consumer research survey, form, or questionnaire now!
Findings in New 2023 Consumer Trend Report & Surveys Brands Can Use (with 7 Survey Examples)
To understand the marketplace, many brands rely on yearly consumer trends reports. Then, armed with a general knowledge of the population at large, they may conduct their own customer surveys to learn how well their company or products and services are meeting consumers' needs and expectations (these are often referred to as customer experience or CX surveys).
Here's a look at what the biannual, 18 and up Global Consumer Insights Survey uncovered regarding changing consumer trends. The survey polled more nearly 9,200 consumers across 25 territories: Australia, Brazil, Canada, China, Egypt, France, Germany, Hong Kong, India, Indonesia, Ireland, Japan, Malaysia, Mexico, Philippines, Qatar, Saudi Arabia, Singapore, South Africa, South Korea, Spain, Thailand, UAE, USA, and Vietnam. 
50% of consumers are extremely concerned or very concerned about their personal financial situation.
A shaky economy has many consumers concerned about their finances. As a result, they're less likely to travel, more likely to switch to cheaper brands, and so on. When it comes to grocery shopping – the area where consumers are least likely to cut back – nearly 25% said they would (an increase of 13% from the last consumer report survey).
There is some good news for socially responsible and green companies, however. Consumers say they'll put their values ahead of their money, with 70% saying they'll pay more for food produced by local farmers or products made by a company known for ethical practices.
Check out this SurveyLegend questionnaire which dives into some of these scenarios.

96% of surveyed consumers intend to adopt cost-saving behaviors over the next six months.
The gears of commerce are going to be gummed up a bit as consumers look for ways to save money. Although people are excited to resume pre-COVID activities, concerns about inflation, a potential recession, and other external factors are "dampening their spirits" and making them watch their money. 
The following SurveyLegend questionnaire uses a variety of types of questions to ask consumers about how much they expect to spend in the coming months.

43% of consumers said they plan to increase online shopping in the next six months. 
The pandemic had a lasting impact on the way people shop. There was an enormous spike in e-commerce spending during COVID once stay-at-home orders went into effect, and while that boom may be subsiding somewhat, many people – now accustomed to shopping online – will continue to do so. And, when they do, the report says that they'll expect seamless experiences that work within their lifestyle and budget.
Here is a SurveyLegend questionnaire asking respondents about their attitudes toward online shopping in our post-pandemic world.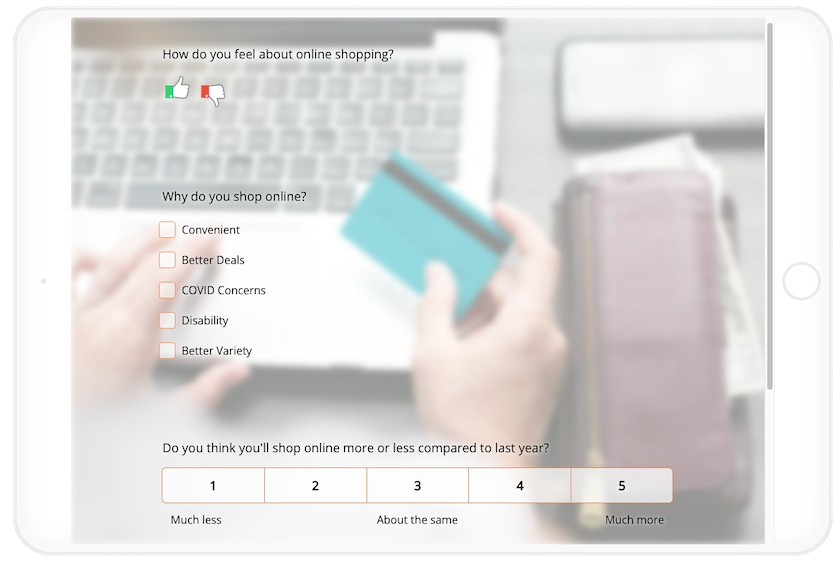 42% of survey respondents want to get "phygital."
"Phygital" is the merging of the physical shopping experience with a digital one. So, while people still want knowledgeable associates and self-service checkout kiosks in stores, they also want to navigate the store with their phone, use "scan-and-go" apps in order to by-pass all checkouts, check out new products through virtual reality headsets, and so on. Nearly 30% also expressed interest in being able to book appointments with a sales adviser or personal shopper.
The 2023 consumer reports survey also asked participants about their thoughts and use of the metaverse. The metaverse may still be in its infancy, but it is expected to be the next large-scale digital platform. It is poised to erase many of the frictions between the digital and physical worlds. Just more than 25% of respondents report having engaged in metaverse activities (e.g. virtual experiences, making purchases, attending a concert, or completing work assignments). Unsurprisingly, the younger the respondent, the more likely they are to engage with the metaverse. 
The following SurveyLegend questionnaire imagines a number of potential shopping experiences and asks respondents to rate them.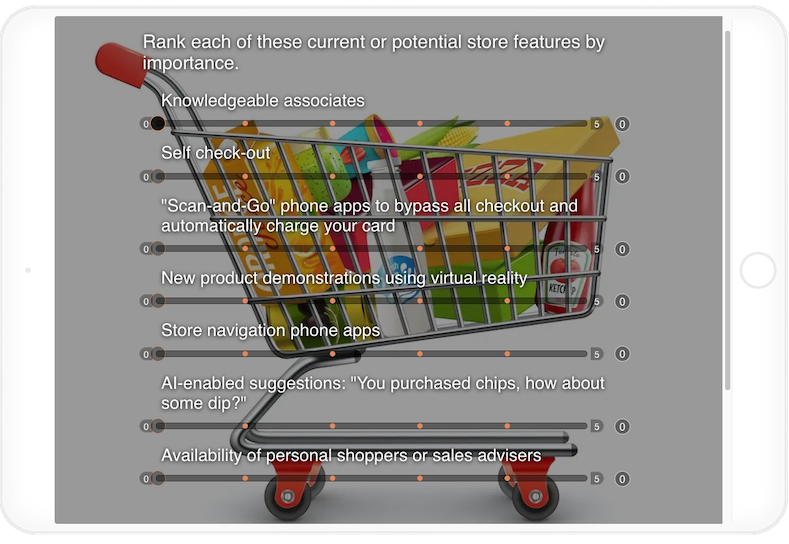 49% of survey respondents don't share any more personal data than necessary due to privacy concerns.
When asked about their level of concern about personal data privacy, nearly half of respondents said they are extremely or very concerned. Some platforms fared better than others. Social media was by far the worst (47%) followed by the media in general (41%). Next up was third-party travel websites (36%) and healthcare companies (34%). Consumer companies and retailers fared best (32% and 30% respectively). Of course, in their case, this is likely because their reason for collecting data is typically very transparent (to offer discounts, coupons, and so on). 
To regain trust, the report states that "leaders need to persist in their efforts to establish innovative data-privacy systems and operations—especially as lawmakers and regulators consider legislative remedies."
That's not the end of the story, however. The report also states that 82% of respondents say they'd be willing to share some kind of personal data in exchange for a better customer experience, despite their privacy concerns. And how can that be achieved? By using frictionless technologies that consumers have also indicated they prefer. In a recent PwC UK report on the future of frictionless retail, they imagine computer-vision AI technologies that allow consumers to enter a store, pick up their products, and simply walk out without the need to scan, queue or check out.
The following SurveyLegend survey delves into issues of privacy.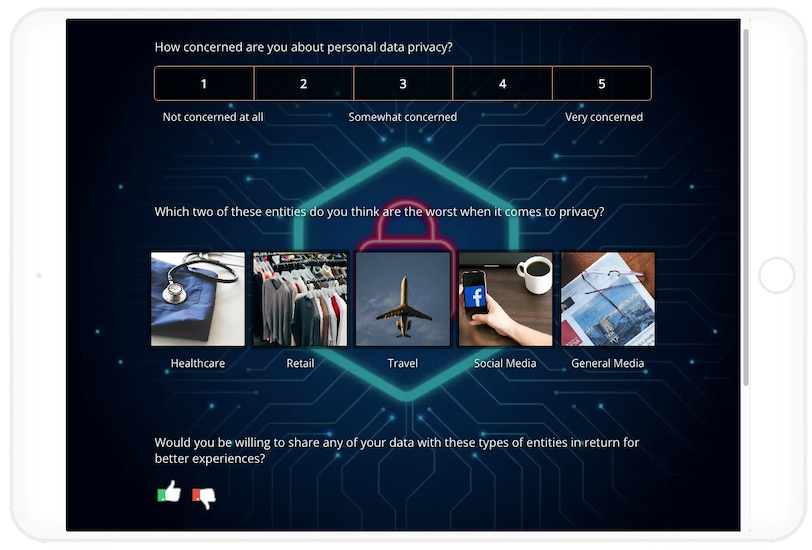 40% of consumers who intend to increase in-store shopping and decrease online shopping said it's because delivery costs are too high. 
Consumers often had no choice but to pay high shipping fees during COVID lockdowns. However, they are no longer required to stay home. As a result, some who had turned to online shopping are returning to physical stores to avoid steep shipping fees. This should be a wakeup to retailers who want to continue to make e-commerce part of their business plan.
The SurveyLegend questionnaire asks respondents this and other questions about e-commerce shipping costs.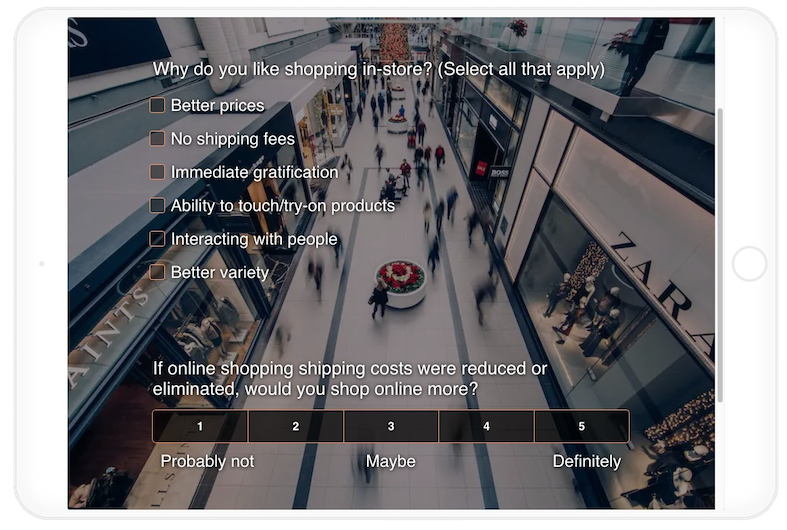 36% of survey participants identified as hybrid workers (i.e., they can work from home or the office or other job sites) while 7% said they are fully remote.
The pandemic accelerated the move to hybrid and remote teams out of necessity. However, it's clear that some companies are bringing their employees back into the office. Both figures are lower than in the previous consumer trends survey, -5% for hybrid and -3% for remote.
Of course, a person's ability to work hybrid, remote, or on-site can have implications on how and when they shop. That's why this question is in the 2023 consumer reports survey.  In the SurveyLegend questionnaire below, we ask participants for their thoughts on different work arrangements.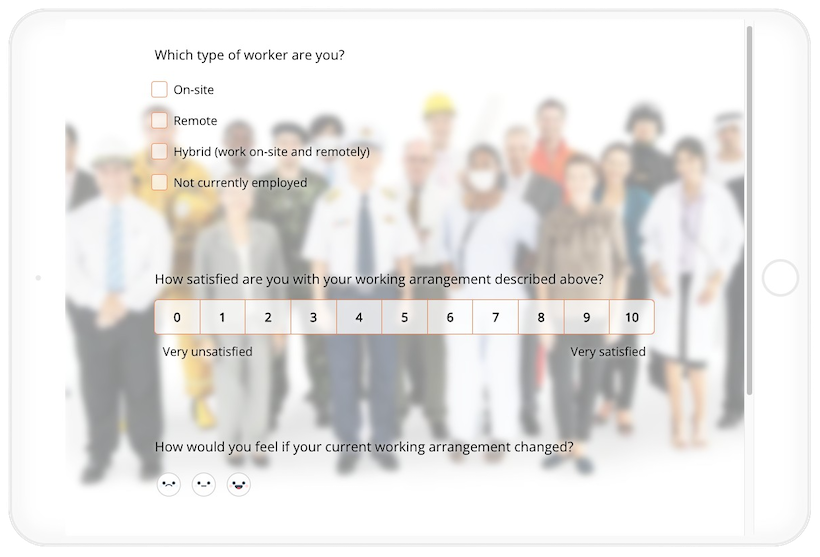 Conclusion
Predicting consumer trends can be difficult. That's why surveys play an important role in determining what consumers want and expect when shopping. Along with relying on the 2023 consumer reports survey, you can begin creating surveys of your own with SurveyLegend. As you've seen in the survey examples within this blog, our surveys are very consumer friendly. They allow you to ask a variety of types of questions and add survey photos to further consumer engagement. This also improves response rates! To understand who you're speaking with, don't forget to lead with some demographic questions. You can learn more in our blog on demographics!
Do you rely on consumer reports data? Or do you prefer doing your own survey research? Let us know in the comments!
Create your FREE consumer research survey, form, or questionnaire now!
Frequently Asked Questions (FAQs)
What is the 2023 Global Consumer Insights Survey?
This biannual survey aims to study changing consumer trends. Each report tends to have approximately 10,000 participants across 25 territories in six continents. Respondents must be 18 years or older and must have shopped online at least once in the past year.
What types of insights are included in consumer reports surveys?
Surveys tend to focus on shopping habits, asking how consumers' spending is changing, why it is changing, where people are shopping (digitally or physically), their acceptance of retail technology, and more.
How can I create a consumer survey?
Marketers and researchers can start creating surveys for free with none other than SurveyLegend! SurveyLegend surveys are beautifully designed, highly secure, responsive on any screen, and provide insightful analytics. The platform also allows creators to craft a wide variety of question types, including survey pictures, and features survey skip logic (if this, then this).