Is a picture really worth 1,000 words? Try 60,000 of them! Studies show that humans process visuals that many times faster than text. In fact, it takes just 13 milliseconds for an image to register with our brains. This makes surveys with images very powerful tools. 
To get started on your picture survey, of course, you'll need the images themselves. In this blog, we highlight the best free stock photo sites for sourcing online survey images and show you how to start with SurveyLegend's free survey maker with images.
Create your free questionnaire, poll, or survey with images now!
Top Benefits of Surveys with Images
Before looking at stock image sites, let's touch on the top benefits of conducting an online survey with images. For a more in-depth look at the power of imagery in surveys, check out our blog 7 Benefits of Using a Picture Survey or Poll with Pictures.
Jogging Memory. Images aid in recall, helping people recall precise moments in time. In brand awareness studies, recall doubled among people who saw a product versus people only given the name of the product.
Triggering Emotional Response. Imagery can evoke reactions from people, causing them to become happy, sad, excited, nervous, and so on. Sometimes, just the quality of lighting in an image is all it takes to change someone's mood.
Communicating Ideas Effectively. Words can get lost in translation (sometimes quite literally). Plus, not everyone is keen on reading a lot of text. With an image, text is eliminated or reduced and language barriers are crossed since visuals are almost universal, increasing the accuracy of responses.
Improving Engagement. Because humans are 90% visual, it's more powerful to show than tell. With survey images, people become more engaged as it triggers the senses more than mere words can do.
Improving Response Rates. When survey respondents are more engaged through survey images, they're more likely to complete a survey. Image-based surveys are also generally quicker to take than text-based surveys, and the less time it takes to complete a survey, the less likely a person is to drop out.
Of course, it's important to be careful when using images. Just as words can influence a person's response, so can imagery. Before creating your online survey with pictures, consider checking out our blog, 5 Things to Avoid When Creating an Image-Based Survey.
Paid Stock Photo Sites
Now that you're ready to create an online survey with pictures, you're going to need the pictures! If you have money to spare, there are of course a number of paid stock photography sites available. You've probably heard of most of these – and we assume you're more interested in the free sites – so we won't spend much time on them. But, in brief, here are the top paid stock photo sites to use for survey images.
12 Free Stock Photography Websites to Use for Sourcing Online Survey Images
On to the free photos! We've compiled a list of free stock image sites you can use to create surveys with images. Please note that almost all free sites do have a premium, paid option; however, they also have thousands if not hundreds of thousands of free images for surveys.
Also, it should be noted that nearly all images have a Creative Commons Zero (CC0) license, or "no rights reserved." That means you copy, alter, or distribute the images without requiring photographer or illustrator consent. 
Although Burst is powered by the online shopping platform Shopify, they know what they're doing when it comes to stock photography. It's easy to search for what you're looking for, and their stock photos can't be found on other sites adding to their uniqueness.
Along with stock photos, Freepik offers free vector images, illustrations, and PSD files that you can use for any personal or professional design project. The photo site's search engine also allows users to search by resource, orientation, color, style, and so on. 
This royalty-free stock photo site described itself as "unique" and "whimsical," and indeed you will find some quirky photos here (many appear to have been taken by amateur photographers, which can lend some authenticity to your image surveys versus obvious stock images). 
Photos here are typically not professionally produced; you'll find images uploaded by amateurs and random people; some photos look like they came straight from someone's Facebook page. However, this can be beneficial depending on the type of survey you're creating. These unpolished photos are definitely not "stocky" looking, lending a more natural look to photos.
Pexels offers a vast, well-organized collection of free stock photos, however the majority are geared toward business (finance, technology, teamwork, office life, and so on). 
This site was started by a young photographer who had grown weary of his photos being rejected by major stock photography sites. Today, PicJumbo is a thriving free stock photo community with a nice selection of free images.
Pixabay has more than 2 million free stock photos. The site also offers free illustrations, vectors, video, music, and sound effects. 
Claiming to have the most diverse collection of stock photos in the industry, Rawpixel also offers free vectors, PSD mockups, and public domain content. 
StockSnap has plenty of free images. Some images are amateurish – which again, can sometimes be a plus (and means you won't find them all over the web). The site also boasts a "trending" feature to help you see what topics are popular with other users; this could help inform future surveys.
This site offers a variety of types of photos, organized by category making it easy to find what you need. It also provides wallpapers and textures if you're simply looking to add background designs to your picture surveys.
What began as a modest Tumblr blog is now often recognized as "the best free stock photo site." And, for a free stock photo site, the quality of the images on Unsplash is unparalleled. There's also plenty to choose from, with the site boasting over two million high-resolution images.
While some free photo sites allow people to upload any photos they want (so long as they're not illegal or in poor taste), Vecteezy's content team manually reviews each submission for quality. Plus, the site has a robust search feature that allows you to filter photos by color, orientation, style, number of people, age of models, and more. 
Using SurveyLegend, the Free Survey Maker with Images
Once you've obtained your free survey images, you're going to want a free survey maker – and SurveyLegend is the ideal online tool! At SurveyLegend, we understand the power of survey images so we allow you to resize and organize them to fit questions or answers, or for creating beautiful backgrounds. Survey images can be used to create multiple choice image polls, slider ratings with images, and more.
Examples of Surveys Created with Free Stock Images
Here's a look at some surveys created using free images from some of the sources highlighted in this blog!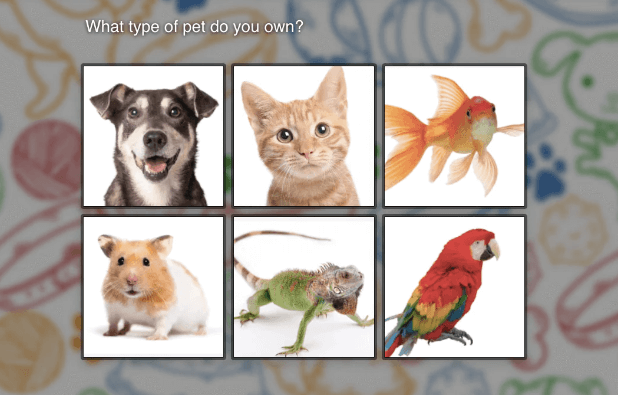 Clickable image poll using SurveyLegend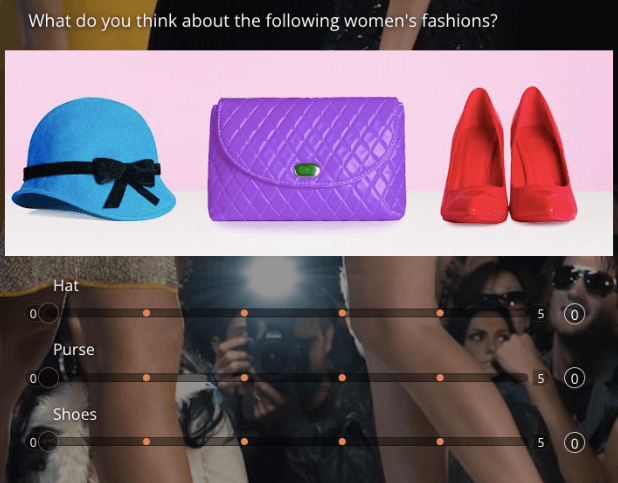 Slider rating poll with pictures using SurveyLegend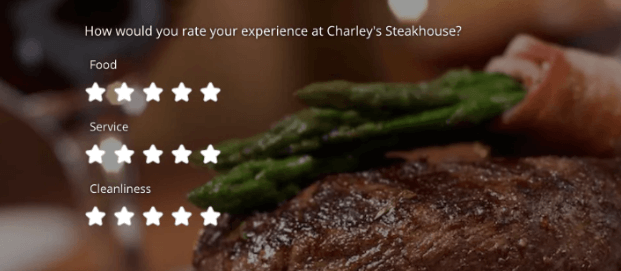 Star rating survey with background image using SurveyLegend
For more examples of the many different types of photo survey questions you can employ, check out our blog on Different Types of Survey Questions.
Unsure of which type of photos make a good survey backdrop? We have a variety of free background images (or online survey clipart) that you can choose from when creating your survey. Of course, along with a picture being worth 1000 words, seeing is also believing – so start creating free surveys with images today using SurveyLegend!
Do you normally include images in your surveys? Do you source images from paid or free sites? Did we forget any great stock photo sites? Let us know in the comments!
Create your free questionnaire, poll, or survey with images now!
Frequently Asked Questions (FAQs)
Why are survey images important?
Surveys with images trigger memories and emotion, communicate ideas more effectively, and are more engaging than text-based surveys. This all adds up to better response rates and more accurate data!
Where can I find free online survey images?
There are a number of paid stock image sites that most people are familiar with, however there are also many free stock photography sites offering a wide variety of high-quality images as well.
How can I create a free images survey?
After acquiring images from a free stock photography site, you can use a free online survey tool like SurveyLegend to create a questionnaire that incorporates visuals with questions and answers.