Today, competition for consumer dollars is fierce, and you're not just competing with other small businesses, but also with e-commerce giants such as Amazon. However, competition is good! It drives innovation, inspires perseverance, and builds team spirit. Of course, you may need a little help gauging the pulse of the public in order to rise above the competition. That's where small business surveys come into play.
Create your first small business survey, form, or poll now!
5 Benefits of Small Business Surveys
It's all too easy to underestimate the value of business surveys. However, in today's data-driven world, online survey companies fill a critical niche for businesses of all sizes and budgets, and no business is too small to ignore the potential benefits of knowing what its customers think. Here's a look at five ways customer feedback collected from a small business survey can help your company.
1. Improving Products or Services
Rather than let the competition outdo your product's features or ramp up their services until they eclipse your own, ask customers what you can do to improve, and take the necessary steps to incorporate their feedback into future products and services.
2.  Adjusting Pricing or Shipping Charges
Is your product overpriced compared to your competition, but offers no significant point of difference to warrant it? Are others in your industry offering free shipping, while you're still charging an arm and a leg? While some of this can be determined on your own through research, customer feedback surveys let you know what buyers think.
3. Developing New Products or Services
You never know where the next great idea will come from! By asking the right customer feedback survey questions, you may get inspiration for a whole new product or service. And, if the idea comes from a customer, you know there is already interest in it!
4. Understanding Your Customer
Do you know exactly who is buying your product or using your services? A small business survey can give you answers by collecting customer data (gender, age, location, interests, etc.). This data can be used for marketing purposes to attract new prospects who are similar to your current customers.
5. Improving Your Marketing
Common small business survey questions usually include, "how did you hear about us?" Answers could include referrals, social media, websites, print ads, billboards, etc. Depending on how most respondents became acquainted with your product, you may choose to adjust your marketing mix or spend. For example, if most people discovered your company through your website but no one noticed your print ad, you may want to invest money into updating your website and improving SEO while pulling money from the print ad budget.
A customer feedback survey for small businesses is critical if you want to stay competitive—especially during tough economic times. As noted by America's SBDC, "Surveys are a proven method of connecting with customers to get feedback that will help you understand how the customer thinks and feels about your product." Regardless of your specific industry, having insight into your customers' thoughts about your products/services is vital for retaining customers. After all, if there's a problem, and nobody tells you about it, how can you fix it so that you don't lose business?
How SurveyLegend Helps with Small Business Surveys
SurveyLegend is one of the top survey companies in the world, offering a ton of tools and features to help small businesses conduct effective customer feedback surveys at an affordable cost. With four pricing tiers ranging from free to $65/month (when billed annually), there's a survey service for every business budget.
For example, on the free online survey business plan, you get:
Unlimited questions and responses per survey

The ability to create surveys on your computer or tablet

Easy drag-and-drop survey creation

Your choice of comment box or multiple-choice surveys (among others)

Likert scale

survey support

The ability to insert and use pictures in surveys (up to six per survey)

Options to skip, hide, or show logic for your survey

Professionally-designed themes (including ones optimized for mobile device display)

Data analytics tools (including live analytics and pie/donut/bar charts)

Strong TLS encryption and other GDPR-compliant security controls that protect your data (and your customers' data)
These are just a few of the features available on the free plan. Paid versions of our business survey tool add other features for integrating with other software programs, setting notifications, and sharing/exporting survey data.
SurveyLegend's Image-Based Surveys
They say a picture is worth a thousand words, so check out this image poll below. Using SurveyLegend's photo voting tool, this small business asks customers why they chose to purchase a product. This helps them better understand their customers' buying behavior in order to determine how to best market their products and services in the future. Creating a poll with pictures on SurveyLegend is easy and fun to do! Images can be resized and moved around, complementing questions or answers, or used to create beautiful, welcoming backgrounds. You're also not limited in the types of image-based surveys you can create; for example, you can make clickable image polls, visual-based multiple-choice selections, ranking surveys with emojis, and much more. Read more about our visual surveys and polls.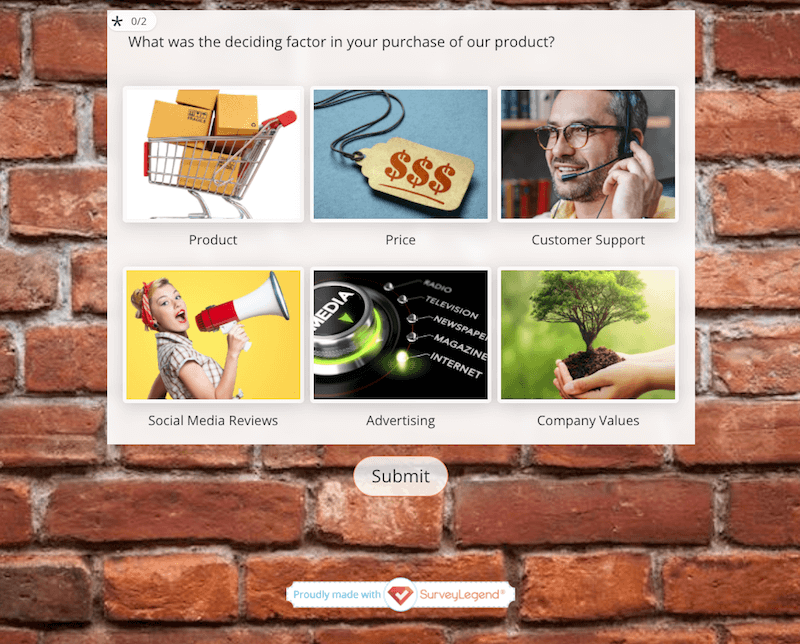 What People Are Saying About Our Survey Company
So, what are people actually saying about SurveyLegend? Here are a few excerpts from customer reviews featured on Capterra:
Sara A. said that SurveyLegend was:

"Easier to use than bigger brands." She highlights that the drag and drop function was a major pro for ease of use, and that SurveyLegend provided a "better bang for the buck" compared to other

online survey companies

.

Giselle K. said that SurveyLegend had:

"[A] great trial and no trying to upgrade every minute" like some other

survey research companies

. Another major pro for Giselle was that she could "get help chat to help on questions" when needed.

Jessica L. called SurveyLegend: "[The] best survey tool for companies." She praises the intuitive design of our surveys and how they made people "more willing to answer a series of questions."
Overall, our business survey solution ranks highly for customer service (4.5 out of 5) and ease of use (4.7 out of 5) on Capterra, with praise like "SurveyLegend enables me to make beautiful and engaging polls" and "[It's] easy to design a survey with a variety of question types" being common.
Are you ready to capture the survey data you need to gain and retain loyal customers? Reach out to the SurveyLegend team today, or start a free trial now!
Conclusion
Small business surveys can grow your company, helping you better understand your customer, improve or grow your line of products and services, and much more. Of course, we know you have options when it comes to selecting an online survey business. So why not choose one that's legendary? You've already heard from our customers, now try SurveyLegend for yourself. You can reach out to the team today or start a free trial now!
Something in particular you're looking to accomplish with your next business survey but don't see it on our list of services? As one of the nation's top survey companies, we're always looking for customer feedback. So, reach out to our team or leave us a note in the comments and we'll get back to you.
Create your first small business survey, form, or poll now!
Frequently Asked Questions (FAQs)
How do small business surveys help companies?
Small business surveys give companies feedback that they can use to improve or develop new products and services, adjust pricing, and improve marketing.
Why are image-based small business surveys helpful?
Photo surveys and polls typically perform better than text-based surveys. That's because imagery triggers memory and emotion; breaks up the monotony of text; crosses language barriers and is easily understood: and generally makes survey-taking more engaging and fun.
Is there a free online survey maker small businesses can use?
SurveyLegend, of course! SurveyLegend has a free plan for small business surveys. Paid versions are also available that offer more benefits and features.