Student surveys are more important than ever. Whether you're asking about the curriculum, bullying, school safety, or virtual learning, understanding the viewpoint of students helps teachers and leadership know where they excel – and where they're coming up short. Of course, there are a lot of student survey tools for teachers and educators out there, but some don't get the job done. They may simply ask about areas for improvement without delving deeper, and the answers you get might be pretty obvious. Grade-schoolers may ask for "longer recesses" while university students may request "no Friday classes before noon." 
While it's safe to assume surveying students of any age will bring about some of these frivolous requests, many students take a more thoughtful approach to surveys when they're conducted appropriately and ask the right type of survey questions. This helps educators see what's important in their students' world so they can institute better plans and goals, administer funding, and more.
Discounted Pricing for Educators & Students
Enjoy up to a 35% discount with our special pricing just for you!
The Importance of Student Surveys
Any educator can tell you that students are full of opinions, even if they don't always want to hear them! But let's look at some of the ways surveying students can become a powerful tool to help school administrators and educators collect valuable data.
Revealing Problems or Trends
Educators are on the front lines when it comes to kids, but that doesn't mean they always have insider information. Asking the right student survey questions can identify potential issues that administrators may be unaware of. They can then work to correct these issues before they become full-blown problems. 
Through surveys, many schools have been made aware of student challenges and have developed programs to support learners. Of course, students aren't always forthcoming with this type of information. However, they may disclose it in an anonymous survey which can push a school into action.
Revealing How to Make and Save Money
Funding in many school districts remains down, resulting in teacher layoffs, higher classroom density, cuts in the arts and sports programs, and outdated books and teaching materials. While students may not always have the answer to finding budgetary support, their survey responses can be used to apply for funding through grants. 
Based on what students deem important, school officials can determine where critical resources and funding should be distributed. In addition, the data from survey results can give key decision-makers a clear picture of the school's financial investments and goals.
Improving Public Relations
The public hears a lot of information about their school districts through the media, who do not always paint an accurate or fair picture. When a school receives negative press, funding can drop and outrage can increase, and in our time of social media, these are headaches all administrators want to avoid. 
Surveying students about areas of concern – the safety of the school, or the care that its staff provides, can go a long way when the time comes to offset any negative publicity.
10 Types of Student Surveys with Examples
Now, while we've been looking at the bigger picture of the benefits of student surveys, it's also important to look at the basics, which can often serve to highlight some of these more pressing, larger issues. Here are eight potential surveys that educators may want to consider including examples with some student survey questions.
1. Student Surveys of Teachers
The purpose of student surveys of teachers is to give the teacher ideas of how the class might be improved, and to provide performance on their feedback. These surveys can also give school leadership an idea of which teachers are engaging with their students and which may be falling short. In the simplified survey example below, we use stock photo imagery to ask students to describe their teacher; photos of the actual teachers could also be used.
Most students are highly visual, and zoomers prefer photos to words-only, making visual surveys the best way to engage with them. Read more about how easy it is to create great visual surveys and polls with pictures using SurveyLegend and the seven benefits of picture surveys.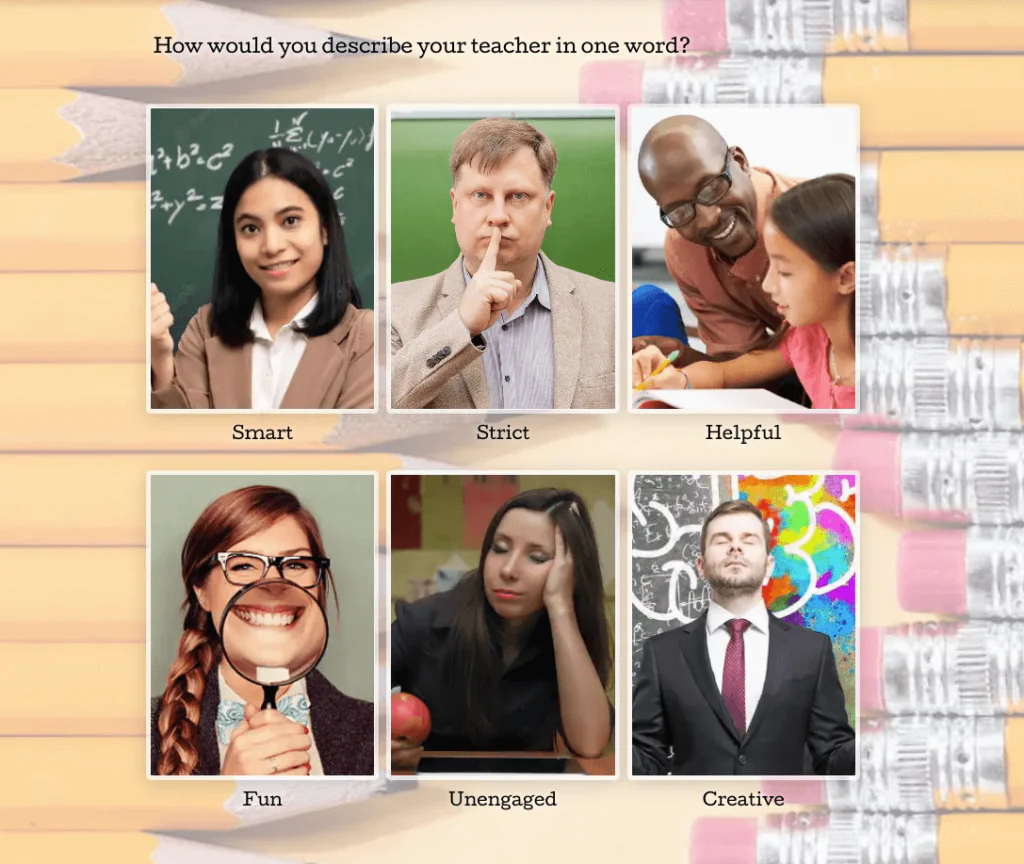 2. Student Feedback Survey
These surveys generally apply to course assessments, regardless of student age. You can ask a kindergartener what they thought of their classwork ("just okay, but art was great!") or a university student ("Economics 101 is useless for my future"). Either way, it provides open and honest feedback. You may be tempted to think those answers are unhelpful—however, could you change the kindergartner's future classes to be sure he or she gets more art education? Or, could you allow the college student schedule customization so they can focus more on what matters to their impending graduation plans? Ultimately, this type of survey can also give your input on what students think of their course facilitators in order to re-train them or give them a high-five.
In the example below, we used SurveyLegend's Smile Ranking which is perfect for students today who typically use emojis every day in their personal text messages and social media posts.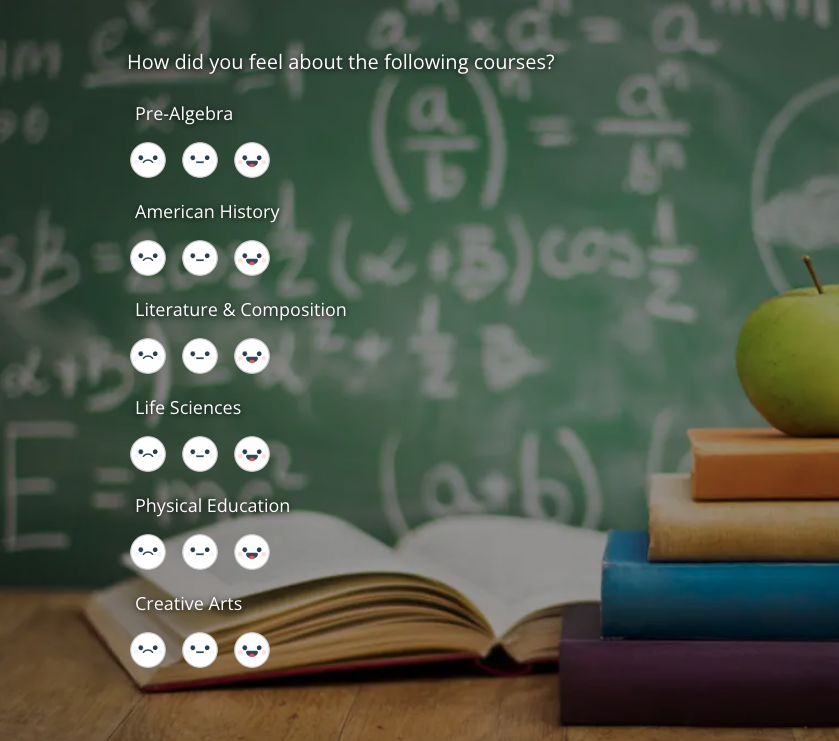 3. Student Satisfaction Survey
A student satisfaction survey asks students how they feel about a school's environment and facilities. While the questions on this type of survey will vary, sometimes wildly especially when considering the age of the students, it's ultimately designed to assess educational, social, and other aspects of the school or university. You can see a template of a university student satisfaction survey here. 
In the survey example below, we used a matrix survey which bundles questions under one main question. This makes the survey appear shorter (which typically means a higher response rate) and keep it looking clean. Learn more about SurveyLegend Matrix Questions.
NOTE: It's easier to understand how our Matrix Survey works by seeing it in action. The example below is live, give it a try!
4. Student Engagement Survey
Student engagement surveys measure students at any level and are most common for university students. They help higher learning institutions gain actionable data that enables them to improve teaching and learning. This unique approach is gaining momentum, as it provides insight into what is driving student knowledge and, perhaps more importantly, care. These surveys can help revise curriculums, drawing in new students with relevant studies, and boosting enrollment. In the example below, we used SurveyLegend's thumb ratings.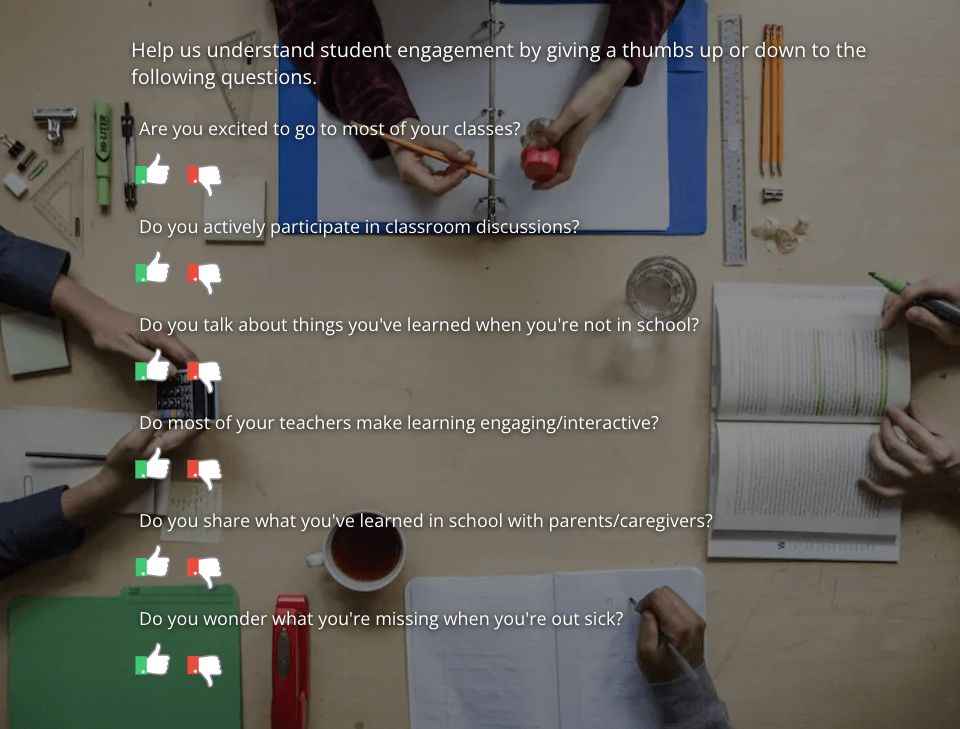 5. Student Graduation Survey
Sometimes, the best insight you can get into your school or university is through students who are saying goodbye for good, as they have nothing to lose by being honest (the same concept applies to companies that hold "exit interviews" for employees who are leaving). The graduation survey asks students to assess many aspects of their learning and social experience so that leaders can make changes as needed, or build upon noted strengths.
It's important to remember, just as in exit interviews, that the freedom of leaving responses without repercussion may result in survey bias; however, if there are enough students noting the same challenges, it's likely worth a deeper look. Check out our student graduation survey template here or learn more about SurveyLegend's star ratings as seen in the example below.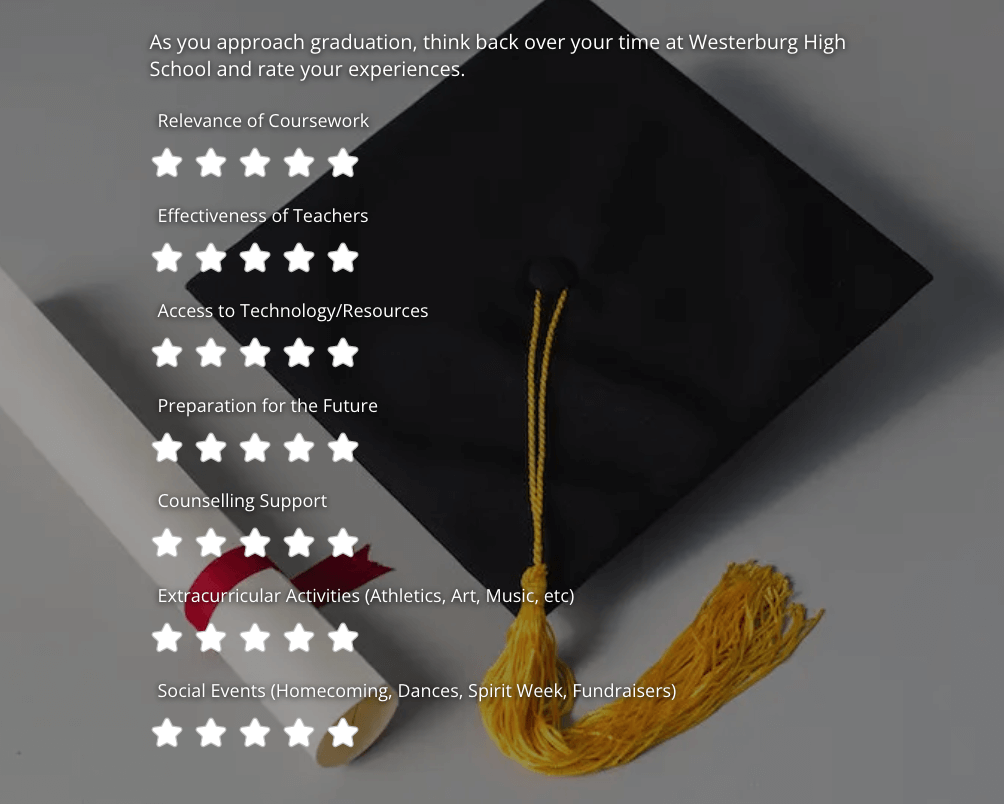 6. Student Motivation Survey
Usually used in K-12, this type of questionnaire explores motivational aspects of students to determine whether they rank low, moderate, or high in a number of categories, such as their need for achievement (how important are grades?) and their need for intimacy (how much do social connections matter?). Answers to these questions can help educators customize their student curricula and experiences. In the example below, we used SurveyLegend's Slider Ratings which makes it interactive – a great way to keep students engaged with the survey.
NOTE: The slider survey below is live, so go ahead and try it out using the sliders!
7. Back to School Survey
This is an easy one. It's designed simply to give every student a voice at the beginning of the school year, regardless of grade. It could ask what the student most looks forward to, or what they're dreading! It exists to give educators a gauge of the incoming students' thoughts, hopes, and fears for the year. That way, educators can improve upon the good and mitigate the bad.
Learn more about SurveyLegend's Picture Rankings as seen in the survey below.
NOTE: Want to try our our Picture Ranking Survey? It's live, give it a go below!
8. Open-Ended Student Survey
Open-ended questions can offer a lot of insight. They allow students to respond freely without having to select an answer from a list of options or choose some sort of rating. The purpose of using them on surveys is to probe deeper into a participant's thoughts and feelings. Of course, this type of research is qualitative, not quantitative, which can make analysis more difficult. Often, student surveys will use a combination of quantitative and qualitative questions. In the example below, the first question asks students to rank their teachers by engagement level using a picture ranker, but then asks a follow-up open-ended question.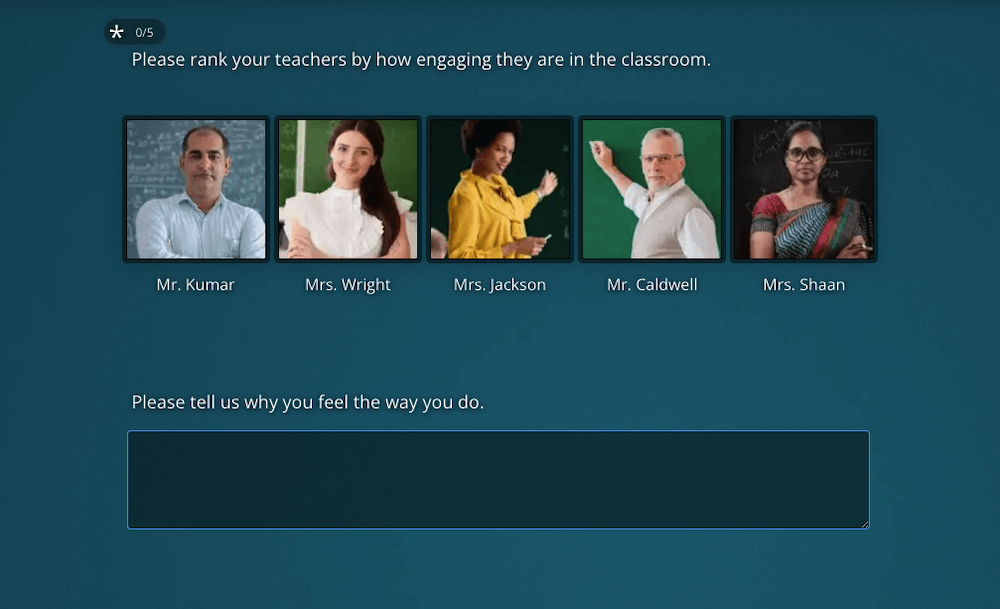 9. Virtual Learning/COVID Survey
Virtual learning is here to stay. Some school districts were already offering virtual or distance learning, but then the Coronavirus (and safety and bullying incidents) kicked it into high gear. Today, more than 20% of public schools and 13% of private schools in the United States offer online courses for students. Additionally, 2,500 colleges offer online programs. To navigate this new virtual landscape, educators can use student surveys to prepare themselves for classes, meet student expectations, teach, and assign work. Be sure to check out our blogs 15 Student Survey Questions to Ask About COVID for more!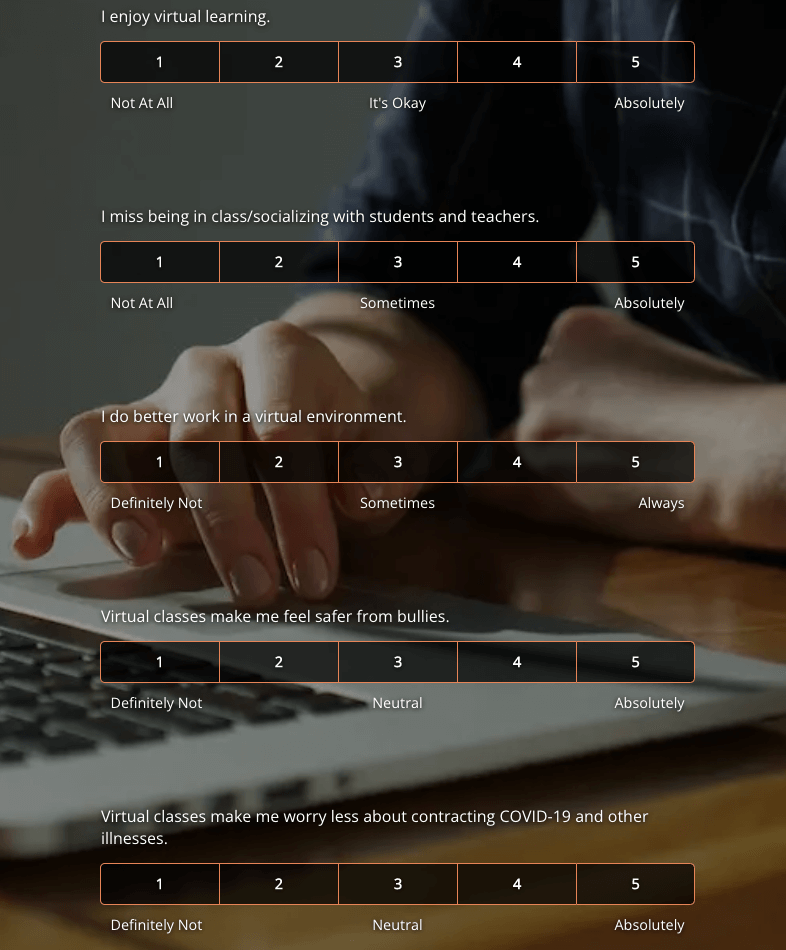 10. Individual Course Survey
Last but not least, educators or administrators may choose to ask learners about an individual course. The best way to do this may be with a multiple choice survey, as seen in the example below.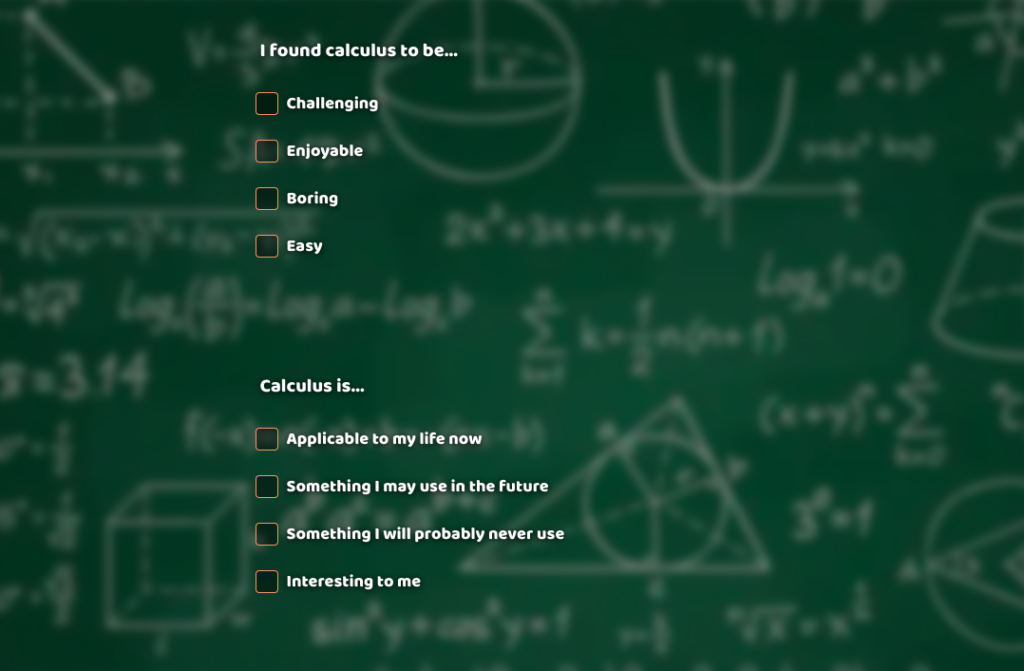 Conclusion
The importance of student surveys can't be discounted—however, we're willing to give you a discount to do just that. At SurveyLegend, we know as educators you have a strict budget that you must meet. We also know you want to be aware of student needs and concerns. Collecting feedback, then, is a must, so we're proud to offer a 35% discount on our yearly plans and also a first-time 15% discount on all our monthly plans for teachers and educators, schools, and universities. 
Do you use surveys in your school district or at your university? What types of questions do you ask and how has it benefitted you? Sound off in the comments! Want to learn more about Generation Z before creating your survey? Check out our blog 12 Things to Consider on Gen Z Surveys.
Discounted Pricing for Educators & Students
Enjoy up to a 35% discount with our special pricing just for you!
Frequently Asked Questions (FAQs)
Why are student surveys important?
They can uncover many things, such as overall satisfaction with schooling, incidents of bullying, thoughts on virtual learning during COVID, and more.
How can schools survey students?
In today's digital world, an online survey is the best way to reach students of every age. Online surveys can also be made anonymous, giving students the ability to be completely honest with their responses.
When should I get feedback from students?
Surveys can be used year-round to gauge student response to anything.