instantly show results after survey is submitted
Many survey or poll creators love to to show their own respondents, how other respondents have voted on the same questions. Users usually enable this feature in online polls that don't have too many questions. For example, those typical political opinion polls that ask: "Who do you think wins the election this year?"; or other those pre-match surveys that ask: "Which team do you think wins this football game?".
Because of their competitive characteristics, for participants of such surveys or polls it is very interesting to know how other people think. So, enabling this function can make your survey to get more viral, because participants will invite others to the survey to vote and it can potentially increase the quality of your collected survey data.
In this article: How to activate • How it works • Promoting Survey & Results • Respondents' privacy • How to deactivate
---
How activate this function (Public Results)
To enable this function, you should go to the "configure" step of survey creation, and find this option in the settings and enable it. Just follow the following instructions:
1: For new surveys
First start making a survey by clicking on
button
Then you will see a page in which you can assign a name to your survey, and set some additional settings for it. This is called the "configure" step.
Now in the Settings section, turn on "Show results to respondents ", by toggling the ON/OFF button.
2: For your existing surveys
If you already have made a survey and want to enable this feature for, you should:
First choose it by clicking on its name in your survey list.
Then simply click on
button
Note that when you edit an existing survey, you will automatically jump over the "Configure" step, and will directly go to "Create" step. Therefore, you need to click on the Configure step in the navigation bar on top of the survey.
In the Settings section, turn on "Show results to respondents ", by toggling the ON/OFF button.
---
How does it work?
When this feature is enabled, you are allowing the respondents who finish a survey to see the collected results in real-time. Results are shown to participants in two different ways:
1: If you have used a "Thank you page"
In case you have chose to use a
Thank you page in your survey, respondents who click on the submit button will see the Thank you page at the end. But this page will have a button which looks like this:
, right at the bottom of the page. When respondents click on this animated button, it will automatically scroll down the page, and bring up your surveys real-time
Live Analytics . However, respondents can scroll up at any time, to reach the contents of the Thank You Page again.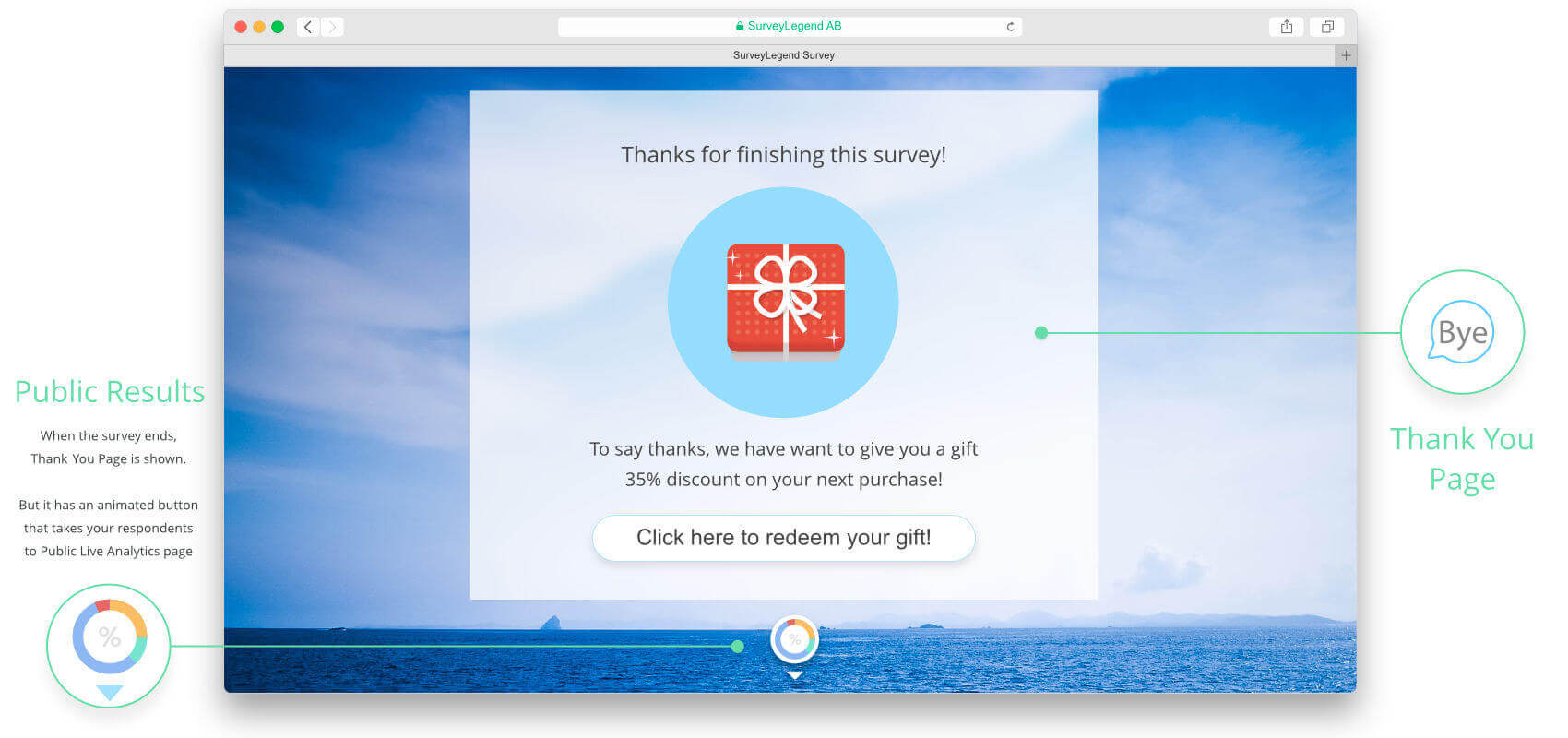 2: If you have not used a "Thank you page"
When enabling this feature, you allow participants to see the results immediately after they have voted and clicked on the Submit button of your survey. We have made sure that no personally identifiable information is shown to visitors when you use this feature. And keep in mind that incorporating this feature can potentially increase the amount of data you can collect.
---
Promoting your survey & Public Results
When you enable the Public Results page, you SurveyLegend gives you two other promotional options as well. You can let your respondents to share the Public Results page, using a Public Link; and also let them to promote participating in your surveys.
As soon as you turn on this feature in the Settings section, you will notice those two other options right underneath it, as illustrated below:
The idea behind these two features is to help you spread the word about your online surveys or questionnaires. You can take advantage of your respondent's social networks, and let them help you collect larger quantities of data.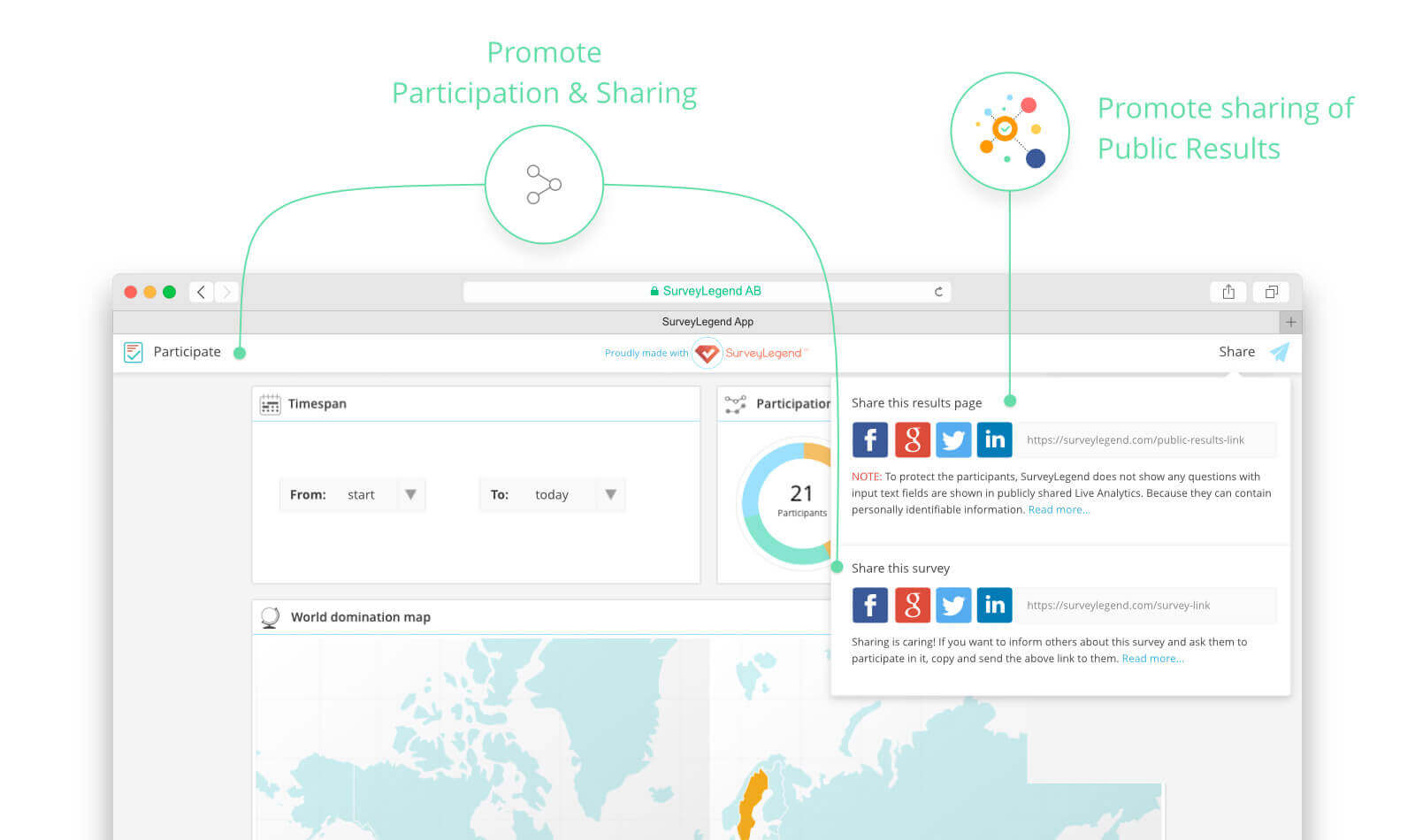 Promote sharing of 'Public Results'
Enabling this will allow respondents who finish the survey, to see a link that is generated specially for Public Results of that survey. They can copy the link, and send it to others, or simply share it on social media with a click of a button.
Note:
If you change your mind in future, you can easily disable this feature by turning it off. However, this will NOT disable the link to Public Results of your survey! This means that anyone who has the public link, will be able to come to that page and review the public results.
Anyway, if you want to block the public results page, you have to go to
Live Analytics of your survey, or from your dashboard and disable the Public Results link from there by clicking on
Share data. Read more…
Promote Participation & Sharing
This is an easy way for your respondent to help you share the survey itself. Now with just a click, they can share your questionnaire on their social media channels, or copy the link to survey and sued it to friends and colleagues.
Note:
Please note that respondents already have the survey link that you have sent to them, and naturally can share it with others too. But this is just an additional reminder to make it easier for them to promote your survey, and make it go viral!
Additionally, this feature activates a
Participate button on the top-left corner of the Public Analytics page. This way, visitors who directly come to the public analytics page can also have a chance to take part in the survey.
---
What about privacy of my respondents?
For SurveyLegend, privacy and security of surveyors and respondents is always the first priority. So we have have made sure to protect your respondents' personally identifiable data, when you share the survey results publicly. That's why we call this feature "Public Results".
Therefore to protect personally identifiable information of your respondents, SurveyLegend removes all answers that users type manually; and the displays rest of the questions in the Public Results page. The reason behind this is that users might write their names, addresses, phone numbers, emails, etc… and we/you cannot publish such information online for eveyone.
Note:
The only text input that is shown in the Public Results is the text that respondents write in "
other
" choice of Single Selection or Multiple selection. Because this naturally will not include any personally identifiable information.
---
Can I turn this feature off again?
Of course you can. At any time! Just go to the Configure step that survey again and turn it off. Sometimes survey data become more important and valuable than what you thought initially. In such cases, you may want to protect them from being reached publicly.
Other ways of sharing your survey data…
SurveyLegend offers several secure ways to share your survey data with colleagues, clients, superwisers, or even your own survey participants. Each way of sharing the data is pre-customized for different purposes and different security levels. If this page is not about your preferred way of sharing the survey data, we recommend you to check out your other possibilities.