Modify your survey background
Upload custom background
When designing the look and feel of your surveys, you can easily upload your own backgrounds, by clicking on the Upload custom background button at the bottom of the background list. Uploaded backgrounds will instantly appear on your survey, and you'll be able to see a thumbnail of your uploaded background as the first item in the background list. This item is marked as "Custom Background". This lets you quickly switch between our background and yours.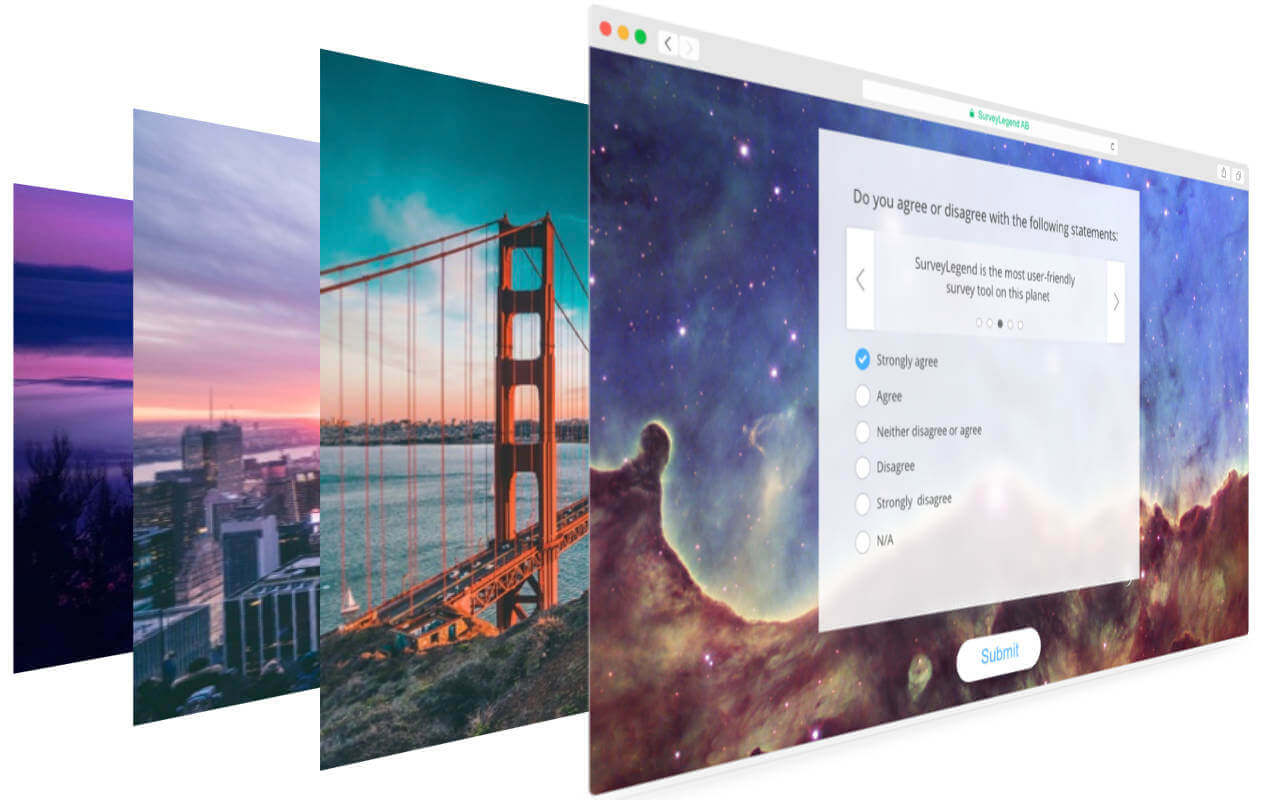 The recommended image size for a background image is 1920 x 1080 pixels (Full HD resolution). Larger images will be automatically resized to these dimensions. If you upload smaller images, they will be tiled (repeated) in the background of your survey. It's a perfect choice, when you want your survey to be loaded as fast as possible; on slow internet connections. So if you know that your target audience have slow connections, avoid large images and instead upload textures or patterns which repeat beautifully.
Tip:
If you have a large-sized image, simply don't bother resizing it before the upload. Our smart system will automatically shrink the image to a suitable size, before the upload starts. This saves you a lot of bandwidth and precious time. Your original images will, of course, remain untouched on your local disk.
Note:
that highly detailed backgrounds can make it hard to read the question texts, specially when the contrast between text color and the background is poor.
When you upload a background for your survey, you should consider the copyright of the image that you are uploading. SurveyLegend does not and cannot accept any responsibility concerning the images that survey creators upload and use in their surveys. It's all the responsibility of the individual creator!
Most images found on the internet are copyrighted, and because you simply can find them via search engines does not mean that you can also simply use them in any way you want. Make sure you have the proper permission and full rights to use the uploaded images.
Read more about the copyrighted images, learn how to find free images.
If you believe somebody is using your copyrighted images in their surveys without your permission, we encourage you to contact the survey creator at first. If this doesn't help, you can contact us via [email protected] and provide us with a link to that survey. Despite this, it is not our direct responsibility to control survey creator contents, we will try to help you inform the user, and to remove or change the copyrighted image.
---
Easily make blurred backgrounds
Now simply by toggling a button, you can give your backgrounds a beautiful blur effect.
The blur effect increases readability of question texts. Therefore, we recommend you to enable this setting, specially if you are using the Dark or the Light mood for your custom theme, because displaying text on a sharp background with bad contrast may make it hard to read.
Note:
that blurred backgrounds may reduce the performance and or speed on low-end devices such as old/budget mobile phones, or very old versions of web-browser.