Unpublishing / closing surveys
As soon as you create a survey, it goes live and anyone who receive the survey link from you can access it. People can respond to questions and you can keep collecting data.
But what if you want to stop the survey? You may still want to keep the survey in your account, and access the collected data at any time you need it, but you do not want to collect any new responses.
In this case, you can easily unpublish any survey or questionnaire which is currently live and collects feedback. Unpublishing a survey will deactivate it and even if people come to the survey link that they received from you, they won't be able to see the survey or participate on it. Instead, they'll see a message that informs them about the survey being closed.
To deactivate or unpublish a survey, you need to follow the following:
Go to the dashboard in My surveys
Select the desired survey from the list on the left hand side
Now on top-right side of the preview area, you'll notice a place which displays creation date of your survey. Close to this information, there is a row which states "Publish: " with a toggle button which is ON. Simply click on that button to turn it OFF
Now you will see a warning dialogue that informs you about the consequences if this action. To make sure you clicked on the toggle button by mistake, we show this dialogue.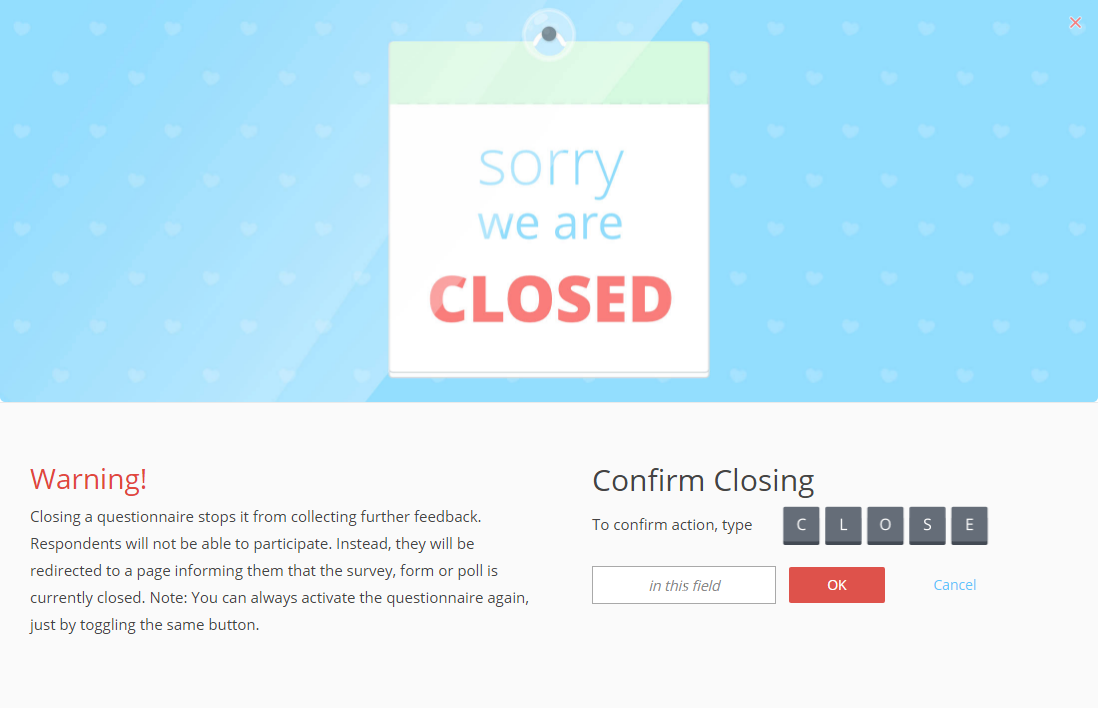 Now you should type the word "CLOSE" inside the provided field
Press the OK button, and the survey will be deactivated.
Note:
You can always activate the questionnaire again, just by toggling the same button.